If you want a stir-fried dish that is bold and full of flavors, try this dish of beef stir-fry with kimchi marinade. It contains all the tastes of sour, salty, sweet, spicy, and incense of the sea. Depend on the kimchi sauce, there will be hints of garlic, spices, or fruits as well.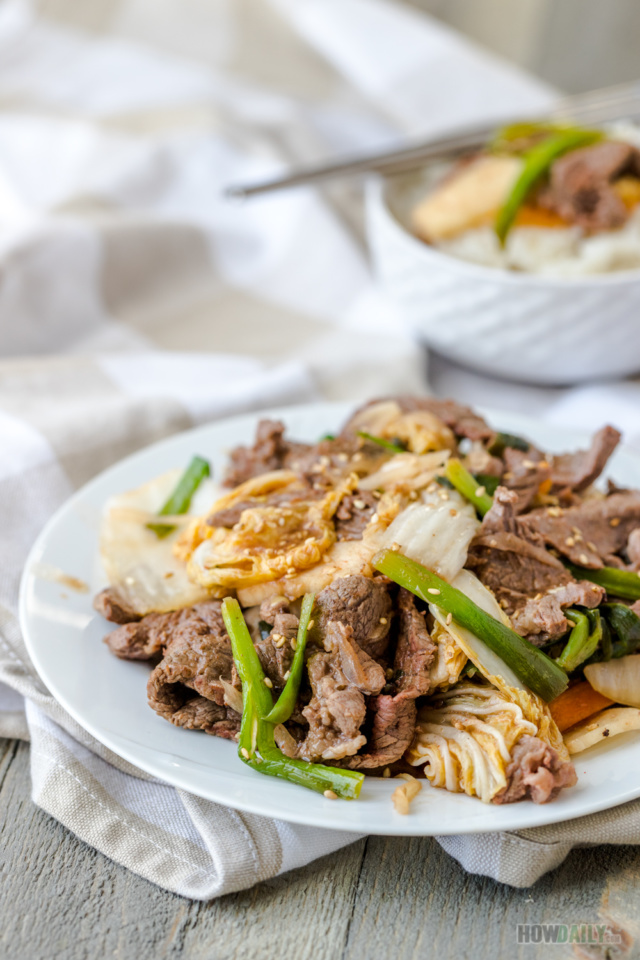 The key to preserving the beef juicy and tenderness is not to overcook them. Thus, marinating beef for 10 to 15 minutes prior to stir-frying is to ensure it absorbs all the flavors.
How you cut your beef is matter too. Too thin and your slice will be kimchi overpowered, while too thick would be required longer and harder to control cooking/marinade time.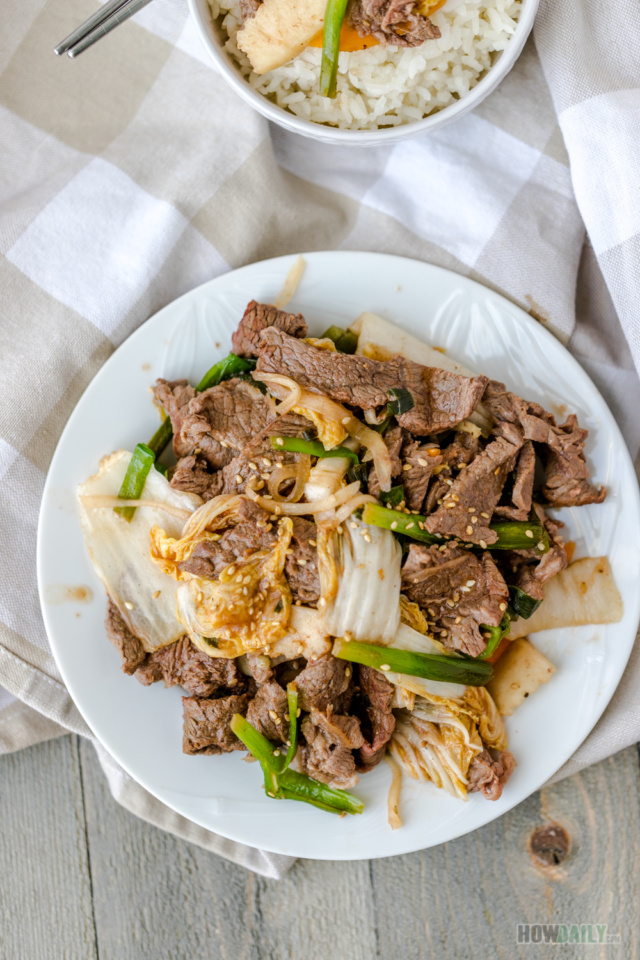 Another note is on the seasoning as some kimchi sauce is very salty. If yours is, then just skip the extra fish sauce/sea salt; however, if your kimchi sauce is too sour, then extra fish sauce would balance it out. Taste tested your sauce and adjust seasoning accordingly.
This dish is best served hot with white rice. Or if you want a one-bowl meal, mix it in with rice or noodle then top with a soft-boiled egg. It's even better if you have a stone bowl to serve in.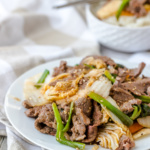 Stir fry beef with kimchi marinade
A bold yet fiesty flavor of beef marinade with kimchi, this dish is what to yearn for: flawless taste, juicy tender beef, chunky crunk napa and all other intensive heat.
Print
Ingredients
10

oz

beef ribeyes, steak or tender loin

1

cup

kimchi cabbage & filling

4

Tbsp

kimchi sauce

1

Tbsp

fish sauce or sea salt to taste

2

cloves

garlic

1

tsp

roasted sesame

optional

1

Tbsp

unsalted butter
Instructions
Cut beef into thin slices or small chunks.

Marinade with kimchi sauce for 20 minutes or so.

Crushed garlic. Chop kimchi cabbage if desire.

Heat sauce pan or wok over medium high heat. When hot, stir in to melt butter.

Add marinade beef. Stir to cook for a couple seconds till beef is half way done then add kimchi.

Stir to mix and adjust to taste with fish sauce, sea salt or extra kimchi sauce.

Transfer to a serving plate and sprinkle some roasted sesame on top.

Serve hot with rice or over noodle dishes.