Over the years, certain foods have garnered new attention for their health benefits, availability, affordability and most of all…versatility. The sweet potato fits this bill to a tee! As a staple in many households year round, in many countries of the world, the sweet potato, and its cousin the yam, has made its way back into our cultural cuisine.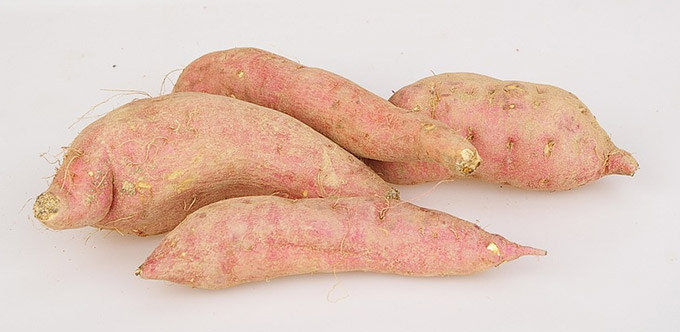 As a favourite pantry staple, the sweet potato can be a "go to" low-cal( about 105 in an average sized spud) healthy addition to many meals. Because of its high nutritional value , vegans and vegetarians often choose it for its high fiber and how it adds substance to a meal. The sweet potato is fat free!
In its purest form, this spud does very well cooked in its own skin, either in the microwave or a moderate oven. Prick it a few times to avoid steam buildup, and enjoy it popped oven with butter, salt and pepper like any potato. This is also the easiest way to get potato pulp. For recipes that call for "mashed" potato, this is easier than the work of peeling and boiling one by one. The pulp freezes very well and is a great base for a harvest soup, dip or spread.
It's hard not to associate typical potato dishes without considering how the sweet potato can be adapted to create something new. For baked favorites, the sweet potato casserole is a typical addition to the American Thanksgiving table. It can add a new dimension to stuffing, or when paired with white potatoes, Yukon golds, and redskins the combination makes a colorful tasty side dish to any buffet. If you love the decadence of the pub-style potato skins, just add cheese and bacon to a crisply baked shell for a great twist. Like other root vegetables, pairing the earthiness of the potato with nuts, creams, and a little brown sugar or maple syrup works well too.  Add raw chunks to any soup, stew or curry dish to create a little middle eastern flair.
Can the sweet potato become a hash brown? A latke? A French fry? Certainly! However, due to the higher natural sugar content, sliced or shredded sweet potato can burn quickly when fried at high temperatures, which is always required to get a crispiness. For oven frying, turning the pieces often helps, as well as the addition of a little olive oil.
Don't exclude the sweet potato when it comes to dessert! Beyond the traditional "sweet potato pie", potato puree can be a great addition to pound cakes and cinnamon loaf cakes. Sweet potato biscuits and doughnuts have their own signature flavor when made with the versatile puree of cooked sweet potatoes. Here's an excellent recipe for Sweet Potato Pudding that surprises all first-time tasters!
Sweet Potato Pudding
Lovers of the crunchy topping on a cream pudding are sure to find this satisfying!
Preheat oven to 350°F. Prep a 1 ¼qt baking dish with non stick spray.
Ingredients:
2 cups sweet potato pulp
2 large eggs
¼ cup milk
¼ cup honey, divided
1 slice bread, curst removed, broken up.( a grainy or whole wheat works best)
1 tsp vanilla extract
½ tsp ground cinnamon
¼ tsp ground allspice
¼ cups chopped pecans( or walnuts)
2 tbsps chopped crystalized ginger ( or ground if not available)
¼ cup plain Greek yogurt.
Directions:
Preheat oven to 350°F.
Gently whisk together in a large bowl, the eggs, milk, and 3 tbsps of the honey. Add the bread, potato pulp, vanilla and spices and beat with a hand mixer until smooth.
Pour into the baking dish. Sprinkle with the nuts and ginger. Bake for 25 minutes until pudding is set and puffy…but it will sink as it cools.
Combine yogurt with remaining honey and dollop on each serving.