It's time for Halloween and all the fun fiesta, yup, it's the time for all the cooking and celebrating no matter which culture you are. Why not baking a theme cake to be your centerpiece of display? You can make this cake days ahead, and remember, there's no limit to creativity and fun when doing it yourself.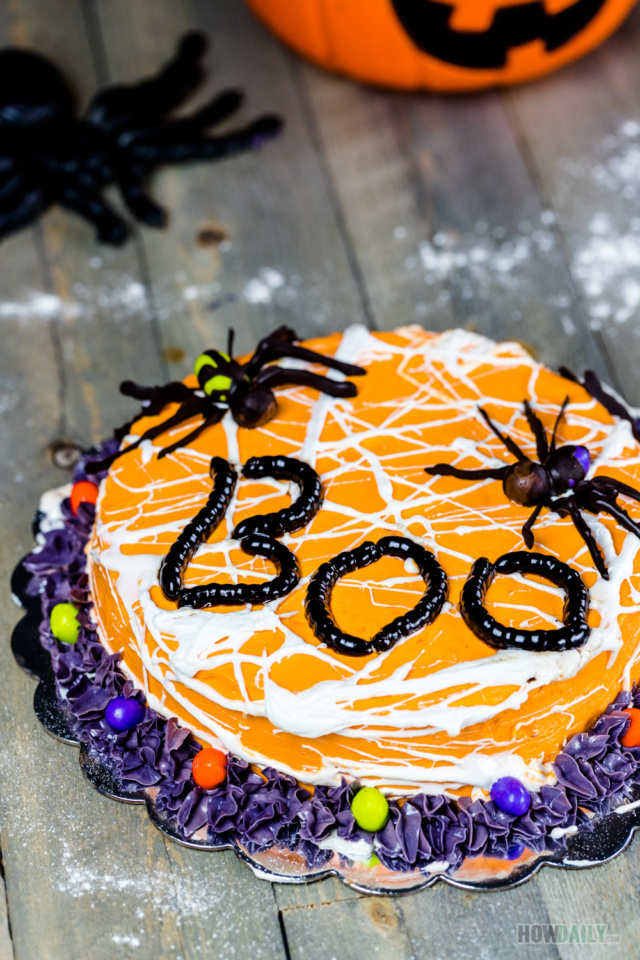 I always love cake and so do our family and a big family. Thing is, it runs in our family to enjoy cakes that are not too sweet, more or less similar to the French style cake you know: soft whirl, creamy butter, etc… So getting one at the local grocery is out of the question, I mean they do cakes in batches and decorate to your limited options. The local bakery would work too, but hey, it's more fun to do it at home and know exactly what's going in there right? Okay enough with the chitchatting, let's get to work.
If you're a beginner in baking, I would recommend reading through all the directions, recipes, and guide before the attempt. Please note that for the cake there are lots of requirements that need to be followed exactly, e.g. get a kitchen scale for precise measurement.
Essentially, this project will divide into 4 parts to finish the so-called "Itsy bitsy Spider" theme cake. Some parts would require to cool down/resting time, so please read through and plan your time accordingly.
Chocolate Jelly filling
Since my son is a super fan of anything-jelly, I decide to make some jelly (the night before) to save on chilling time.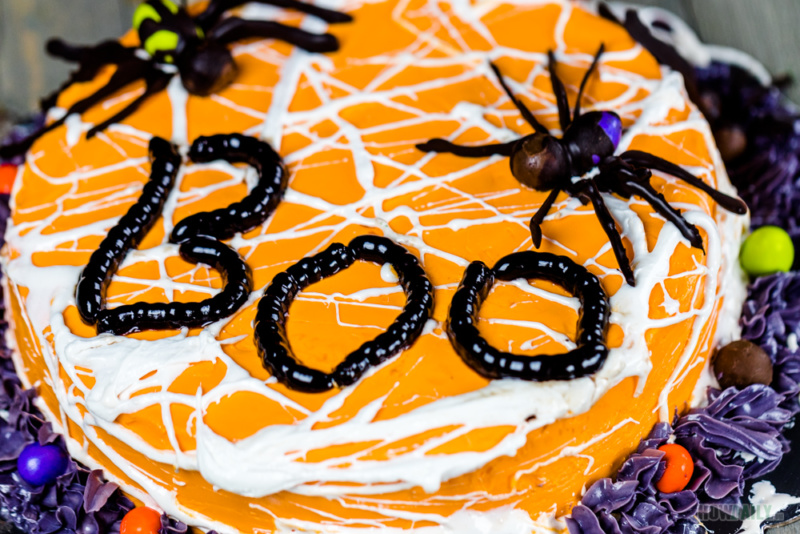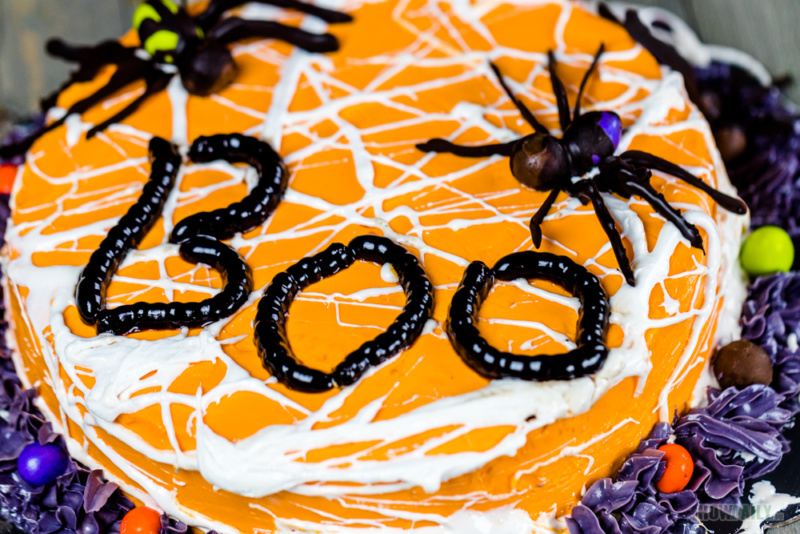 There are lots of methods, one is to melt chocolate and mix it with gelatin/water and the other is to use cocoa powder. I picked the latter since I have them ready at home and quicker.
In regard to the gelling agent, you can use a pre-pack Jello, gelatin, Agar, Carrageenan, etc. I usually use a mix of agar and carrageenan so the Jelly can be wiggly enough yet still holding its shape well.
Cake base
I'm using a modified version of an easy basic sponge cake that I have shared on here before. Personally I'm not a fan of Vanilla in anything, it just tastes too artificial to me, so fruit juice, green tea, natural fruit flavor oil, or chocolate(cocoa powder) are my usual choices.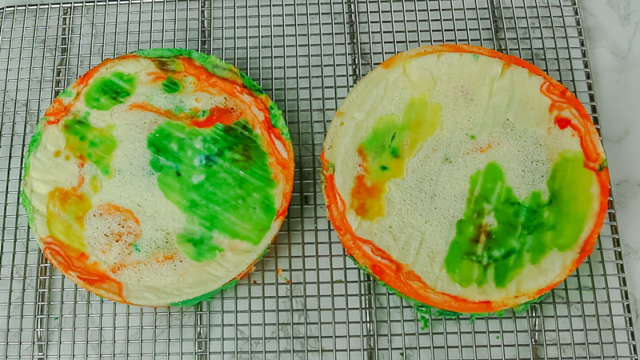 If you want more cake, simply double or triple that recipe. For this cake, I followed all the steps up until the very end (before pouring into an 8-inches pan). At this point, divide the batter into 2 parts or whatever number of your choice and then color them individually. For this Halloween theme, I used orange and green to complement the pale purple of filling cream.
Orange whipped buttercream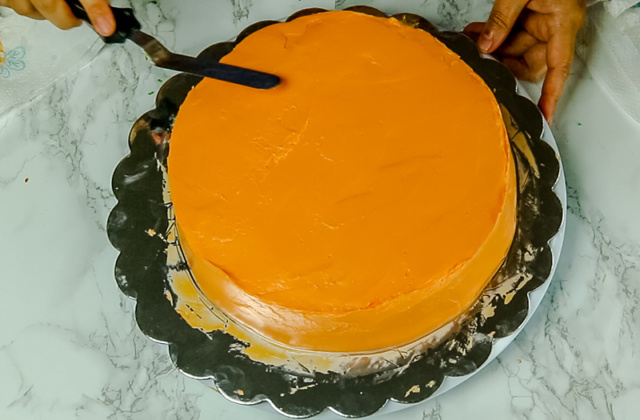 This is just a quick buttercream that mixes off butter, sugar, and heavy cream. Nothing fancy to it, I may add a little orange juice or orange extract. The only thing to note is that both the butter and heavy cream have to be at the same temperature before mixing or they might start sweating.
Since the buttercream being used will be dyed orange mostly, I picked European butter with 85% fat content for their bold and smooth flavor. Still stock so many butters after the last batch of my review on the 11 unsalted butters for buttercream and baking.
To save time and making sure butter and whipped cream are off the same temperature, I left them both out on the counter before baking the cake. Once the cake is in the oven for baking, the butter should be soft enough to beat.
So set your time and plan ahead if you want to multitask.
Cover, glaze and decoration
Before assembling the cake, let's make some decorative chocolate. For the spiders' bodies, a couple of M&M or those milk malt balls would work.
Have a piece of parchment layout on a flat surface, place the bodies, then melt some chocolate and draw the heads, legs, and so on. You can make other pieces as well, color your chocolate if need. Let the chocolate seat and rest until completely hard, you can speed this up by refrigerating them.
After you got everything ready, let's assemble. Level your cake, trim if needed. Assembling them together, don't forget your pre-made jelly. You can make some chocolate ganache to adhere to all the jelly together, but since we're using buttercream, they should behold well enough.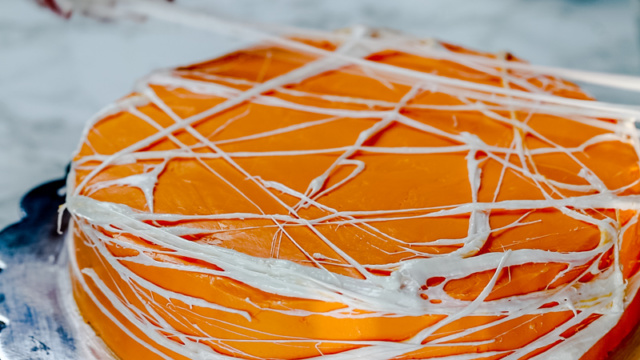 So after covering your cake and lightly smooth it, you can now stick all your edible ornament and replacing the web. This is the fun part, and I would recommend having your kids help out. They would have something to brag about at the party though. Melt some marshmallows and have them do the messy work. Just be careful and test the marshmallows' temperature beforehand.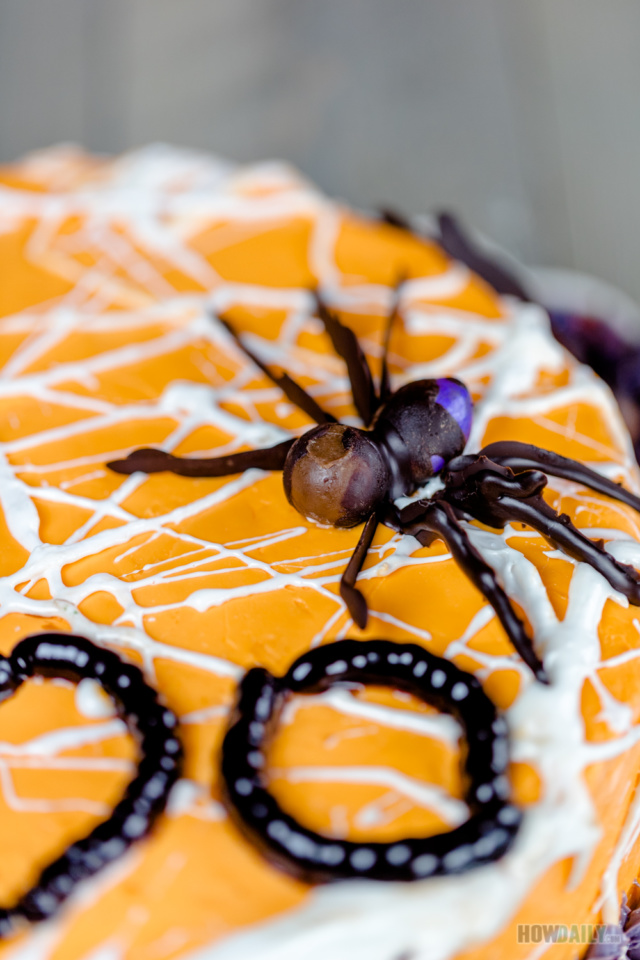 Finally, stick your spider on. Use fresh warm chocolate as glue.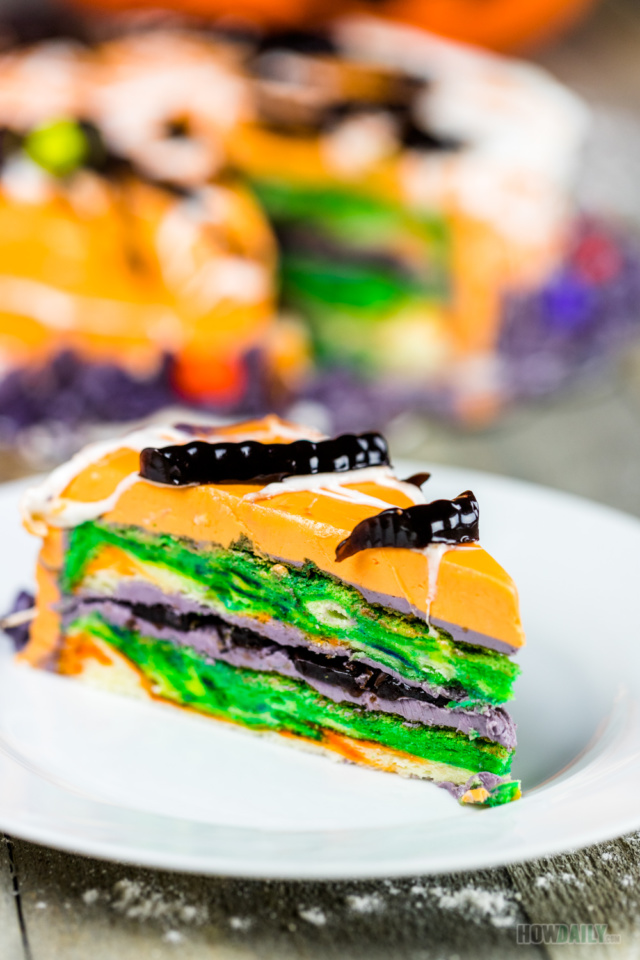 Tada, enjoy your work, take a selfie for your Instagram or FB.
The "Itsy Bitsy Spider" cake or Orange Cream Cake with Chocolate Jelly filling
Fun cake baking & decoration project for Halloween. Variate the flavor with orange cream covered and Chocolate jelly filling. Based on a simple easy sponge cake
Print
Ingredients
2

Sponge cakes

recipe below or any base of your choice
Easy Sponge cake (per each 8-in sponge)
3

eggs

30

g

flour

30

g

cornstarch

60

g

sugar

25

g

vegetable oil or melt butter

12

ml

whole milk

12

ml

juice or extract

for flavor

½

tsp

cream of tartar

pinch of salt

food colors of choice
Whipped buttercream
1

lb

butter

180

g

sugar

or powder equivalent

600

ml

heavy cream

Color and extract flavor of choice
Chocolate Jelly
½

tsp

agar

1

tsp

carrageenan

70

g

sugar

30

g

dark cocoa powder
Decoration
Chocolate

Marshmallow

Candy cones, M&M, puff…
Instructions
Chocolate Jelly
Bring 2 cups of water to boil.

Meanwhile, measure and mix all agar, carrageenan, sugar and cocoa powder well.

When water is boil, reduce heat to simmering (medium-low), then slowy pour in the agar mixture with one hand and constantly stirring on the other.

Just keep stirring until everything dissolve, and the liquid became thicker (around 3 minutes)

Remove from heat and carefully transfer to mold/bowl.

Let sit and cool to room temperature, then chilling in fridge for at least an hour before cutting/layering with cake.
Buttercream
Take butter and heavy cream out of fridge the same time.

Slice butter into ⅓ to ½ inch chunks, and scatter them in you mixing bowl.

Whip heavy cream till soft peak.

Let both rest at room temperature for at least 30 minutes to soften butter. I.E. Go bake your cake or start on some chocolate spiders.

After butter is soften (press a finger on it to check, butter should soft but still feel a little cold), now it's time to whip.

Whip butter on medium speed until all slices incorporated, turn off and scrape the bowl with spatula.

Turn to slowest speed setting, add all sugar into your butter, whip until sugar and butter are all mixed up.

Increase mixer's speed gradually (until almost highest speed) and whip until butter's volume is doubled/tripled while its color becomes pale.

Adjust speed down to medium, spoon in whipped heavy cream, one at a time, wait for the prior to fully mix before adding the next.

After finished adding whipped heavy cream, increase mixer speed to high for 15 second then reduce to lowest setting and beat for 3 minutes to smooth out the cream of air bubbles.

If cream becomes sweaty, let it rest for 15 minutes before beating again on high speed and smoothout with low. Note that it will be splatter (a lot) to beat on sweating butter, so cover the bowl well.

Divide, add color & extract to each portion and mix by hand with spatula to ensure all air bubbles are out.
Sponge cake base (optional – instruction per cake layer)
Separate eggs' white and yolks, whites go into mixing bowl. Note that mixing bowl and egg beaters/attachments have to be cleaned from yold, oil, etc. or eggs' white won't fluff.

Weight and sift flour/cornstarch.

Measure wet ingredients (milk/oil/juice or extract) into separate container.

Prepare a cake pan by line or spraying only its bottom. Do not grease its side or cake getting harder to climb onto.

Preheat oven to 350 F or 330 F if you're using darker cake pan (the non stick ones)

Beat eggs' white to soft peak: start by adding a pinch of salt to eggs' white, beat until you see large bubble. Then add cream of tartar and beat till bubbles getting smaller and forming foam. Finally add sugar and beat till soft peak.

Adjust mixer speed to the lowest setting, then add 1 yolk at time, wait till incorporated before adding the next (should be about 5 seconds each yolk).

Pour in the wet ingredients mixture while mixing.

Divide sifted flour into three parts, add each to mixing bowl, wait till fully mix before adding the next.

Divide this batter into portions, add colors(i used orange, blue and yellow to make marble green) and folding mix by hand.

Randomly spoon between each colored batter into prepared pan to create the marble effect cake.

Bake in over for 25 to 30 minutes. Do not open in between or cake will collapse.

Once done, carefully remove pan from oven and flip it upside down over backing rack.

Let it cool down on baking rack, cake should fall down on its own or you can pop it out with a paring knife around the edge. Make sure cake is cool down all the way before assembling.
Decorate and assemble
Cut some truffles in halves, lay their flat side atop a large piece of parment paper or silicone mat.

Melt some chocolate, and pipe a small sphere on the half truffle to create the spider head.

Next, pip some curves to create spider legs. Let them cool.

Now on to your cakes, trim and level the sponges.

Creme and cover them, don't forget to layer the chocolate jelly between the layers.

Chill for 15-20 minutes, dye some creme orange and cover the whole cake. Or you can dye some green to marble it. Refridgerate the cake some more (~ 20 minutes) to let the creme firm.

Warm some marshmallow in microwave for 30 seconds, stir to mix them. Wait a couple minutes to let it cool down to the touch, dip your hands in and draw it into cotton strings like.

Wrap these strings onto your cake as much as you like. Once done, let set for 5 to 10 minutes.

Adhere all the spiders on, use melt chocolate as glue if need.

Pipe some decorative line with remaining creme if desire.