Homemade sweets are always the best present to give and the best food to share, as they amount to love, passion, and dedication. Another good thing is that you can control exactly what goes into your sweet, so no worry for allergy or unexpected taste.
There are lots and lots of details on any baking recipe that require your utmost attention and a steady hand. With this guide, I hope to make it easier for beginners out there, even the ones who have never baked, to join in the fun with no frustration. So get out your mixer, or buy one – even the cheapest will do and start making a memory with this easy Sponge cake that could be served alone or base for gateaux, mousse, birthday cake, or any decoration.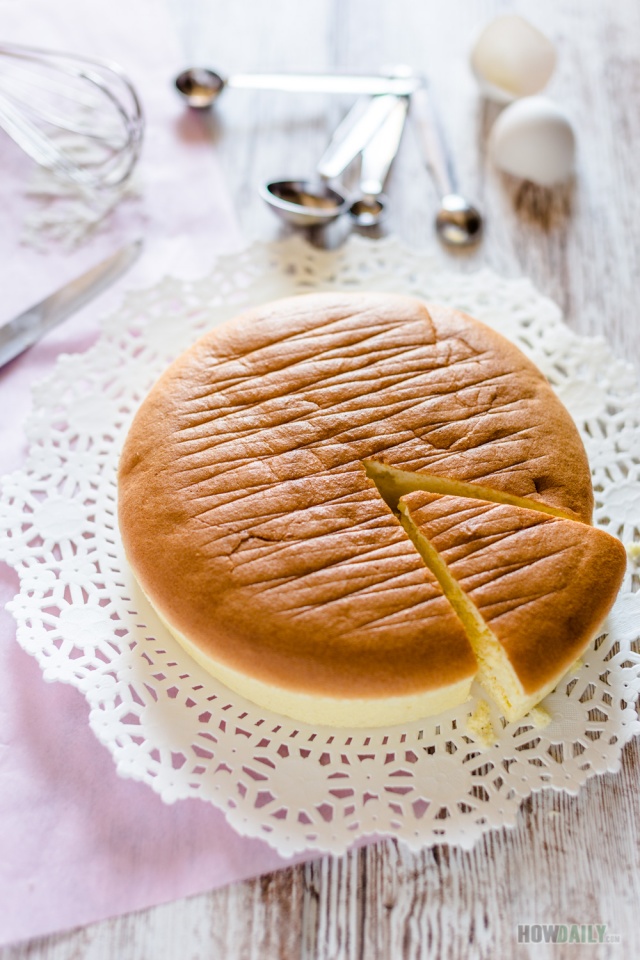 I started venturing into baking for quite some time, before baby and all, then got disrupted and just continuing back recently. Obviously, I'm no experienced baker or anything. Still, just like cooking food, I found my love for the moist and fluffy cake with beautiful colored decoration. So this into baking series will cover my baking journey, through searching, trials, errors, and observation with lots of waste, to develop into try&true recipes.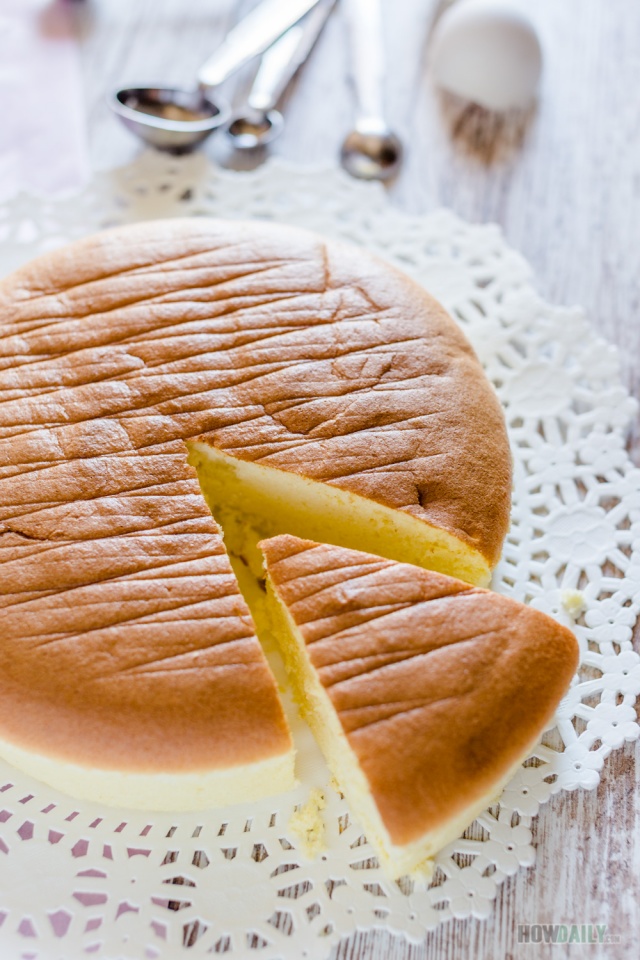 Personally, I love all my sweets to be not so sweet. See, that's why in most, if not all, of my baking recipe, the overall amount of sugar will be generally lower than normal. So pardon me for this and please adjust to your desired sweetness level.
If you're familiar with cake baking, and just want to try another recipe, just jump all the way down to the very end for the recipe. Otherwise, please read everything, technique, tips, and whole recipe before diving in. Doing this will save you lots of frustration and wasteful materials later on.
There are many ways for creaming up sugar into a cake batter, with common bases such as egg, butter, flour, etc. More information on various cake types and basics can be found at this site. For this recipe, we'll focus primarily on sponge cake with an egg white or meringue as the base of all volume and fluffiness. So, the keys in this recipe are mainly two things: whip egg white to the right peak and baking it right in the oven.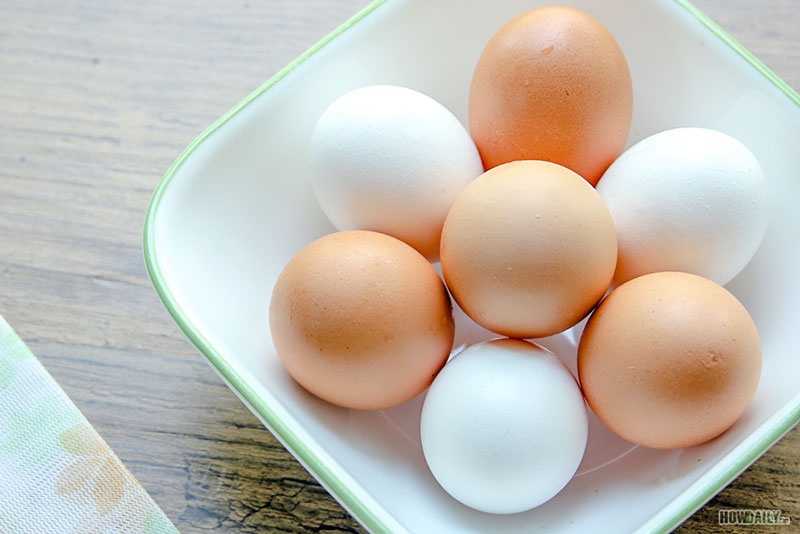 To whip egg white, you will need fresh eggs at room temperature or a little warmer, if your eggs are too old, they're harder to come to volume. Eggs too cold are hard to beat right too. So remember to get your eggs out of the fridge 30 minutes beforehand to avoid this issue.
Second, I found that adding a little salt before beating and then adding some cream of tartar will help fluffy the white easily. You don't have to add those, but it would take longer to whip. So let start with a detailed walkthrough of whipping egg white.
How to whip egg white for baking Sponge
Separate eggs white and yolk, make sure the egg white is cleared of any yolk or it will not fluff.
In your mixer bowl, add eggs' white with a pinch of salt.
Beat at slow speed for 30-45 seconds until you could see large translucent bubbles are forming all over, add cream of tartar and increase speed to medium. 1/8 tsp cream of tartar for every egg's white being used.
Keep beating at medium until those bubbles are getting smaller and merging into opaque white foam.
Now gradually adjust your mix beat to the highest while adding sugar spoon-by-spoon slowly every 10 seconds or so to allow all sugar incorporated.
All the bubbles should disappear and the mixture should become smoother, fluffier, and harder as you beat.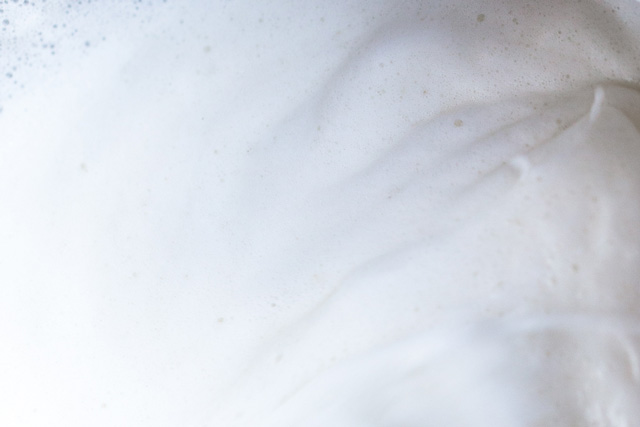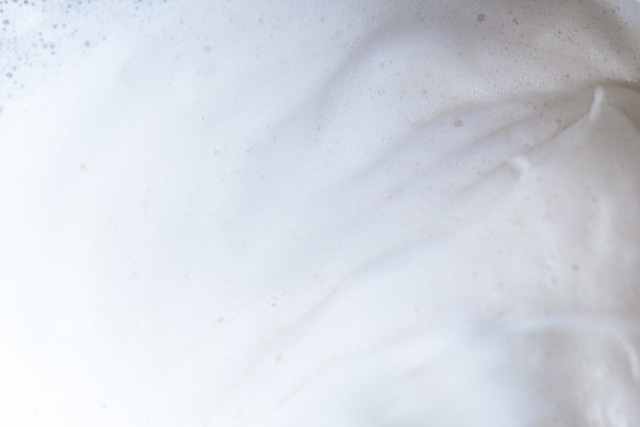 This is the first, still have some liquid in there, lift up your beater and the white foam's doesn't form into any chop, or so call "no peak".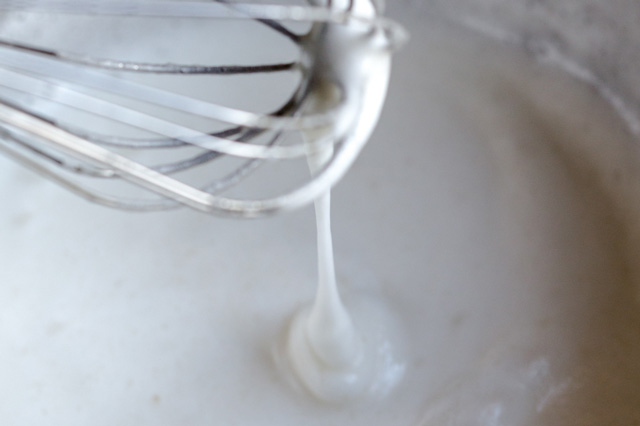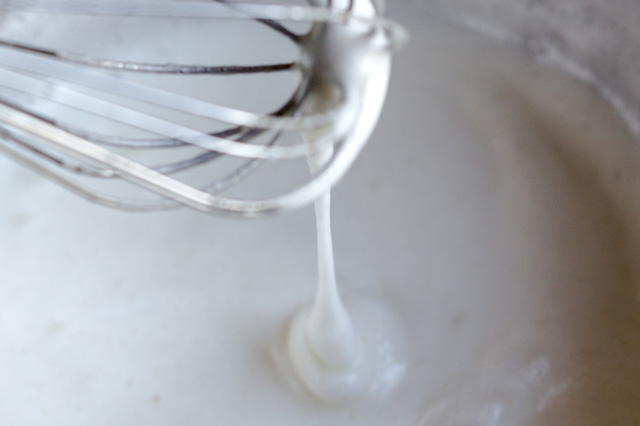 When the whipped meringue is smooth,  you lift up the beaters and see some chop but still runny and flop immediately, this is called "Ribbon", sort of like how a ribbon holding up.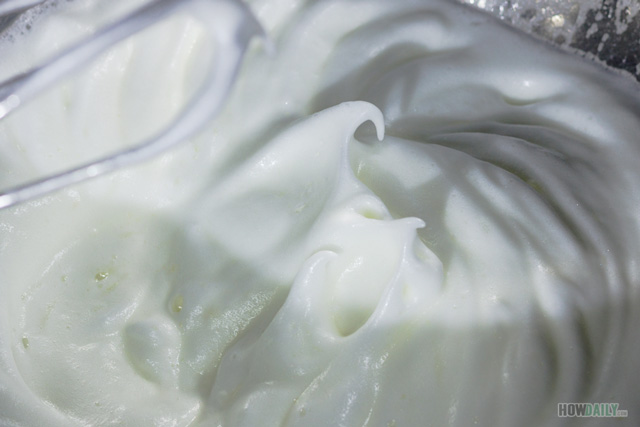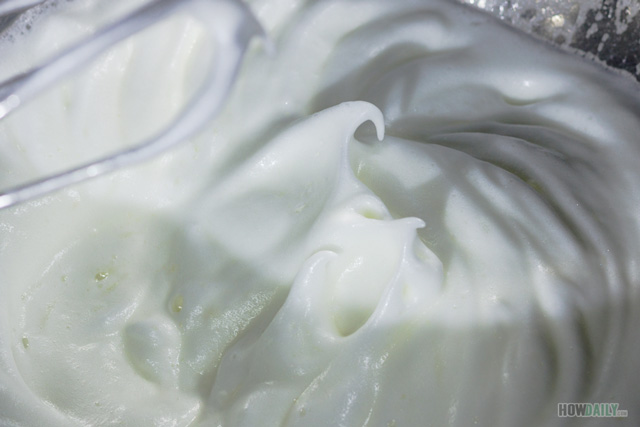 Beating a few more seconds and it will be harder to "Soft peak", the chop will hold when turning the beater upside down for a few second before falling.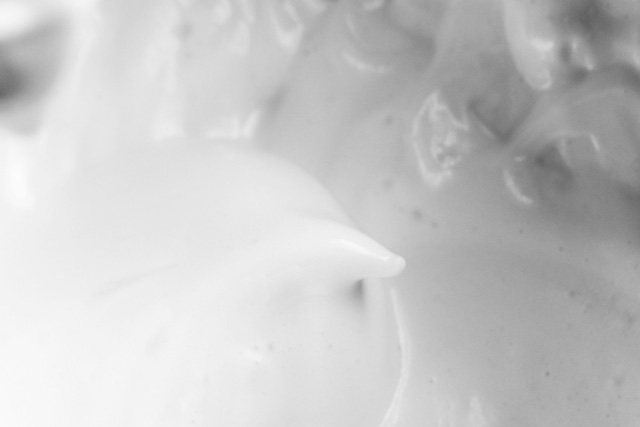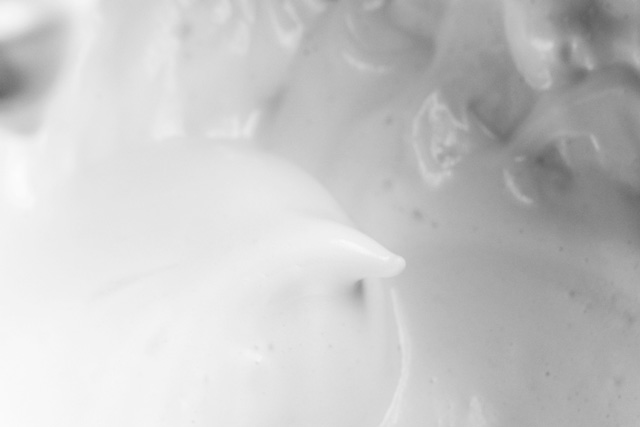 Then there's this "Medium peak" where the top peak hold shape well but its very tip is pointing downward.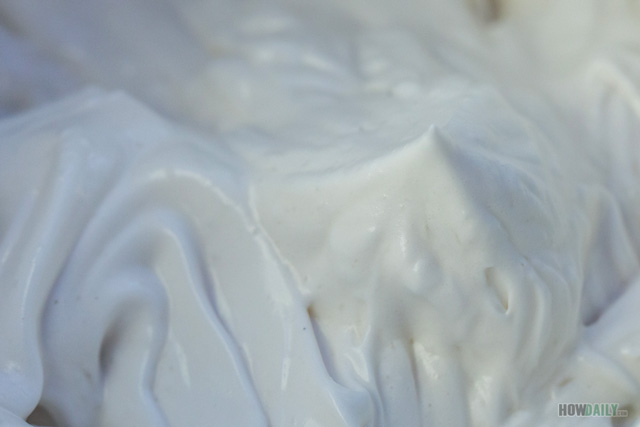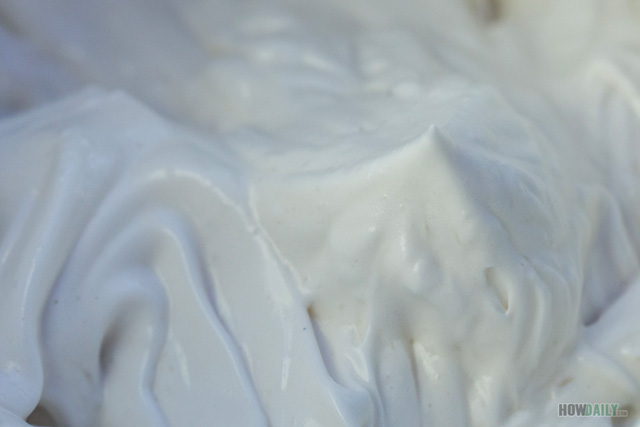 The firm and stiff peaks are two closer stages. Basically eggs whites stay nicely and straight up to the very end on your whisk in the firm peak and is slanting a bit at the tip for the stiff.
Each baking recipe will ask for the egg white to be beaten to a certain stage. For this recipe, we want the soft peak, somewhat holding but still falling. Also, remember to prepare other tasks first and saving whipping eggs to the very last. This will help to avoid egg white losing too many air bubbles (what makes your cake fluffy) when sitting too long.
Adjust oven rack to bake a cake
One important thing in cake baking is the oven temperature. Not all ovens are the same, despite their labels and all, the actual temperature and heat distribution will be different from one to the other. So a safeguard measurement would be to have a thermometer in your oven to test the actual precise temperature beforehand, just so you could adjust to match any recipe.
Another thing with the oven is how and where the heat is distributed through heating elements. If you have a convectional oven or one with dual top & bottom heating coils, sweet, all you have to do is just place the baking pan at the very center and middle vertically.
Now if yours is a TOP only element heat source or dual heat but the top one always distributes more, try to lower the baking rack position. This will prevent the cake from deflating and collapsing during or after baking.
Vice versa, if yours is a BOTTOM only heat, raise the rack position to prevent dense and wet cake.
If you're using the counter top or smaller oven, reduce the baking time and watch carefully as it might be burnt.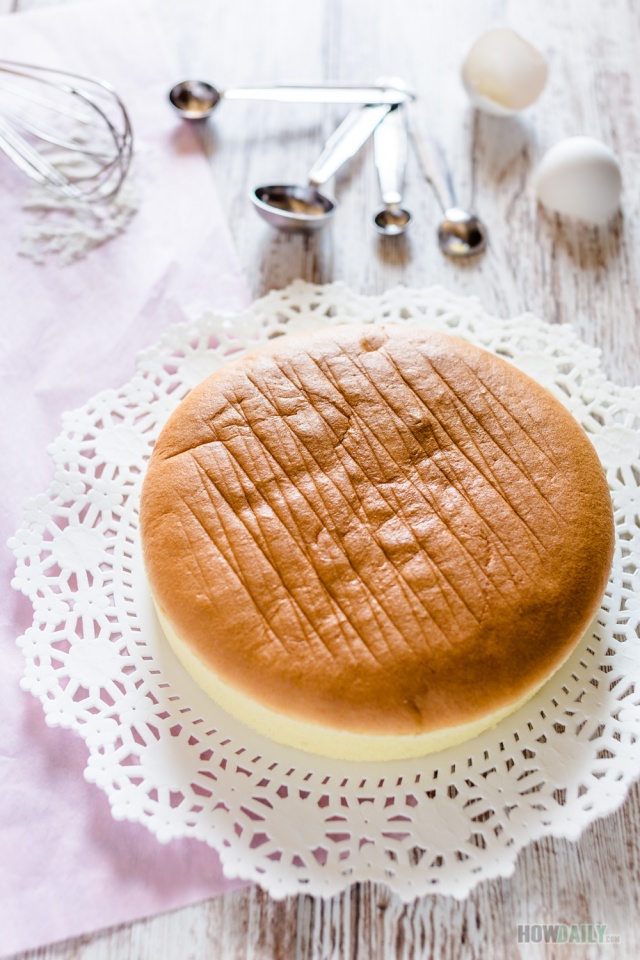 Alright, enough of all the information, let's get onto baking some cake. Let me know your result by commenting below. Also, if you follow this recipe but still run into a problem, I'll be happy to help.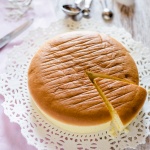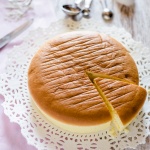 Easy Sponge cake or Gateaux base
Beautiful cake that just lightly sweet, soft, moist and fluffy while still strong enough to hold any heavyweight decoration. Get out your mixer and bake this cake the easiest way: no folding necessary, perfect for a beginner.
Print
Ingredients
For an 8″ x 3″ or 9″ x 2″ round pan
4

large eggs – ROOM temperature

40

grams

all purpose flour

~ 1/3 cup leveled

40

grams

corn starch

~ 1/3 cup leveled

70

grams

sugar

~ 4 1/2 Tbsp

30

grams

vegetable oil

NO

olive or sesame

~ 3-4 Tbsp

15

grams

whole milk

~ 1 Tbsp

15

grams

juice or extract drops

optional

1/2

tsp

cream of Tartar or 1 tsp lime juice

~ 1/4 tsp salt
Recommend tools & supplies
Mixer

Fine mesh or Flour sifter

Large mixing bowl

8

inch

round cake pan

Parchment paper

10

inch

Cake board

Kitchen scale or Measuring spoons/cups

Wire cooling rack
Instructions