Making sushi doesn't have to be hard; if you have no bamboo mat, roll the sushi by your hand. All you need are the basic sushi roll's ingredients: cooked sushi rice, sushi vinegar, nori, and any desired filling. To learn how to roll sushi easily with your hand, try our tutorial below.
For this set of Sushi 101 articles, I will focus on the technique rather than the recipe. There will be one sushi roll recipe with simple fillings/toppings in every Sushi 101 article to help you practice homemade sushi.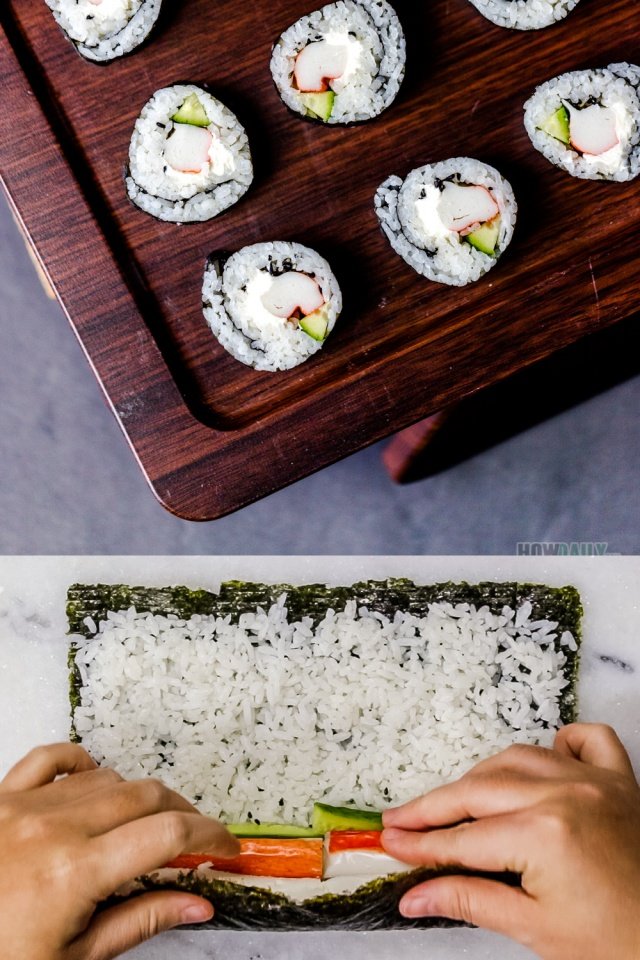 The key to easier homemade sushi is good quality Nori and sushi rice; after all, better ingredients and better results. Better quality Nori sheets tend to have fewer weak spots and holes in them, preventing split & breakage during/after rolling.
Sushi rice is used as the main carb and binder within the roll to help keep the fillings/toppings secure and tact. Thus, it is best to use sushi rice, a short Japanese grain that is stickier and sweeter than the usual Western long grains variety.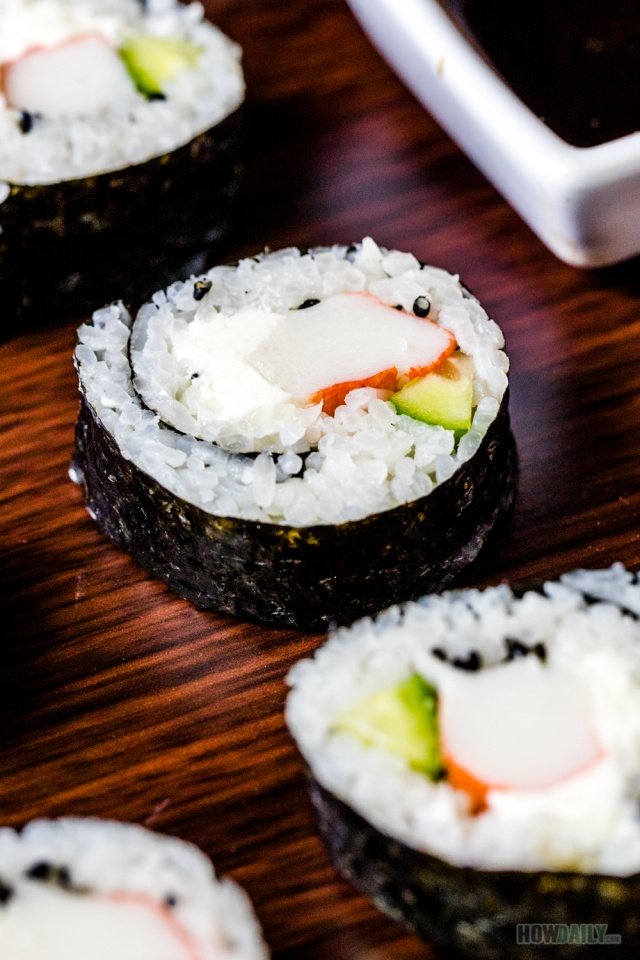 It is also noted that sushi rice is often cooked with kombu and then season with sushi vinegar (a solution of rice vinegar, salt, and sugar) to add extra stickiness. Follow the link for instructions on how to cook sushi rice. If you can't find sushi rice, read our article on sushi rice substitution.
Now onto the rolling part, to make the sushi roll by hand, it is better if you don't overfill it; that way, all ingredients will have some surface that in direct contact with the binder – sushi rice and hence don't fall apart.
How to roll sushi
Season rice with sushi vinegar.
Prepare a small bowl of the diluted vinegar-water solution to dip your hand if need.
Lay a nori sheet on a flat surface.
Spread sushi rice onto the nori, leaving a 1/2 inch gap at the further end.
Arrange all the fillings onto sushi rice; note to use 3 or fewer fillings to avoid overfilling.
Lift the nearer end with your thumbs to foldover the filling, apply some pressure with your hands to form the shape.
Keep rolling till the end.
Hold your hands over the roll and move back and forward to help tighten a bit.
Slice and serve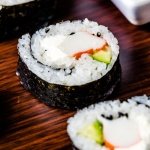 Cream Cheese Kani roll
simple roll with imitation crab, cucumber, cream cheese, and roasted sesame seeds to enhance the flavor. use this roll as an entry step to your homemade sushi journal.
Print
Ingredients
2

sticks

imitation crab /kani

1

sheet

nori

1

cup

cooked sushi rice

1

Tbsp

sushi vinegar

or equivalent rice vinegar + 1/2 tsp sugar + 1/4 tsp salt

¼

mini cucumber

sliced

1

Tbsp

roasted sesame seeds

2

oz

cream cheese
Instructions
Season cook rice with sushi vinegar.

Place a sheet of nori on a flat surface.

Spread rice to cover the nori leaving about ½ inch at the farther end.

Sprinkle roasted sesame on top of rice.

Place kani sticks, cucumber slices and cream cheese.

Lift the nearer end with your thumbs, and carefully fold-over the filling.

Lightly press and hold to mold shape with your fingers and continue to roll.

Once finished rolling, gently press all over the roll to tighten it up, and roll it in a back n forth motion.

Cut the roll into slices and serve.
Video