There are hundreds of ways to cook up a grilled chicken Parmesan. It's just the tasty cheesy chicken with marinara sauce that is so appealing that makes this dish so popular and favorable at mealtime.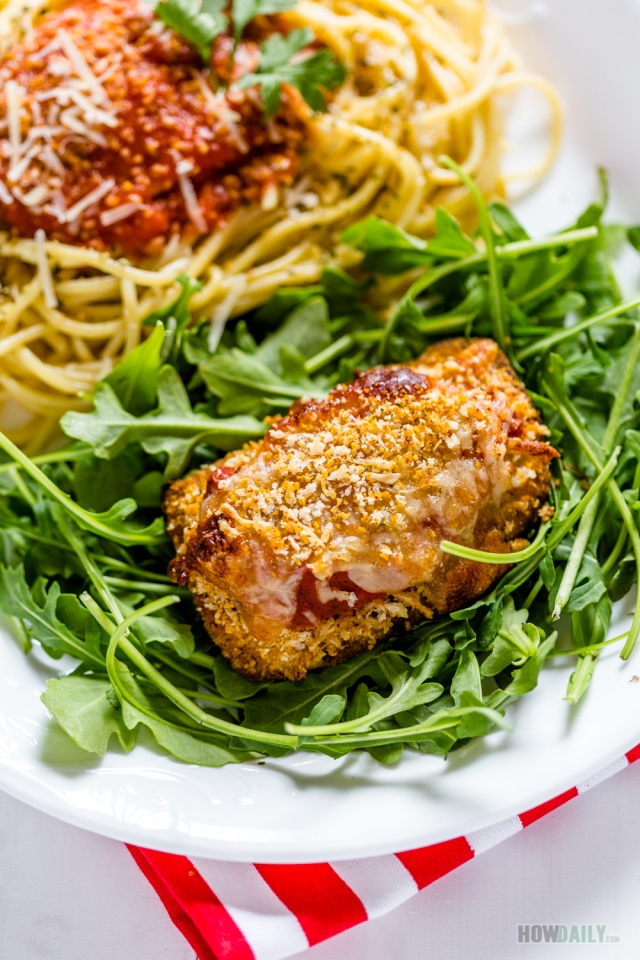 This recipe aimed at creating the perfect crispy chicken with cheesy marinara sauce to top off the salad, spaghetti, zucchini noodles, or even sandwich. It can be cooked on the grill, oven bake, broil, or pan fry. The key is to make sure chicken is lightly cooked before dredging over bread crumbs to prevent burnt but still infused with a smoky flavor.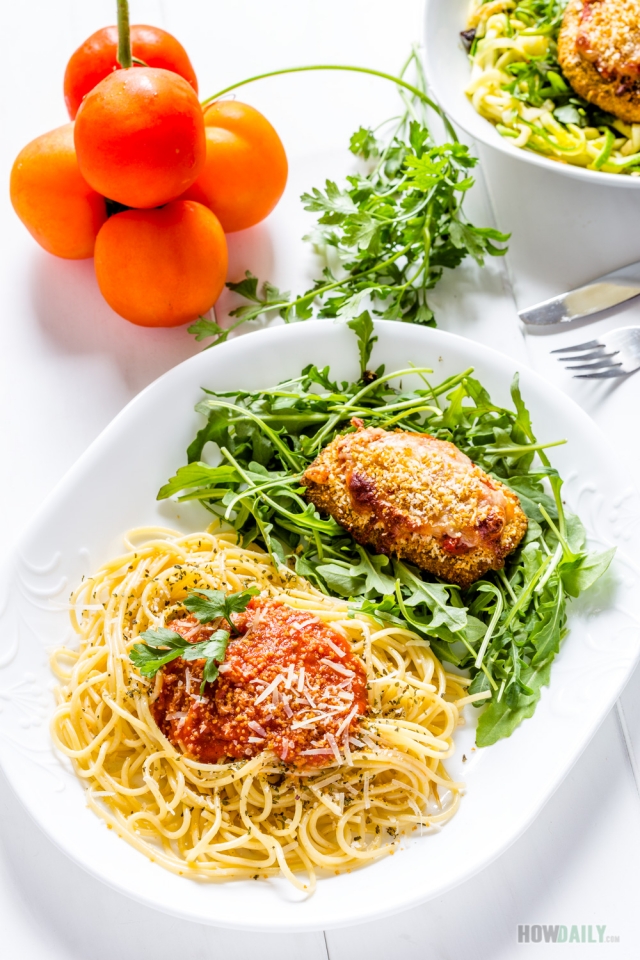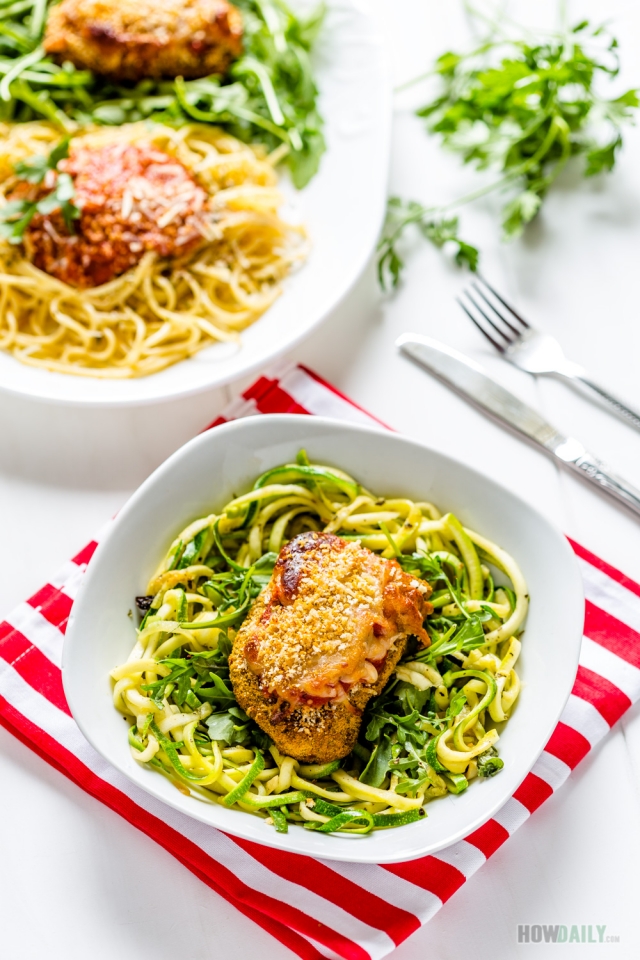 Depend on the tomato sauce being used, this is where each creation will differ even when using a similar recipe. This time, I used the freshly homemade marinara sauce recipe that is perfect topping sauce for spaghetti. For sandwiches or other hand food, just thicken the sauce through longer simmering.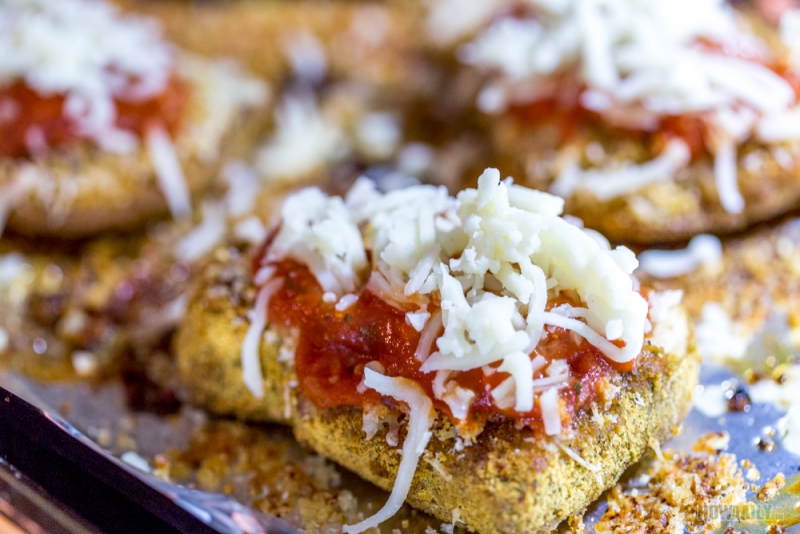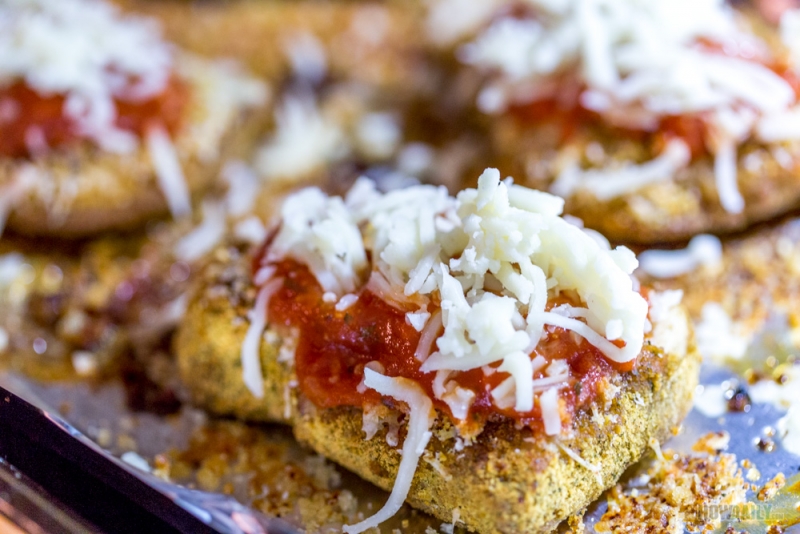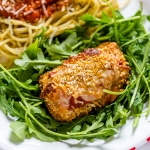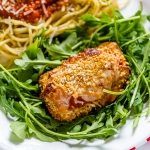 Recipe for Grilled Chicken Parmesan
Crispy cheese filled crumbs layer atop seasoned marinara grilled chicken Parmesan – this recipe is an inspired version of the garlic crust breaded chicken breast over tomato sauce. The flavor is that to remember and complement well over any pasta dishes or salad; Even bread and crouton work well as companion too.
Print
Ingredients
4

boneless chicken breast

about 1 lbs

3

cups

home made marinara sauce or store bought

1/2

cup

shredded mozzarella cheese

1/3

cup

shredded parmesan cheese

1/4

cup

chopped basil
For marinade
2

Tbsp

Olive oil

1/4

tsp

salt

1/2

tsp

Oregano

1

Tbsp

lemon juice

A sprinkle of red pepper flake

A sprinkle of ground pepper

1

clove

garlic crushed and minced
For crumb topping
1

cup

Panko bread crumbs

3

Tbsp

grated parmesan cheese

2

Tbsp

butter

1/2

tsp

salt

1/4

tsp

garlic powder
Sides noodle or bread
2

zucchini

2

handful baby arugula

8

oz

thin spaghetti noodle
Instructions
Marinade the breasts
Pound the chicken breasts to thin them out evenly.

In a container. whisk together marinade ingredients: 2 Tbsp Olive oil, 1/4 tsp salt, 1/2 tsp dried Oregano, 1 Tbsp lemon juice, A sprinkle of red pepper flake, A sprinkle of ground pepper, 1 clove garlic crushed and minced.

Add the chicken breast, mix and turn to coat the breast evenly with marinade solution.

Cover and let sit for 30 minutes to soak.
Prepare crumb topping
Melt the butter and Mix all the crumb topping ingredients into a large container.
Grilling instruction
Preheat grill to medium-high heat.

Sear each breasts sides on grill until lightly brown (roughly about 3 minutes per side).

Dredge all the breasts onto bread crumbs mixture, make sure to cover on both sides, shake off excess.

Drizzle some extra olive oil over breaded chicken breasts to avoid burnt.

For the remaining unused bread crumbs mixture, add 1/3 cup shredded parmesan cheese and mix evenly.

Place all breaded breasts on the grill, and grill until one side is browned (3-5 minutes).

Flip all breasts over and continue grill the other sides.

While grilling the second sides, swoop 2 spoons of

marinara sauce

and spread even layer onto each browned breasts' sides.

Top over marinara layer with grated mozzarella cheese.

Sprinkle the remaining bread crumbs/parmesan mixture atop mozzarella cheese to create an evenly thin layer.

Continue to grill until bottom breaded chicken breasts are browned, and the cheese topping has melted.
Oven or Broiler instruction
In a oven safe tray or casserole dish, Bake or broil chicken breast until lightly cooked (about 10-12 minutes).

Dredge the breasts over panko crumbs mixture evenly, shake off excess and put back onto tray. Drizzle some olive oil a top and bake/broil until crumbs are golden brown (about 5-10 minutes).

While waiting, mix the remaining crumbs with 1/3 cup shredded parmesan cheese.

Flip all breasts sides over, spoon on generous amount of marinara sauce to cover upper sides surface.

Then top with mozzarrella cheese all over and finally add a layer of the remaining crumbs/parmesan mixture.

Place tray back into oven/broiler and cook until cheese melts and crumb top turn light brown.
Serve
Boil or prepare spaghetti noodle as boxed instruction.

Spiral slice all zucchini into noodles.

Heat up a skillet over high heat, spray in some olive oil.

Once oil is hot, toss in the zucchini and keep stirring until lightly cooked (about 3-5 minutes), don't overcook or you will have mushy noodles.

On a serving plate, add serving portion of spaghetti on one side topped with marinara sauce and fresh herb.

For the other half, arrange grilled chicken parmesan bedding over zucchini noodles and baby arugula, top with some fresh basil

Enjoy