Yet another lovely creation over the usual omelet breakfast, this time with ham, turkey breast, and provolone cheese in a fun form of the pinwheel. I always love these little appetizers cause they are easy and quick to make, portion controllable, great for bento boxes/packing lunch, and totally cute.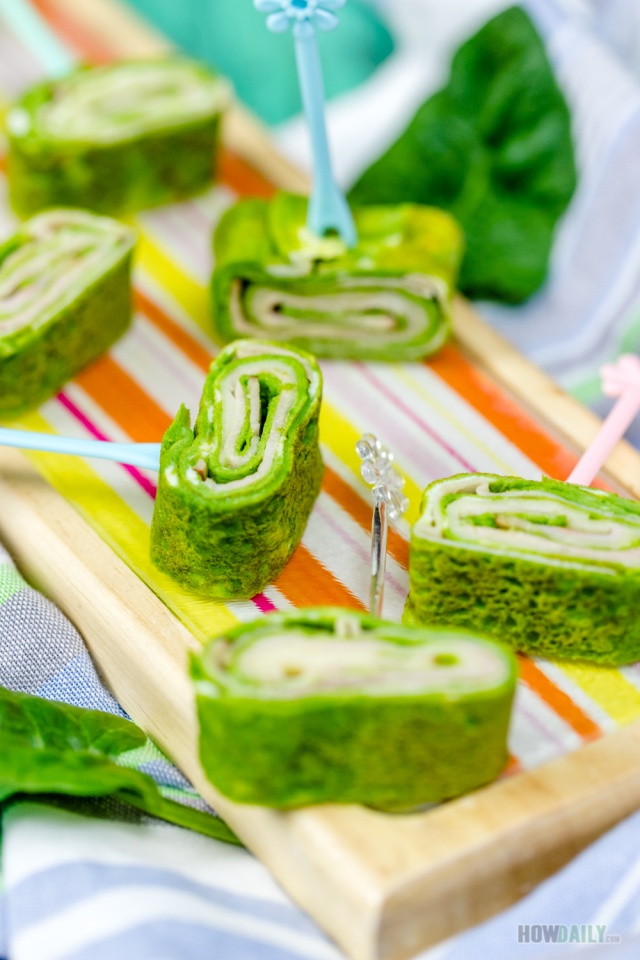 There are so many ways to customize eggs pinwheel. I did a white version, a yellow (yolks only), and then this one, the green (hidden spinach) version which I named it green eggs and hams, my little version of Dr. Seusse' cat' favorites.
So, my son, Alex came home seeing these pinwheel and immediately want them for snacks and then some more for lunch on the next school day. I did pack a little extra just in case so that he could share some with friends. Turn out Alex was so happy, telling me of how his friend loves those pinwheels, saying they're cute as they all enjoy the Cat in the Hat movie afterward.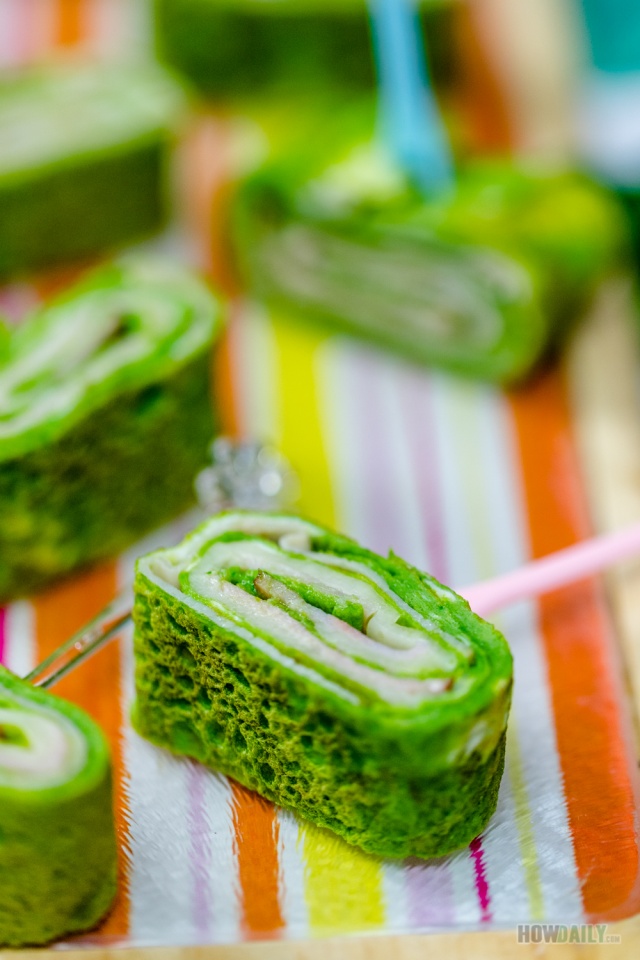 What a great experience I would say, so occasionally more pinwheels I guess from now on.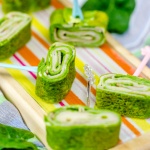 Recipe for Green Eggs and Ham Pinwheel
A trip to childhood with this Green Omelette roll-up recipe, an inspiration from Dr. Seuss' Green Eggs & Ham or so called the Green Eggs & Ham Pinwheel due to its lollipop presentation. Eggs are green (of course) with spinach, a perfect vegetables disguised for the picky-eater while going pale inside with provolone, ham and turkey breast.
Print
Ingredients
8

eggs

2

cups

baby spinach

pre-washed & rinsed

4

slices

ham

deli-style

8

slices

provolone

deli-style

8

slices

turkey breast

deli-style

3

Tbsp

oil

salt & pepper
Instructions
Add baby spinach, 2-4 eggs whites, and 2 Tbsps water (if your blender need) into the blender.

Blend them good before adding back to the mixing bowl.

Whisk together the green mixture with remaining eggs/yolks and a little bit of salt/pepper(to taste).

Heat skillet (~ 8 inches) over medium/low, when hot enough, add 1 Tbsp oil just enough to coat the surface, stir, whirl, and tilt the skillet to coat it.

(Optional) Pour some hot oil back out after coating if excess.

Pour ⅛ of the green eggs mixture (~¼ cup) and tilt the skillet so the liquid can spread out evenly.

Use a spatula to lightly lift around the perimeter.

Lay 2 slices of cheese and ham on top of the eggs.

Carefully lift egg from one end and fold over about an inch.

Continue repeating lift+fold the egg until finish rolling. Use chopstick/spatula/tong to keep it rolled.

When reaching the end, gently push the roll to the nearer side of the skillet, then pour in another ¼ cup of green eggs.

When this new egg mixture sets, add turkey breast, then repeat the lift and fold, starting from your previously roll-up.

Transfer out to the serving plate.

Repeat for other rolls of green omelets.

To cut into a pinwheel, make sure they are cool down first, it's even easier to slice if they're chilled 10-20 minutes in the fridge.

Pin and Slice like you would on Italian Pinwheel, serve as is or with your favorite choice of sauce, ketchup maybe?
Video