Salty-sweet, creamy with a little bit of spicy and tangy, this is the soup for any hot summer day. Utilizing coconut cream and lemongrass, this coconut clam chowder fused the traditional beloved into Asian style inspiration.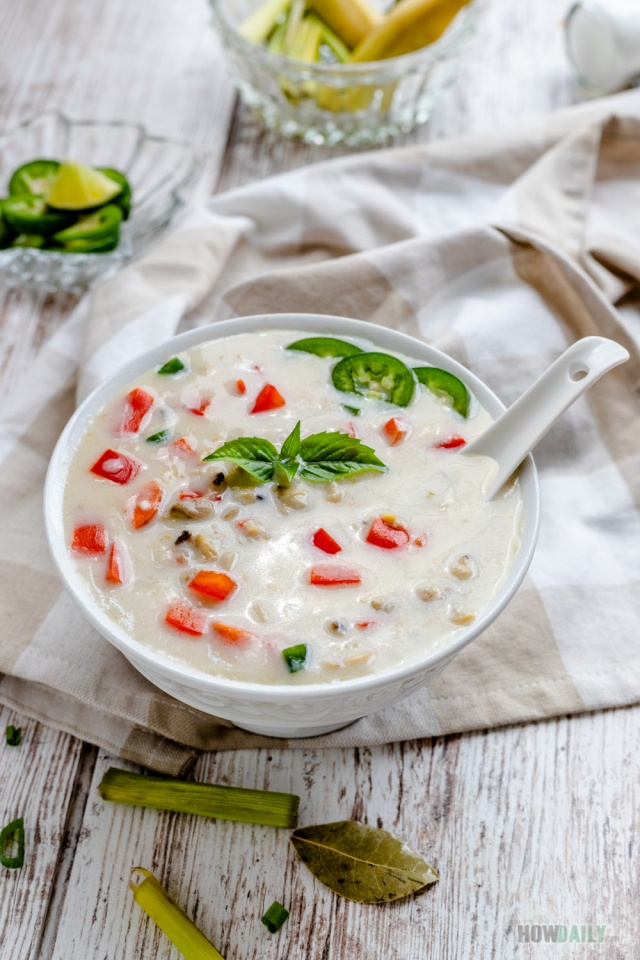 In order for this to work, we have to extract lemongrass essence out. Now, most of the curry that involves lemongrass, often the chef just leaves them there. Though they taste great and all, those bits and pieces make your soup feel less creamy.
So, I saute lemongrass with some crushed garlic before, then simmering them with coconut milk or seafood stock to bring out the true flavor. Afterward, I would strain away from the solid, squeeze them to extract as much juice as I could, and use that liquid as the base broth.
I left the lime wedge as garnishment, cause some people like their soup sour (extremely hot day) or just enjoy the creamy fatty sweet of coconut flavored clamp.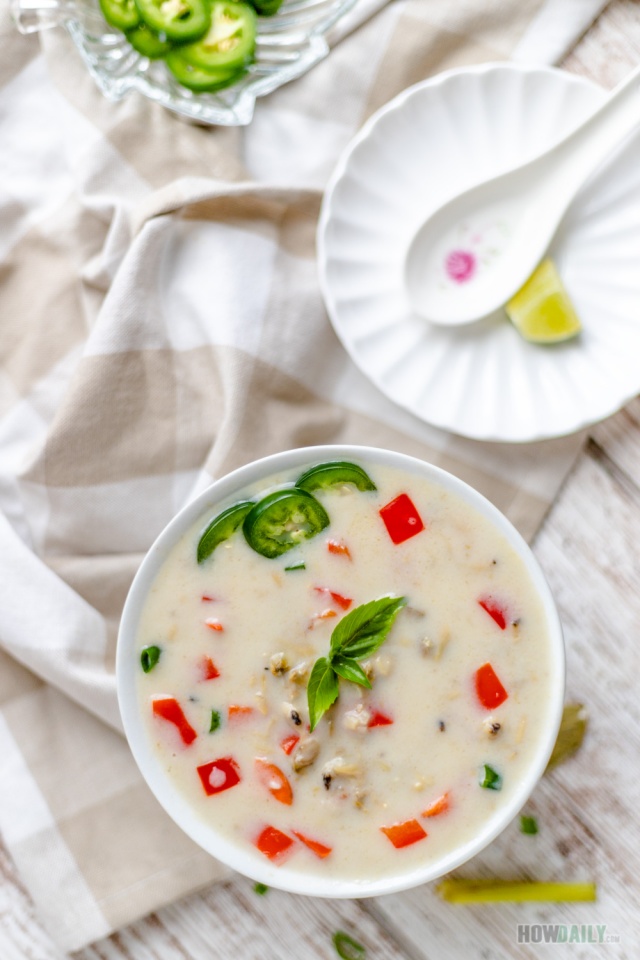 Among the herb, I chose basil, since it goes great with coconut and clamp, but really, spearmint will work. For the veggies, carrot and bell peppers were used to add to the flavor besides their beautiful natural colors. You can choose to add mushroom, corn, or any chunk veggies instead, and it would still taste good.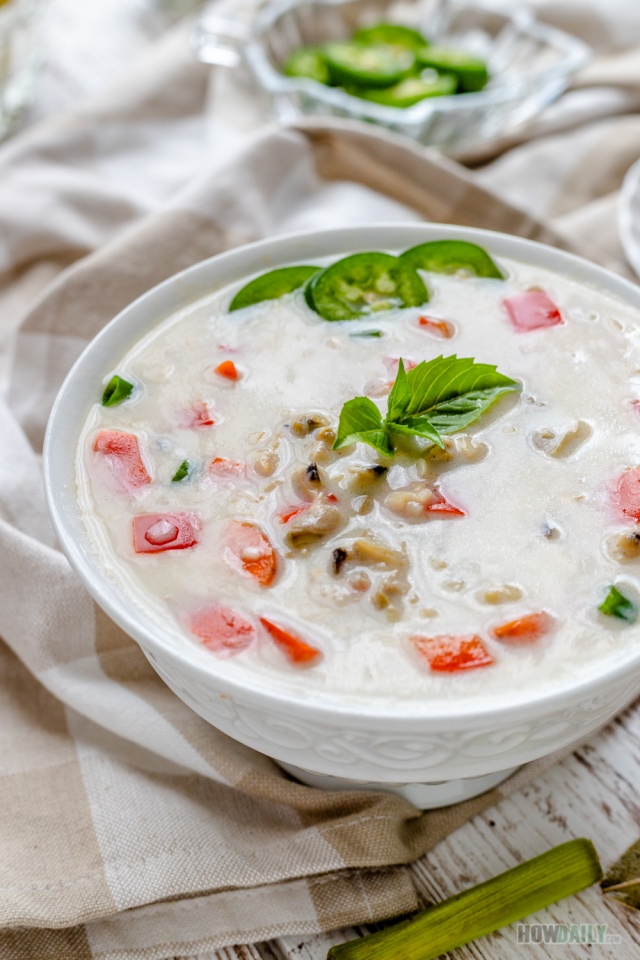 Finally, a little bit of chili pepper or ground black pepper for spiciness is perfect. However, if you have a little one like me, I would say just skip it or leave that to the side garnish too.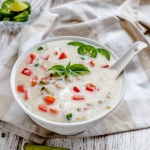 Recipe for Coco Clam chowder w/ Lemongrass
Creamy clam chowder in Asian fusion style with coconut cream and lemongrass essence. Deliciously salty-sweet with mildly sourness.
Print
Ingredients
2

cans clams

1

cup

coconut cream

2

cloves

garlic

1

bay leaf

2

stalks lemongrass

1

cup

diced bell pepper

1/2

cup

diced carrot

1

sprig basil

garnish

1/2

lime

garnish

1

chili pepper or spice tolerant

optional

2

Tbsp

vegetable oil

2

cup

seafood stock or coconut milk or water

salt and ground pepper to taste
Instructions
Start by dicing all bell peppers and carrot.

Cut lemongrass into shorter sticks (~ 3 inches), smash the end bulbs.

Finely crush garlic cloves.

In a deep sauce pan/wok/small dutch oven over high heat, add 1 Tbsp oil. When the oil is hot, add half of the garlic, stir well to saute until golden.

Now stir in lemongrass, bay leaf and chili pepper to your spicy tolerant. Keep stirring to prevent burnt until lemongrass giving off nice aroma.

Now pour in 2 cups of stock or coconut milk or water.

Season with 1 tsp salt, seasoning powder and ground pepper to taste.

Bring to boil then adjust heat to medium low and cook for 5-7 minutes to get all the essence.

Remove from heat. Carefully strain and reserve all the enhanced stock. Press and squeeze the solid to extract all the juice. Discard solid.

With the same pot over high heat, add 1 Tbsp oil.

Saute remaining crushed garlic till golden, then add dice carrot and bell pepper.

Stir to mix then add back the strained stock and bring to boil.

Add in cans clam, stir and reduce heat to simmering.

Simmer for about 10 minutes, then add coconut cream.

Stir well to mix and re-adjust seasoning to taste.

Remove from heat.

Serve hot with basil and a lime wedge as garnishment.