If you're looking for a recipe that is easy to make, delicious and portable, consider this Chicken Mango salad roll. These rolls are so light in calorie yet pack with full nutrition, flavors and can be served well as an appetizer, snack, or on-the-go meal.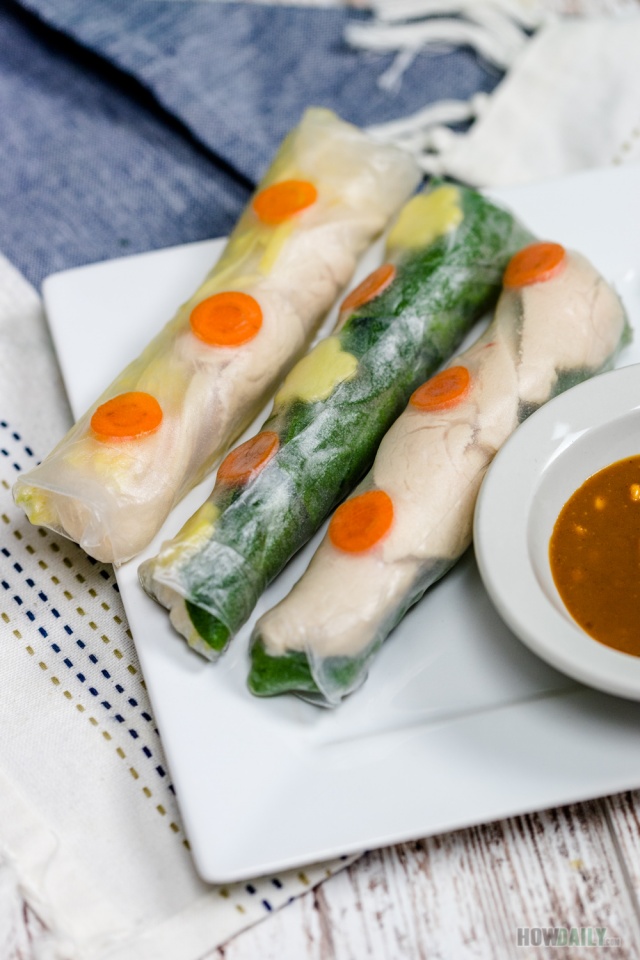 The process is simple, just boil a chicken breast, and while it's on the stovetop, you would go wash, julienne, or cut mango and any other veggies to your heart desire. After 10-15 minutes or so, when the chicken is done, move it immediately to an icy cold water bath to cool down quickly. Now you can slice or shred it.
Next is just rolling. You can roll them all at once and then serve, or if there are a few people at your party, have a little roll-n-eat session. Just prepare some warm water (~1 minute in the microwave) and have everyone dip their own rice papers, arrange ingredients, and hand-rolling themselves.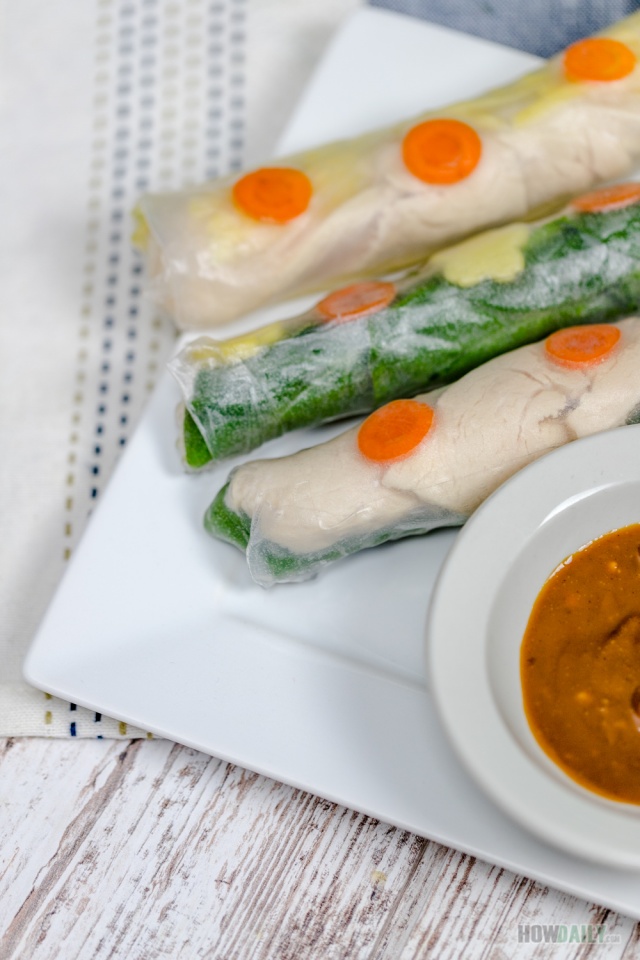 The best method to preserve the flavor when packing these rolls is to wrap each roll individually with plastic or saran wrap. Then just put them inside your lunch box and add a closed cap sauce cup.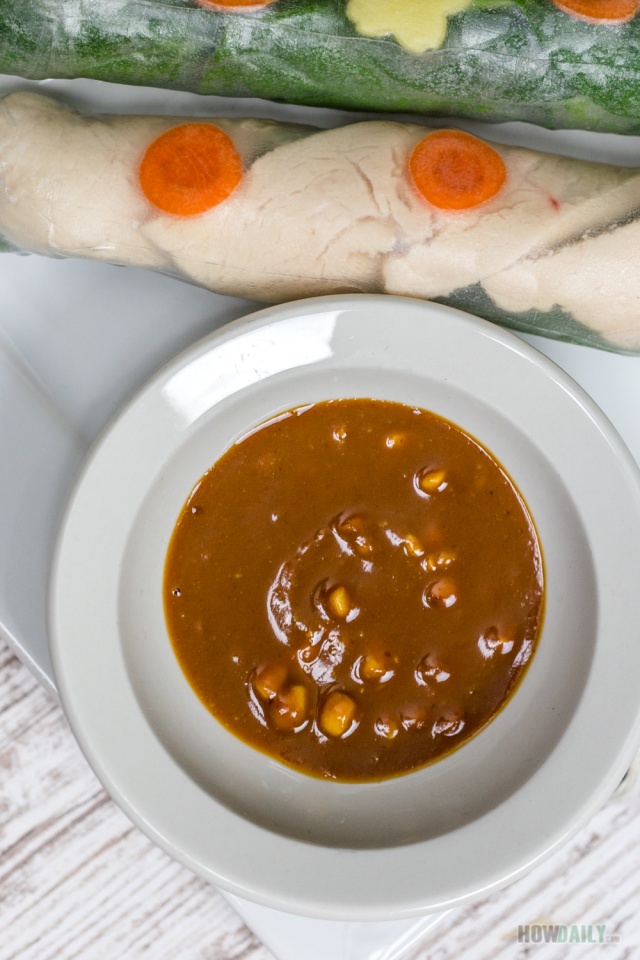 I also add a sauce recipe below, however, feel free to substitute and adjust depending on your taste. For example, if the mango you pick happens to ripen, add some lemon juice to the dipping sauce. On the other hand, skip and add more honey. Tamari might be a little too salty, if so, reduce the amount or add more hot water to thin it out.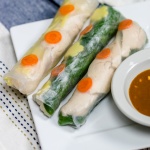 Recipe for Chicken Mango salad rolls
Light and beautiful chicken mango salad in a rolling style to keep you feel indulge yet low on the carb, calorie, or gluten. Try this recipe and feel free to substitute based on what you have in the fridge. Perfect appetizer too.
Print
Ingredients
1

chicken breast

1

mango

2

cups

spinach

10

rice papers

1

baby carrot

optional for decoration
Sesame Dipping sauce
1

Tbsp

peanut butter

add extra if using crunchy

1

Tbsp

tamari soy sauce

1

tsp

honey or sugar

3

Tbsp

hot water or boiled chicken stock

1

Tbsp

lemon juice

optional if using ripen mango
Instructions
Boil the chicken breast with a little bit of salt till done.

While waiting, wash, and julienne mango. If you want to decorate with carrot, thinly slice it.

When the chicken breast is done, let it cool down or soak in icy cold water before thinly slice or shred.

To roll: wet a piece of rice paper with warm water then lay it flat on a plastic cutting board or a large dish.

Arrange all the filling ingredients, then lift, roll, and tuck.

Serve immediately with dipping sauce.
Sesame Dipping Sauce
Microwave some water or bring to boil over the stovetop. You can also use the hot liquid from boiling chicken breast above.

In a bowl, add peanut butter, soy sauce, water/stock, and sugar/honey. If your mango is sour, skip the lemon or add some if it's sweet.

Use a fork to whisk and mix them good.

Add extra water if you want the sauce thinner.