Chicken is great for your health, so are cucumbers, tomatoes, and herbs. This chicken cucumber salad is a super easy dish to make, with less than 5 minutes cook time (boil the chicken). It is beautiful with all the colors, tastes fresh, cool, and full of goodness to replenish your health.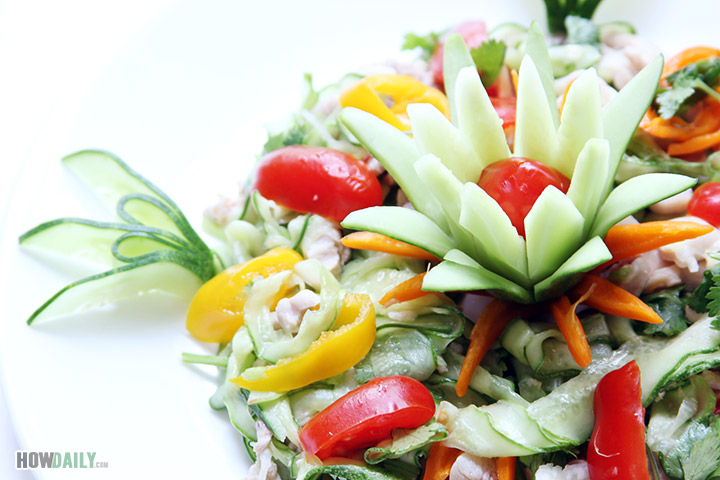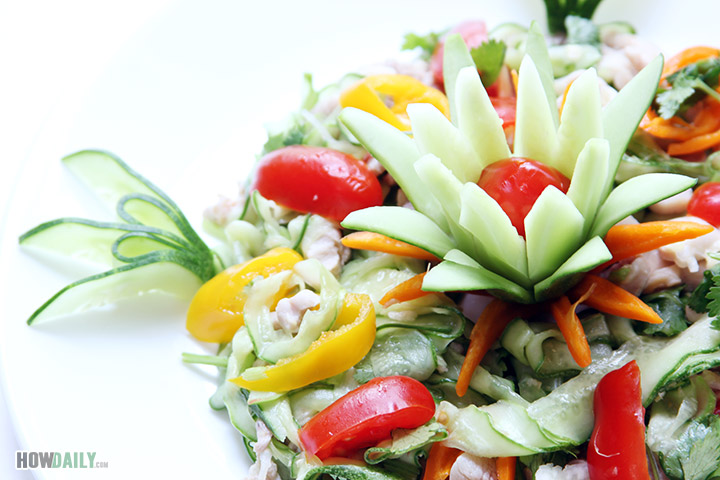 I often made this dish during the summer, as its sour taste seems to dissipate the summer's heat. This dish is great for your overall health. It's low fat, low cholesterol, high lean-protein, lots of fiber, vitamin (A, B1, B2, B3, B5, B6, C, E, Folic Acid) and dietary minerals including calcium, iron, zinc, manganese, magnesium, and phosphorus. It's also a great dish for people on various diets. With so many goodness, it is the perfect mate for both the low carb high protein (Atkins, Paleo, carb cycling) and traditional non fat diet too.
In this recipe, I chose chicken drumsticks for their tendon's crunchy texture and also juiciness. Chicken breasts can be used instead, but the outcome would be a little tender and bland. The boiling time for chicken may vary depend on your heat source and how thin you slice your chicken. Just watch as they turn color, don't overcook or you will lose some juiciness and texture.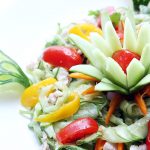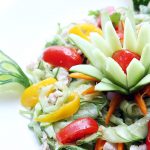 Quick chicken cucumber salad recipe
Introducing a quick, easy and lean recipe from chicken and cucumber for your daily meal. This is a perfect recipe for salad or could serve as those mid time meals for your diet.
Print
Ingredients
2

chicken drumsticks

1

mini cucumber

4

grape tomatoes

1

medium lemon

1

tsp

grated ginger

2

pieces

garlic

A few stems of cilantro

2

chili peppers

1

tsp

salt

½

tsp

sugar

optional
Instructions
Remove skin and bone from chicken drum sticks.

Thinly slice chicken into long thin strip across its fiber.

Boil water in a sauce pan/pot, add chicken for about 3-5 minutes.

When chicken's done (do not over cook) , transfer into a vented container to let it dry and cool.

If you're using big and ripe cucumber, cut into halves and remove seed before proceed onto next step.

Wash all your veggies.

Chop cilantro.

Cut tomatoes into quarters.

Grate/mince garlic, ginger, chili pepper.

Put all your ingredients above into a mixing bowl.

Add salt, sugar (optional) and squeezed lemon juice in.

Mix them all evenly, let sit for about 5-10 minutes.

Mix again and serve.
Notes
Chicken drumsticks are chosen due to their tendon distribution for crunchiness. If you want all white meat, replace with 1 breast. For quicker and lesser prepare time, you could also substitute with boneless skinless chicken thighs or rib meat.
Mini cucumbers/dill are prefer due to their lack of seed and fresh crunch taste/texture. If you use larger cucumber, remove seeds and slice them a bit thicker than you would for the mini one.
Add onion for variation
Finish with crushed peanut or sesame to enhance flavor