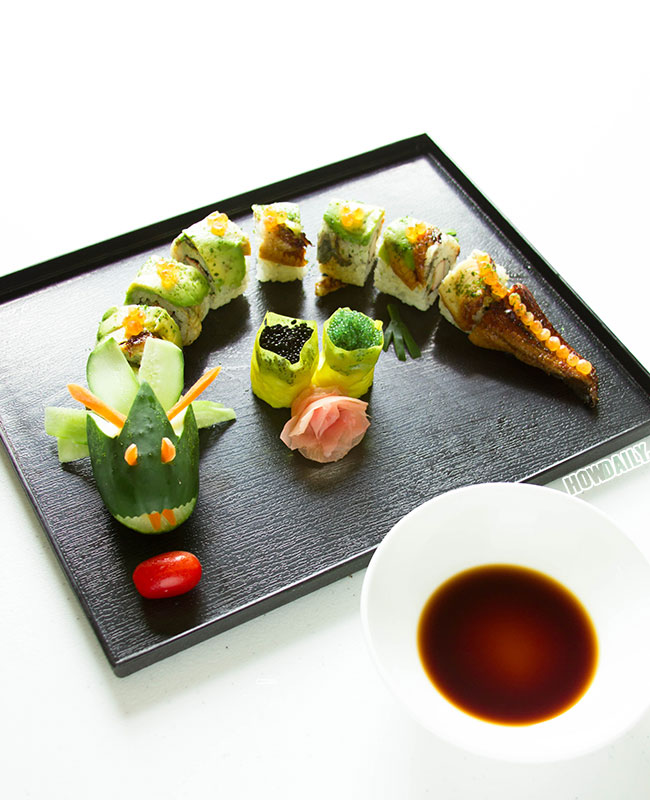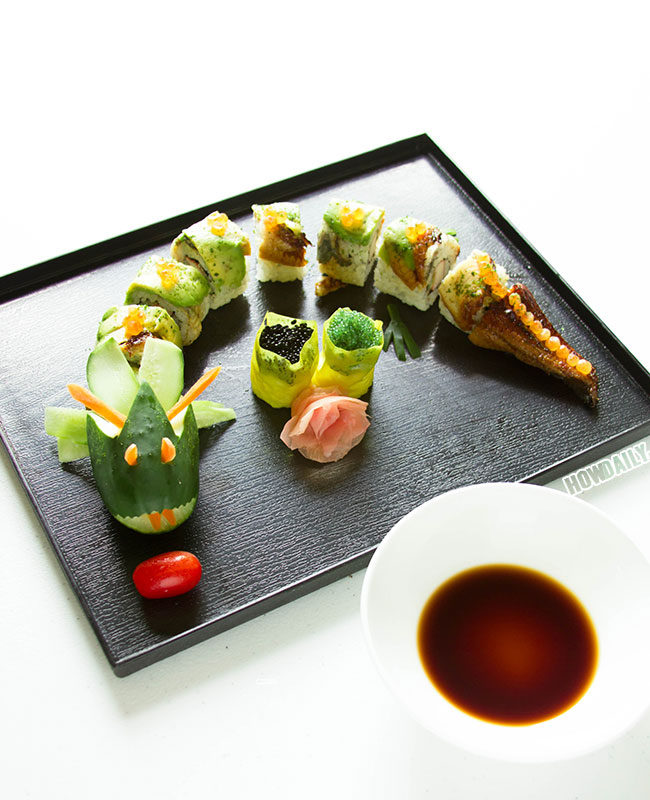 Do you love sushi but afraid to consume raw seafood? Well try the following California roll recipe, this is a fun way for sushi. I also add an extension of Dragon roll over the California roll to make it more fun, well, cause I love Unagi, and probably you would too.
Before we get onto the roll, make sure you read this article for how to cook sushi rice, cause it's the most important part of any sushi dish. Also, I use kani – surimi bar with cucumber/avocado for the filling because that's what I have on hand. They're available at most grocery stores (probably in the international aisle for kani). You could add in/substitute any protein and veggie for the filling, it'll still work.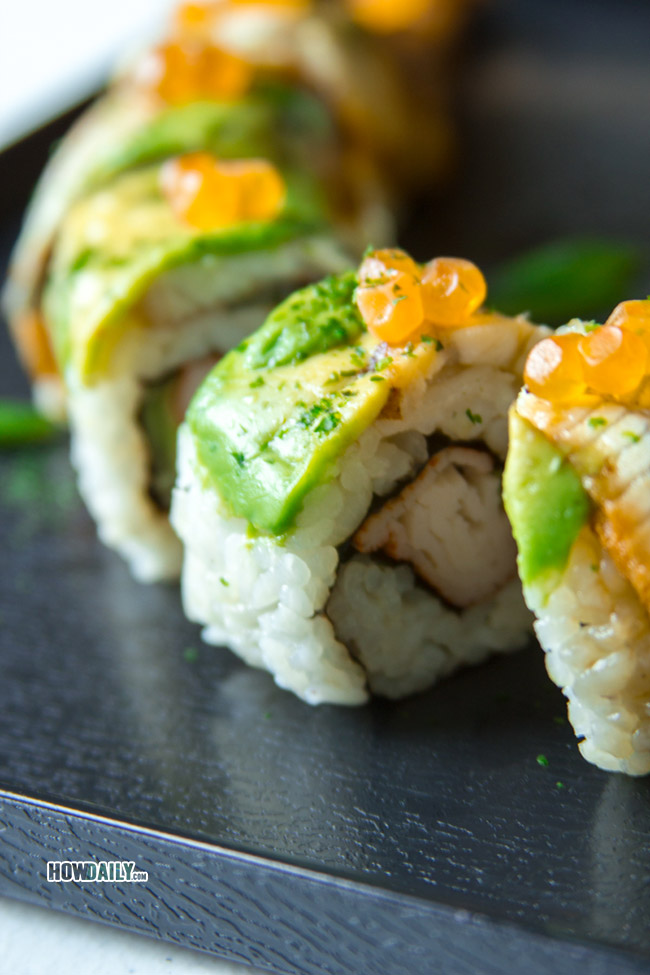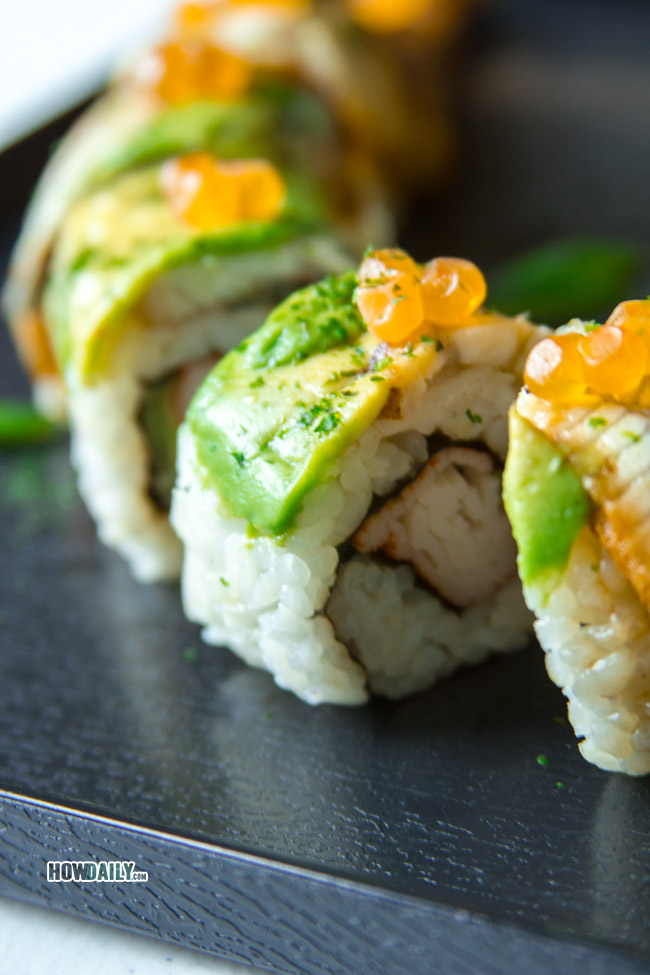 You will also need a bamboo rolling mat, even though you could roll without one, the bamboo rolling mat does help in making the roll evenly round/square shape and help the roll tight without smashing the filling/rice layer or breaking the nori.
There're also several ways to roll, like maki – nori on the outside, gunkan – single ball wrapped and filled with caviar or the like, temaki – hand roll, and the uramaki -inside out roll. In this article, I will demonstrate the uramaki rolling style with California roll ingredient, then top with Unagi and avocado for Dragon roll decoration. OK, let's start!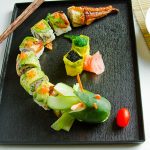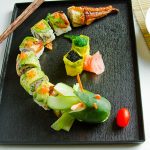 California Roll – Uramaki/ Inside out style
Popular with its eye-catchy presentation, the inside out California sushi roll is perfect for those who want to enjoy sushi but don't like to consume raw fish.
Print
Ingredients
California Roll
2

cups

cooked and mixed sushi rice

see how to cook sushi rice

8

kani

4

nori sheets

1

cucumber

1/2

avocado

Bamboo rolling mat

vinegar
Dragon Roll extension
1/2

Avocado

1/2

Unagi

roasted eel
Instructions
Slice cucumber, cut to about the size of kani/surimi

Thinly slice avocado

In a small bowl, mix 1-2 Tbsp vinegar with a cup of water, keep this at the wrapping site so that you could wet your finger when spreading sushi rice.

Lay the bamboo sushi mat onto a flat surface, wrap a piece of plastic food wrap over it. This is to prevent the sushi rice from sticking to your mat.

Place a Nori sheet onto wrapped bamboo mat(texture side up). I only use about 3/4 of the nori sheet, the more you use the bigger the final roll is, so adjust this to your desire.

Wet your finger/hand with the water-vinegar solution, then make a couple sushi rice ball and place them on the nori.

Spreading the rice out to cover the whole nori (keep your hand wet with wate-vinegar to avoid rice sticking to your finger).

If need, add some rice, so that the rice layer is evenly distribute. Do not mush the rice thought, just press gently.

Roll with the bamboo rolling mat, start by using the nearest bamboo mat edge fold over the cover the filling. Then, hold tightly and keep the mat moving to roll until the end.

Put pressure on all over the roll outside mat, now carefully open the mat, and there's your roll.
Dragon Roll Extension
Thinly slice eel and avocado.

Place a large enough plastic food wrapper to cover your roll onto the bamboo rolling mat.

Now distribute all the eel and avocado into a straight line over the plastic wrap, so that they'll the roll length.

Let sit for a couple minute for the shape to set.

Cut with a sharp/wet knife.

Remove the plastic wrapper