You may have seen those cans of gluten/Seitan tidbits from Taiwanese manufacturers from international food aisles/markets or online. They're available in various flavors from regular to curry braised. These are ready to eat or can be used to top pasta/rice/noodle, stir fry with vegetable (lo hua chai), cook in soup… and other assorted vegan dishes.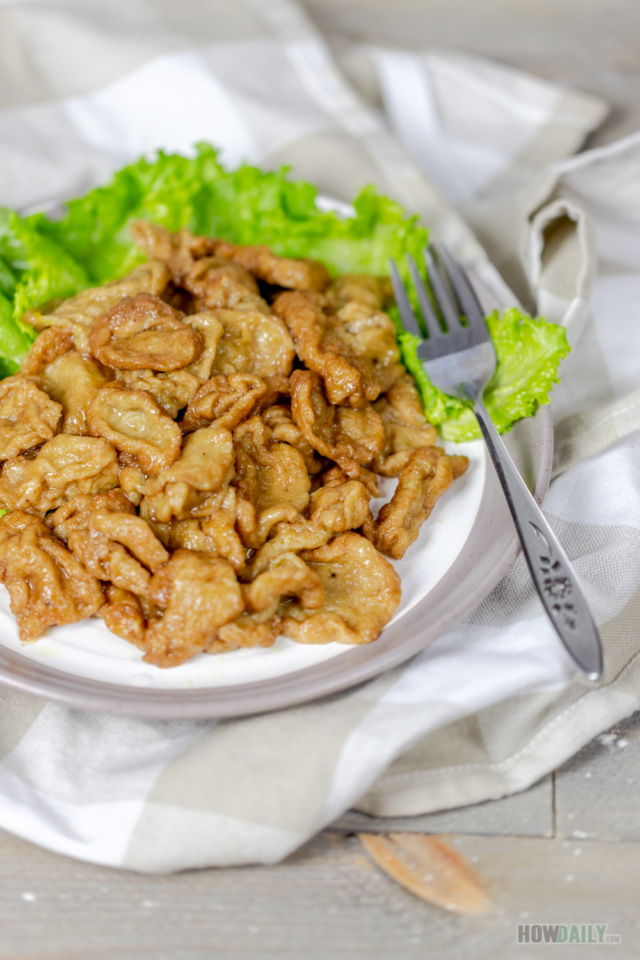 If you have ever tried these, you might find that their flavor is great and quite easy to digest. The texture is mildly chewy, but a whole lot softer than typical Western's Seitan. In this post, I'll try to replicate both this flavor and texture, maybe adjust it a bit to less on the doughy side.
To make braised gluten is quite easy, it's just controlling the chewy texture to your liking is somewhat a trial and error process. You might have to experience a few times to get it right though; add more flour if you want them softer (more doughy) or less to none if you want them chewier and so on. This additional flour can be anything from regular wheat, potato, garbanzo, soy, etc. Each might vary the flavor a bit, but that's fine since you will soak them in veggies broth anyway.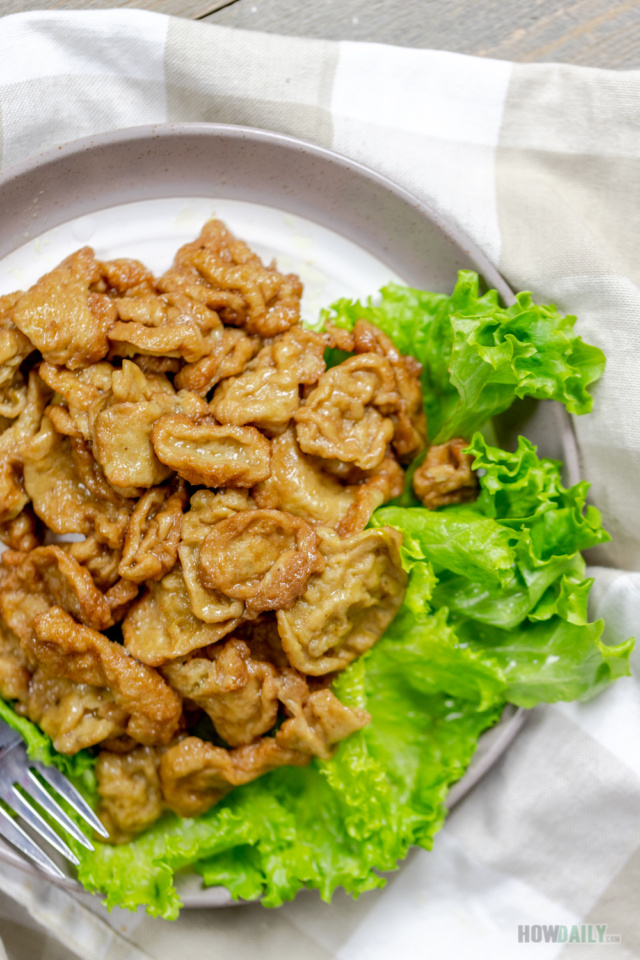 So after mixing and making gluten, instead of steaming, we're cutting them into thin slices then lightly fry them. This will give the pieces' outer skin the soft but also elasticity while their inside is still a bit chewy for imitation purposes. Controlling gluten pieces' thickness is vital here, too thin and they'll be too soft while too thick making them rubbery and hard to chew on.
After frying, it's better to soak and simmering them in flavored broth. There are several ways to cook and infuse flavor into seitan like slow cooking, frying, baking, sauteing…
Slow cook would definitely produce a better infusion perse, which kinda eases of mind if you happen to have a good automated slow-cooker at hand.
If you don't have a slow-cooker, if your range is powered by electricity, you can try this second method. Start by bringing these bits to a boil with vegetable broth/seasoning and simmer for about 30 minutes to let the absorption begin. Then cover the pot, turn off the heat and let the whole thing soak/marinade like that overnight or so. Come back in the morning and heat to reduce 2/3 of the liquid.
If your range is of gas, just directly boil then simmer for an hour (with cover) before open the lid and reduce the liquid stock.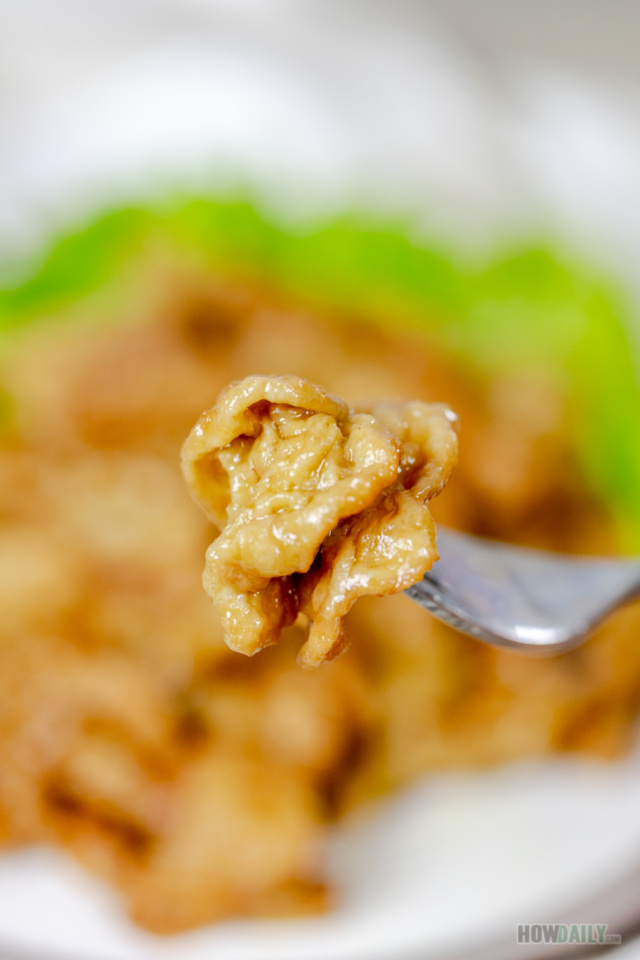 My recipe have a ratio of 1 cup vital wheat gluten flour + 1 cup water + ½ cup additional flour = 2 lbs braised gluten after soaking/simmering/reducing with some liquid left. Depend on the type of optional flour being used, you might have to add some extra spoon of water. Double or triple the recipe as you want, then store them in portions in fridge/freezer for later uses/cooking.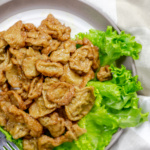 Recipe for Braised Gluten or 'Chai Pao Yu'
A homemade version to mock of the Taiwanese's famous 'Chai-Pao-Yu' literally mean Vegan Abalone. The process involve lightly frying gluten then marinade/simmer for a long period to imitate the flavor. Make yours today in batch and freeze for quick meal preparation.
Print
Ingredients
Seitan
1

cup

wheat gluten

½

tsp

curry powder

⅓

cup

flour of wheat, soy, potato, garbanzo, almond, etc.

optional to soften gluten

1

cup

water

2

Tbsp

soy sauce

vegetable oil for frying

1

Tbsp

No-chicken Better than Bouillon, mushroom seasoning or seasoning of choice

optional

4

cups

vegetable stock or as recipe below
Vegetable Broth for favorred simmering
1

stalk

celery

cut to chunks

1

medium carrot

peel, cut to chunks

½

sweet onion

chop

3

cloves

garlic

smash & peel

4

cups

water

salt & pepper to taste
Instructions
Making Seitan
In a large bowl, measure and combine all the dry ingredients: vital wheat gluten, flour of choice, and curry powder. Make sure they're fully mixed.

Pour ½ cup of water into gluten. Use your hand to mix, fold and knead it a little bit.

You can add water gradually up until 1 cup, go slow just making sure the mixture is not too wet.

The mixture should become spongy and damp dry. If it's still too dry, you can add additional water, go slow as 1 spoon at a time, knead then add some more if need.

Once the mixture is at your desired level of wet/dry, dab some oil onto your palms to prevent sticky then roll and shape gluten between the palms of your hand or against a flat non-stick surface into a long 1-inch diameter roll. Let it rest while we're heating the oil and get ready for frying.

To deep fry, heat a large pot or deep sauce pan over medium heat. Then add frying oil. While waiting, prepare a setting of dripping tray/mesh and get a cutting tool(i.e scissor dabbed with oil or cake scratch)

When oil is hot, adjust heat to low. Depend on your pot/pan size, divide gluten roll in to 3-4 batches for frying.

Use a scissor or non-stick cake scratch to cut gluten roll into thin slices and drop them straight into frying pot. Be careful to avoid splatter. Just make sure the slices are thin enough.

Gluten slices will be expand enormously in hot oil, when so, turn them over to fry the other sides.

When both sides are lightly fried, quickly transfer them over to the dripping mesh tray.

Repeat and continue to fry the next batch.

(Optional) Shake, squeeze or rinse the fried gluten pieces with water to wash off excessive oil if need.

In a stockpot on medium/high heat, add fried gluten, all seasoning, and vegetable broth (used store-bought or as the recipe above).

Bring the pot to boil, when boil adjusts heat source to low, and keep simmering for at least 30 minutes to 1 hour (with the lid on) to let gluten absorbs all the flavor. You can also use a slow cooker for attention-free.

After enough absorption/hot soak time, you may increase heat to reduce the liquid to about 2/3 of what was original.

Once done, you can serve this braised gluten immediately or let cool at room temperature before preserving (chill in fridge/freezer) for future meal/cooking.
Video
Notes
Make around 2 pounds braised gluten