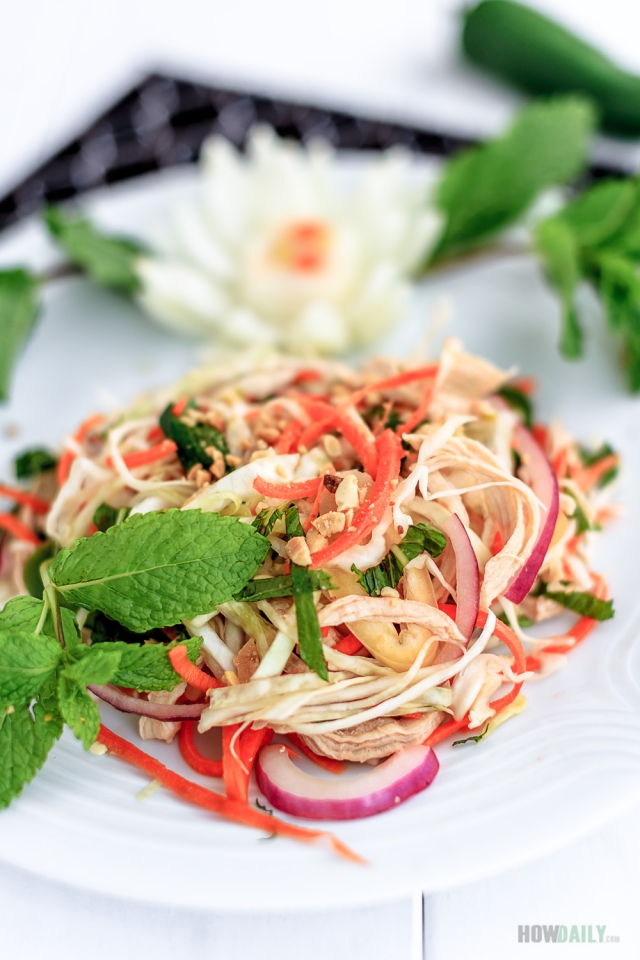 There are hundreds of ways of making Vietnamese chicken salad where the main ingredient remains the same, boiled chicken. The difference is in the accompanying vegetable, herb, and seasoning condiment. Cabbage and onion are one of the popular mixes with sweet-sour fish sauce, which is used to be called "Goi tam ky" in the old times.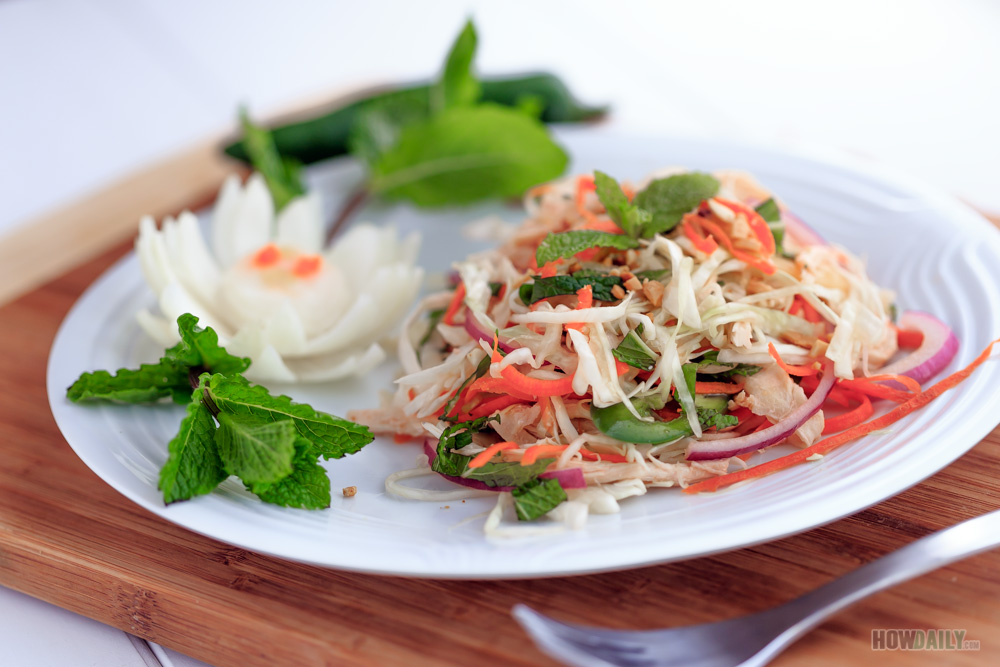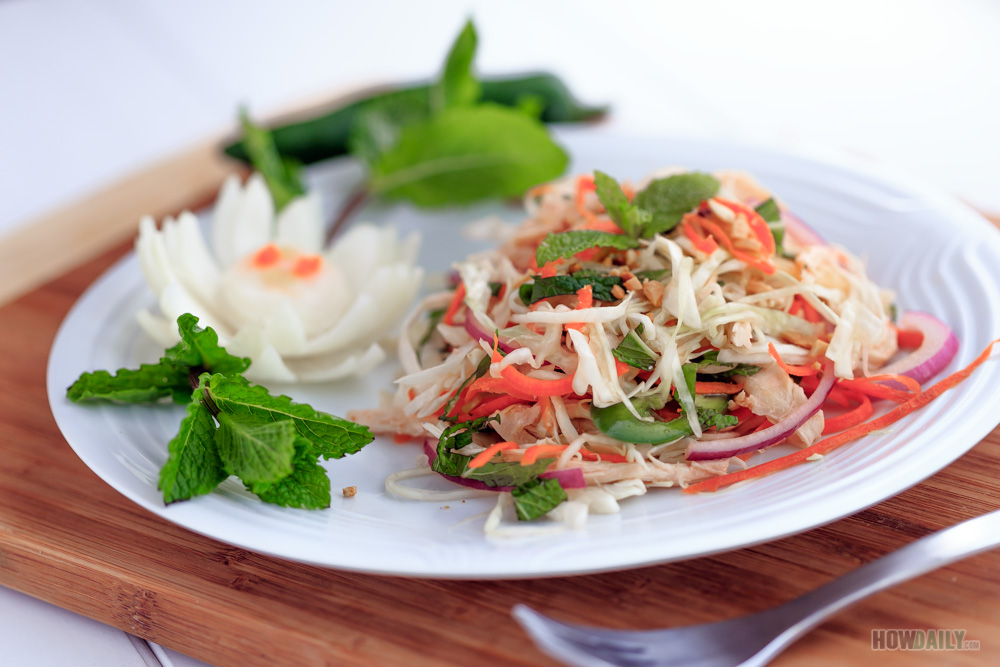 The dish is simple to make, fresh, vibrant in color, and quite healthy too (if you could substitute the sugar with healthier options) and can be consumed any times of the year. It will balance out any greasy flavor from your fry or grilled dish. Perfectly go with BBQ too.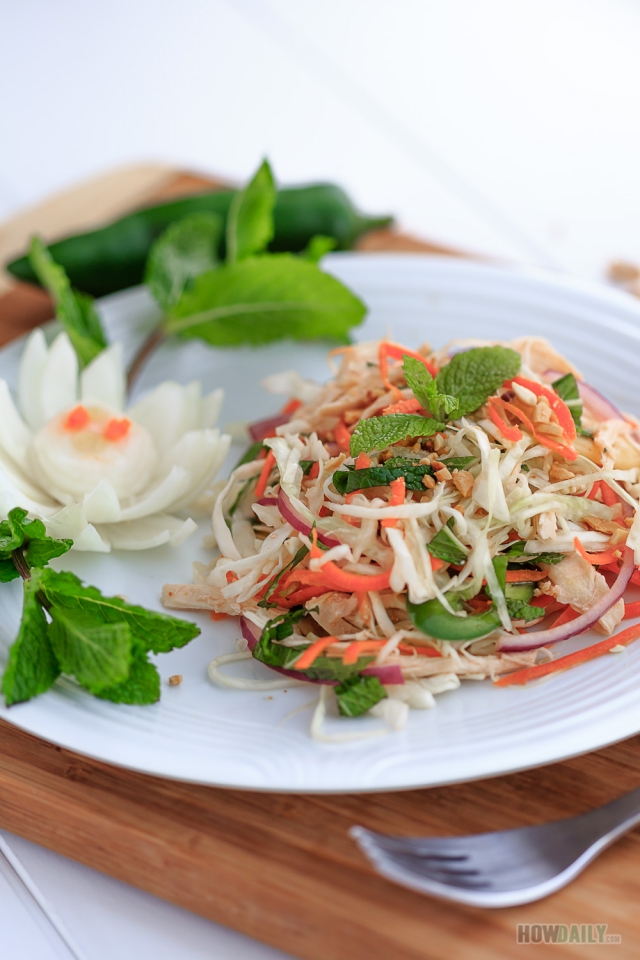 Often, this salad is consumed immediately for freshness and taste, but if you must leave this overnight, do so in the fridge after remove all the liquid and wrap.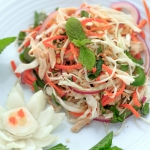 Vietnamese Chicken Salad
A perfect salad that is mildly sweet, sour and salty, Perfect standalone or accompany those fried, grilled or bbq dishes.
Print
Ingredients
2

chicken breasts or ribs meat

1

medium carrot

1

medium red onion

1/2

cabbage

A handful of Vietnamese coriander

mint and basil

1

jalapeno or 1 red hot chili pepper

1

garlic clove

4

Tbsp

granulated sugar

3

Tbsp

fish sauce

1

lime

1/2

cup

distilled vinegar

Crushed peanut or roasted sesame
Instructions
Smash a pea size of ginger and toss into a qt of water, bring to boil.

Add the chicken breasts to boiling water, reduce heat and continue to cook until chicken finely done.

Prepare an icy cold water bath, dip the well-cook breast into cold water immediately to let cool before transfer to container for air-dry.

When cool down to room temperature, shred the chicken. Sprinkle on some ground pepper and salt (I used Himalayan) and set aside.

Red onion: thinly slice across, then soak with 1/2 cup of vinegar, 2 Tbsp sugar and 1 Tbsp fish sauce for 15 minutes.

Cabbage: julienne or extra thinly slice, wash and rinse then toss with 1/2 Tbsp of salt and set aside to soften up in about 10 minutes.

Carrot: skin off, wash and julienne.

Wash and retrieve all the leaves of coriander, mint. basil. Finely chop them.

Chili: chop.
Mixing
In a large enough container, mix 2 Tbsp of fish sauce, 2 Tbsp sugar and juice from 1 lime.

When all sugar is dissolved, add chopped chili, crush garlic, stir to mix.

Now add all the salad ingredient: shred chicken breast, red onion, cabbage (squeezed to remove excess water before adding) and julienne carrot. Stir and toss to mix them all.

Finally mix all the chop herb and toss them to mix.

Adjust to taste with lime juice and/or fish sauce.

Top with some Crushed peanut or roasted sesame for extra crunch.

Serve immediately.