It's the start of a new season and pumpkin starts popping on everywhere. Every year around this time I usually purchased some of the sweetest pumpkins for Halloween decoration, pies, soup, and all the like cooking. We used to have lots of leftovers that would still run until after thanksgiving, Christmas, and such. That's why I usually puree Pumpkins and freeze them in 1 cup serving size batch.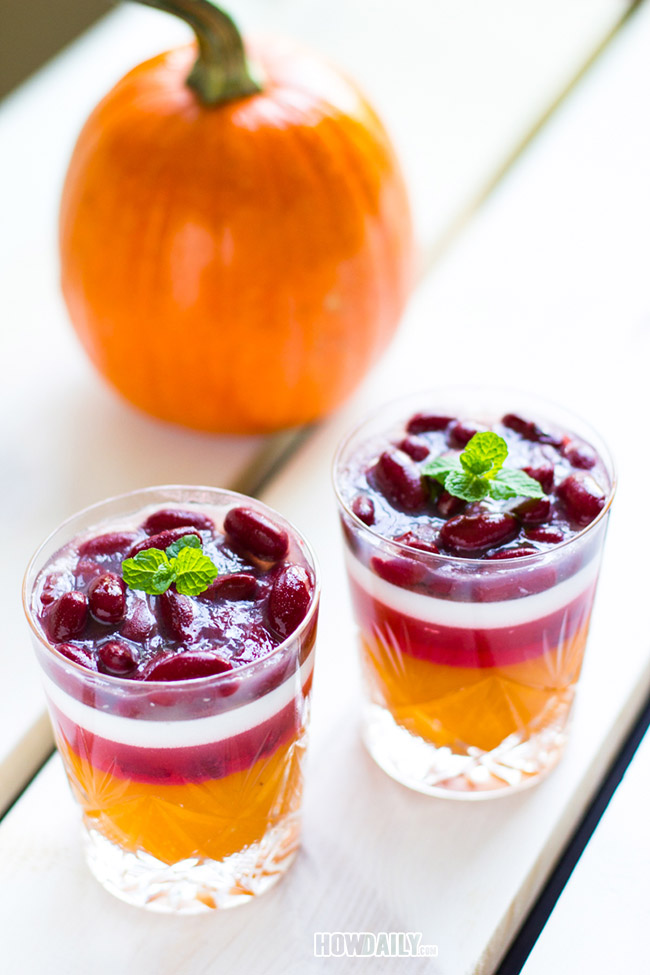 This recipe is an inspiration of the Fall colors: red, orange and white intertwine. In every spoon, there's a combination of the pumpkin's sweetness, the mildly tender red bean, and the creamy coconut. I love desserts that have a little bit of sweetness, not too bland but not overpower either. That will be shown in most of my dessert recipes, so depend on your preference, adjust the amount of sugar to taste.
I chose red bean in this recipe due to its ability of shape-holding even when being really tender, plus the natural beautiful crimson color. You can choose any type of beans to your favorites.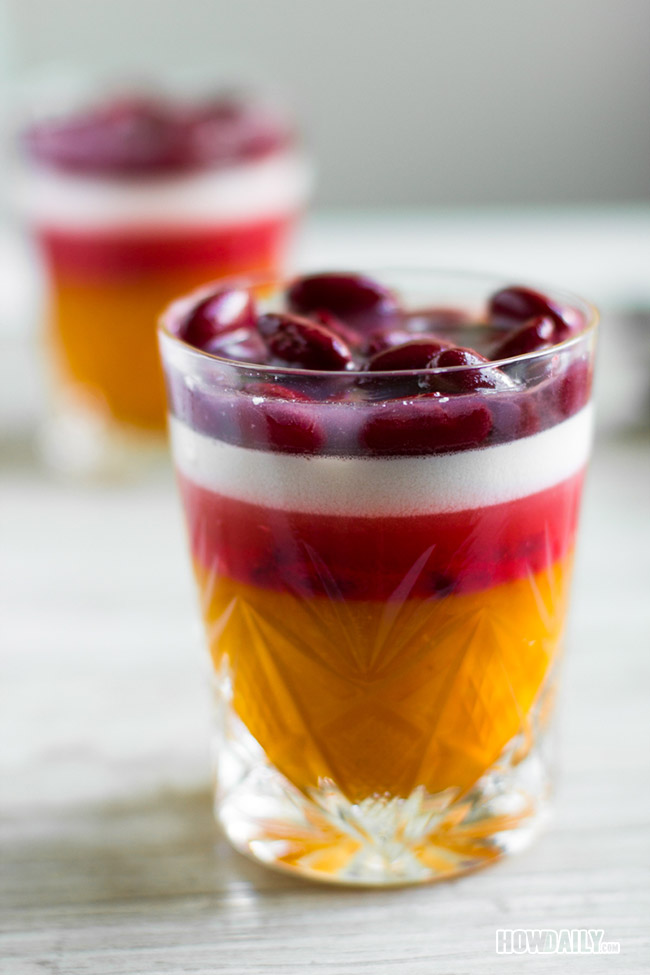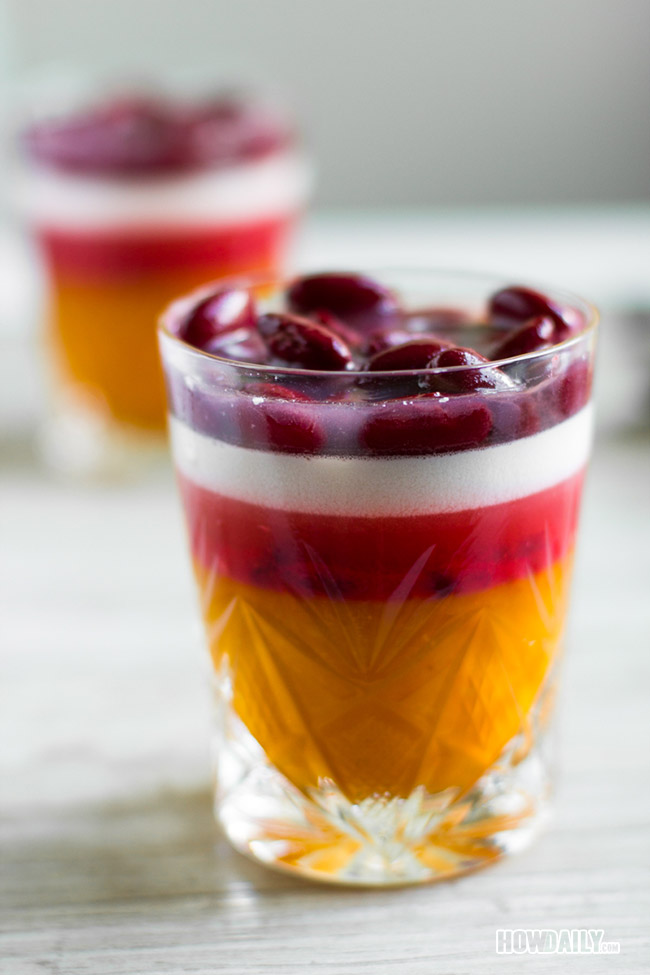 Coconut milk is used due to its creamy, white colorant, and greasy taste without the non-healthy effect. Coconut milk also contains lots of good healthy fat too. If you want the "real" fatty, then whole milk, heavy cream could be used too.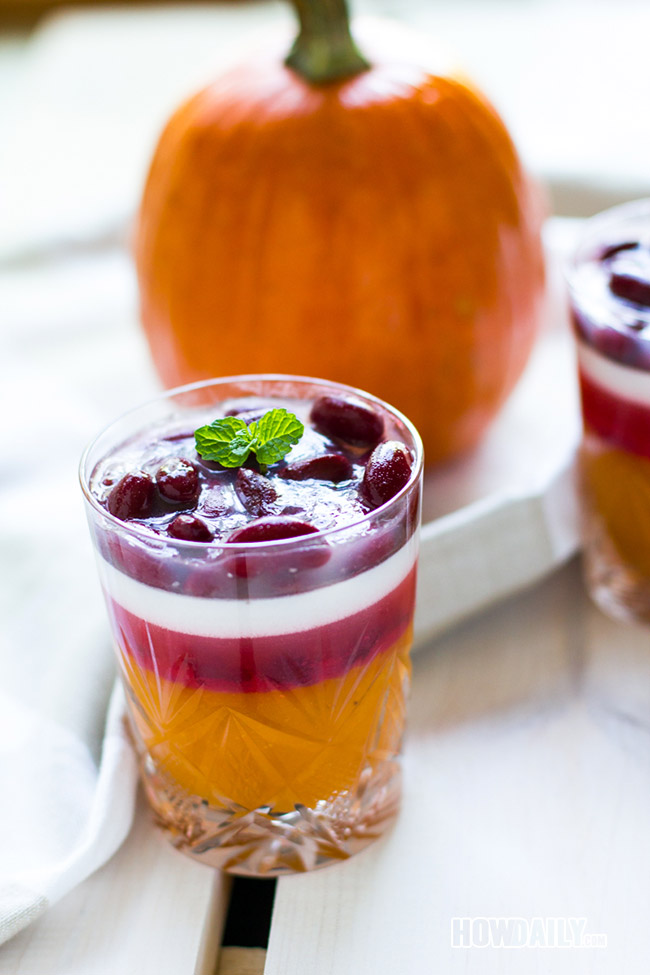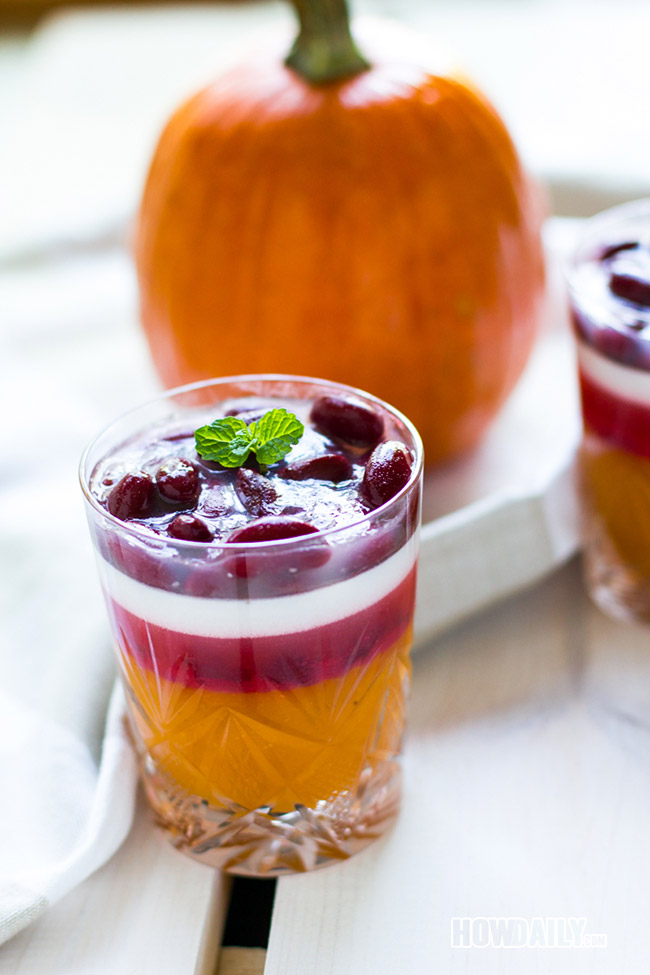 Decorate with a small mint stem and you have a dessert cup for welcoming the season.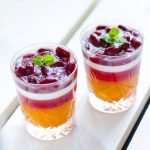 Velvety Red Pumpkin De Coco Agar
Autumn is the calling season for sweet pumpkins. Follow this recipe for a fun and beautiful dessert that bring out the fall colors pumpkin, sweet tender beans and creamy yum coconut.
Print
Ingredients
5

grams

Agar Agar powder

2

cups

water

1/2

cup

sugar

3

Tbsp

coconut milk

1

drop red icing color

6

Tbsp

red

kidney beans (can or dry – see recipe steps below)

1/2

cup

puree pumpkin

can or fresh – see recipe steps below
Instructions
Pumpkin puree
Use canned pumpkin to save time, or you can DIY if you have some fresh pumpkins at stake. Start by snapping off the stem of a small pumpkin.

Put in in an oven safe dish and bake for 45 minutes at 400F

Remove from oven, let it cool down

Cut into halves, scoop the seeds out (save for a pumpkin seeds roasted recipe)

Scoop the flesh out

Put pumpkin flesh into a food processor

Add 1 Tbsp of water and a sprinkle of salt

Puree.

Use what's ever need, and freeze the extra for up to 3 months
Red bean
You can make it yourself from dry beans or use canned bean. If you want to cook from fresh, just follow the next few steps. Choose red kidney beans for the firm texture and shape, otherwise anything is fine.

Soak dry beans overnight

Drain the soaked beans, rinse and repeat.

Transfer beans to a pot with lid, add water to about 1 inch higher than the beans level

Bring to boil, then reduce heat and simmer for about 90 minutes or until desired tenderness

Checking on the bean every 10 minutes after the 1st cooking hour

When done, turn off heat and sprinkle on some salt.

Cool the beans, take out what's needed and freeze extra for up to 3 months
Making the Agar Agar
In a large enough container, add 5 grams of Agar Agar Powder, 2 cups of water, and 1/2 cup of sugar. Stir to Mix.

Let the mixture solution sit for 30 minutes to 1 hour to fully soak agar and dissolve sugar.
Pumpkin Agar layer
In a small pot, add 1/2 cup of puree pumpkin and half of the Agar -Sugar Solution. Remember to stir before and when transferring the Agar solution to avoid over-residue in the remaining half.

Stir to mix the pumpkin – agar mixture.

Bring to boil for 30 second while stirring.

Remove from heat, and carefully transfer to cups/jars to create the first bottom most orange layer of pumpkin agar.

Let sit for about 20 minutes or until forming a somewhat firm-to-touch membrane.
Red bean paste layer
Mashed 3 Tbsp of red kidney bean.

To create the next red layer, take 1/3 of the remaining Agar-Sugar solution and mix with 3 Tbsp mashed red bean.

Add a drop of red icing color.

Stir to mix and bring to boil for 30 seconds

Now very gently pour it over the formed pumpkin layer to create a thin red bean paste layer.

Let cool for 10 minutes or until form a firm-to-the touch solid layer.
Coconut Agar layer
Take 1/2 of remaining Agar-Sugar solution and mix with 3 Tbsp coconut milk

Bring to boil for 30 seconds, and gently pour over the red paste layer to form a thin white coconut layer.

Let cool for 10 minutes or until form a firm-to-the touch white coconut layer
Red bean deco layer
In each cup/jar, carefully add 1 Tbsp of kidney beans. Gently pan them out over the the white coconut layer to create an even red beans layer.

Boil the remaining Agar-Sugar solution for 30 seconds.

Pour over the red kidney beans.

Let cool for 10 minutes so that all the beans are now stationary and form a nice translucent layer.

Store finished cups/jars in fridge 2 hours to solidify completely before serving.