This Vegan chicken nuggets recipe makes uses of the Seitan meat texture and chickpea pulp to produce soft and moist similarities. Shape them larger for patties size.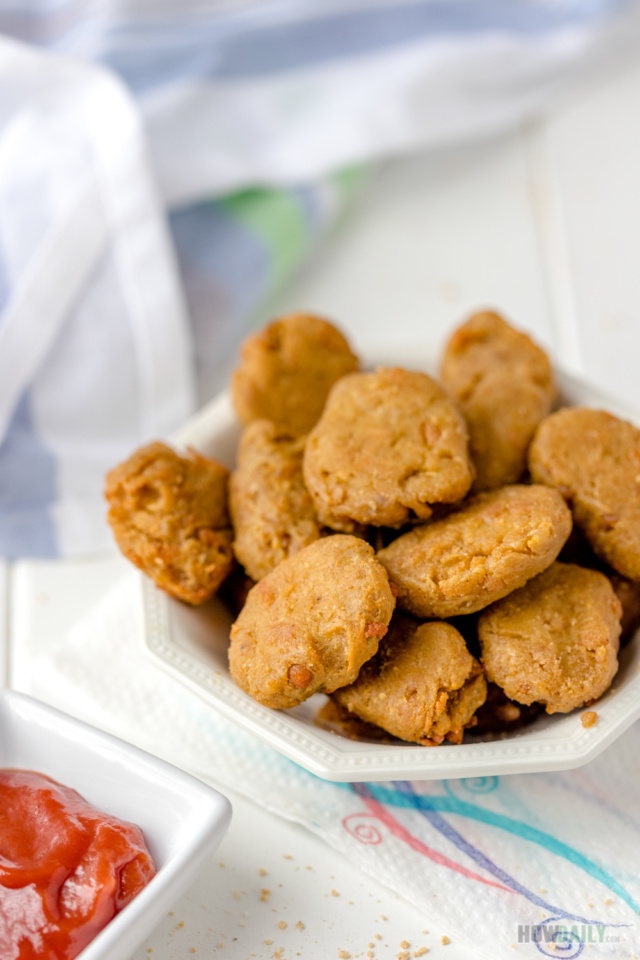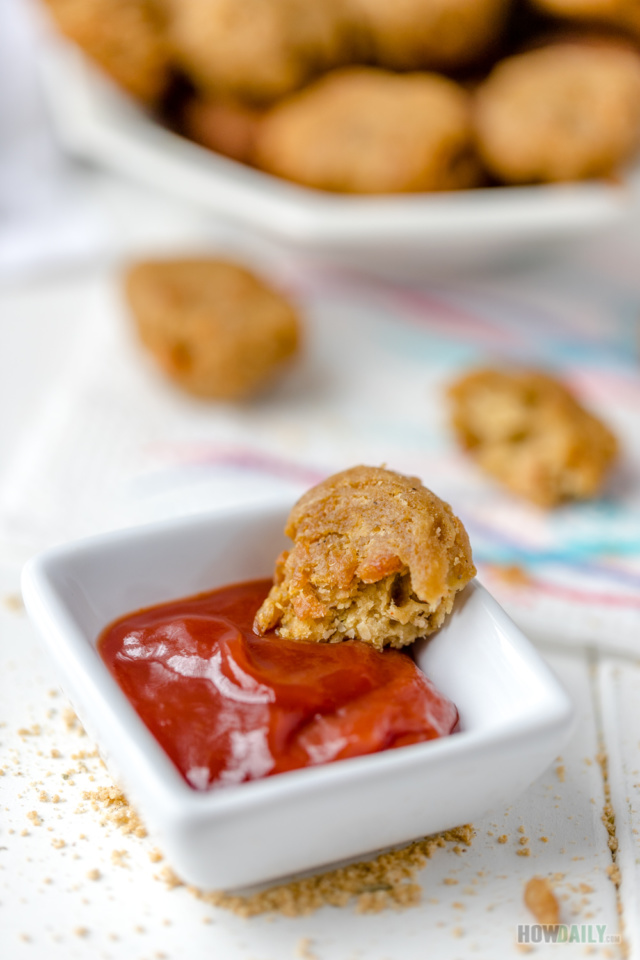 When it comes to eating vegan, one of the hardest parts besides balancing nutrition is the choice of food. Most of the time you will find yourself creating a new recipe or go extra length on achieving various flavors.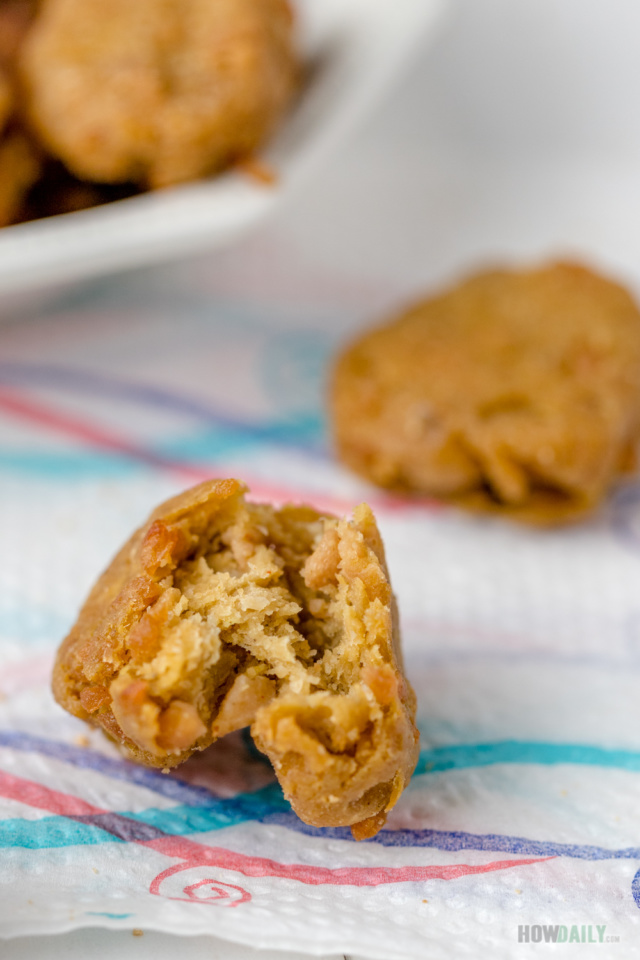 A chicken nugget is really one of the easiest, as it involves simply chickpea paste and Seitan meat texture. I used the pulp after chickpea milk extraction for this, however, you can use the one from can just fine. Finely process them and probably go a little lower on the additional water.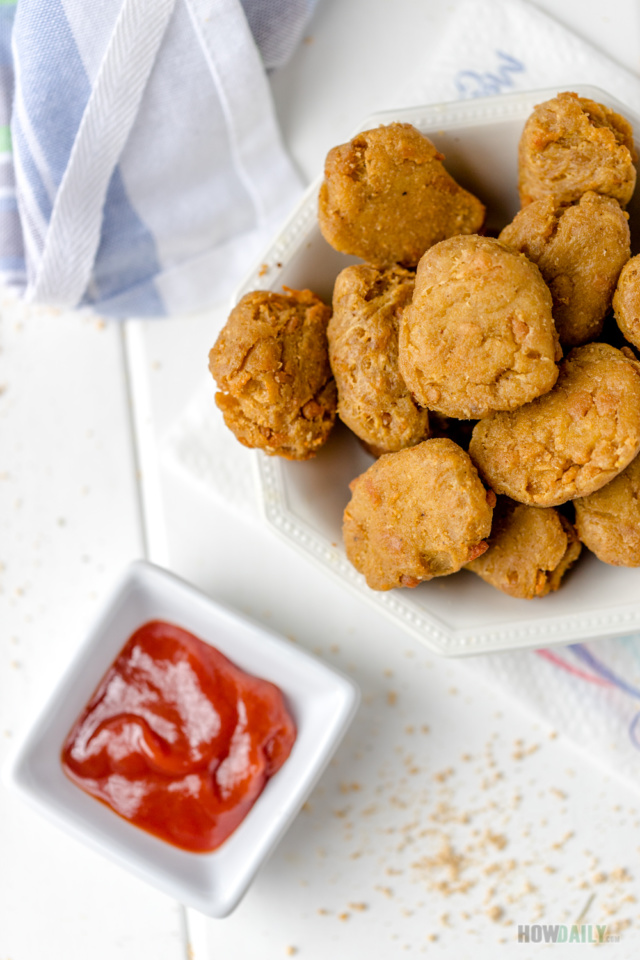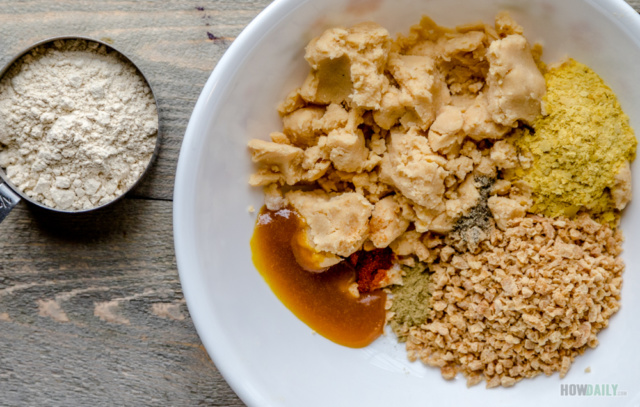 This recipe is aimed at crispy frying coated nuggets, but if you want grilled/BBQ patties, add some smoked paprika for extra bold flavor.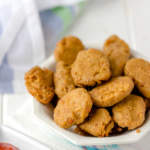 Recipe for Vegan Chicken Nuggets
Vegan chicken recipe from chickpea/garbanzo bean and common ingredients to imitate nuggets or patties consistency, can be serve as fingerfoods, pasta topping or bread filling.
Print
Ingredients
1

cup

chickpea pulp

1½

cup

breadcrumb

1

Tbsp

no-chicken base

or use your choice of vegan chicken seasoning

1

Tbsp

nutritional yeast

1

Tbsp

tamari soy sauce

½

cup

vital wheat gluten

½

cup

water

3

Tbsp

cornstarch

¼

tsp

salt

¼

tsp

ground pepper

1

qt

high temperature oil for frying
Instructions
To process chickpea pulp from can
If you're using whole new can chickpea, simply pop the whole can in blender and blend well.

Use a fine mesh cotton to strain the pulp. Preserve the extracted juice for chickpea milk or other recipe.
Faux Chicken nugget
In a small bowl/plate combine 1 cup of breadcrumb, cornstarch and salt.

Start heating the frying oil as well.

In a larger mixing bowl, Combine chickpea pulp, ½ cup breadcrumb, seasoning, yeast, soy sauce and ground pepper.

When they're finely mixed, add the gluten flour powder and 2 Tbsp of water.

Knead with your hand for 2-3 minutes until they're combine and stretchy. If the mixture is too dry, add some more water one spoon of a time. Don't do overboard.

When done kneading lay the whole thing over a non-stick surface (parchment paper). Pin-rolling it flat and cut to your desired shape (ie. nugget or larger patties).

Dip these nugget in the breadcrumb+cornflour to coat and deep-fry until golden.

Serve these hot as is or topping over pasta.