Ever feeling stress, anxious, or simply just tired all the time? Is your skin just losing radiant and you feel bloated after every meal? Those probably due to excess toxins accumulate in your body through eating habits, drinkings, skincare products, or even the air we breath nowadays. This super green cleanses & detox smoothie aims at helping your body to cleanse and detox those toxins away from your body, without the need for a doc appointment.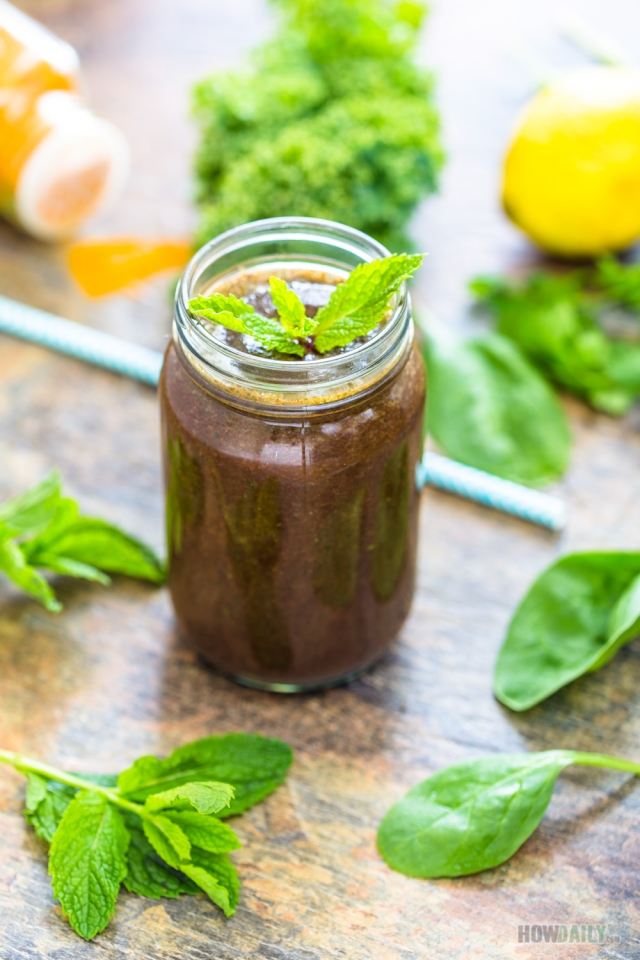 Kale: a super green food that is high in fiber, antioxidant with 0 fat, and low in calories. It helps to aid digestion and eliminate toxins within your body. It contains a variety of vitamins and minerals such as  C, A, E, B1, B2, B3, B6, omega-3, phosphorus, copper,  manganese, protein, folate, and iron. In general, with so much green and antioxidant nature, if you want to detox while replenishing your skin and overall tissues, Kale is the answer. However with a high amount of iodine, if you have a thyroid problem, consider steaming Kale leaves lightly before throw it into your smoothie blender.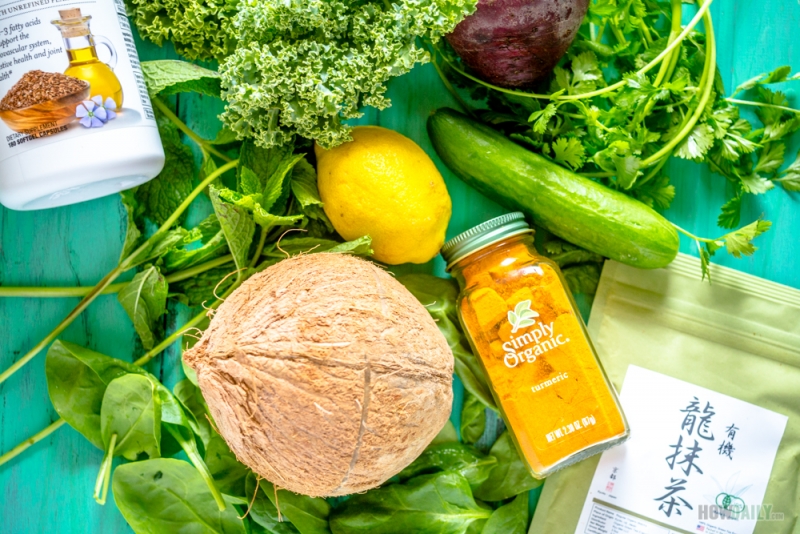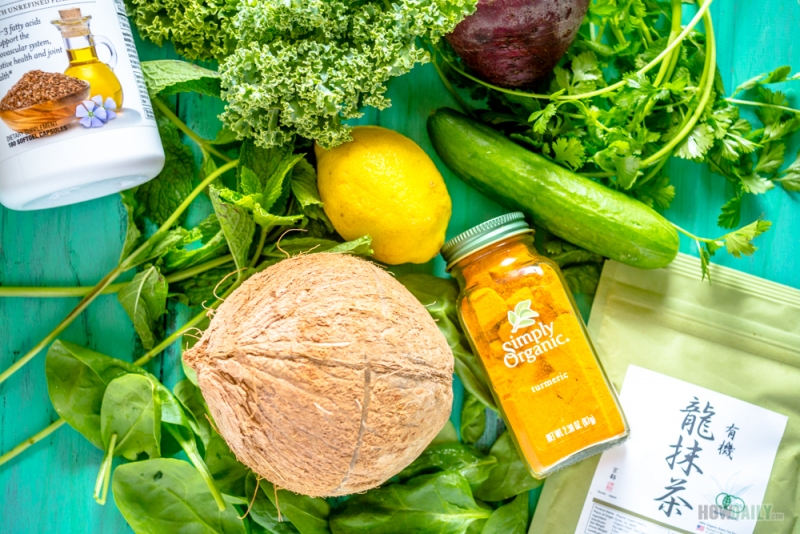 Spinach: another superfood that is budget-able and available year-round. Spinach contains so many vitamins and minerals that can help to fight and/or preventing diabetes, cancer, asthma while lowering blood pressure and supporting bone health. It also helps with digestion and improving your skin & hair with its high vitamin A and C content. which is what important for collagen maintenance.
Mints help your drinks feel a bit sweeter without that extra calorie or sugar impact. Apart from that, it helps greatly with digestion and improves the immunization system.
Cilantro can be eaten as an herb, fresh, or as juicy drinks. Consuming cilantro help accelerating the elimination of metal toxins such as aluminum, lead, and mercury from your body that might cause fatal to your body if overload. Cilantro work even better with a couple of drops of fish oil or those that are high in EPA and DHA content to fully prevent metal builds up in your system such as colons, liver, brain tissues…
Beet is one the power vegetable in detox your kidney. Beet contains methionine and glycine betaline to help prevent fat tissue from building up and thus promoting liver cells while keeping your liver healthy. Apart from fighting inflammation and certain cancer problems, beet can also lower blood sugar, boost energy, and improve sexual performance through naturally occurring nitrates.
Lemon contains loads of phytonutrients that are good for antioxidants, antibiotic anti-viral, and anti-obesity.  Besides like all citrus, lemon has high vitamin C that can protect your skin from free radicals and defend against some toxins. Pectin found in lemon can help regulate metabolism, support liver function, and lower cholesterol levels. Also, citric acid in lemon juice can help to dissolve kidney stones and prevent build-up.
Cucumber hydrates your body and skin while being a great source of anti-inflammation, vitamins, and minerals. It is so skin-friendly that almost any skin-replenishing product would call for cucumber. It's also helped with flushed our toxins from your organs then nourish them with vitamins. Aid in eye revival and substantially important weight loss contribution.
Flaxseed oil apart from being a laxative for constipation is also great for decrease inflammation, improve weight loss, prevent breast cancer, and hardening of the arteries.
Turmeric powder is another digestion aiding agent. Besides that, turmeric contains curcumin, which helps blocking plaque that causes Alzheimer's disease, treat eczema, heal minor wounds, and healing arthritis.
Matcha green tea is a super antioxidant powder that is higher than any other fruits/veggies. It also aids in weight loss, promotes generate health, clear mind, eliminates harmful waste, and metal build-up. Anti-aging is also another well-known property.
Everything above definitely contributes to cleansing your whole system. Just be patient and do them in small quantities overtimes. You may find that cleaning once a week or two for a whole month period might help your body to feel lighter, free of bloat, and rapidly improve your skin from all those spots and acne. The taste is ok to consume, just keep them cold for more enjoyment. Just Be careful if you're taking any blood-thinning medicine or if your blood pressure already too low. Otherwise, give yourself a refresh with this concoction.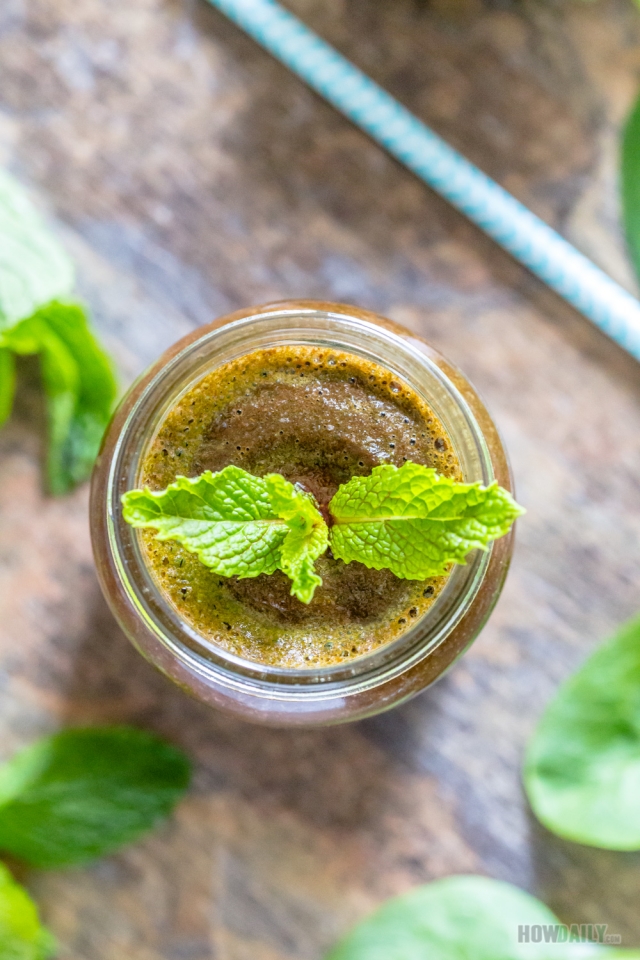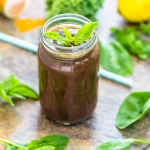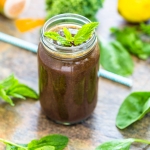 Recipe for Super green cleanse & detox smoothie
It's green and it cleans. This recipe incorporate some of the best detoxing and nutritious vegetable as possible to concoct a magical solution with antioxidant too.
Print
Ingredients
1

cup

kale

1

cup

spinach

Handful of mints

Handful of cilantro

½

medium beet

1

lemon for juice

½

cucumber

1

Tbsp

flax seed oil

1

Tbsp

turmeric powder

1

tsp

Matcha green tea

1

Tbsp

honey

½

cup

coconut water

1

cup

crushed ice
Instructions
Lightly steam Kale for 5 minutes and chop into your blender.

Wash and chop other vegetable into your blender.

Add all remaining ingredients, remember, dry first, liquid after.

Finally add some crushed ice.

Pulse a few time before blending them good.

Serve cold, add extra ice if needed.