Introducing our variation of Asian style shrimps stuffing w/ eggplant in a thick and condense lobster sauce with infusing aroma of mint and/or basil, this recipe will sure to star up any party dinning table.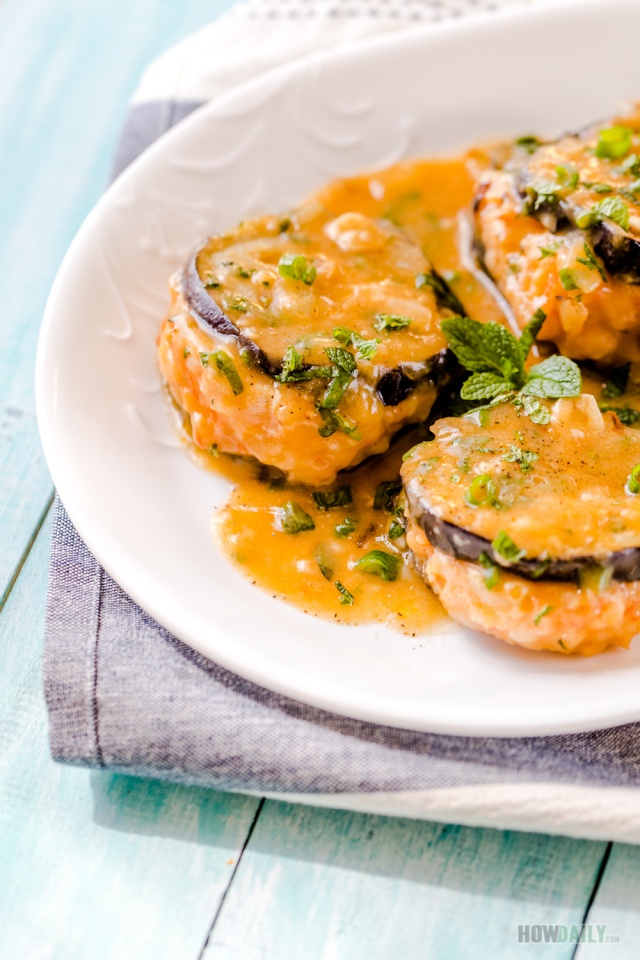 When it comes to Asian or Chinese cooking style, there some good combinations of flavors: sesame oil with shrimp, basil/mint w/ eggplant, or lobster sauce glazing on anything deep frying. This recipe of shrimp stuffing and eggplants makes uses of all the above pairings. That's why it's so bold, enticing, and would go good by itself, with rice, potato, or dipping breadsticks.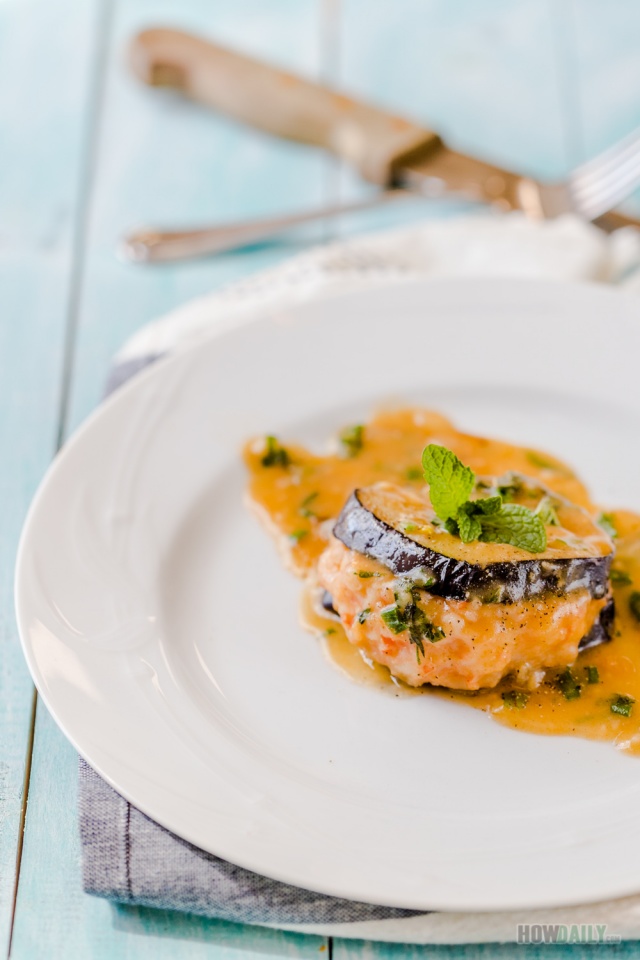 The secret ingredient here is baking powder, you may wonder why. It is added to shrimp instead of the usual salt to give a crunchier texture, more satisfying bites. Sesame oil was also there to enhance the flavor and scent while keeping the mixture from drying out.
I would prepare all the shrimp mixture then wrap and put them in the fridge to chill a bit since the shrimp tend to get done faster when frying. Just make sure to wrap the container tightly to prevent moisture loss.
Shrimp has natural sweetness (umami) in them, so really there's nothing else needed as far as seasoning goes. But if you must, add a bit of mushroom/vegetable seasoning granules would suffice.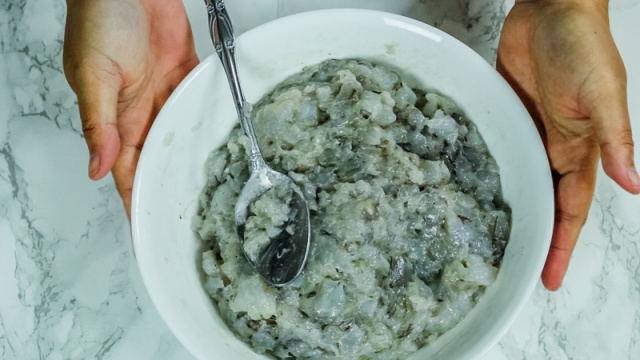 Onto eggplants, since the skin is a bit harder to work with, I would recommend using a serrate or tomato knife. First, I would slice them into an inch thickness, then I would go back and carefully cut through from side in. Slowly work toward the center to create a clamp shell type of opening.
If you're not used to this, just do it slowly till the knife cut through 2/3 of the way, leaving the last 1/3 intact. Set them aside to make sure all excess water is dripped to avoid oil splattering.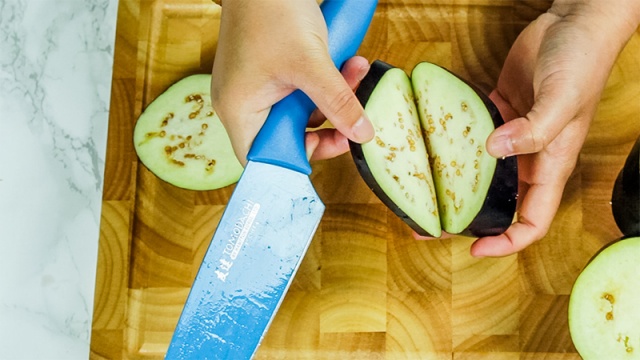 Once done, go head and stuff each eggplant slice with the shrimp mixture and arrange them on a flat board or similar. Use a tong for easier handling cause the piece is kinda heavy.
Then I would preheat the oil before deep-frying stuffed eggplant for about 5 minutes or so. It's easy to tell as the stuffing becomes pinkish while the eggplant turns golden. Do not over cook or the stuffing texture becomes more rubber when it dries out.
Once you are done with that, there are two ways to serving with lobster sauce. One is to prepare the sauce, add the shrimp stuffing and lightly cook them to make the eggplant rind soaked with sauce. This is great for serving hot immediately to the party.
Now, if you must prepare this in advance, I would keep the deep-fried stuffing separate, and sort of making the sauce on its own. Then right before serving, just reheat or lightly bake shrimp stuffing in the oven and lather the reheated sauce onto them.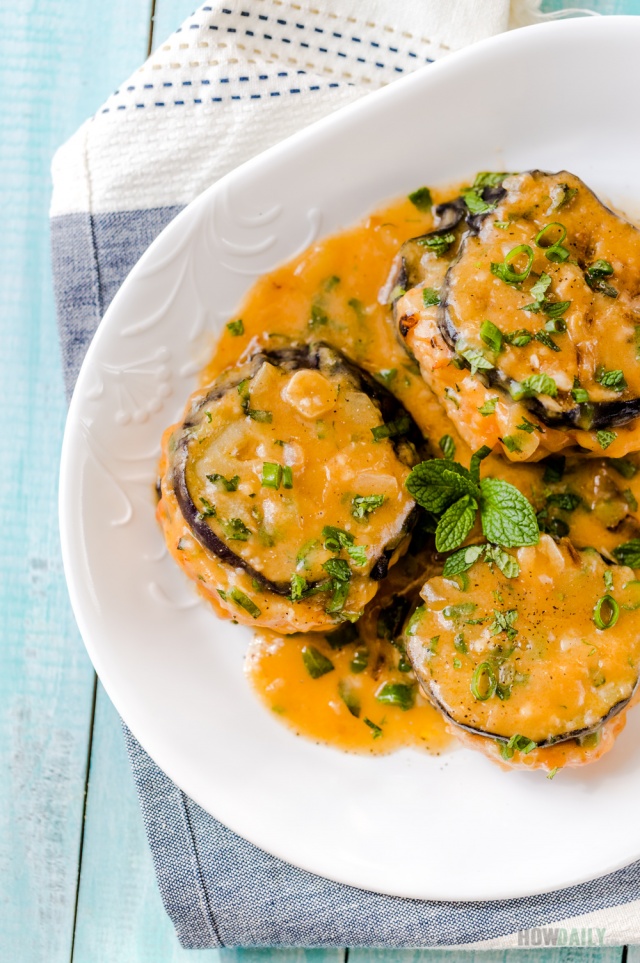 Keep some chopped basil/mint leaves as spare for garnishment and finish with a dash or ground pepper.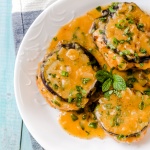 Shrimps Stuffing w/ Eggplant
Asian Fusion of the shrimp stuffing with eggplants – top with thickening slurry of lobster sauce and mint/basil as garnishment… The whole dish just smell so good, delicious and starred out any competition on the dining table.
Print
Ingredients
24

oz

peeled and de-veined shrimps

uncook

½

tsp

baking powder

¼

tsp

ground pepper

½

Tbsp

seasoning of choice

optional

1

Tbsp

potato starch

1

Tbsp

sesame oil

2

large eggplants

1

qt

oil for deep frying
Lobster flavor sauce
1

Tbsp

vegetable oil or butter

1

clove

garlic

crush or slice

½

sweet onion

dice

2

Tbsp

mint or basil

chopped

1

Tbsp

lobster base better than bouillon or any brand

1½

cup

water

slurry base as below
Slurry Base
1

Tbsp

sesame oil

1

Tbsp

flour

½

cup

water
Instructions
Shrimps stuffing
Coarsely chop shrimps into chunks, then divide into 2 halves.

Use the same cut board and knife to mince half of the shrimp chunks, or you can grind them in food processor as well.

In a large mixing bowl, combine both halves (minced and chunked) along with stuffing seasoning like: baking powder, potato starch, sesame oil, ground pepper and any optional seasoning of choice.

Mix them good with spoon or fork.

Then cover and place in fridge to chill for about 10-15 minutes while you're processing other ingredients.
Other Prep works
Wash and cut eggplants into 1-inch thick chunks.

For each chunk, use a serrate knife to leer through the skin from one side into about 2/3 to create a clamp shell kinda look while leaving the other side intact.

Wash and chop all remaining vegetable and herbs: onion, mint/basil, garlic..

Combine flour, sesame oil and water to make the slurry base as well.
Stuffing Shrimp into egg plant
For each eggplant slice, carefully flip open its flap with one hand and use the other to spoon shrimp mixture into it.

Use the back of yr spoon or spatula to lightly taper the edge and evenly seal in all opening gap.

Repeat until you're running out of shrimp mixture or eggplant.

Extra shrimps can be roundly spoon into deep-frying oil, e.g. shrimp balls. If you have left over eggplant slices, just deep fry them as well and throw into the sauce.

Heat oil and deep frying all shrimp stuffing. Make sure to not over-frying them since the shrimp is quick to get done.

Let all the deep-fried stuffing drip excess oil over a steel mesh basket.

Have a deep sauce pan or shallower stock pot onto medium heat.

Saute garlic and diced onion with vegetable oil or butter.

Arrange all fried stuffed eggplant pieces in there, then add lobster base, mint/basil and water.

Bring to a boil then pour in the prepared slurry base.

When sauce is thick, Sprinkle with some ground pepper and remove pot from heat source.

Serve as appetizer or main along some rice, potato or sides.
Video