Love is in the air! Let's celebrate this year Valentine with a heart box filled with roses and candies. Better yet, you can make them yourself and give away this beautifully delicious of sweet treat. Let's entertain and surprise your beloved.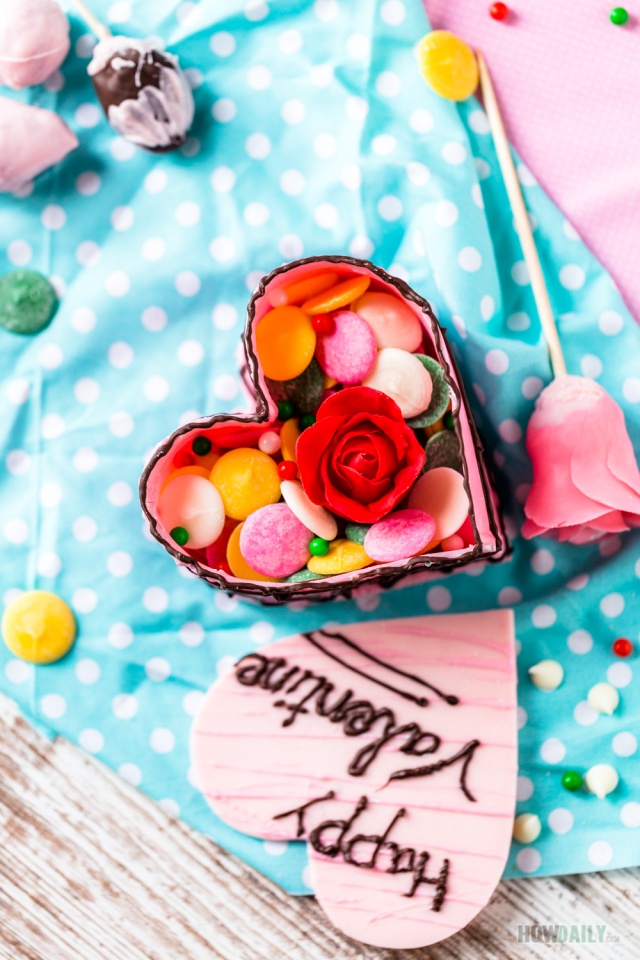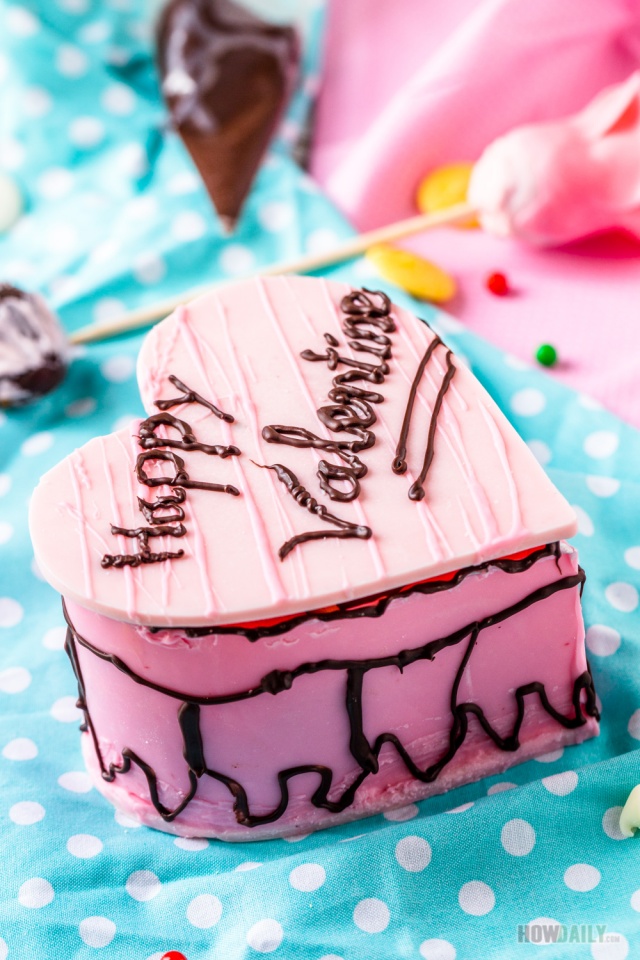 This recipe requires little ingredients, just chocolate, strawberries, and some candies. Now, the process is not one of those 30 minutes and requires a little bit more of planning ahead. For this purpose, I would prepare the chocolate modeling clay the night before, quite simple really, just about 20 minutes max, with cleaning up included. Since the strawberries used need to be dried, make sure you wash, hulk, and chill them in the fridge too.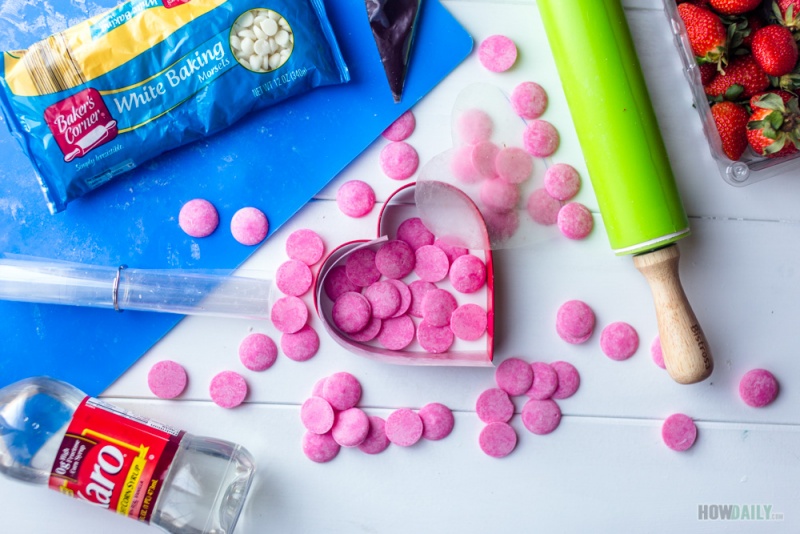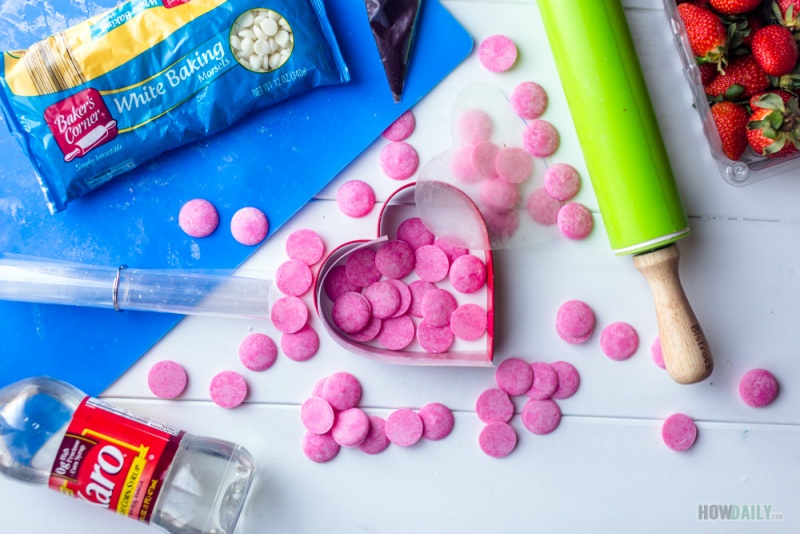 Ingredients for making heart shaped chocolate box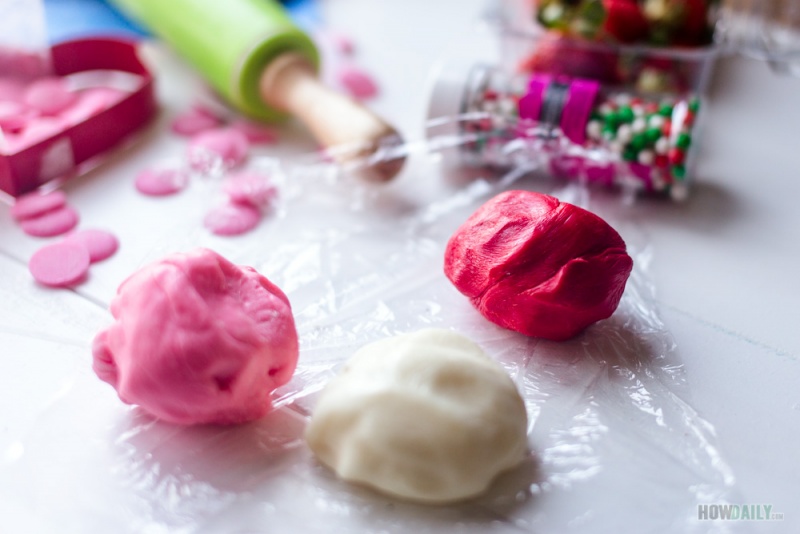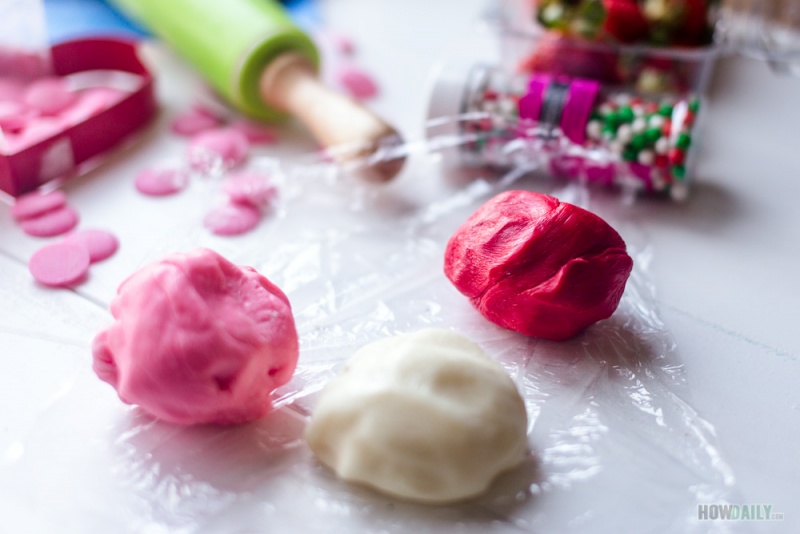 Chocolate modeling clay
Then on the next day, you would have everything ready to knead and decorate.
A special note is on tempering chocolate, make sure to stir them good over a double boiler without any moisture/water get in there or chocolate will freeze. Also, if you want to color chocolate, make sure to use the right kind of color (oil – base) or simply just throw in some ready-made colored pebbles. Avoid using a wooden spatula or the like due to their moisture release nature.
One key to remember is chocolate will stick to non-coated metal like madness. So, just avoid any metal contact. For the cookie cutter, use a coated or plastic one, or wrap it somehow.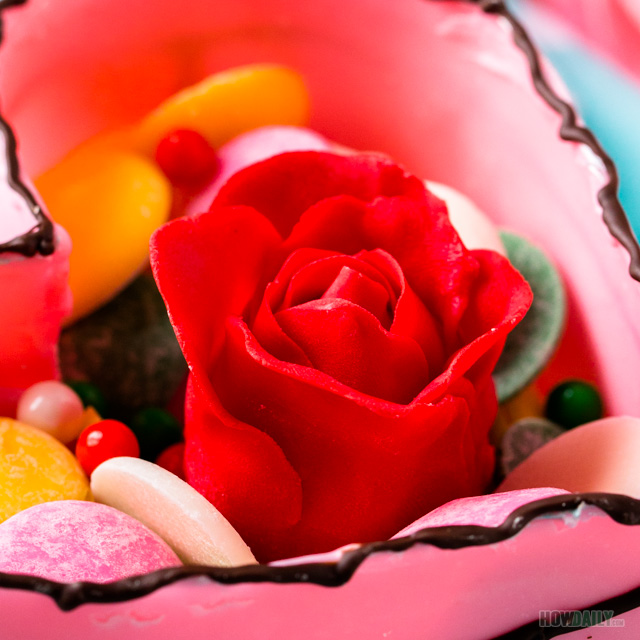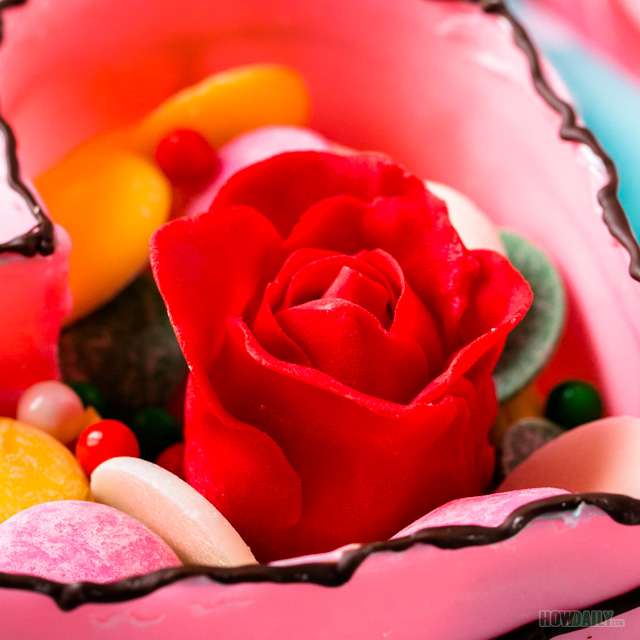 Red chocolate rose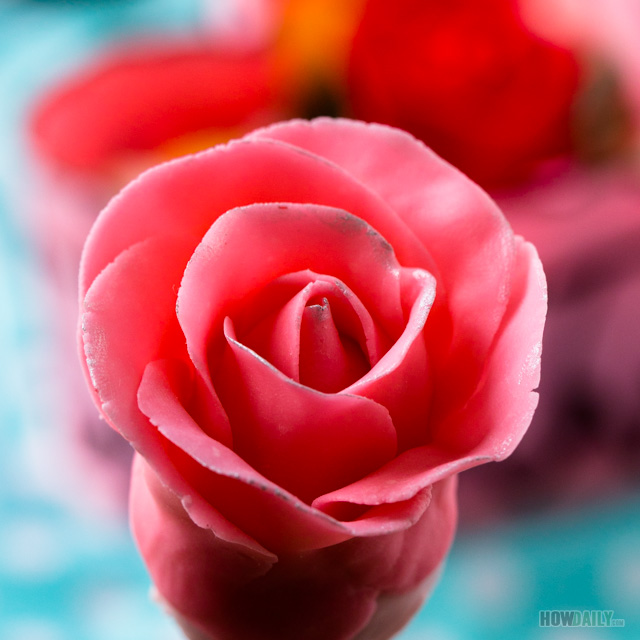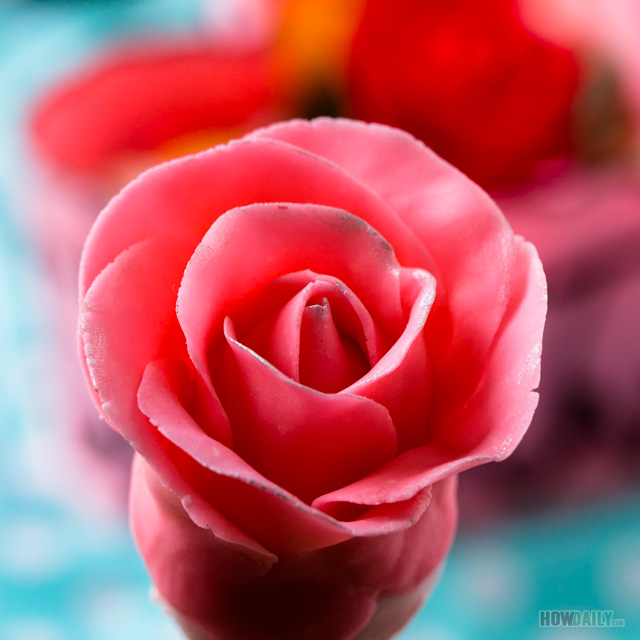 Pink chocolate rose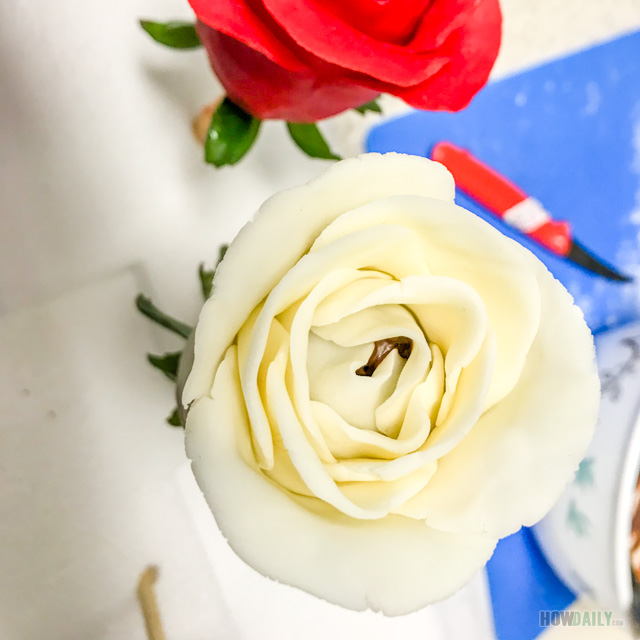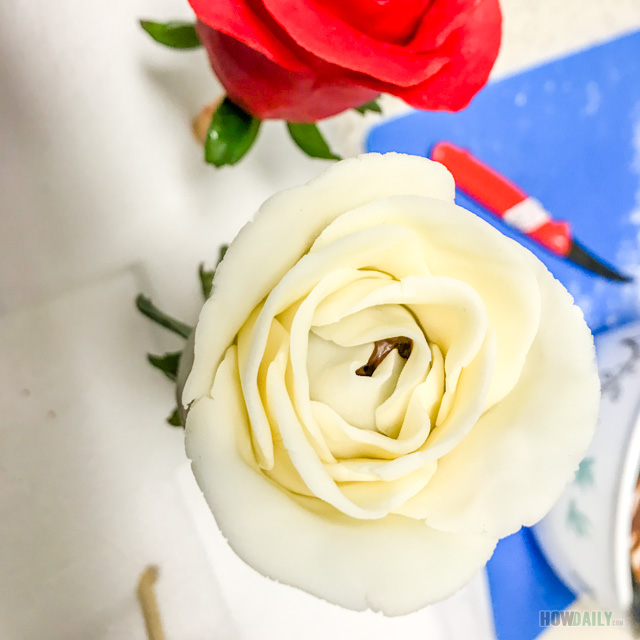 White chocolate rose
If your hands' temperature are a bit high, using food gloves would help. However, with the right temper, chocolate, and modeling clay should be pretty easy to work with. I found that the chocolate clay is just so pliable and flexible to form into any shape. It's actually easier to work with compare to fondant or gum paste.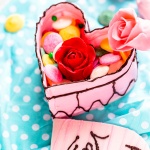 Recipe for Rosy Strawberry chocolate box
Perfect handmade Valentine gift that is also sweet and delicious, try your hands with this heart shape chocolate box, then finish it up with a chocolate covered strawberry rose along with some candies.
Print
Ingredients
Heart shaped chocolate box
12

oz

white chocolate

5.5

" Heart shaped cookie cutter

acetate paper

chocolate/candy color or colored pebbles
Chocolate covered Strawberry Rose
3

small strawberries

6

oz

white chocolate

or your choice

2

Tbsp

light corn syrup

increase if using dark, semi-sweet chocolate

3

skewer/sticks

chocolate/candy color

Petal cutter/veiner

optional

foam or cake pop drying rack
Decoration
Some dark chocolate chips

Disposable Piping bag

Food writer

Candies to fill/decorate box
Instructions
Modeling Chocolate
Modeling chocolate require some time to cool down, so prepare it the night before for easier operation.

Cut chocolate into small chunks (if not using chips), then put them into a microwaveable container (w/ pour top prefer).

Microwave for 30 seconds. Remove from microwave, stir than put back into microwave for another 30s. Repeat the process until chocolate fully melt with no clump. For 6 oz, it took about 3 x 30 s to fully melt with stirring.

Measure light corn syrup, if you want to add any colors or flavor, add them to corn syrup and stir to mix.

When melted chocolate cool down to about 91F, add this light corn syrup. Use a silicone spatula to gently fold them until thick.

Flatten it over a plastic wrap, wrap and let it rest for 30 minutes to 1 hour.

Knead and divide into smaller blocks if needed, wrap each block with plastic wrap to avoid drying. Let set until ready to use.

These blocks should be more pliable and mold better after a couple hours. Try this the night before your actual molding/assembling day, these will be more pliable when leaving in airtight container at room temperature as time get by.
Heart shaped Chocolate box with mold
Pour tempered & colored chocolate into mold. Carefully turn it around to make sure all spots are covered.

Remove excess chocolate.

Wait for 5-10 minutes before repeat for another layer. Coating 2-3 layers to be sure of your box thickness.

Perform the same steps as above to mold the box lid.

When both lid and box are cool down, chill in fridge for 1 hour before proceeding..
Heart shaped chocolate box – no mold
Lay your heart shape cookie cutter onto a piece of paper, trace around its base.

Use another piece of paper to measure and mark each side of the heart by completely enclosed the cookie cutter perimeter.

Draw a rectangle with that as length and about 1 to 2 inch width (depend on how deep you want your heart box to be).

Cut out this thin rectangle strip, and use this as guide to cut out 2 same size acetate strips.

For the heart shape, cut out the heart with 1/4 inch smaller than actual measurement, test to make sure this heart template could be fit perfectly inside your cookie cutter without knit.

Finally cut out a piece of acetate that is larger than cookie cutter, or you can also use silicone mat, I just find that acetate is easier to remove and leave a smooth surface.

Temper your chocolate over double boiler. When melt, add desired chocolate colors if any.

Lay cookie cutter onto a silicone mat or acetate paper atop a flat surface.

Pour and spread enough tempered chocolate inside the cookie cutter, about 1/5 – 1/4 inch thick.

Place the cut out heart acetate inside cookie cutter on top of the chocolate layer, use your finger to gently apply pressure to smooth/flat out the chocolate.

Let sit until completely cool, this will be your box base. Depend on your room temperature, the time might vary.

Once the base is cooled, carefully peel off the bottom acetate/silicone mat. Use your hand to gently press out the base from the cookie cutter. Chill in fridge until ready to use/decorate.

Repeat the above steps for the lid.

For the side wall, spread chocolate to cover 1/4 inch thick onto both rectangular acetate strips.

Use a knife to gently lift up each strip to remove extra chocolate surrounding their perimeter.

Depend on your room temperature, watch closely (mine took about 3 minutes at 60F) for both strips to softly dry state (i.e. still bendable/shape while not running), then put each strip inside along the cookie cutter perimeter to form the heart shape box's walls. Wait until they are completely dry and hard to remove the backing acetate.

Finally, melt some chocolate to adhere these wall strips onto the box's base and decorate the lid to your heart content.
Chocolate covered Strawberries
Make sure all strawberries are washed,hulled and air-dried before hand. Note that you can keep the stems for decoration.

Dip a skewer into tempered chocolate before pinning through a strawberry from its larger end.

Dip into tempered chocolate, turn and twist to cover in chocolate completely.

Use a foam block or lollipop holder to keep it up tight while drying.
Forming Roses
When all chocolate covered strawberries are dried and hard. Get a small block of modeling chocolate, roll and flatten it on a large non-stick surface, use cocoa powder or powdered sugar if needed. If your block is too hard, run them in microwave for 5 seconds or so will help.

Use small petal/drop shaped cutter to cut a few petals.

Carefully knead them onto strawberry, starting from top to bottom with one petal overlapping the next.

When you're done, stick rose back onto foam or candy stand and let air dry/cool for 10 minutes before chill in fridge.
Assemble
Place the rose into heart box and fill all the gap with candies of choice.

It's time to gift away.