I've often been to Panera bread after exercise and pretty fond of their soups and salad variety, which among them is the cheesy broccoli cheddar soup for its thickness and creamy cheesy nature. However, being as tasty as it is, this soup is full of carb and kinda pushes me on the guilty edge. So after a couple tries and true, I've found my sight on the low-carb broccoli cheese soup, which will produce the same taste, similar texture, and thickness while being a lot less worrisome.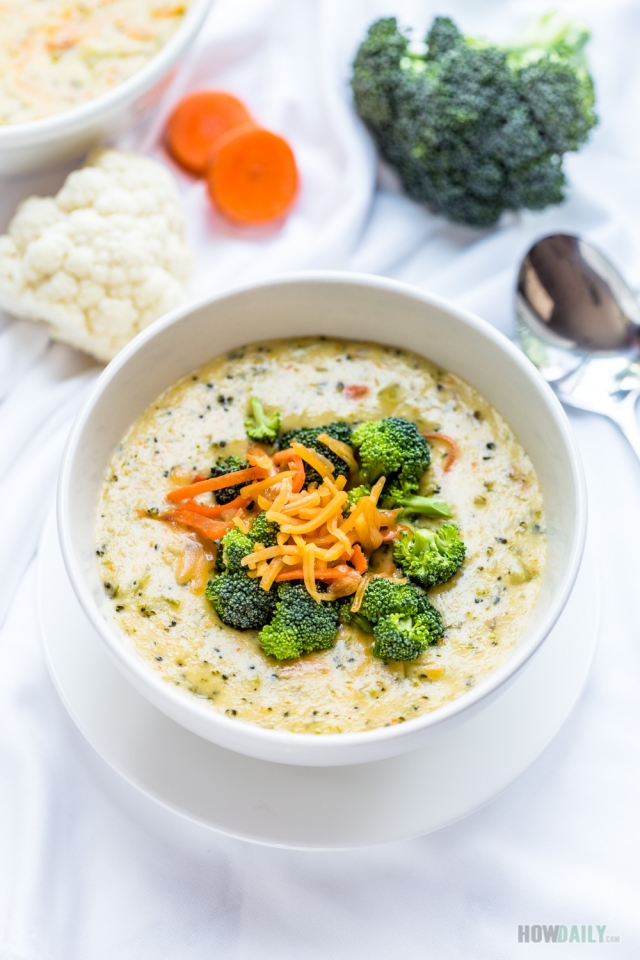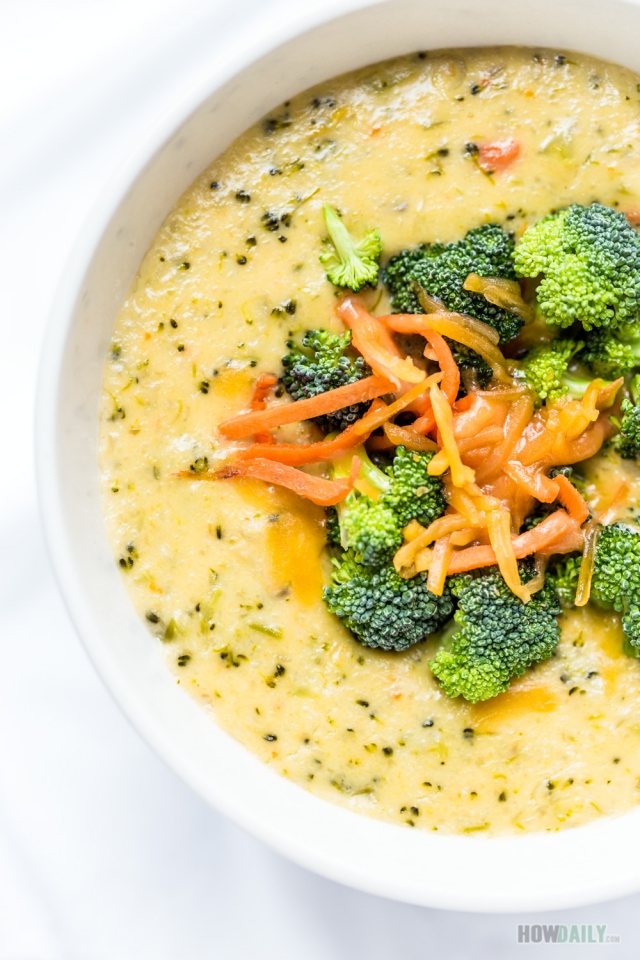 This low carb broccoli cheddar cheese soup is developed of similar ingredients, such as broccoli, cheddar, garlic, onion with the addition of mushroom and celery stalk to enhance the flavor and push the fiber to the limit. Of course, the most important part of this soup is on the thickness and how well ingredients could hold together. You will often find potato or corn starch being used as thickeners on those look-a-like recipes; however, since carb is our major concern so this definitely a no-no. I once found Xanthan gum was used as a stabilizer on one of the recipes too, but for personal preference, I would go against it.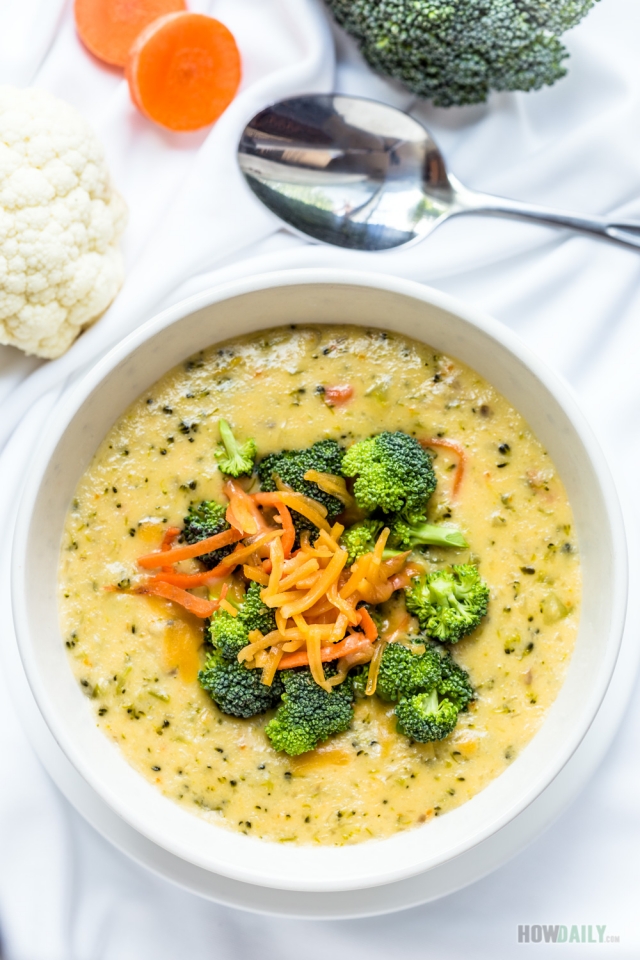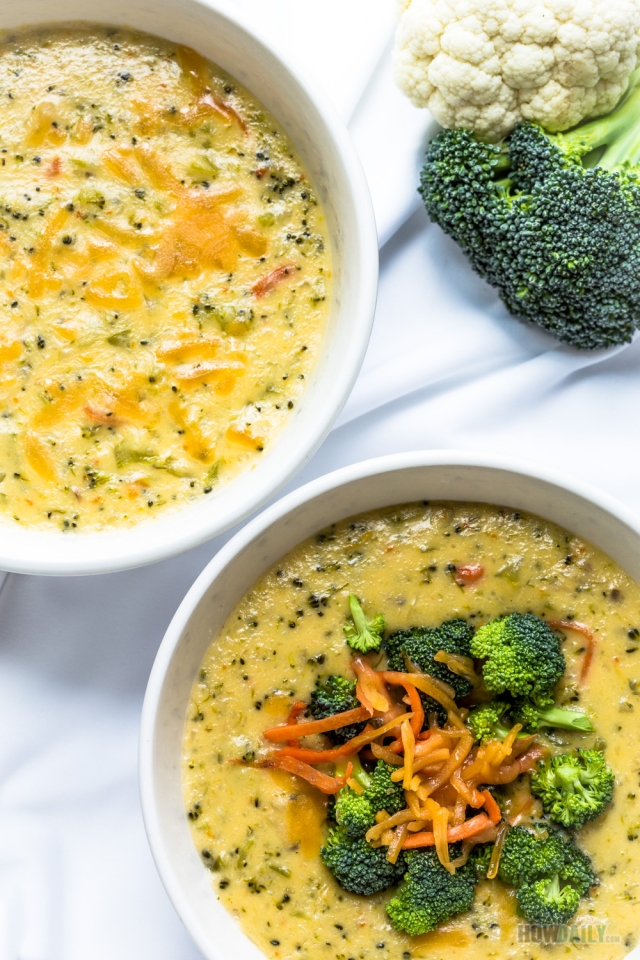 So, bring back to the moment that I was on a low carb diet and crave of sushi, I've read on a lady of how she mashed cauliflower and used them as rice substitution. Try that, and even though they come out not even close, but still useful. So this time, after adding pureed cauliflower to the low liquid soup, and with the help of cheddar, I found my soup to be as thick as ever, could even compete with the original from Panera, sweet isn't it? That's why I pre-cooked the broccoli first to make sure it was softened enough before adding to the soup pot. Another thing to note is since we're cooking in a low liquid manner, uses your chicken or veggies stocks instead to incorporate the overall flavor. Skip the water and exchange heavy cream for a half and half if you're desired.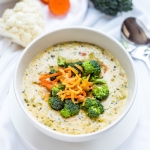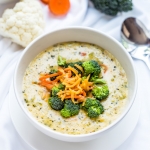 Recipe for Low carb broccoli cheese soup
Creamy, cheesy, mildly savor broccoli cheese soup but without the extra carb? This is the perfect recipe for those who on low carb diet, or if you're not, this soup would still be thick enough for you.
Print
Ingredients
1

stalk of Fresh broccoli

1

cup

of cauliflower

1

cup

chicken stock or vegetable stock

1

cup

heavy cream

1

cup

shredded cheddar cheese

2

cloves

garlic

1/2

small onion

1

tsp

salt

1/2

tsp

ground pepper

1/2

tsp

dijon mustard

2

Tbsp

butter

1/2

medium carrot

1

celery stalk

2

mushroom
Instructions
Cauliflower: throw in food processor/blender and grind them good.

Broccoli: wash, and chop into small chunks.

Mushroom, celery: slice thinly.

Carrot: jullienne.

In a small sauce pan with cover, add chicken/vegetable stock and broccoli, simmer for 10-15 minutes until broccoli is almost at desired tender.

With your soup pot on medium heat, add butter, wait for butter to be melted then add garlic.

When garlic is golden, add mushroom, celery, onion and carrot. Stir and season them a bit with 1/2 tsp salt and 1 tsp dijon. Stir well to mix.

Now add the cream, pureed cauliflower, chopped broccoli w/ broth.

Stir well and bring the pot to boil.

Then reduce heat to low and simmer for 5 minutes with stirring in between.

Add the shredded cheese and stir well over low heat until cheese is fully mixed in.

Keep stirring until thicken and remove from heat.

Serve hot