A mild bitter-sweet milk tea that combines the flavor of Matcha, ground cinnamon, anise, and cardamom with the creamy sweetness of condensed milk. Jelly made from the sea then adds to boost up the fun and texture. Enjoy this recipe chilly cold for this spring and summer.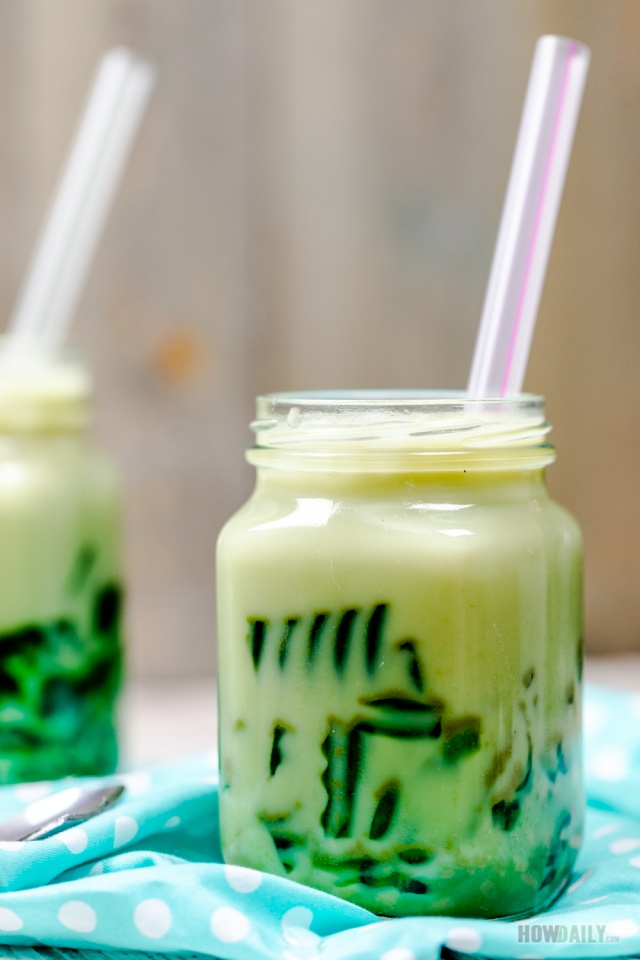 One of the things about milk tea is it's easy to get addicted until you're realizing how much you've been. Remember those cute and appealing cups from a boba tea shop? They're always making you yearn for more the next time around.
The drink itself is not that hard to do, with a total of 10 to 15 active minutes max (not including the chilling time for jelly to set). The result is a beauty, so great that you could sip the whole thing with a larger size straw.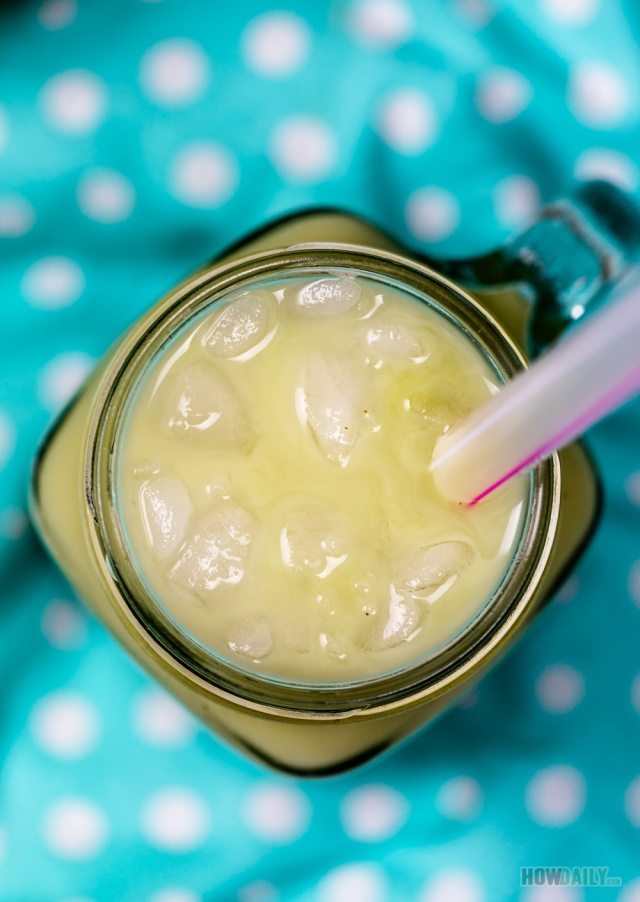 Of course, you can make jelly with gelatin, agar agar… but in this case, I'm using carrageenan. This is due to Carrageenan is more elasticity as compared to agar and gelatin when making in thinner (more water) ratio. Gelatin can be substituted just fine if that's what you have on hand.
This drink is best tasted cold on a mildly warm to hot day.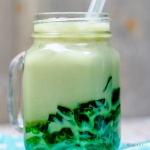 Recipe for Green milk tea Jelly
Bittersweet with crunch jelly and enticing herbal/spice flavor from the combination of matcha (green tea), ground cinnamon, anise, and cardarmom. The whole thing is then sweetened with condensed milk and excitement from sea jelly. Swirl all the flavor together to make this fun, sweet and cool drink for spring/summer.
Print
Ingredients
Green Jelly
6

g

carrageenan

~ 1 tsp

100

g

sugar

3

cups

water

⅓

tsp

any green flavor such as pandan, matcha or juice
Green Milk tea
1½

tsp

matcha powder

4

cups

hot water

¼

tsp

ground cinnamon, star anise and/or cardamom

2

Tbsp

condensed milk

or more if desire

1

cup

crushed ice
Instructions
Green Jelly
Heat water and bring to boil.

Measure and mix carrageenan with sugar in a small bowl. Doing this to prevent carrageenan clumping when adding to boiling water.

When water is boiled, gradually pour in the above sugar mixture while stirring.

Keep on stirring for 3-5 minutes, then add extract flavor and/or food color.

Remove from heat and carefully pour into mold.

Let cool to room temperature and chill in the fridge 30 minutes to an hour before cutting/serving.
Milk tea and finishing
Cut jelly into thin strips if you haven't done so.

Carefully pour hot water into green tea and whisk to mix.

Add ground cinnamon/cardamom/star anise to add to the flavor.

While liquid still warm, mix in condensed milk and stir.

Set aside a couple of minutes to cool down to room temperature.

Prepare two tall glasses or cups

Divide and spoon some green jelly in, probably halfway.

Add crushed ice, then pour green milk tea on top.

Enjoy while it's chilled with big straws.
Video