Glass stovetops must be cleaned carefully to keep them looking and operating at their best. There are a couple of ways to clean a glass top stove. Try both to see which you prefer.
Ceramic Stove top Cleanser Method
This is the method recommended by makers of glass cooktops. It is quick and easy.
Things You Will Need: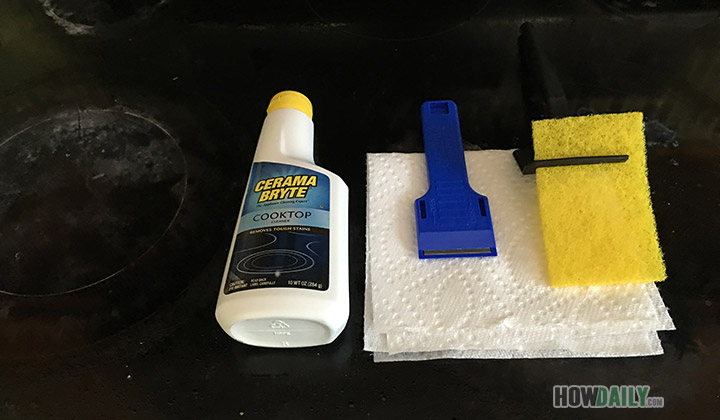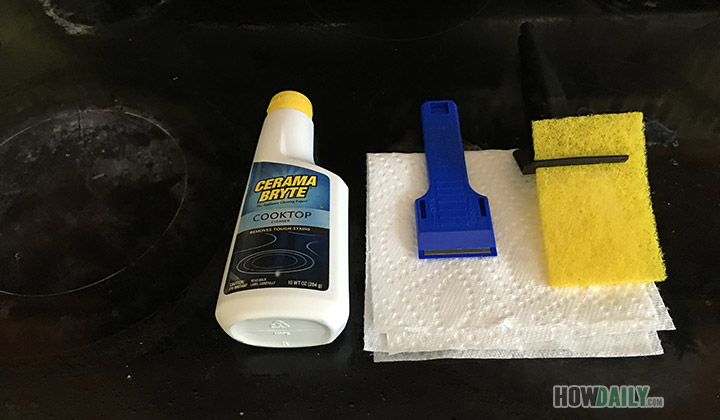 Ceramic cooktop cleanser (CeramaBryte and Weiman cleansers work well. These cleansers are available online and in department stores.)
Ceramic cooktop scraper (not a razor blade) (Available online and in department stores.)
Scrub sponge
Ceramic cooktop polish (Available online and in department stores.)
Paper towel
Always clean or scrape off sugary spills, food residue, metal marks, plastic and ceramic marks prior to using the glass top stove again. Otherwise, they might never come off.
How to Clean the Glass Stovetop:
1

Squirt a few drops of ceramic cooktop cleanser over the coolglass stovetop and directly on any baked-on food residue or marks.

2

Scrape the glass cooktop to remove baked-on food and metal marks with the scraper for glass top stoves held at a 45-degree angle. Don't be afraid to apply pressure as this may be necessary to scrape the food and marks off.

3

Keep a bit of cleanser under the ceramic cooktop scraper while you scrape the glass cooktop.

4

Wipe up the debris created by scraping off the baked-on food with a paper towel.

5

Use a damp sponge to wipe off the whole glass top stove. Rinse the sponge and add a little more cleanser if necessary to get the cooktop good and clean.

6

Polish the clean glass cooktop with the polish and a paper towel to make the clean surface gleam.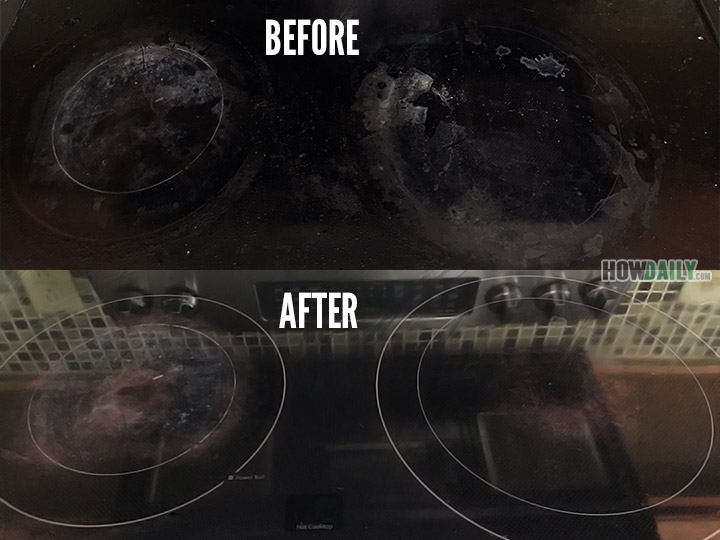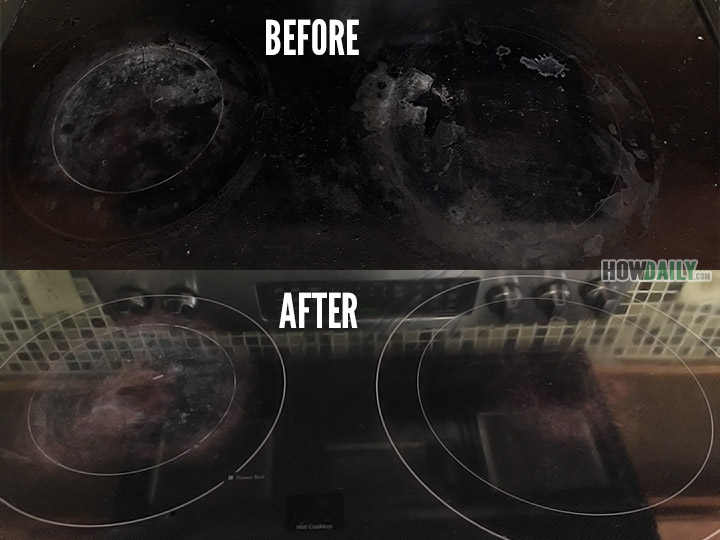 Use a scraper for glass top stoves– NEVER USE A RAZOR BLADE
Baking Soda Method
That's right, you can use baking soda to clean your glass top stove. When done properly, it will not scratch the glass stovetop.
Things You Will Need:
1 large bowl (A large plastic mixing bowl works well)
1 to 2 Tbs. mild liquid dish soap (not dishwashing detergent)
Rubber gloves
2 to 4 clean, soft dish towels
Baking soda
1 clean sponge
Scraper
1 microfiber cloth
Always let the glass stovetop cool before cleaning
How to Clean the Glass Stovetop with baking soda:
1

Put the dish soap in the bowl.

2

Fill the bowl with hot tap water. Get it as hot as it will get from the tap.

3

Put the dish towels into the bowl of hot, soapy water. Make sure they are saturated with the water.

4

Sprinkle a light but solid layer of baking soda over the glass top stove.

5

Lay the soapy, wet dish towels on the glass stovetop over the baking soda. Wring them out a little, so they are not dripping, but leave plenty of the hot soapy water in the towels.

6

Leave them for 15 minutes to several hours, depending on how dirty the glass stovetop is. If you need to leave them for hours, pour a little hot soapy water over the towels every now and then as they begin to dry a bit. They must stay moist to continue working.

7

Pick all the wet towels except one up off the stove.

8

Wipe the baking soda off the glass top stove in an "S" pattern with the remaining towel.

9

Wet the sponge with cool to tepid tap water. Finish wiping any leftover baking soda and mess off the glass stovetop with the sponge.

10

Scrape off any baked on food that is still there after wiping the glass top stove. Use a scraper – not a razor blade.

11

Finish wiping up any leftover debris with the wet sponge.

12

Polish the glass stovetop with the microfiber cloth to make it gleam. You can use a bit of glass cleaner if it is streaky.