Italian style Risotto is one of the comfort dishes to mesmerize and favor for its creamy indulgent grains that surely win over even the most criticized. My version of this risotto has amplified the flavor with fruit scent (from wine) on top of the savory scent of cilantro, saute onion, and butter. Of course, chicken and mushrooms are there too as the main toppings.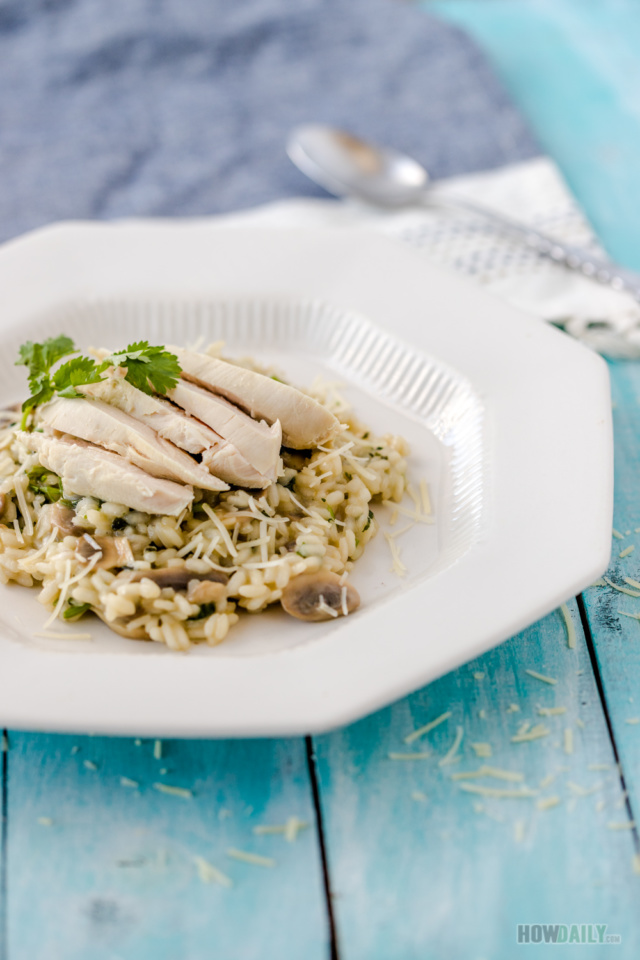 First, of course, is to saute and sear the chicken breast perimeter to seal in all its flavor before boiling with the broth of choice. The chicken after boiled, can be cool down and thinly slice to place as topping right before serving. The hot broth is used to cook risotto's rice.
Next, I would melt butter and saute Arborio rice until they're golden and fully absorbed the butter flavor. Then I would add some wine in, any kind of wine really, I used Chardonnay with hints of apple, nut, and fruity scent. At this point, the whole thing just smells so wonderfully that my stomach would start rumbling.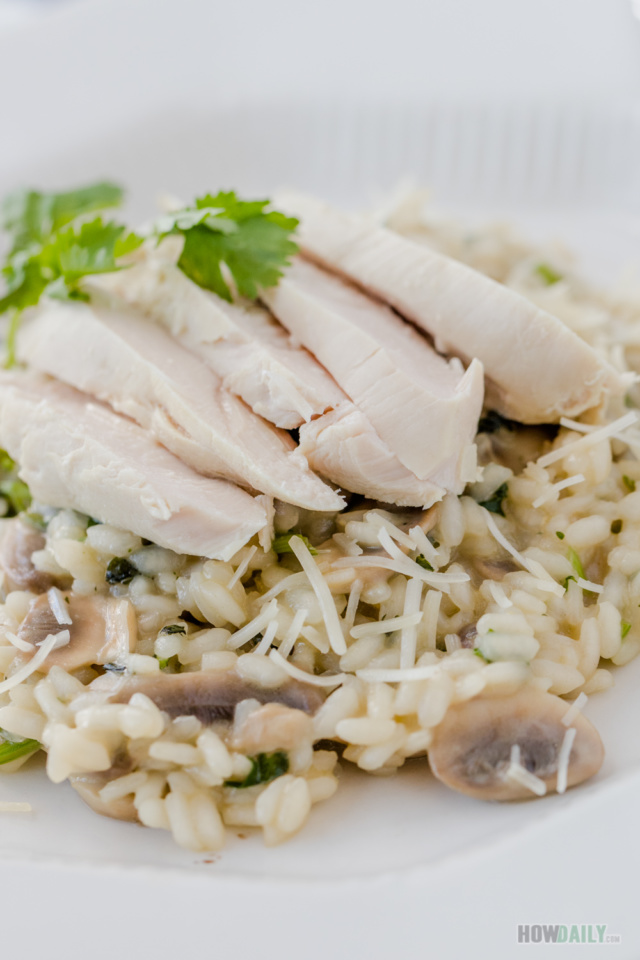 Okay, this is where the instruction diverted, which I included 3 cooking methods: the tradition of constant stirring, the added convenience of rice-cooker, and the quick version with an Instant pot or pressure cooker. So depend on your setting, time constraint, hand-power, or what is available, pick one that works best.
Personally, I would recommend the traditional way as it would yield the perfect risotto every single time. It requires lots of stirring, dedicated time, and lots of resistance (cause the thing just smells so good). However, occasionally when I got lazy or tired after work out, then a quick set-and-forget method is preferred.
Anyhow, serve your risotto while it's hot, cover/wrap in case you need to store them for sometimes to avoid moisture loss.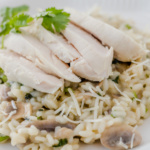 Recipe for Chicken Risotto
Savory delicious recipe of chicken risotto with the addition of mushroom, cilantro, and white wine. The texture is of that indulgent risotto yet the flavor is so addicting with a mixed scent of cilantro, chicken, mushroom, and fruity sweet hint.
Print
Ingredients
1

lb

chicken breast

1

cup

Arborio rice

4

cups

broth

4

oz

mushroom

slice

a small sprig of cilantro

finely chop

4

Tbsp

butter

¼

cup

grated Parmesan

½

cup

wine

1

shallot

finely chop
Instructions
Heat a pot over medium, add 2 Tbsp butter to melt.

Add finely chop the shallot and saute chicken breast to sear its outer.

Pour in broth, cover and bring it to boil with chicken breast.

Wait for chicken breast to cook, when done, transfer chicken breast to the plate to cool it off while carefully transfer the hot broth to a pourable container. This hot broth will be used a little bit later to cook rice.

In the same pot, melt remaining butter over medium/high heat. Stir a few times to coat the bottom of the pot with butter, if not, add some vegetable/olive oil.

Stir in Arborio rice, keep stirring the rice with a paddle or similar until rice is golden then add some wine and stir well.

Next is where you can pick different cooking methods to continue and finish risotto (to save time/manpower ultimately).
Finishing on Stove-top Risotto
Pour in about ½ cup warm broth while stirring the rice.

When the broth is boiling, reduce heat to low. Keep stirring until almost all liquid gets absorbed.

Repeat the process by adding broth/stirring to absorb until rice is cooked half-way (about 1 cup of broth left).

Add half of the remaining cup and sliced mushroom to rice while stirring well. Cover and simmering for around 10-15 minutes to make sure all grains are cook.

Now add the final half cup and keep on stirring until liquid is reduced, taste test and adjust with salt/pepper if desired or leave that to the serving table time. Add parmesan and cilantro, stir well to fully mix them, and remove the whole pot from heat.

Slice some earlier boiled chicken and serve on top of the risotto.
Finishing in Rice cooker Risotto
Add all the butter-sauteed rice to the rice cooker.

Pour in hot broth, add mushroom, and stir well before starting the rice cooker.

When the cooking is done and shift to warm, carefully open cover, add Parmesan and chopped cilantro, stir and cover.

Let sit for 10 minutes before serving with slices of boiled chicken from earlier.
Finishing with Instant Pot Risotto
Add warm broth, rice and mushroom to instant pot, stir well.

Replace cover, switch to rice function, and cook till done. If you don't have this, cook under pressure cooking for 6 minutes.

Once done, manually quick-release the steam/pressure valve according to the instant pot's manual.

When all pressure released, carefully open the lid, stir a couple of times then add chopped cilantro and Parmesan. Stir well to mix.

Replace cover for 5 minutes before serving.
Video