Creamy and heart-healthy chicken mushroom soup with garlic and onion flavor, this is the soup for comforting and warming when the weather is down too.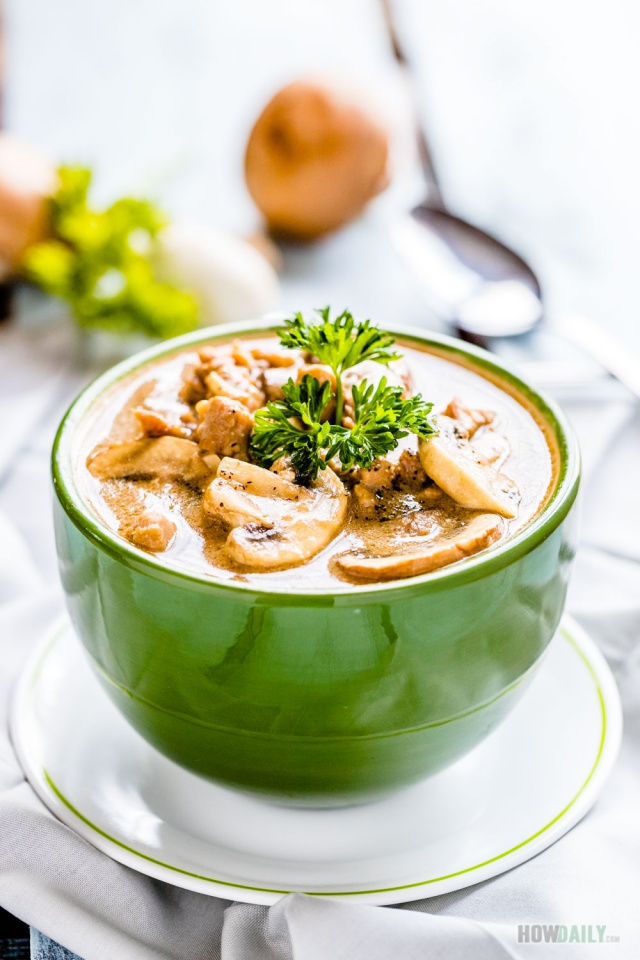 Ingredients are quite simple, just chicken, mushroom, and a few herbs that available in most kitchen. For those who want dairy-free, replace heavy cream with coconut cream or just skip them and add a few extra spoons of flour. Sure, it's a bit less creamy, but the thick texture should be fine.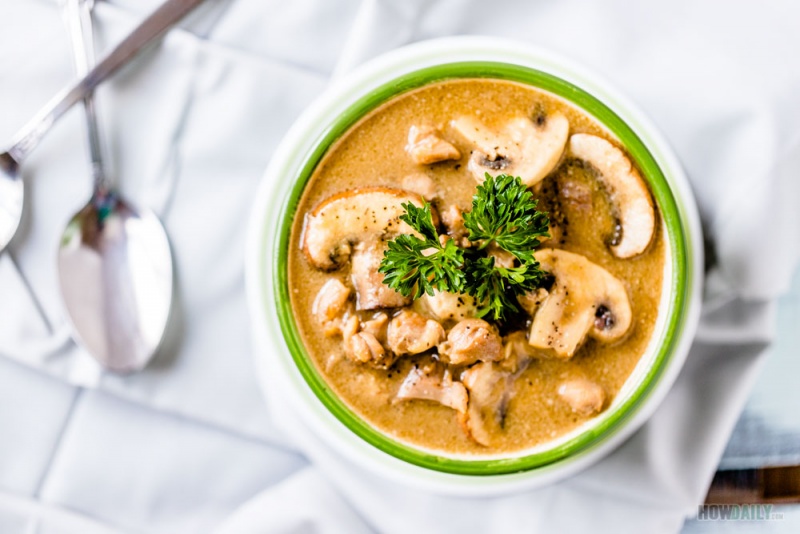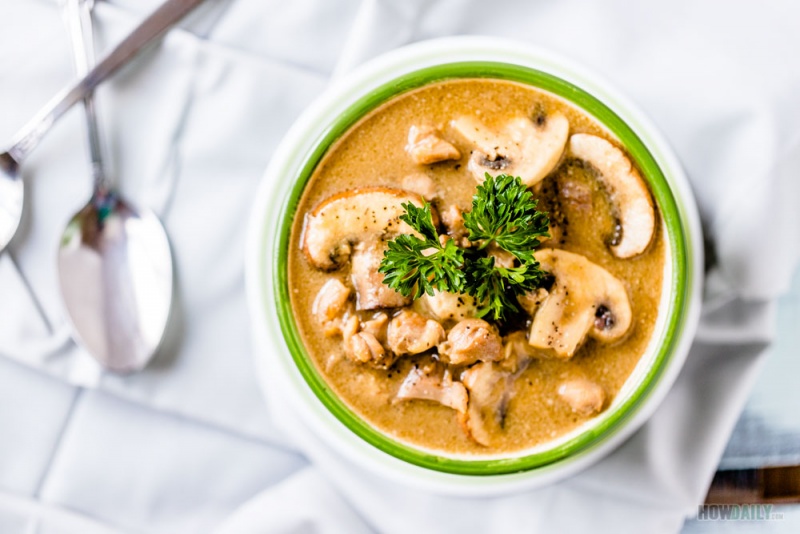 For those who don't want to use flour, try gelatin as the thickening agent, or use ground cauliflower. Also, adding some good sherry at the end will enhance the taste a lot, so find the best one you could have.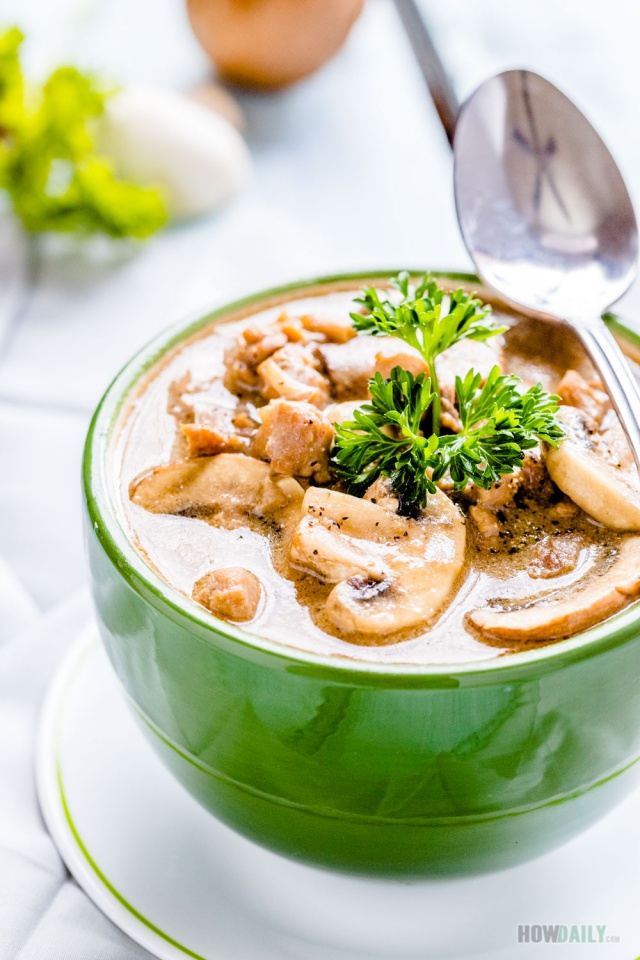 Now, some broth's brands might contain a different amount of salt and all. The same thing for butter, so adjust seasoning salt and pepper to your taste bud. Go light on the salt every time, and add more at the very final step.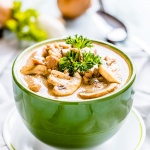 Recipe for Creamy Chicken mushroom soup with garlic
Home made soup with chicken and mushroom could not be easier with this recipe. This soup is just tasty and heart warming and be done within 35 minutes. Great for lunch, or dinner on those chilly night.
Print
Ingredients
1

chicken breast with rib meat or 3 drum sticks

8

oz

mushroom

2

cloves

garlic

1

shallot onion

1

sweet onion

2

Tbsp

butter

2

Tbsp

sherry

4

cups

chicken or vegetable broth

1

cup

heavy cream

2

Tbsp

flour

1

Tbsp

soy sauce

1

sprig parsley

dried thyme

rosemary or desired herb

salt and pepper to taste
Instructions
Prep
Chicken: if using drum sticks, remove skin and bones. Cut into small chunks/cubes.

Mushroom: wash, slice half, chop the other half.

Garlic: crush

Sweet onion and shallot: dice

Parsley: wash and tie with cotton string.
Cooking
Melt 1 tablespoon butter in your stockpot, then add shallot. Stir till soft and giving aroma.

Add sweet onion and saute till translucent and soft.

Now add the chopped half of mushroom and the tied sprig of parsley.

Stir and saute till mushroom is soften, now add 2 cups of chicken broth and bring to boil.

When boil, remove from heat. Remove the sprig of parsley and discard.

Pour the cooked broth/mushroom into blender, close cover and carefully blend.

In the same stock pot, melt 1 Tbsp of butter and add garlic. Stir till golden brown.

Add chicken cubes, 1 tablespoon soy sauce, thyme and any herb you desire into pot.

Depend on the kind of broth/butter you are using, adjust and sprinkle in some salt and pepper onto chicken as well. Stir to saute for 3 to 4 minutes.

Now add the slice mushroom and 1 cups broth then bring to boil.

When boil, add the blended mushroom/onion earlier into pot, adjust heat to simmer.

After simmering for 10 to 15 minutes, re-season to adjust to taste.

Whisk flour with 1 cup broth to mix, pour over chicken while stirring the content inside stock pot.

Ad the soup getting thicker, add heavy cream and sherry. Adjust season if need.

Remove from heat and sprinkle with some extra pepper.