Fun and exciting entry yet aesthetic enough for a party display, this Buffalo chicken presented in spaghetti squash can be your next sought-after. Recipe might seems long, but don't worry, they are so easy to cook and whip up.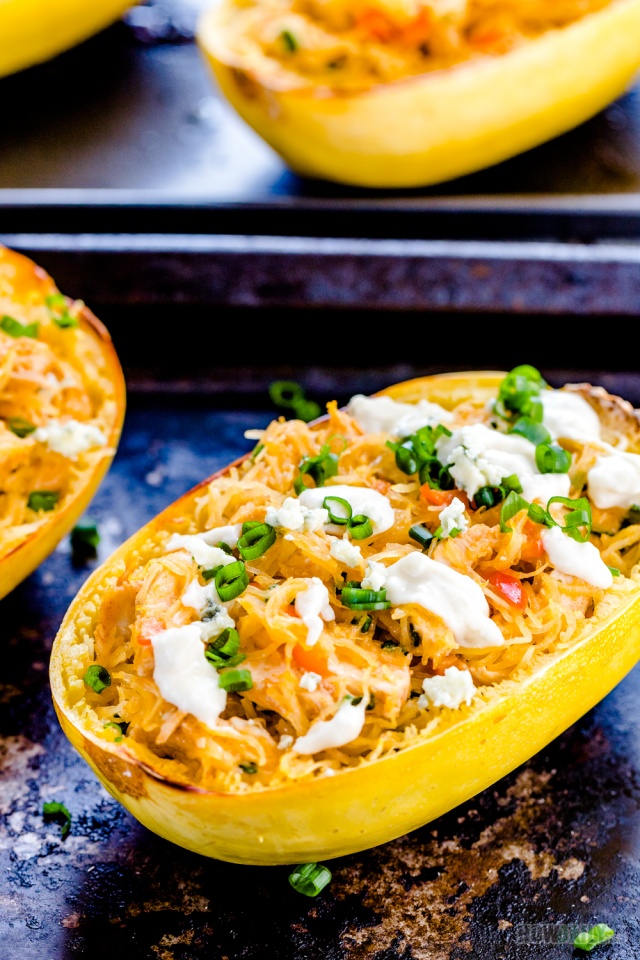 Depend on the amount of time and dedication that you have, you can opt for store-bought buffalo sauce and blue cheese dressing. Though homemade versions let you have more control over the taste and spicy tolerance. Any brand of hot sauce would do, try Frank original, Sriracha… For blue cheese dressing, you can also substitute with ranch if you're on a certain diet.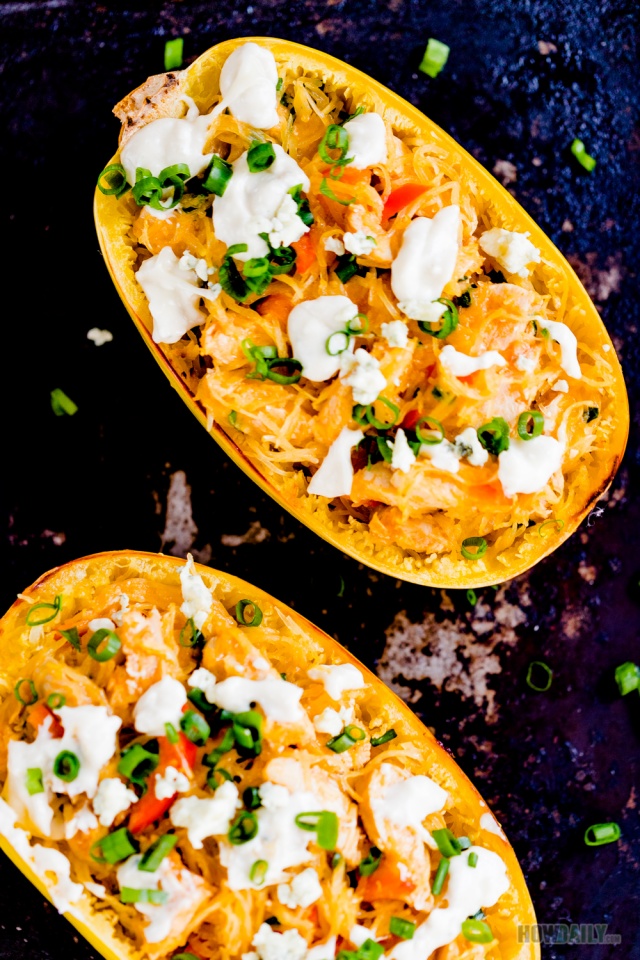 To soften spaghetti squash a bit for easier cutting, pop them in the microwave for 1 minute or so. For the chicken, you can amplify the flavor by grilling with charcoal; otherwise, just pop them in the oven and roast beforehand. If you have leftover chicken, shred them, and pan-fry also works.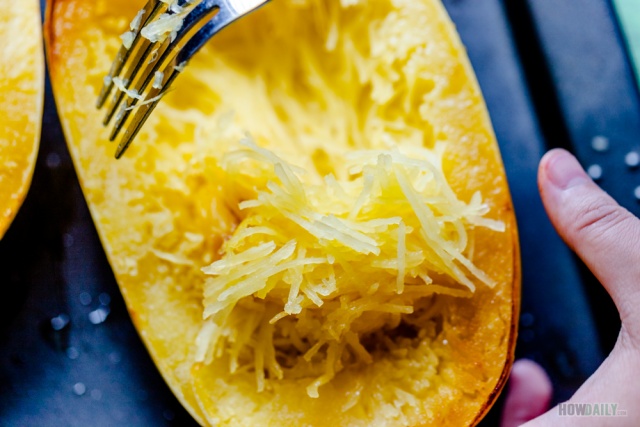 Overall, great dish to have, especially for those little fingers, just variate the spiciness level between each squash to accommodate the whole family.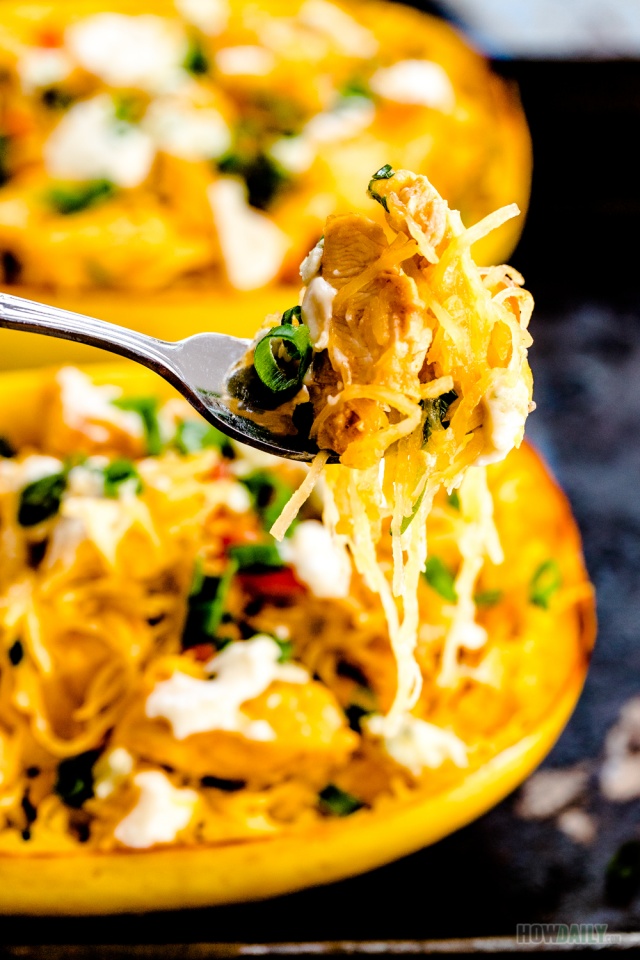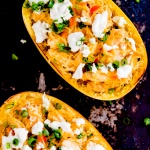 Recipe for buffalo chicken spaghetti squash
Fabulous swirl of spicy buffalo chicken and spaghetti squash, all stuffed inside yellowish squash bowl featuring blue cheese dressing & crumble on top. Deliciously hot with extra cayenne.
Print
Ingredients
2

small spaghetti squashes

1

lb

chicken thigh or breast

bone-in/skin on for juicier roast

2

green onion

1/2

cup

bell pepper

1/2

sweet onion

1

Tbsp

honey

1

tsp

lime juice

2

oz

blue cheese crumbled

1

Tbsp

avocado oil
Buffalo sauce
1/3

cup

hot sauce

4

Tbsp

unsalted butter

1/4

tsp

Worcestershire sauce

1/2

Tbsp

vinegar

1

tsp

garlic salt

1

Tbsp

honey

1/2

tsp

cayene pepper

extra hot optional
Blue cheese dressing
2

oz

blue cheese

3

Tbsp

mayonnaise

1/3

cup

sour cream

1/2

tsp

Worcestershire sauce
Instructions
Buffalo sauce mix
In a skillet or sauce pan over medium heat, melt 4 Tbsp butter.


Now add all ingredients in the buffalo sauce list. Stir and whisk while keep simmering.

When the sauce start bubbling, remove from heat, stir to prevent burnt. Set aside to cool a bit.

Prepping Chicken
Wash and cut chicken into thinner steak if need, otherwise just wash, pat dry.


Take half of the buffalo sauce and marinade chicken with it. Use a zip bag or similar for easier soaking. Marinade for 1-2 hours for throughout flavor.
Prepping spaghetti squashes
Line a baking dish or tray with parchment paper or foil. Preheat oven to 350 F.


Cut spaghetti squashes into halves lengthwise.


Scoop out all seeds and inside veins with a spoon. Then brush their sides rimmed flesh with some oil.

Place all squashes face down onto baking tray.


Bake for about 40 minutes till squashes tender enough. Remove from oven, turn squashes over and set aside to cool down.


When squashes are cool down enough, use a fork to scrape their fleshes.


Transfer those squashes strings to another container, save the outer shelves aside for later uses.

Stovetop char broiled chicken
Heat a large non-stick skillet over medium high heat.


Once hot, arrange each piece of chicken directly on top. Let sit and cook for 3-5 minutes.


Once browned on one side, turn chicken pieces over, brown for another 5 minutes or so till all chicken cook through.


Remove from heat and let rest for 5 minutes to cool down a bit.


Slice all chicken into thinner bite-size slices. Note that if you want to, remove skin and bones then shred them.

Stuff to squashes
In a large container, toss all the sliced or shredded chicken with the remaining buffalo sauce and 1 Tbsp honey till fully coated


Now add in the shredded squashes strings. Finely slice sweet onion and bell pepper then throw in there as well.


Finely chop green onion. Leave 2 Tbsp for garnishing, add the rest to mixing bowl.


Add in 1 tsp lime juice, then mix everything real good.


Spoon this stuffing into each of the squashes shelves.


Return those stuffed shelves back to baking tray or dish, and bake them in oven for 10 -15 minutes at 350 F.
Blue cheese dressing
While heating stuffed squashes, let's quickly prepare this blue cheese dressing.

Crumble all the blue cheese if haven't done so (both the 2oz for dressing and 2oz for sprinkling)


In a small saucepan over low heat, combine and stir mayo, sour cream and Worcestershire sauce.


Keep stirring and whisking until the whole thing melted and become smooth.


Stir in 2 oz crumble blue cheese and Remove from heat immediately. Set aside till ready to serve

Serving
Once the stuffed squashes shelves are heated through, remove them from oven.


Arrange onto serving dishes, along with garnishing vegetable.

Decorate by drizzling blue cheese dressing and then sprinkle on all the crumble blue cheese and remaining green onion.