Buying water filter pitchers can be inconvenient. They take up extra space in your fridge, have to be refilled over and over, and don't last long. If your refrigerator or sink doesn't come with its own drinking water filter, buying an under-sink water filtration system has a lot of perks. However, you must be sure to buy the best under sink water filter system for your household.
Some important criteria to consider include the types of filtration, ease of installation, ease of use, Water Quality Association (WQA) certification, safety, and durability. Of course, affordability is also a concern.
In this review, we'll highlight 5 of the best under sink water filter systems you can buy. We'll discuss the pros and cons of each model, as well as who it's best suited for. Afterward, we'll also explain some overall guiding points for choosing the water filtration system that's best for you.
5 Best Under Sink Water Filter Systems





1. APEC ROES-50 Top Tier Reverse Osmosis Water Filter System (5-Stage)
First on our list is the ROES-50 water filter from APEC. The ROES-50 system is extremely popular with users and has consistently high reviews. It's quite sizable compared to some other water filter systems, with a total weight of 25 pounds, but it's a great value for the cost. This unit has a 5-stage filtration system as well as reverse osmosis. It removes 99% of over 1000 contaminants.
This filter removes arsenic, heavy metals, bacteria, viruses, pharmaceuticals, chlorine, and lead, as well as a huge amount of other contaminants. It removes cloudiness, odors, and flavors. It also removes fluoride. It's WQA certified. The size of the system is 11 x 11 x 15 inches. It fits most standard-size kitchen cabinets, though depending on your sink storage it may not be the ideal size. It comes with a minimalist chrome faucet that would work well in modern kitchens. The tubing is NSF and FDA certified food-grade.
The ROES-50 is relatively easy to install, according to users. Those who are not confident working under the sink can opt to pay extra for professional installation. This filter can take anywhere from 30 minutes to a few hours to install, depending on your prior knowledge.
The vast majority of users have had a positive experience with this filter. It's perfect for those who need to ensure that their water is as clarified and filtered as possible, as this water filter catches all of the contaminants that a water filter can reasonably catch. It tastes great and is easy to maintain over time. The filters last a long time and are easy to replace yourself.
The only minor downsides to this water filter are the size and ease of installation. A couple users also found that the water stream is lower than from the regular tap.
Pros:
Filters over 1000 contaminants including fluoride
5-stage filtration system
Well-made and durable
WQA certified
Cons:
Somewhat large for under-sink space
Some users found it difficult to install themselves
2. iSpring RCC7 WQA Reverse Osmosis Water Filter (5-Stage)
This system consists 5-stage filtration, reducing over 1000 common pollutants, and it also includes reverse osmosis filtration technology. This filter removes chlorine, sediment, pharmaceuticals, and a long list of other contaminants. It even removes fluoride, which many people prefer not to have in their tap water.
This filter system also removes cloudiness, odors and tastes. Users say the water tastes pure and satisfying.
This system comes with an under-sink system as well as a faucet. The faucet is lead-free and made from solid brass with a brushed nickel finish. The filter is capable of filtering through 75 gallons of water per day and is quite water-efficient.
The water filters in this system need to be changed every 6 months, which is the standard durability of most water filters. There's no automatic indicator to let you know when to change the filter, however. Changing the filter is a simple and intuitive process, though it may be cumbersome to do so under the sink.
This system weighs 25 pounds altogether and is designed to fit under standard-sized kitchen sinks.
As for installation, users say that it's possible to do yourself if you tend to be handy around the house. The manual is relatively clear. However, it may take a while or be difficult if you've never installed anything like this before. For those who would rather not attempt a DIY installation, you can opt for professional installation for an added price. The benefit of professional installation is that it reduces the likelihood that your system will be incorrectly installed.
Most users did not have any issues with improper fittings, missing or broken parts, or other issues with installation out of the box. However, it's clear that iSpring has great customer service. They offer lifelong support, which is reassuring as this is a system you'll want to keep for a long time.
There are a few other things to consider about this unit. First is the size. Though it does fit standard kitchen sinks, it will take up quite a bit of room under the sink. It may work best for those who have ample space down there.
Secondly, some users found that this unit wastes water — it sends a lot of water to the sewer in the process of filtration. We have found it to be average compared to other similar water filtration systems, but this is something to keep in mind when shopping for a water filter.
Pros:
WQA Gold Seal certified
Reverse osmosis system
Reduces over 1000 contaminants
Brushed nickel faucet
Cons:
Takes up a lot of room under the sink
3. Global Water Reverse Osmosis Water Filter System (5-Stage)
The Global Water water filter system is a great combination of affordable and effective. It's less expensive than many similar water filter systems, but offers 5-stage water filtration along with reverse osmosis. It's WQA certified and uses premium NSF filters. It filters over 1000 contaminants.
This filter removes up to 99% of these contaminants. It reduces chlorine, lead, bacteria, and arsenic as well as many other contaminants, like pesticides and sediments. It also reduces fluoride, which is often added to tap water. Some people prefer to leave the fluoride in their water, but for other folks removing it is a major plus. It also removes cloudiness, tastes and odors for clean-tasting fresh water.
Not only does this unit remove lead, but it's also lead-free.
Users have varying reports on how easy this unit is to install. In general, if you're a handy person and you're good at following directions, you should be able to install it in about an hour. It includes a manual, but some users found the instructions not very helpful — it seems to depend on how mechanically-minded you are already. You can also have this system professionally installed for an added fee. It's worth noting that some users found that the fittings included with the kit did not work for their water supply valve, requiring them to find an adapter to make it work.
Like with any filter system, there's a chance you'll run into issues while installing it or that a part may arrive broken. It's not likely, but it does happen occasionally as shown by the user reviews. A couple users had problems with leaking or faulty connections. However, Global Water has great customer service, responding quickly and taking care of buyers' needs.
Pros:
Removes 99% of over 1000 contaminants
Removes fluoride
WQA certified
Cost-effective
Cons:
Connections may not work for every household
Some users found installation to be challenging
4. APEC RO-90 Top Tier Supreme Reverse Osmosis Drinking Water Filter System (5-stage)
This filter from APEC is the highest in price on this list. It's Gold Seal certified by WQA, and it removes up to 99% of a whopping 1000 contaminants. This system has a 5-stage filtration system and comes with a sleek minimalistic chrome faucet. The tubing is FDA certified food grade and lead-free.
This filter reduces harmful chemicals such as lead, chromium, arsenic, copper and radium. It even reduces fluoride, which is a pro or con depending on your stance on fluoride. It also removes chlorine. It has an extremely high contaminant removal rate.
The water filters in this system can last up to two times as long as traditional standard water filters. This is quite convenient for those who would prefer not to have to change out the water filter every 6 months.
The APEC RO-90 can be self-installed without much difficulty, especially if you have general knowledge of your home's plumbing system. The manual gives clear instructions. It can also be professionally installed for an extra fee. Users say the system is attractive and quiet, though it may be too large for certain kitchen sinks. However, you may have to buy an adapter if the feed pipes do not fit to the pipes in your home.
Users say this filter produces great-tasting water. It also seems to be well-made and durable, with very few users having issues with failed parts or leaks. Those that did have problems were able to resolve them very quickly according to their reviews. It's always a plus to have a water filter system that comes with great customer service in case anything goes wrong.
We recommend this filtration system for those who need to make sure their water is as filters as possible, even filtering out the fluoride that's added to most tap water. It's a little pricey, so if you have the budget for it and feel confident that you can DIY the installation (most people can), this may be the perfect filter system for you. The faucet design is perfect for modern-looking kitchens.
Pros:
Removes 99% of over 1000 contaminants
WQA Gold Seal certified
Relatively easy installation
Great-tasting water
Long-lasting filter
Cons:
High price
May not work for those with limited under-sink space
5. Aquasana Under Sink Water Filter System (3-Stage)
This filter from Aquasana comes in a simple brushed nickel finish. It features 3-step filtration, which is fewer steps than the more expensive filters listed above, but it comes with a significant price reduction. It reduces heavy metals as well as harmful microbes, herbicides, pesticides and VOCs. It also filters chlorine, and there's a sediment pre-filter. It filters lead, but does not filter fluoride.
This water filter filters a half gallon every minute, so there's no delay. Some user reviews note that the stream from the faucet can be somewhat slow or weak. The water filters last for 6 months at a time, which is about average. The system includes a battery-powered alarm system for notifying you when the filter needs to be changed.
This water filter can be self-installed or, for an additional price, installed by a professional. Users say it's relatively easy and quick to install it yourself, which could help further add to its affordability. Users also say it's conveniently sized and takes up very little space under the sink.
This water filter is likely best for those who are on a budget and want a basic filter that works better than a filtered water pitcher. Since it filters lead, it's also good for those in old houses. The style of the faucet is most suited for traditional-looking interiors as well. This filter is an excellent value for the price.
Pros:
Affordable
Certified to NSF/ANSI Standards
Brushed nickel finish
Reduces 99% of 68 different contaminants
Easy to install
Cons:
Only 3-step filtration
Some users have experienced leaks
Slow water stream
Under Sink Water Filter Buying Guide
While shopping for water filters, you'll likely see a lot of buzz words like "reverse osmosis" and "5-stage filtration." Here, we'll break down what some of these terms mean and what's most important to look for when buying a home water filter for sink.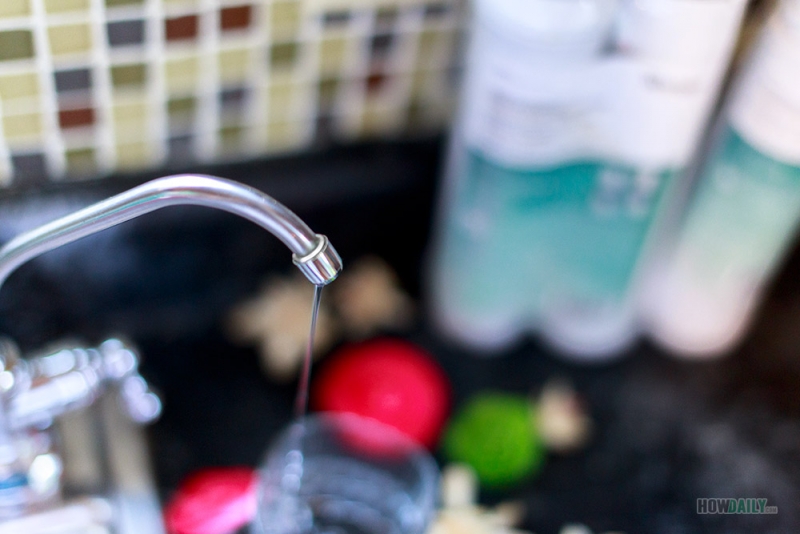 Firstly, all water filter systems have a certain number of filters that the water must pass through before it reaches the faucet. A simple water filter pitcher typically has one to 3 stages of filtration, while some under sink systems have as many as 7 filters that the water passes through. In general, the more filters, the cleaner your water will be, since each filter captures a different type of contaminant.
However, it's not as simple as "the more filters the better." Having a 7-stage system is excessive for most regular home users, and it's also quite a bit bulkier and more difficult to maneuver during installation. When buying an under sink filter, we recommend buying at least a 3-stage system in order to justify the cost.
There are also different types of filtration. Most filter systems include pre-filters to remove sediment and cloudiness. They also often include carbon-based blocks to capture contaminants such as chlorine. More advanced water filter systems may also include a reverse osmosis filter or a UV filter, which capture many more contaminants than a carbon filter.
Reverse osmosis filters remove tastes, odors, bacteria, pharmaceuticals, nitrates, pesticides, arsenic and a long list of other common pollutants. They even remove fluoride, which carbon filters do not.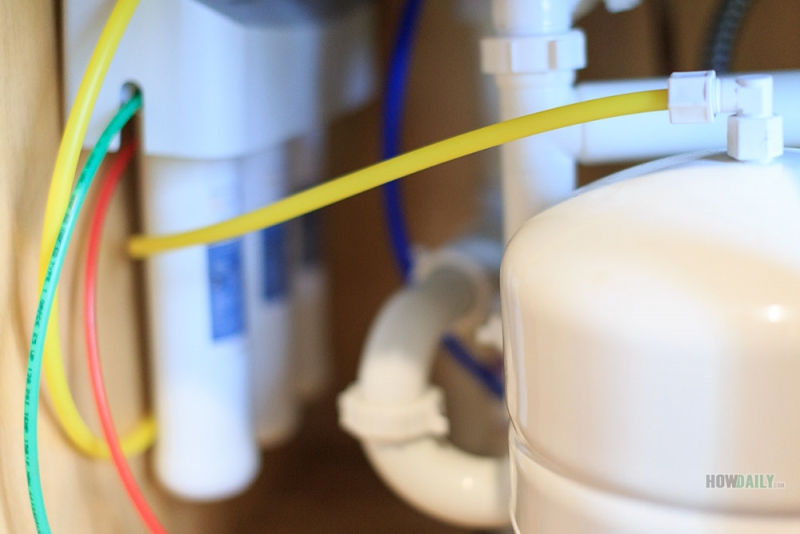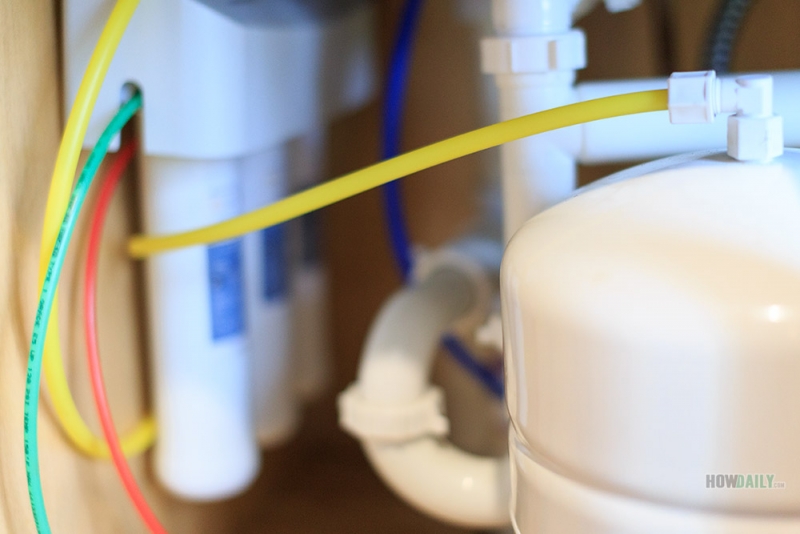 Lastly, you should look for a filter system that is WQA certified. WQA stands for Water Quality Association, which is an independent trade association that represents the water treatment industry. A WQA certification means that the filter complies with industry safety and water quality standards.
Most under sink water filter systems include a DIY installation option. Installing a filter system yourself can be tricky if you have no prior experience working under the sink, so look for a product with a clear instruction manual and wonderful customer service if this is the case.
If you opt for a professional installation, be prepared to pay extra — sometimes this can nearly double the cost of the filter system. However, it may be worth it to avoid costly repairs down the road.