You don't have to be as skillful as Jiro to make the perfect sushi at home. In fact, with the help of some of the best sushi making kits, you are likely making better-looking rolls with all piece evenly matched in shapes and sizes, that compare to those top-notch restaurants
Having a party? No fear, these tools are just so easy to use with so much fun that you could gather those running kiddo for help too. Square, round, heart, large, small, etc. whatever you throw at it will come out beautifully and professionally just like those pieces at the luxurious restaurant. Now let's look at some of the best sushi making kits, shall we!!!
1. Kitchen Boosterz All Sushi Making Kit
This kit include: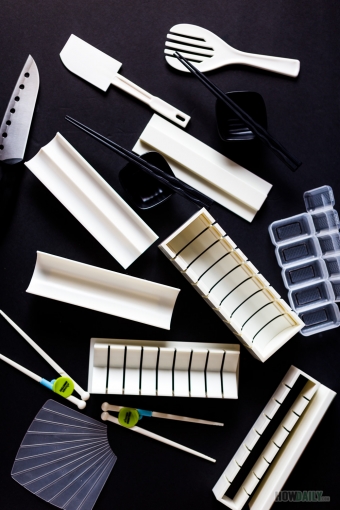 A nigiri rice mold base and cover: the perfect solution for making even size nigiri base, just top up with some protein and a dash of wasabi.
A temaki guiding mat: do you like the hand roll, well, this is perfect for at the table sushi, just wish that they would include more than one for all the kiddo.
Maki roll molds in square, round, triangle/heart shape. They've also included molds to make large (futomaki) and small square mold for single ingredient rolls (hosomaki). All these molds have a guide for even cutting.
A nonstick sushi knife for cutting those rolls into pieces.
A step-by-step manual with pictures and recipes included on rolling and using the molds for making sushi.
A spatula for rice spreading and serving fork.
2 pairs of chopsticks
2 pairs of training chopstick with silicone helper for kids
2 sauce/condiments dishes.
A nice string closure bag for easy storage.
The best thing is all pieces in this kit are dishwasher-safe. They are made from food-grade plastic that will be non-stick and can easily be wiped off. Here are some pros and cons for this kit.
Pros
Lots of molds with different shapes to make sushi rolls
Has mold for nigiri rice base, most other sets don't have this
Has special mat for temaki guiding
Dishwasher safe
Nicely storage bag avoid losing bits and pieces
training chopsticks fun and easy for the kids to use
easy and detailed instructional manual with recipes and pictures
Price is reasonable
Cons
most of the maki molds provided is for bigger rolls, only one for small size, no medium detect.
no small size cylindrical mold for maki
no help for gunkan (battle ship) maki
included knife is kinda flimsy
2. Traditional sushi making and bamboo serving set with wooden hangiri
This set includes:
A wooden sushi rice tub (hangiri) that is used for mixing and cooling sushi rice while absorbing unwanted moisture and prevent being mushy. Available in 5 sizes (10 – 15inches). However, the 15.3-inch size seem to work best, at it would allow about 10 cups of cooked rice to be mixed, which is typical for a home electric rice cooker. Choose the size that works best for your party.
2 bamboo rice paddles for mixing rice in the tub
2 bamboo spoon for mixing season or sauces
2 bamboo rolling mats for consecutively maki sushi making and rolling
4 half split bamboo plate for serving sushi pieces
4 square bamboo dishes for serving small sides or garnishment
4 round bamboo dishes for wasabi dabbing
This is a good kit at a very reasonable price that would save you time and money compared to buying single pieces. Quality of the tub is what still needs to be considered, but still, as long as you treat and season them right, they'll work. Many would argue on buying a Japan-made quality hangiri, but hey, unless you're committed to making sushi every day or at least so frequent enough to make it worth the $350  tub, this one is reasonable otherwise. Oh, and don't forget to pre-season the hangiri and utensils for the first time and before each use.
Pros
Hangiri with multiple bamboo utensil to mix and cool sushi rice
Give of beautiful and traditional zen feeling when using this set to make sushi
Hangiri absorb moisture well
Bamboo mats are high quality and all natural without chemical processed
Bamboo serving plates look very good, making perfect presentation for sushi
Everything fit nicely back in the tub for storage
Eco friendly, reusable and durable bamboo works, no vanish or chemical used
Cons
Handwash only.
Need to be pre-season, otherwise rice stick like crazy
no lid for tub, could use a towel to cover the rice, but still a lid would be nice to enclose and prevent dust when in storage, especially with all small pieces in side
Hangiri longevity is unknown, the bands are plastic, not copper
Not much instruction/manual include, sushi starters have to look somewhere else for recipes and how to roll sushi, making sushi rice, etc.
3. The SushiQuik maki sushi kit set – Quick and easy maki sushi making
This set includes:
A nonstick plastic maki sushi rolling mat that is perfect for making both the normal cylindrical sushi roll and the inside out uramaki.
A clamp-on training frame for sushi rice spreading guidance.
A sushi cutting guide
A nonstick plastic rice paddle
Two end cap that served as condiment containers
A plastic stand to elevate the rolling mat
This set is nice and simple, very quick and easy to use for making maki roll, just maki only though. Here are the pros and cons
Pros
All pieces are dishwasher safe
Nonstick plastic, super easy to wash even by hand
Rice training frame to aid beginner on where and how much sushi rice to add
fully control on each roll size
Non stick mat for quick inside out uramaki roll without need extra saran plastic wrap
Sushi cutter rice for clean even piece cutting
Non stick rice paddle easy to mix and spread sushi rice
Cons
only work on maki roll
little direction, no recipe include
black stand wobble when spreading rice while the mat couldn't be use standalone without base
plastic feels a bit flimsy
4. Beautiful handmade Makimaker set, quick, easy and nostalgic
Pros
Beautifully handmade give off that traditional zen feeling of sushi pro making tools
Solidly made in wood, sturdy and durable
detailed instruction for uses with both standard maki sushi roll and uramaki
easy to use
making perfect and even sushi roll size every time
Cons
bits and piece that need to be store together, would prefer if they provide some sort of storage bag
1 size pre-fixed
hand wash only
5. The Sushi Bazooka – Sushi in a push, quickest sushi roll maker
Pros
Dishwasher safe
Super budget device, cost less than that of a sushi roll at any typical restaurant
Simple, quick and easy to use, especially when making sushi in large batch
Make perfectly round and even all over maki sushi
Cons
no clear instruction, have to look online for that
roll size is fixed, no variation whatsoever
hard , if not impossible to make inside out roll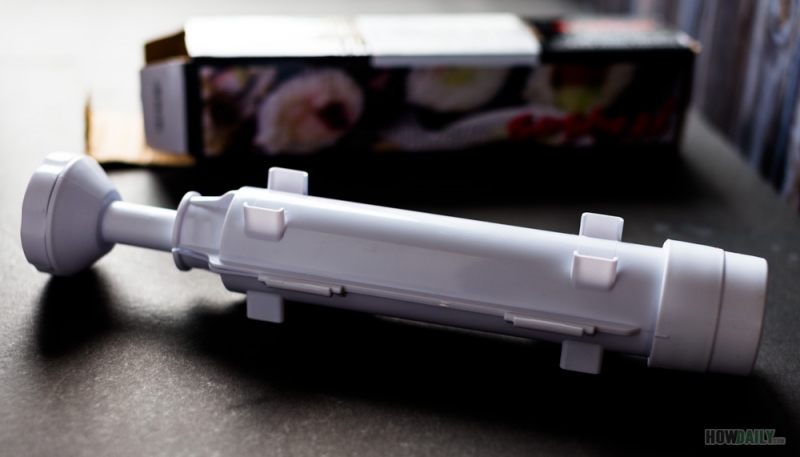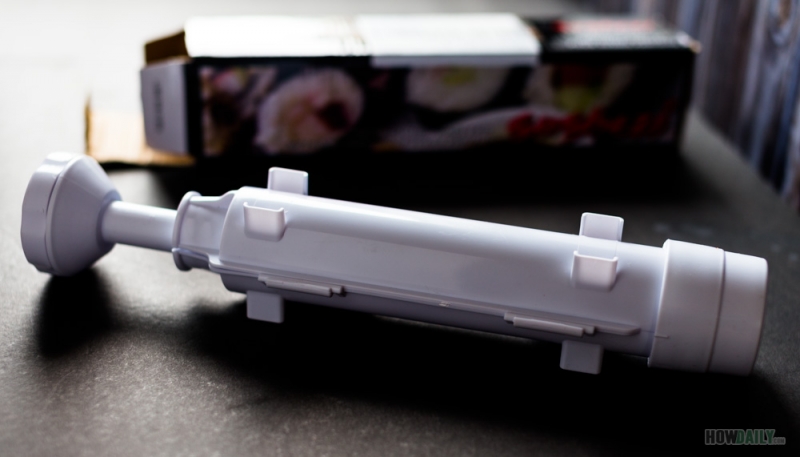 6. Sushi Magic kit – Easy to use sushi making machine
Not only that, but this kit also has a unique 2-part nigiri mold set. Whereas one part is for the base sushi rice, the other is for the topping. The two are then combined and press tightly into one perfectly looking nigiri. Though it takes some practice to master this set properly, nonetheless it does help a lot in mass sushi making at home.
Pros
mass making sushi rolling device
able to roll inside out uramaki
unique complete 2-part nigiri mold
easy to use
non-stick, wipe clean for continuous uses
Cons
not dishwasher safe
more complex than some other system
7. Most completed sushi supplies: the Japanese Sushi Complete set by KC Commerce
Included in this pack are:
1 bamboo sushi rolling mat for rolling the maki sushi roll
2 Lbs Nishiki brand sushi rice
1 pack of sushi Nori
1 R&B wasabi tube
A jar of  Welpac sushi pickled ginger
1 bottle of Nishiki Sushi vinegar
1 bottle of Kikkoman soy sauce for sushi &  sashimi
1 condiment dish with 3 compartments for holding ginger, wasabi, and soy sauce separately
5 pairs of bamboo chopsticks
This pack is kind of nice, the kind where you just one-click shopping and get it right to your door for quick sushi. So if you in a bit of a hurry, get this one, use it, mark the brand, and next time whenever you're in a local store look for those in bulk.
Above are some of the useful and convenient kits for making sushi. Each kit has its own advantage over the other, however, they're all on a manageable price range. If you're new into sushi, or only making one on occasion, then these are some good kits for you without choking out an enormous fortune. It's required some getting uses to get a hang of the tools. They're fun to have, and can be purchased in conjunction as each one serve a different purpose without repeat. Anyhow, have fun making sushi, get your kids to help too, it'll be fun for them to play with the tools and making their own favorite kinds of sushi.