A trip to our local orchard last week brought us bags and boxes of apples, pears, and all the fresh harvest. Hence for the past few days, all our meals are delighted with all the delicious seasonal treats. This Apple & Pear fruity Bruschetta recipe is among one of my low-cost collection yet so delicious and indulging for a large group.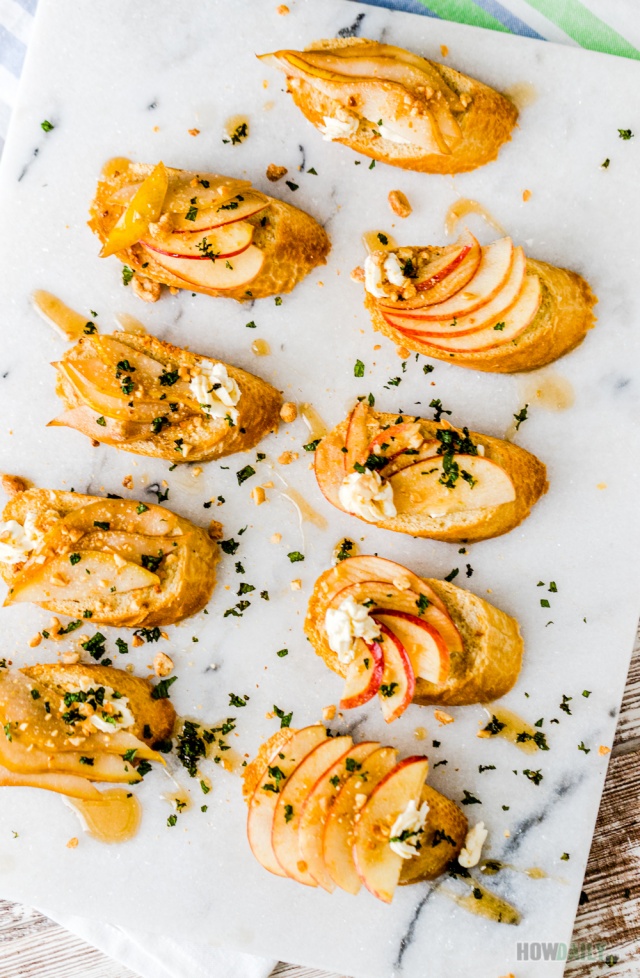 Simply put, this recipe is placing sliced fruits on top of freshly baked croutons and decorate them with nuts, mint, and maple syrup. Honey could be used too or any other sweetener syrup, it's just maple is a signature of Autumn.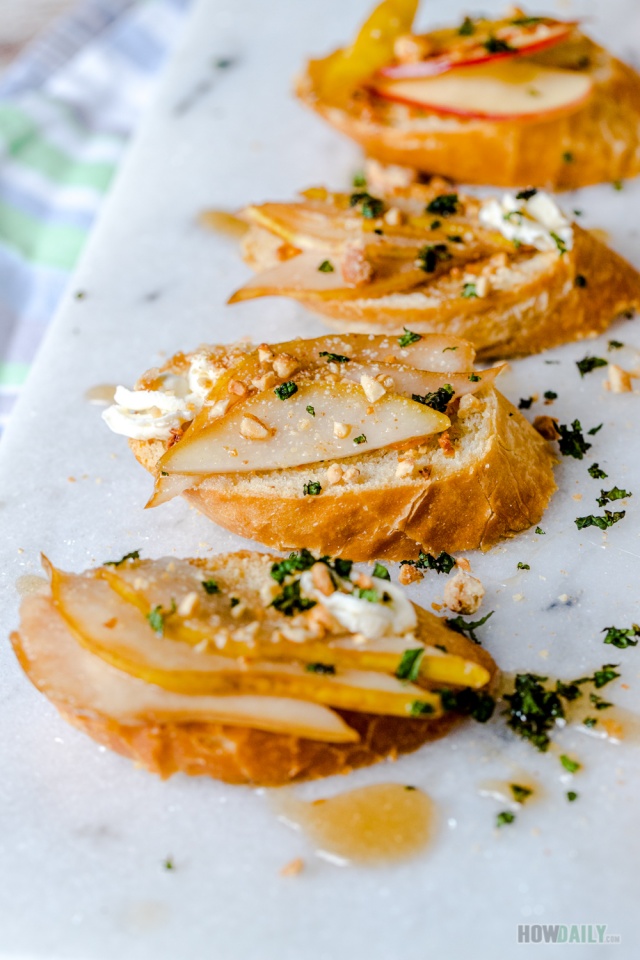 Speaking of bread, I often used baguettes, but anything works really, as long as you could slice them into serving size and proceed. I also used unsalted butter with fresh garlic and garlic salt to season the bread slices before baking. If you're using salted butter, reduce the garlic salt or just skip it and add some oregano.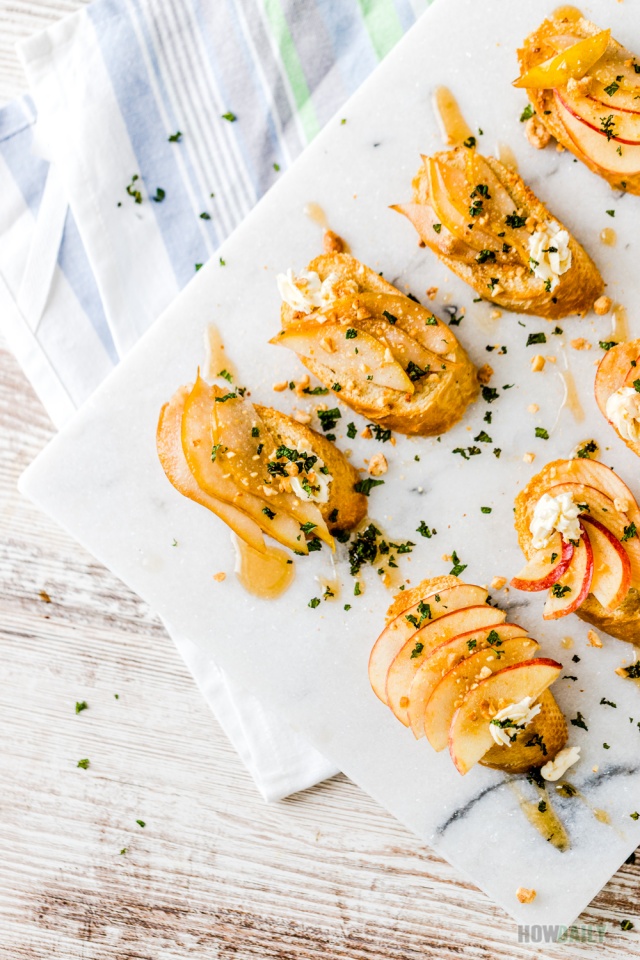 For the fruits, I'm using ripen apple and pear, to which both are really quick to turn brown if they're not soaked in diluted acidic solution (say lime water). So my tip here is to get a (preferably chilling cold) water bath, squeeze in half a lime or lemon and then throw in the rind as well. You can then add apple and pear as you're slicing them.
One note is on the cream cheese, it'd be better to let them soften at room temperature so you can spread or pipe them onto bread slice easier.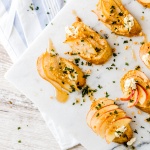 Harvesting Season Bruschetta w/ Apple & Pear
Twisting the Italian Bruschetta with fall seasonal fruits: apple and barlette pear, add cream cheese, garlic, butter, nuts, and chopped mint to have a delicious appetizer for a large group without breaking your budget. Glaze these croutons with syrup or honey to add the sweetness.
Print
Ingredients
½

bread

french

4

Tbsp

unsalted butter

½

tsp

garlic salt

3

cloves

garlic

½

pear

½

apple

2

Tbsp

maple syrup or honey

for glazing

3

Tbsp

crushed nuts

peanut, cashew, chestnut, etc.

4

Tbsp

cream cheese

½

lime or lemon

optional

2

Tbsp

chopped mint leaves
Instructions
Make sure to leave the cream cheese out to soften at room temperature.

Crush, peel and finely chop garlic.

Melt butter, then add garlic and garlic salt in, stir well to mix.

Slice breads into ½ inch thick.

For each bread slice, spread garlic-butter onto one side and fully cover it.

Set the butter-covered side down onto a baking tray/pan, then repeat with other slices.

Once finish, now spread garlic-butter to the other sides (now facing upward) of all bread slices.

Bake for 20-25 minutes or until bread are golden and become crusty.

Remove from oven and set to cool down for 10 minutes or so.

While waiting (for the bread to bake or cool down), core and cut apple & pear into thin slices. You might need to soak apple & pear slices into a lime-water bath to prevent them from turning brown.

When the bread slices are done and cooling off, start piping or spreading some cream cheese to each slice.

Arrange a few slices of apple or pear onto each bread slice where the cream cheese is to help with the binding.

Now pipe/spread some more cream cheese to decorate.

Sprinkle some crushed nut and chopped mint leaves all over.

Finish touch with maple syrup/honey glazing.