It isn't a complete Thanksgiving feast without a casserole dish of stuffing alongside the inviting deliciously golden roast turkey. Try this inspiration over the traditional stuffing with Apple, Celery, and Parsley.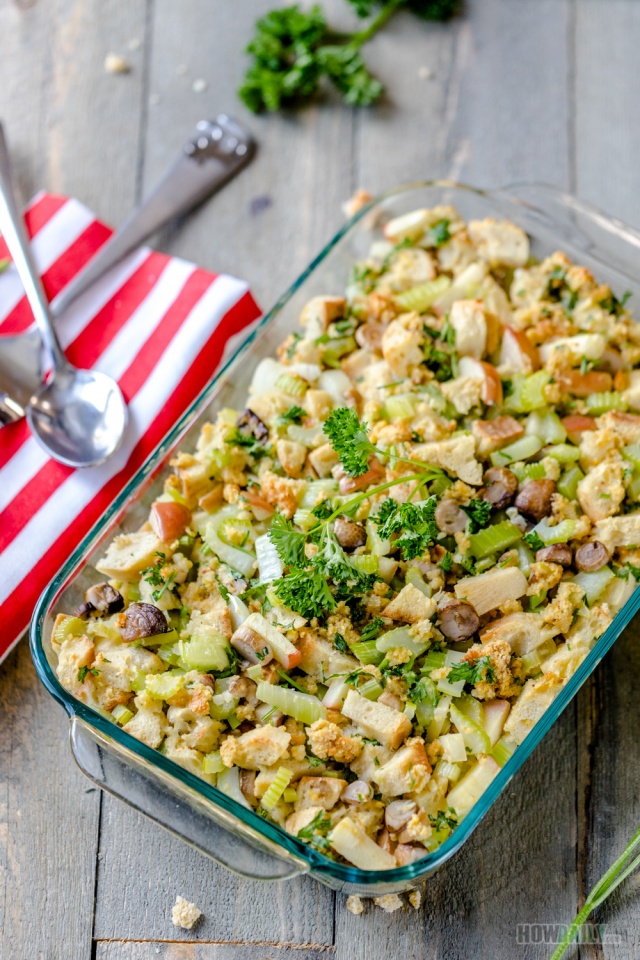 Stuffing is really easy to cook up and can be prepared in the short amount of time you're waiting on the turkey to be baked. I usually place our stuffing ingredients into a casserole dish and bake it uncovered when the turkey finished roasting and resting. That way, they both can be served at the same time in their best conditions.
Since this year, our turkey is rubbed with sage, rosemary, and thyme, I tried to put parsley as the main and only herb in stuffing, just to complete the heirloom four. The flavor turned out to be on the lighter side, yet still savory and having the sweet scent from apple. It is perfectly fitted on our Thanksgiving table for sure.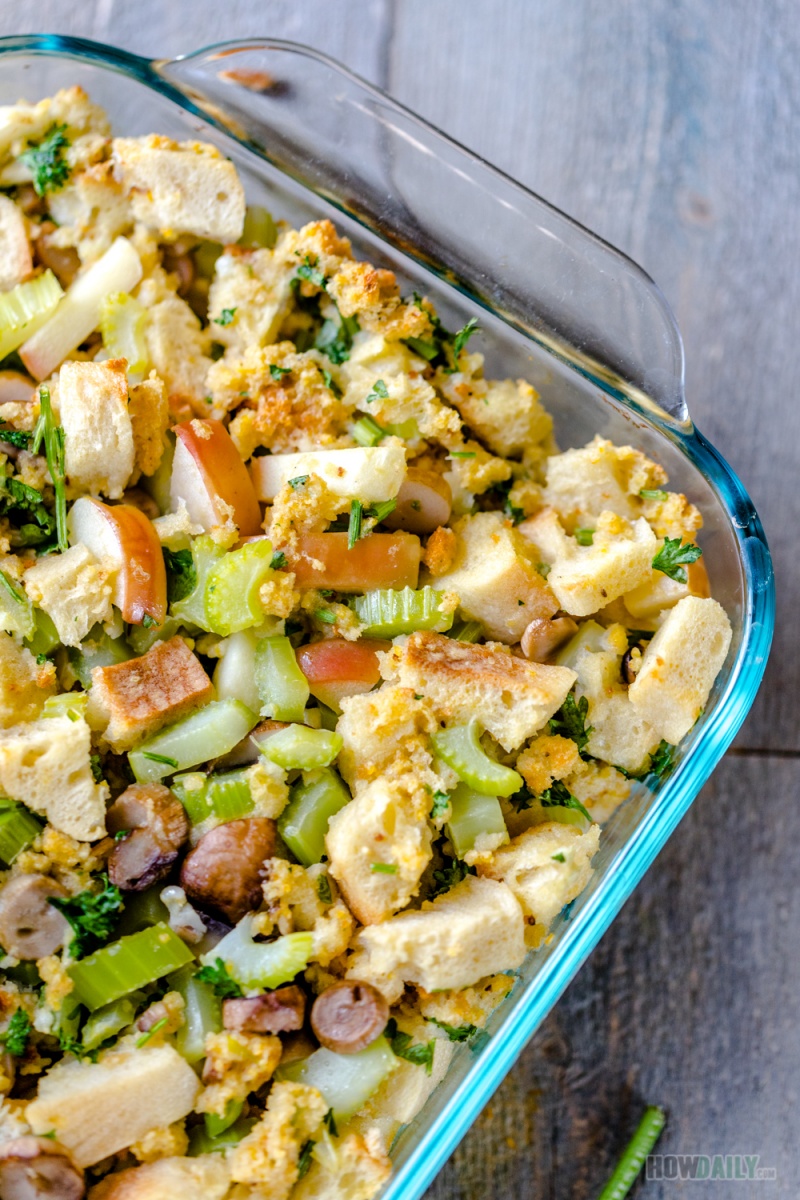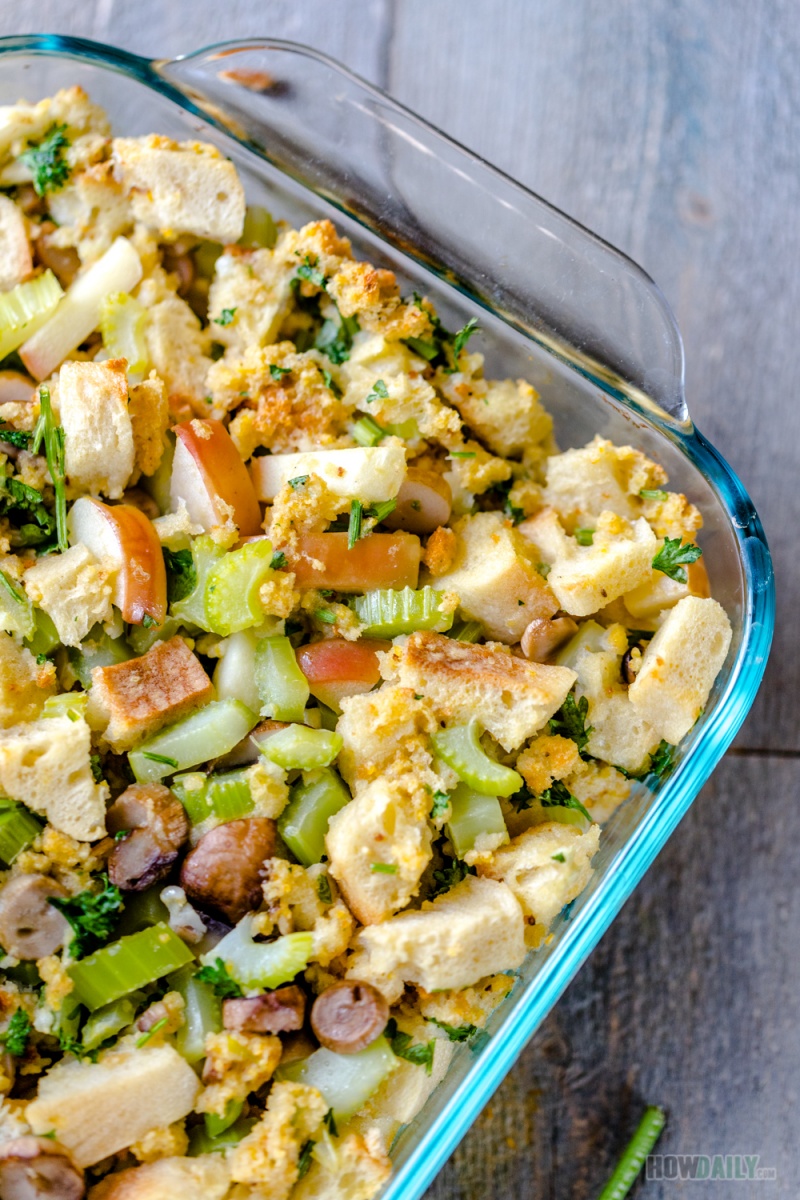 For the bread, you can really use any type; since I have some baguette leftover from the large batch of french-fried onion in our Green bean casserole, I decided to mix it with some cornbread stuffing. It has a thin crispy layer at the top and some moist, tender bread soaked with chicken broth after baking without covering.
Remember the mushroom stem that you pluck out when preparing green bean casserole? I chopped those up along with some whole mushroom into larger chunks to make a cup. Now, if you don't have those leftovers or start this stuffing from scratch, you may need about 6-8oz of mushroom.
The recipe did not call for any salt or seasoning since most chicken broth alone should be salty enough when condensing down. You could always add some, but be careful to not over board.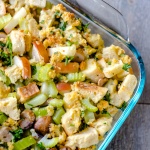 Apple Celery Stuffing
This apple celery stuffing is savory-sweet with parsley and is perfectly standing next to the primeval turkey in your Thanksgiving feast. Try this recipe and customize it to your delight.
Print
Ingredients
12

inch

baguette or white bread

cube to around 3 cups

1

cup

cornbread stuffing

1

cup

cubed apple

3

stalks

celery

½

bunch

parsley

1½

cup

chicken broth

2

eggs

1

cup

chopped mushroom

2

Tbsp

butter

1

Tbsp

crushed garlic
Instructions
Prepare all ingredients and butter-grease a casserole dish.

In a medium saucepan, melt butter, then stir in crushed garlic to brown.

Stir in chopped mushroom, apple and celery to saute till soften a bit.

Pour in chicken broth, bring to boil, then remove from heat.

In a separate container, beat eggs and chopped parsley together.

Add bread cubes and cornbread to the eggs and combine well.

Mix in the sauteed mushroom and celery stock.

Combine well and level everything onto the buttered casserole dish.

Bake at 350F for 20-30 minutes, uncover for a crispier topping.