Halloween is just around the clock, Thanksgiving and Christmas are bounded to come. Let's celebrate this holiday season with some decorative shortbread cookies. Turn them into thumbprint with your favorite strawberry jam or glaze them with whipped royal icing for even more fun. These are so easy to do that would make you wonder "why haven't we try it sooner".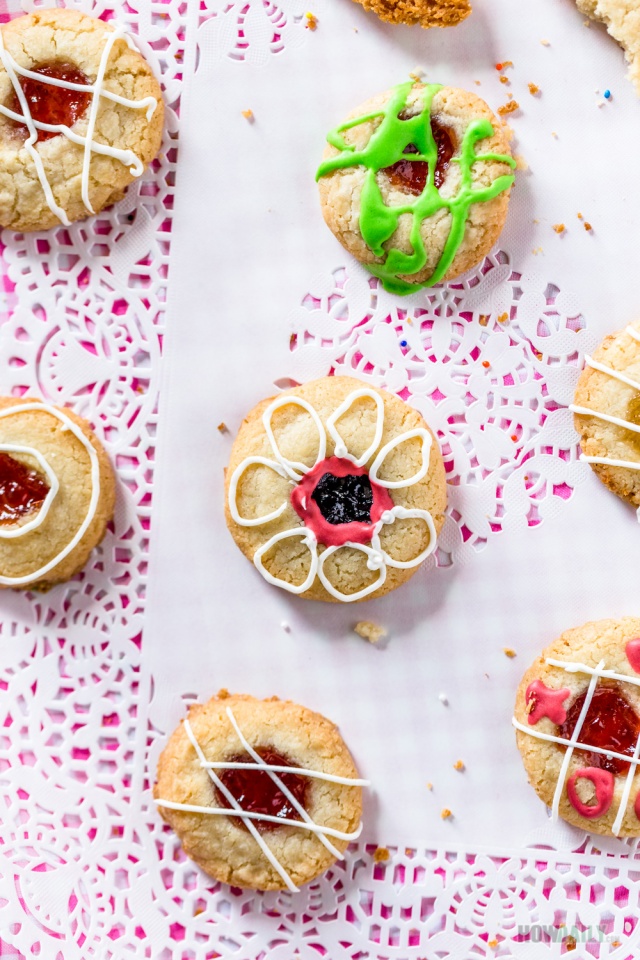 Anyone would love a cookie, even the not-so-sweet tooth like me. This cookie recipe contains just the right amount of sugar to make it sweet, but not overly sweetened. See what I mean? You can always add more sugar.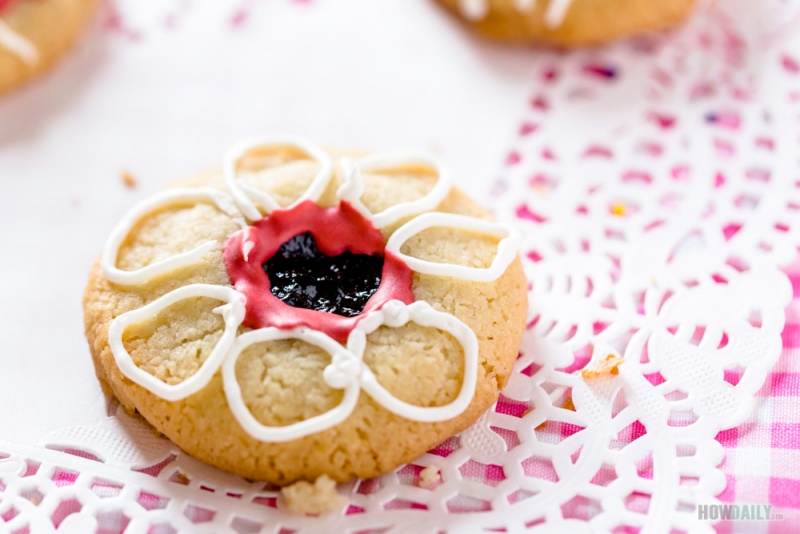 For the flavor, I always prefer some fruity like orange, lemon or some sort of natural citrus. You can also use vanilla or any flavor of choice. Son really has his snack on Strawberries, so anything with "red" would come out a hit for him. I usually just bought some store jam, but you could always make yours and use any flavor. Make sure to add some citrus to the jam to have the tangy-sweet filling.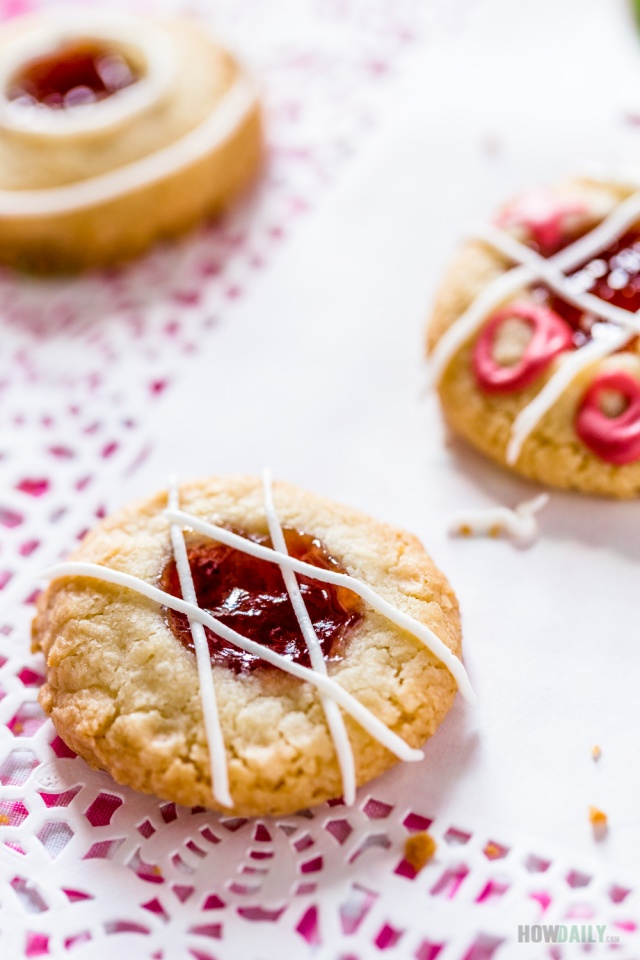 Just a reminder to space your cookies apart, especially those with jam filling or you would end up with a bunch of cookies sticking together (like me on my first batch).
For the icing, I love some royal icing, but if you're afraid of the egg whites, replace it with some cream or milk to mix with powdered sugar instead. Use your #3 piping tip to make a border and fill with runny icing in drip bottle.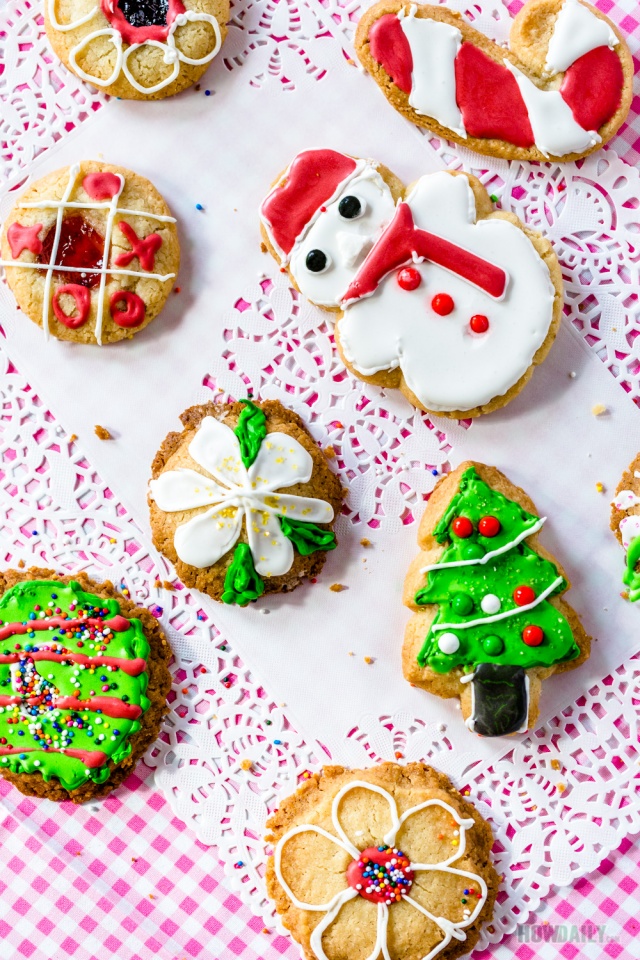 Happy baking and decorating!!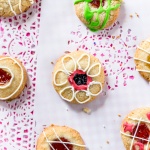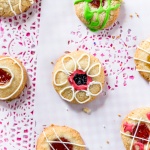 Recipe for Jam Orange Thumbprint cookies
Easy way to make soft baked thumbprint cookies for this Holiday season. Try with some jam filling or leave them whole and decorate with whipped royal icing.
Print
Ingredients
1

stick unsalted butter

75

grams

sugar

135

grams

all purpose flour

1 1/2

tsp

orange extract

1

cup

strawberry jam or flavor of choice
Decorate icing
1

egg white

1/2

tsp

cream of tartar

1

lb

icing sugar

1

tsp

extract
Instructions
Leave the butter sticks out to soften to room temperature.

Adjust speed to Medium, add sugar and extract.

When mixed, reduce speed to Medium Low and sift the flour into mixing bowl.

Continue mixing until dough is forming.

Get a large plastic wrap layout, swoop the dough onto wrap.

Roll to cover, then press and tap it a few time to compress the dough.

Seal and store in fridge for about an hour to harden the dough a little.
Baking
Line your baking sheets with parchment paper and preheat oven to 350F.

Cut the dough roll into even chunk. Shape and form into desired shape.

Arrange them onto baking sheet, make sure to leave some space, do not crowd as they will expand enormously.

For those with filling, just press your thumb in the middle to make a small indent (I used a tamper).

Bake for 13 minutes (soft cookie) or 15-17 minutes to brown state.

Once done baking, remove from oven and let sit as is for at least 10 minutes before transferring to cooling racks to avoid breaking.

For further decoration with icing, wait until your cookies is cool down to room temperature.
Icing & glaze
Beat the egg white and cream of tartar until bubbling.

Slowly sift in powder sugar while whisking rigorously.

When icing get stiff enough and form soft peak, stop adding sugar. This will be your stiff icing for border and detailed designs.

To make runny icing: Swoop out a small amount of icing, add color and a few drops of water. Mix it with a spatula or electric mixer on LOW. Use this to glaze cookie or fill large area.