If you like cold-chilling sushi, this Snow sushi roll might be your favorite. It takes the typical California sushi roll, then twist and turn into this light, crunchy and creamy treat.
Instead of the usual inside-out sushi roll and Kani as filling, this roll is filled with crab salad. You just shred Kani sticks and mix them with kewpie mayo. If you don't have Kewpie, use regular mayonnaise, and add some dash of salt and extra lime/lemon juice.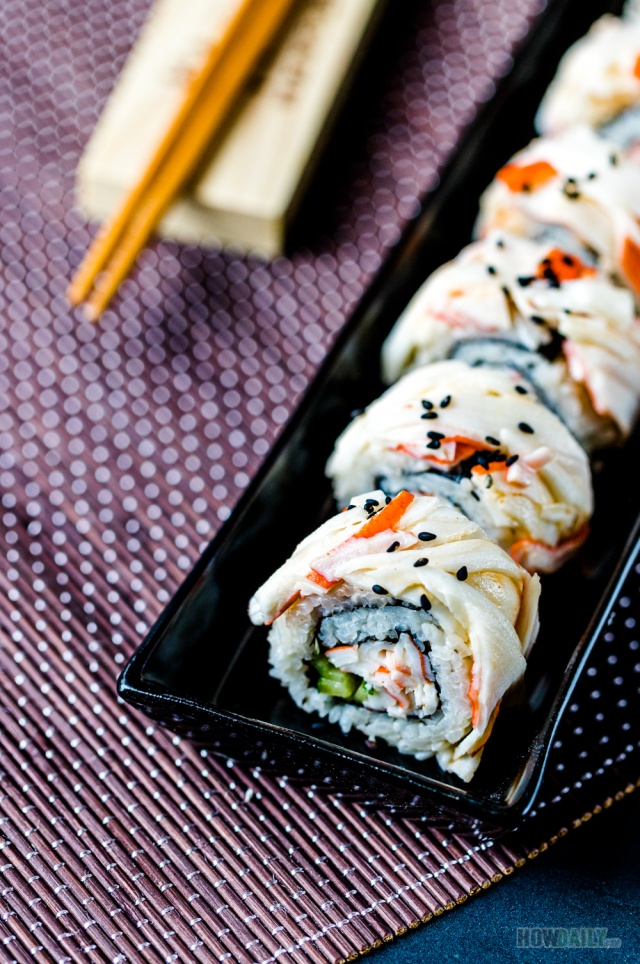 The roll is then rolled in uramaki style with thin-sliced cucumber and crab inside.; wait, let's wrap the outside with even more crab salad. Since the crab sticks are most likely out from the fridge, they should be cold by default. If not, just chill the whole roll for 10-15 minutes.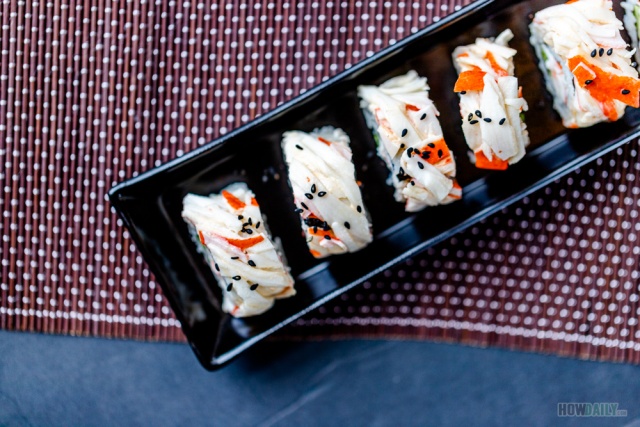 Now sprinkle some roasted sesame seeds on top to enhance the flavor. You can serve the roll as is or with some less-sodium soy sauce.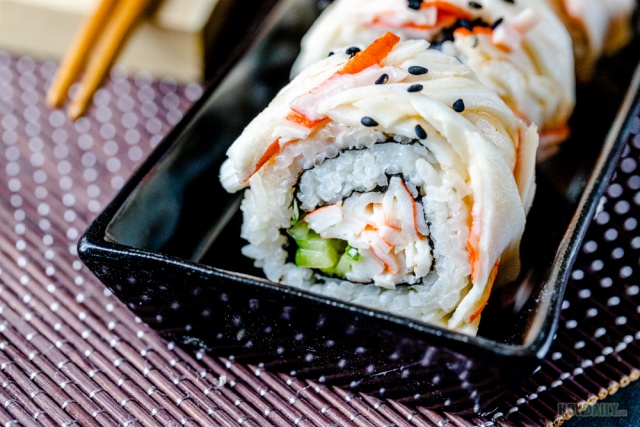 For lunch-packing, I would recommend leaving the pieces (after cutting) intact with its plastic wrapper. This is to prevent shifting and falling apart. Don't forget to throw in an ice pack to keep the roll chilled.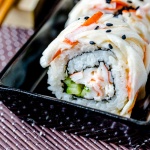 Snow Sushi roll
A quick fix sushi roll recipe with imitation crab salad and cucumber presenting in a fun and inventive way.
Print
Ingredients
8

sticks

imitation crab

1

mini cucumber

1

Tbsp

mayonnaise

1

Tbsp

lemon juice

4

drops

sriracha

or up to spice tolerant

1½

cup

cooked sushi rice

3

Tbsp

sushi vinegar

2

sheet

nori

use ¾ of each sheet

1

tsp

roasted sesame seeds

optional for garnishing
Instructions
Cut a cucumber into long thin strips or match sticks.

Shred imitation crab into a container.

Spoon in mayonnaise, lemon juice, and a few drops of sriracha or yr favorite hot sauce. Mix them well.

Cover and chill in the fridge for 10-20 minutes.

Season sushi rice with sushi vinegar OR an equivalent amount of rice/apple vinegar plus 1 tsp of sugar and ¼ tsp of salt.

Cover your bamboo mat with plastic wrapper and place it on a flat surface.

Lay another piece of plastic wrapper atop the bamboo mat.

Tear a sheet of nori down to ¾ and layover plastic/bamboo mat.

Spread rice all over nori, then flip the whole sheet over so that the nori side is facing up.

Spoon in the crab salad and arrange cucumber slices.

Lift, tuck, and roll into uramaki sushi roll.

Create a layer of crab salad on one end of the plastic wrapper.

Then lay the sushi roll on top of it.

Carefully roll again, this time the crab salad will cover the top of sushi roll creating a nice marble snow effect.

Cut into bite-size slices.

Unwrap and sprinkle some sesame seeds before serving.

Either serve immediately or chill a couple of minutes for cold & refreshing effect at the bite
Video