A sushi roll right from the back of your fridge? Try this easy smoked salmon sushi roll with shredded carrot and avocado inside, while smoked salmon slices are wrapping around the roll.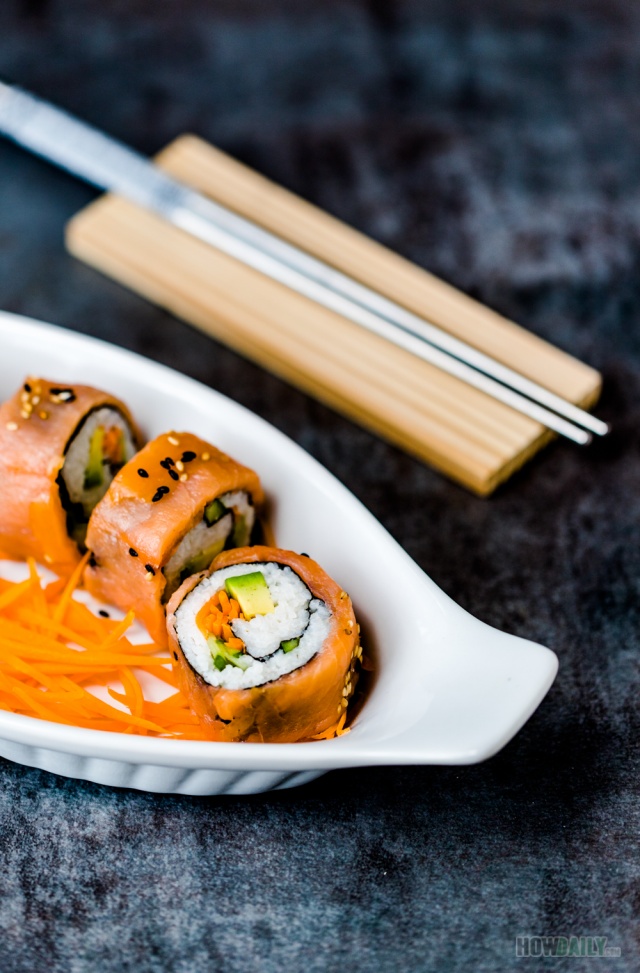 A thing about raw sushi roll is that it's the perfect chill entree to counter the summer's heat. With this smoked salmon sushi roll, the chilling would be complimented so well.
There are two ways to roll: once is to wrap smoked salmon slices around an inside out roll to present with salmon color or to use traditional maki to create a deeper translucent red effect. Either way, the roll would look fantastic and taste so creamy yet with a bit of salty.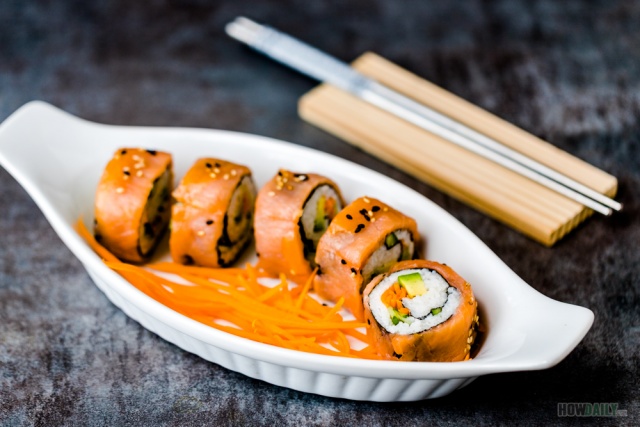 To level up the roll's texture, add some shredded carrot, maybe cucumber too.
A nice trick is after the wrapping is done, leave the roll with its plastic wrapper on and quickly chill in the freezer for 5 minutes. The roll should then be cut easily and serve immediately.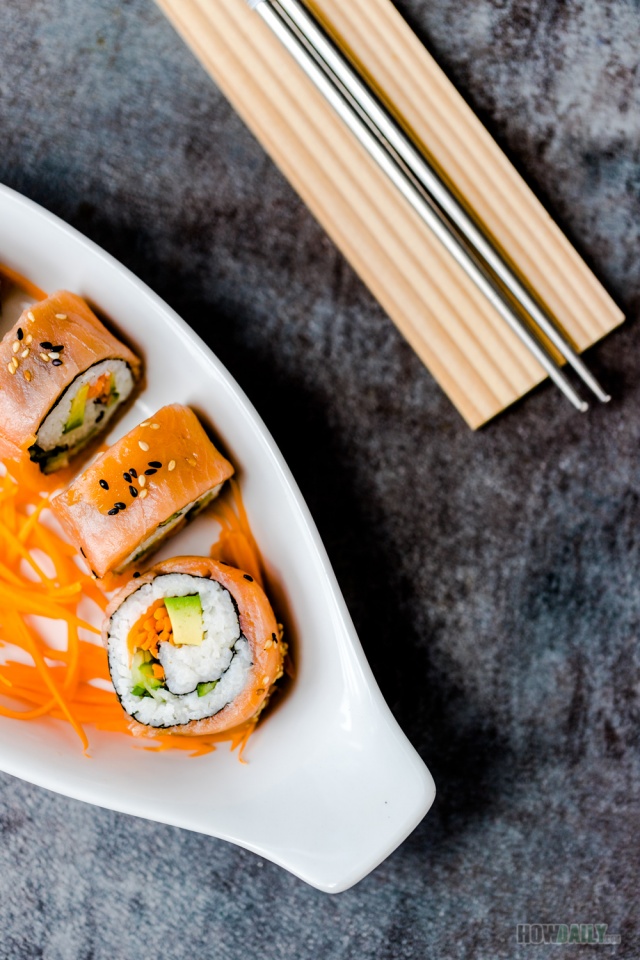 For additional flavor or to counter the fishy smell, sprinkle some extra roasted sesame seeds on top. Also, garnishes like pickled ginger and wasabi would be great to serve along.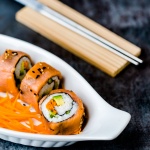 Smoked Salmon Sushi Roll
a simple, familiar yet exciting combination of smoked salmon and sushi. This smoked salmon sushi roll is a delicious snack and super convenient to make as a packed meal.
Print
Ingredients
4

oz

smoked salmon

pre-slice

2

sheets

nori

2

cups

cooked sushi rice

2

Tbsp

sushi vinegar

or rice vinegar + dash of salt/sugar

¼

avocado

1

small carrot
Instructions
Mix sushi rice (while hot) with sushi vinegar, cover with a towel to prevent dryness.

Slice avocado into thin slices.

Cover bamboo or the rolling mat with plastic wrap. Lay it on a flat surface.

Has another piece of plastic wrap over the covered rolling mat.

Spread 1 cup of rice out onto nori evenly. Make sure to leave 1/2 inch by the ends empty.

Arrange avocado and carrot on top of rice.

Lift, tuck and roll into sushi roll.

Flatten down the plastic wrap, sprinkle some sesame seeds all over it.

Scalloping smoked salmon slices on top of sesame, then lay sushi roll on top of the salmon layer.

Roll and apply pressure to form smoked salmon roll.

Repeat for remaining roll.

When ready to serve, slice while plastic wrap till on for cleaner cut.

Remove wrappers and serve.
Video