Enchanted by the old tale and fascinated with the remake of Beauty and the Beast, then having a warm salted rose caramel earl grey latte at hand will complement and complete your moment.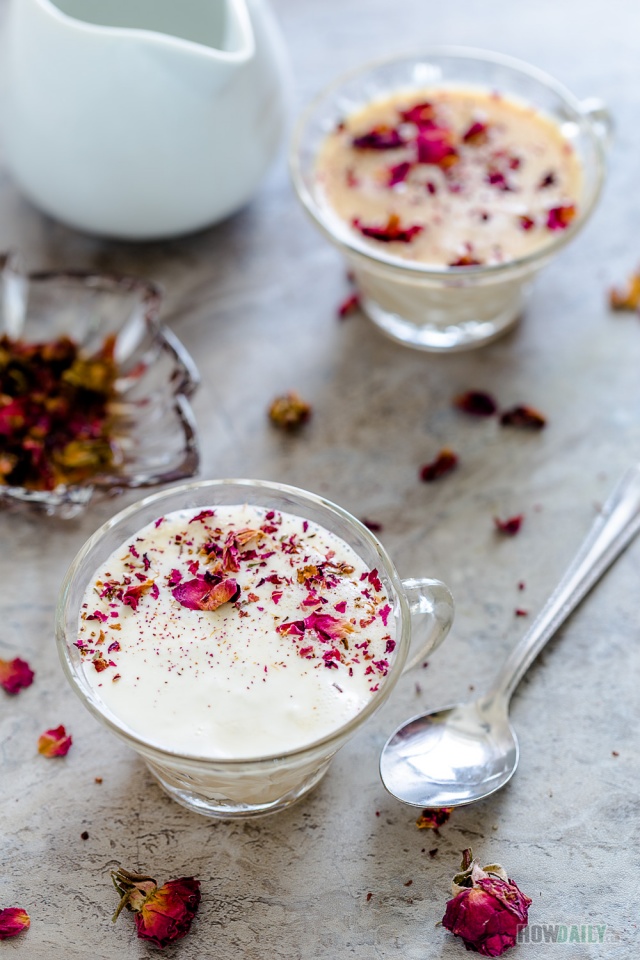 I know, the movie has been out for a while and off the chart now, but that doesn't make me stop loving the old fairy tale it was after. In fact, with so many things going on in life: work, baby and all, I didn't have the chance to watch it until last night. After so many swamps, sadness, hatred, and darkness we all have seen in life and around the world; a peaceful moment such as a trip back to child land is necessary to loosen up, right?!
Bloody red rose that started it all, a curse on the young charming prince, a beautiful princess waltzing in her fancy gowns, an enchanting castle with funny creatures…there are just too much to love about the movie, deeply designed characters, and their romances. Perhaps, there is a princess in every girl (or lady)'s heart.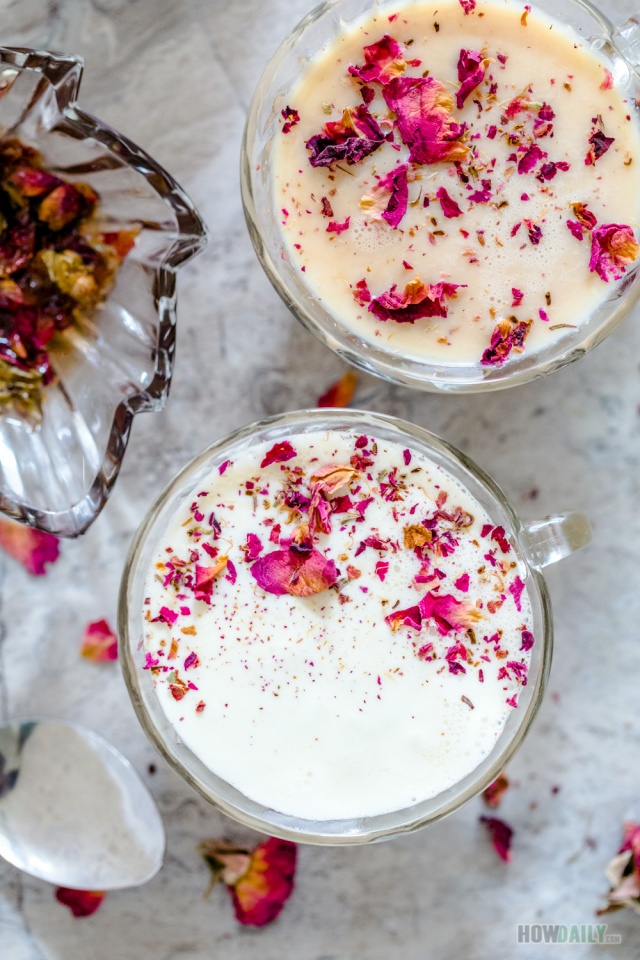 So when Ms. Dion started her line "Tale as old as time…" I knew I was missing something, a drink to mesmerize my mellow heart and warm my mood. What's more to complement the moment better than the rose and the gentleman himself? I love the drink lukewarm at a 45-degree angle so that I could sense the little bit of salty foam with enchanting Bergamot and rose's fragrance in every sip. With some soft music, now, this is my dreamland.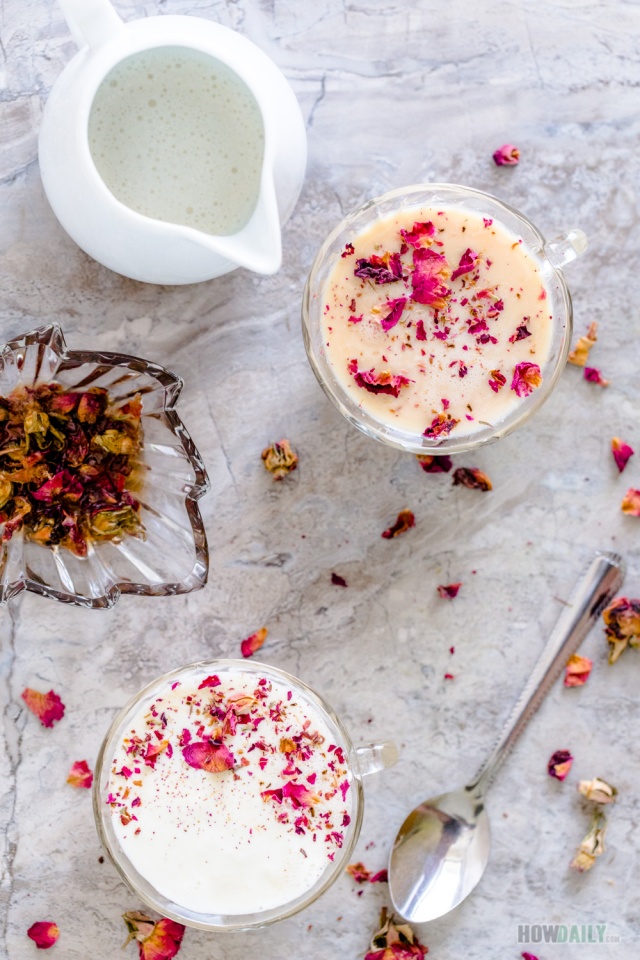 Okay, enough of the rant, here is my recipe on the drink. Forget about all the plans you are in, and just indulge yourself with all the whipped milk, tea and aroma under some melody. Want it cold? Try the cold-serve method at the very end to chill down your afternoon break.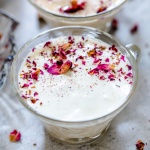 Recipe for Salted Rose Caramel Earl Grey latte
Hot and cold option for the beautiful of salted rose caramel tea latte. Earl Grey is brewed with rose petal for a lingering fragrance, top with caramel and milk foam.
Print
Ingredients
The Rose – or rose caramel
½

cup

sugar

4

Tbsp

water

4

Tbsp

dried edible rose
The Beauty – or milk foam
4

Tbsp

heavy cream

1

tsp

sugar

1/4

tsp

sea salt

1

tsp

milk powder

baby milk powder is fine too – optional

3

tsp

whole milk
The Beast – or tea
2

Tbsp

Earl Grey loose leaf tea

1

Tbsp

dried edible rose

1

cup

boiled water
The crowd – just everything else
½

cup

whole milk

1

cup

ice

cold option
Instructions
Brew the tea
Prepare a mug/jar with lid or tea pot for brewing the tea.

Add 2 tablespoons of Earl Grey loose tea and a full spoon of rose buds/petal (about ten small buds or so). Use the back of your spoon to crush the rose buds a little.

Pour 1 cup of boiling hot water into mug/tea pot, close and let it brew in 10 minutes (hot served) to 20 minutes (cold served).
Whip some foam
Whip 4 tablespoons of heavy cream and 1 teaspoon sugar until peak.

Add 1/4 teaspoon sea salt, 1 teaspoon milk powder – if any, and 3 tsp whole milk (gradually) while beating to soften the foam.

Chill in fridge until serving.
Caramel the Rose syrup
While waiting for the tea, let make some rose caramel. Start by adding 4 Tbsp rose buds, ½ cup of sugar and 4 tablespoons of water to a small sauce pan.

Stir over low heat until all sugar is dissolved and caramelized (about 3-5 minutes).

Remove from heat, strain and crush through a sieve to obtain the rose caramel syrup.
Charm up some latte (Hot served method)
Warm or steam ½ cup whole milk with 3 teaspoon rose syrup. Stir to mix and froth a little.

Get the brewed tea and stir in 1 teaspoon of the rose caramel syrup.

Pour tea into serving cup and then add the warm milk in. Finally add the salted milk foam.

Sprinkle on some crushed rose petals or powder for decoration. Serve warm immediately.
Engage the milk tea (Cold served method)
Froth the milk with a whisk or mixer head.

Add the tea into a shaker, stir in 4 teaspoon rose syrup and swirl a couple times to mix.

Then add about 5 ice cubes into shaker, cover and shake rigorously. This will make the tea quickly cool down.

Put the remaining ice cubes into serving glasses.

Pour tea, froth milk and finally milk foam in.

Decorate with rose petal and serve cold.