A more complex cake composed of Matcha Chiffon layers and Sakura Mousse to create the perfect match for Tea-Flower art. Enjoy this delicious and fragrant cake at your tea party, afternoon brunch, snacks, or group meeting.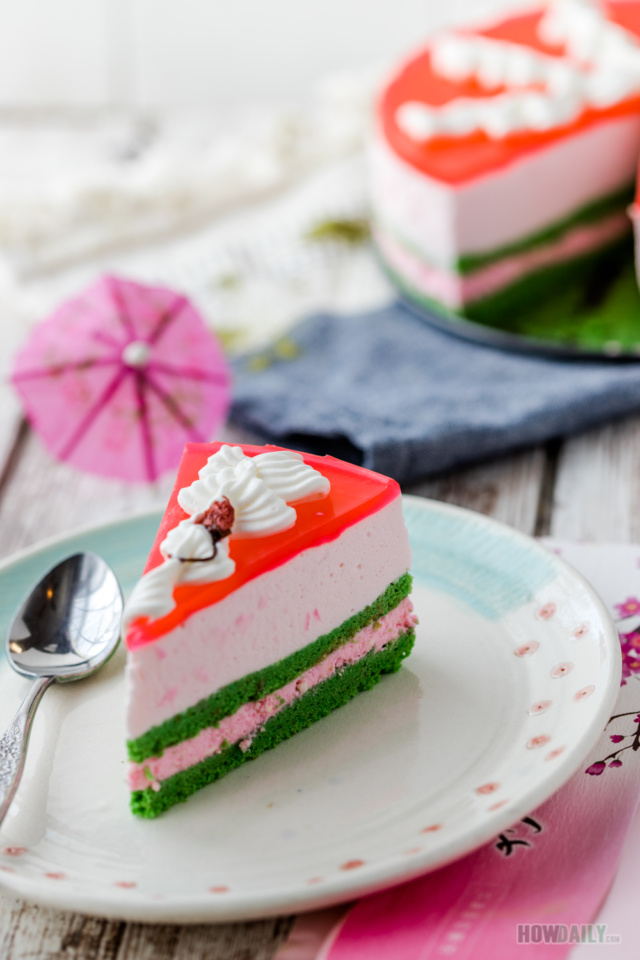 This cake though as complex as its recipe might seem is not difficult to do. It's mainly composed of Matcha chiffon layered between Sakura Mousse to mix up the flower fragrant and green tea.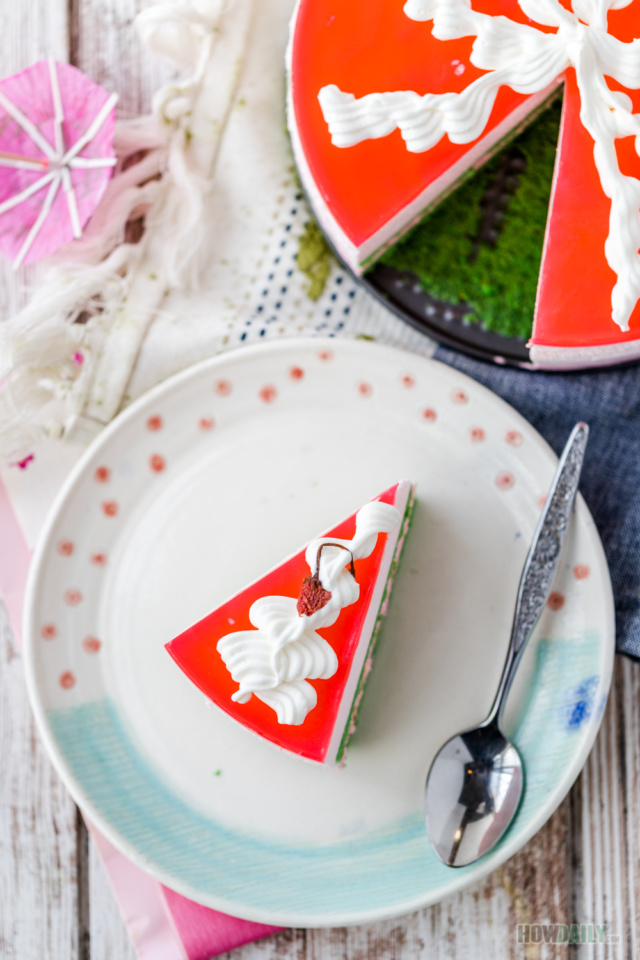 The only hard-to-find ingredient here is Sakura Jam, which can be found at Japanese markets or Amazon. This jam has a light pink hue with a very nice flowery fragrance. When mixing with the other ingredients, you could always add some light pink food color if need.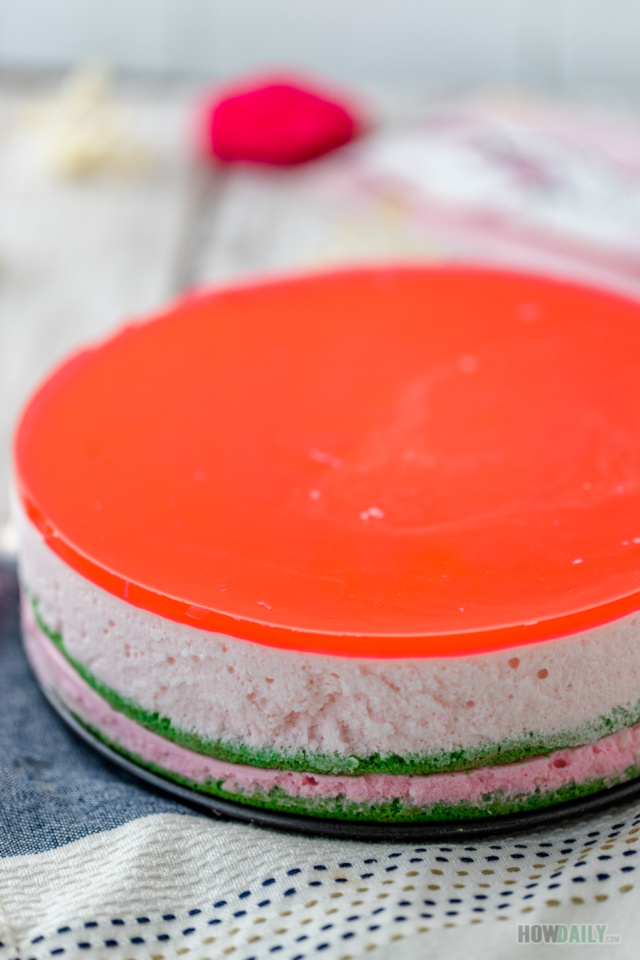 It is recommended that you would read through the recipe and organize to save on cooling/soaking time. For example, I would measure and soak gelatin in 3 separate microwaveable bowls with milk/water. Then when the time comes, just heat them and mix to the mousse.
Each of the mousse layers also requires at least 15-20 minutes in the freezer to chilled and harden their top surface a little bit before adding the next. So making sure your fridge has an empty and level space for the mousse ring. You might need to cover the top ring/acetate lightly with plastic wrap prevent the "cheese"/flower/tea aroma diffuse across all the fridge drawers though.
This cake is best served with hot tea, I would green tea for the summer maybe with some roasted rice add-in for the winter.
You can decorate with some leftover whipped cream and a piece of pickle Sakura(edible). Otherwise, just leave the top black, as the cake when slice out, is a masterpiece by itself.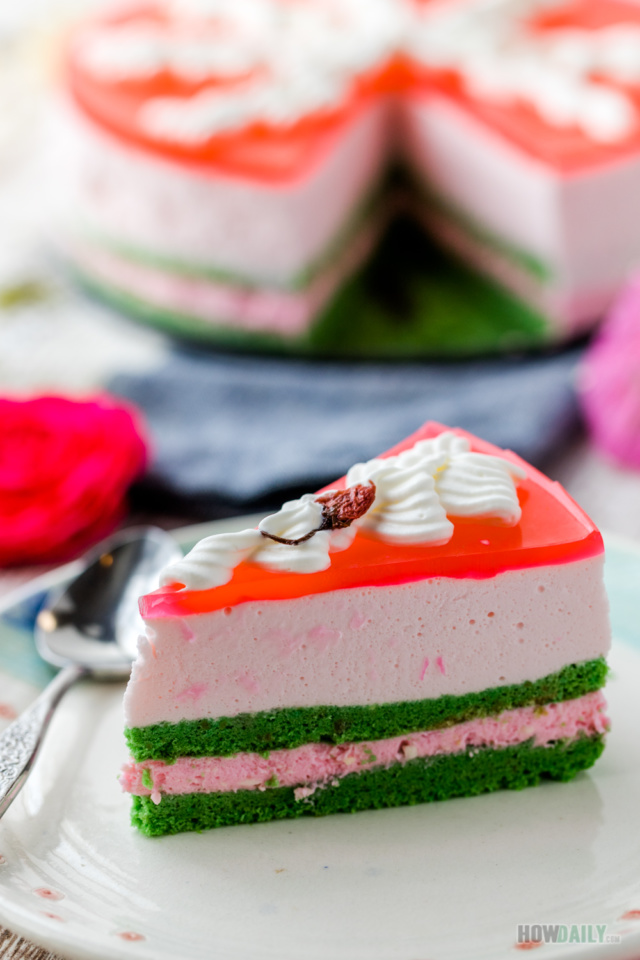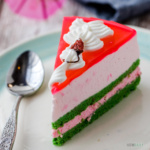 Recipe for Sakura Yogurt Mousse
Flower-Tea cake that is light, mildly sweet with a little tang and a subtle hint of green tea's bitter, this Sakura Yogurt Mousse is a delightful treat at any tea party, indulging sweets snack, or confectionery gifts. Enjoy it with friends, and don't forget to sip some tea.
Print
Ingredients
Matcha Chiffon
3

eggs

45

g

flour

15

g

cornstarch

55

g

sugar

25

g

milk

2

Tbsp

butter

½

tsp

Matcha

⅓

tsp

cream of tartar

green food coloring

optional
Sakura Mascarpone
45

g

mascarpone

100

g

heavy cream

30

g

milk

50

g

Sakura jam

or 20g sugar + sakura flavoring essence + 1 drop of pink food color

25

g

sugar

3

g

gelatin

or 1 sheet
Yogurt Mousse
270

g

Greek yogurt

200

g

heavy cream

50

g

milk

75

g

Sakura jam

or 40g sugar + sakura flavoring essence + 1 drop of pink food color

30

g

sugar

6

g

gelatin

or 2 sheets
Jelly Topping & Decoration
20

g

Sakura Jam

or 5g sugar + sakura flavoring essence + 1 drop of pink food color

160

g

water

10

g

sugar

5

g

gelatin

1

pack

pickled Sakura flower

whipped heavy cream

for decoration
Instructions
Matcha Chiffon
Line the bottom of an 8-inch round pan. Check the oven to make sure the rack is at 1-2 levels below the middle of the oven. Preheat oven to 310 F.

Separate eggs' whites and yolks into different mixing bowls.

Beat eggs' whites until large bubbles presented, then add a pinch of salt and cream of tartar and beat till those bubbles become finer.

Gradually adding sugar (leaving about ¼ to add to the yolks) while beating with your hand mixer until whites become soft peak.

Switch to the yolks bowl, beat them to smooth while adding remaining sugar.

Melt butter, warm milk, and while hot mix with Matcha.

Measure and sift flour and cornstarch to yolks bowl while whisking in one direction until full mix. Stir in the butter/matcha mixture as well.

Spoon ⅓ of the white meringue into yolks, fold mix to combine, and soften up the yolk mixture.

Add remaining white meringue into yolk mixture, carefully folding-mix to combine them without breaking all the aeration.

Pour this batter into lined cake pan, tap a couple time to remove large bubble then bake for 30 minutes.

Once done, transfer to cooling and cool at room temperature before assembling with mousse in the springform pan.
Sakura Mascarpone
Make sure mascarpone is left out to soften at room temperature beforehand.

Gelatin Handling: Soak gelatin leaf in cold water for 15 minutes then wring out excess water and add to milk. If you are using gelatin powder, soak it in cold milk directly.

Have a springform pan ready, line the side with acetate paper if you want a cleaner looking sides mousse.

Slice Matcha chiffon in half, lay 1 layer at the very bottom in the springform pan.

Add Mascarpone and sakura Jam to a mixing bowl and combine them well.

Heat gelatin/milk in microwave in 10-15 second interval, stir to make sure all gelatin is dissolved. Add this to Mascarpone and mix well.

Whip heavy cream and sugar to soft peak. Gradually add to Mascarpone and mix well.

Pour the Sakura Mascarpone mixture on top of the Matcha chiffon, spread them evenly, tap on to counter, shake, do whatever to remove airy bubbles inside.

Lay the 2nd layer of chiffon on top of Mascarpone.

Chill in the freezer for 15 minutes to harden the Mascarpone a little bit before adding more layers.
Yogurt Mousse
Soak gelatin the same way as above, except we're using double the amount of gelatin this time. Heat gelatin/milk in microwave in 10-15 second interval, stir to make sure all gelatin is dissolved.

Mix gelatin with yogurt and sakura jam.

Whip heavy cream with sugar to soft peak then add to the yogurt mixture and mix well. Note that you can save some whipped heavy cream from this stage to decorate later on. Make sure it is chilled in the fridge until piping.

Pour this yogurt mousse on top of 2nd layer chiffon.

Again, chill in the freezer for another 15 minutes to harden the top surface before adding additional layers.
Jelly Top
Soak Gelatin the same way but this time with water instead of in a small sauce pa.

After gelatin is all hydrate, add sugar and sakura jam then stir well while heating over low/simmering heat until gelatin is dissolved.

Let this solution cool down and pour on top to cover the mousse pan. Use a toothpick or similar to remove any bubbles.
Decorate
Rinse some pickled Sakura flowers.

Pipe whipped cream on top of each cake slice, the adhere sakura flower on top of the Jelly layer. Have fun serving this at your next tea party. Take pictures, selfie to commemorate yourself after such artistic hard work.