Do you love cheesecake? Try this no-bake colorful rainbow cheesecake, it's melt in the mouth with light fruity flavors along with sweet tea essence that similar to vanilla bean. Adding chocolate, berries, and white fluffy whipping cream, the taste is just so heavenly worthy.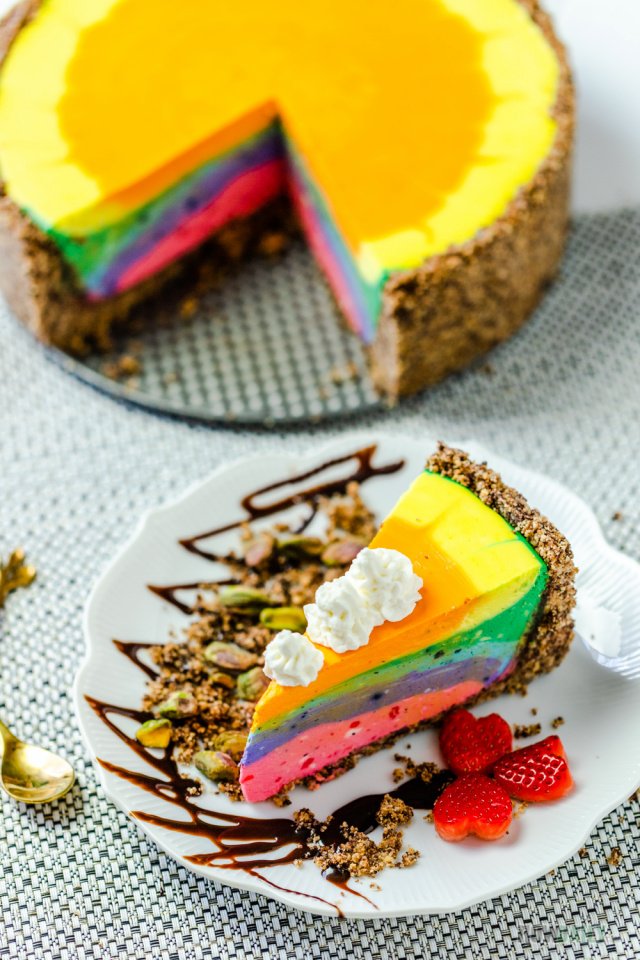 Spring is the time for the lovely sprouts, Valentine, St Patrick, and Easter. This rainbow cheesecake matches the colorful season so well that all the little skippers and kiddos would love a piece. Unlike many superfood powders with tart to bitter after taste, Pitaya carries a sweet-fruity essence with the most vibrantly bloody Pink color. So with just a few drops of red and yellow food color, you can blend it into deep red and orange shades well.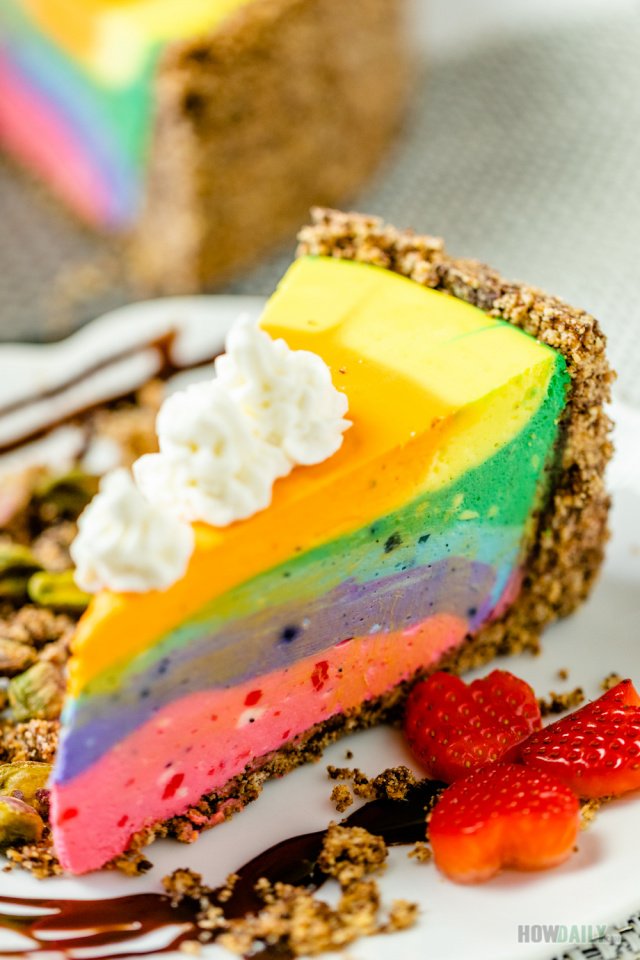 Blue Butterfly Pea flower powder is another nice superfood that is actually a beverage trend not long ago. This tea-like powder with a slightly sweet hint of vanilla bean is naturally blue but can also turn purple/violet when mixing with an acidic liquid like lemon/lime juice. With this powder alone, you can combine and turn to multiple hues of the rainbow.
This Rainbow cheesecake is a no-bake, aka, form with cream cheese and a little bit of gelatin to hold the shape. The crust is made from Graham crackers, maple syrup, and cocoa powder to enhance the flavor. The whole cake is fitting inside a 9-inch springform pan.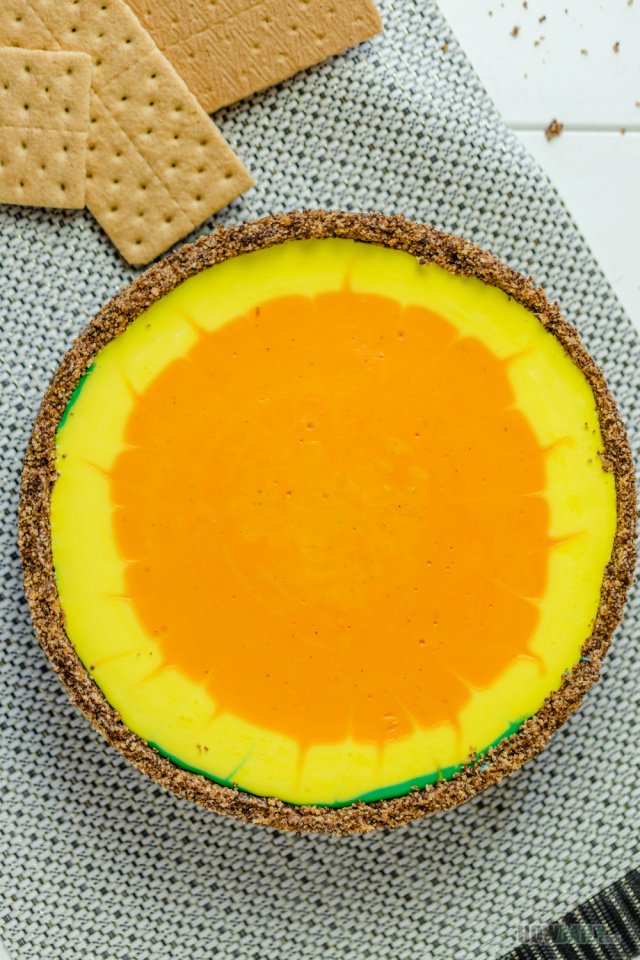 I also use sweetened condensed milk to ensure everything is combined well, while the sweet taste is lighter and not too sugary. Though you can always use regular cane sugar instead if so, make sure to whip it with whipping cream to fully dissolve.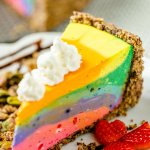 No-bake Rainbow Cheesecake
Colorful Rainbow Cheesecake w/ Fruity sweet pitaya and vanilla-similar blue butterfly pea flavors, glazing with chocolate syrup and crusts, every bite is just so delicious and mouth-watering. Add berries and extra whipped cream to decorate.
Print
Ingredients
24

oz

cream cheese

1

cup

whipping cream

1

cup

sweeten condensed milk

¾

cup

milk

¾

cup

water

6

tsp

gelatin powder or equivalent

2

tsp

pitaya powder

or any pink/red flavor like strawberry powder

3

tsp

blue butterfly pea flower powder

or blue flavor like blueberry powder

red and yellow food color
Crust
400

g

Graham crackers

2

sticks

unsalted butter

⅓

cup

maple syrup or molasses

2

Tbsp

dark cocoa powder
Glazing and topping
chocolate syrup

strawberries

roasted pitaschios

whipped cream

crust crumbs from above
Instructions
Chocolate Crust
Add Graham crackers, syrup and cocoa powder to a food processor. Pulverize.

When everything is crumbled, add melt butter and process till fully mixed.

Dab and Press chocolate-graham crumbs onto a 9-inch spring-form pan's bottom and sidewall.

Freeze for 15-20minutes while you're preparing the filling.
Cream cheese Filling: soak gelatin and mix in flavor/colorants
Prepare six bowls/containers to use for mixing six different colors.

In each bowl, add 1 tsp of gelatin and 2 Tbsp of water to soak.

Add pitaya powder to the will-be Red and Orange bowl, while blue butterfly pea powder to the will-be Blue, Green, and Purple bowl.

Squeeze 1 Tbsp lime/lemon juice into Purple bowl, this will turn the blue butterfly pea mixture purple.

Add extra red color to Red bowl for deeper red.

Add yellow food color to the 'Yellow', 'Orange' and 'Green' bowls.

Let these gelatin/flavor powder soak.
Cream Cheese Filling: prepare & whip content
Let Cream cheese blocks soften at room temperature beforehand.

Whip heavy cream separately till ribbon to avoid splatter.

Whip Cream cheese till soft and fluffy, then add in sweeten condensed milk and whisk till fully combined.

Add whipped heavy cream into cream cheese mixture, and whip till fully mixed.
Crafting together
Take one of the colored gelatin bowl (preferably Red) and add 2 Tbsp of milk into it then warm in microwave for 10-15 seconds

Add 1/6 of the cream cheese mixture into this gelatin bowl, and mix well.

Pour this colored cream cheese mixture into the freezed chocolate crust from the center outward.

Repeat the above steps with other colors in order of: Red, Purple, Blue, Green, Yellow, and Orange. Just pour to layer the colored cream cheese onto the crust, do not shake or mix them.

Once done, tap the pan a few times to release small air bubbles.

Use a toothpick or marbler tool to create some line or decoration on the top most layer.

Cover and chill in refrigerator to set the cheese, preferably overnight before serving.
To serve
Carefully release the cheese cake from the spring-form pan, you might need to core around the pan's side with a pointed paring knife before unlocking the spring-form pan to prevent breaking.

Serve each slice with extra whipping cream, fresh berries, chocolate syrup, roasted pitaschios, and some of the crumbled chocolate crusty crumbs
Video