This is it, the mini bite-size banana cream pie that everyone yearns for. They are so creamy, smooth, and flavorful. Best of yet, you won't have to worry about stretching those calories plans, as most of the cream used is minimized with Greek yogurt.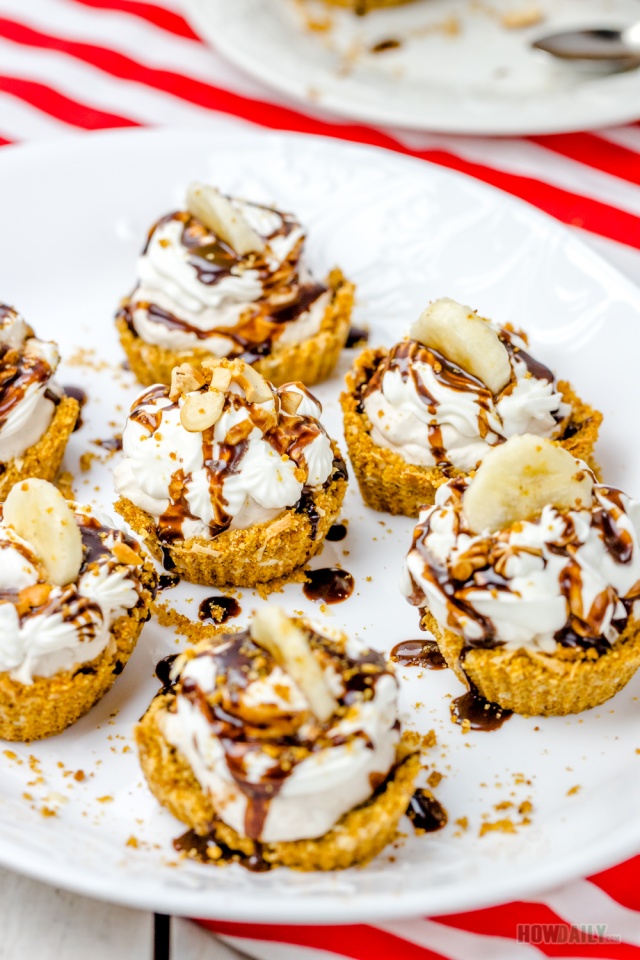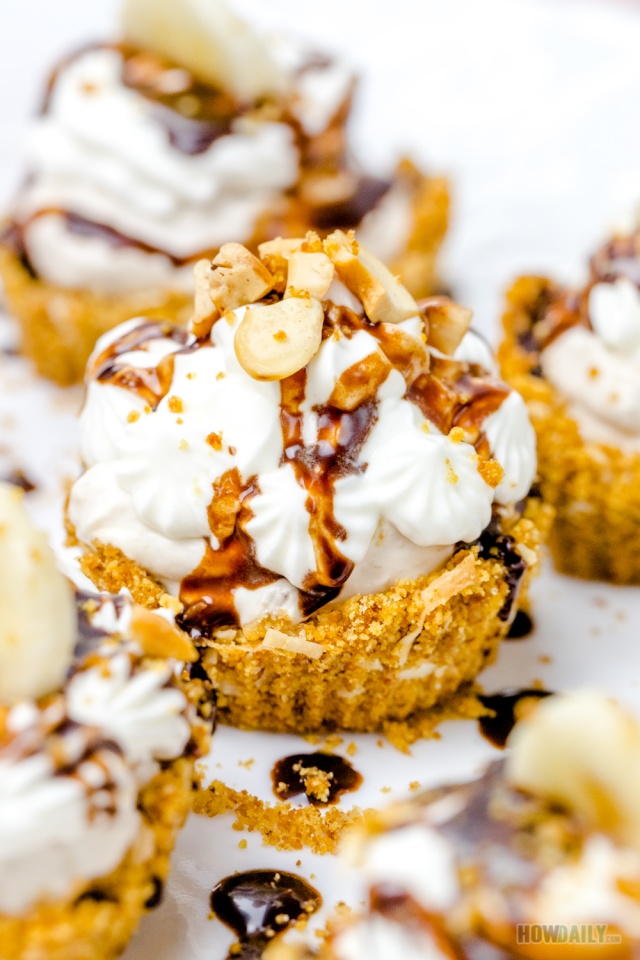 These mini bites have just as many layers as those giant ones do. Starting with Graham cracker crust base, which then enhances by toasted coconut, the taste just gets so much fuller. Then there's the layer of banana cream filling, with a raw banana divider in the middle. Finally a whipped topping with all kinds of decoration, glazing, and sprinkles.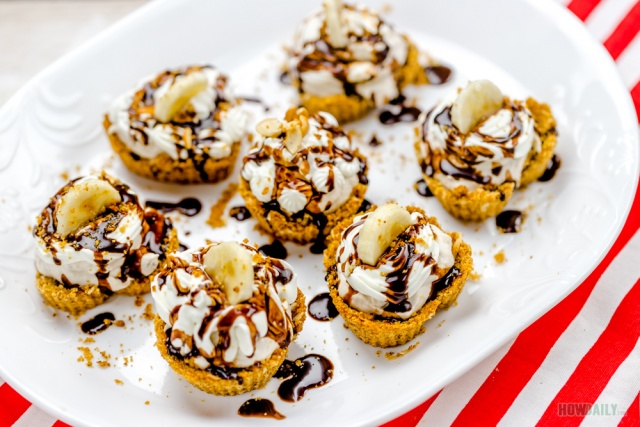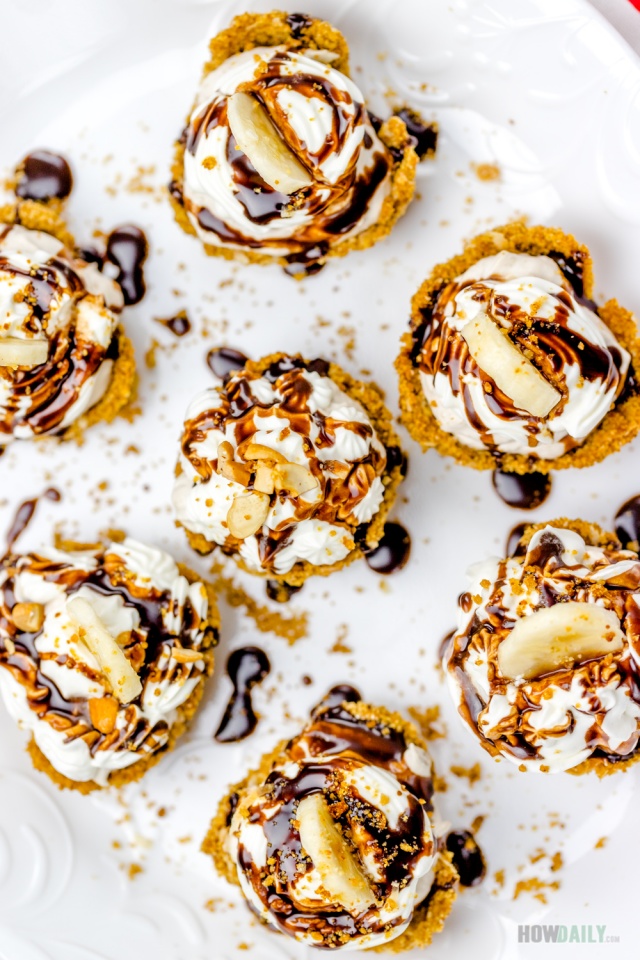 Both banana cream filling and topping cream incorporate Greek yogurt as a binding agent. Surely they won't hold the shape as good as those with flour, but since this is a mini pie, as long as you're chilling them, there should be no soggy to be worried about.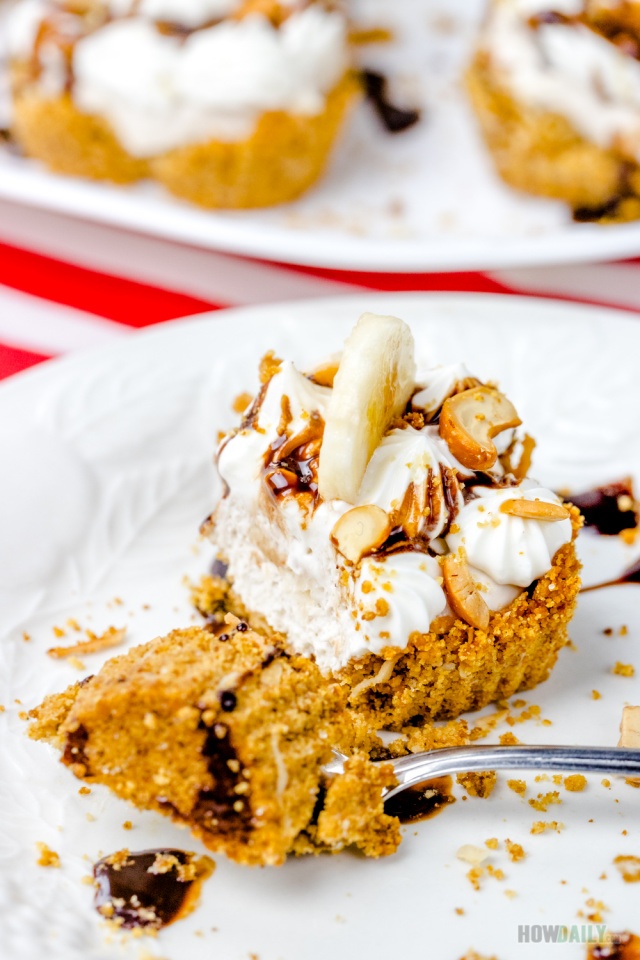 Taste? I would say it's creamy sweet n sour with a hint of salty cracker, and a bit of tropical coconut. I would recommend adding some drizzle of chocolate syrup or fudge, they're just super good with these. As there is not much sugar being used, you don't have to worry much about the extra empty carb.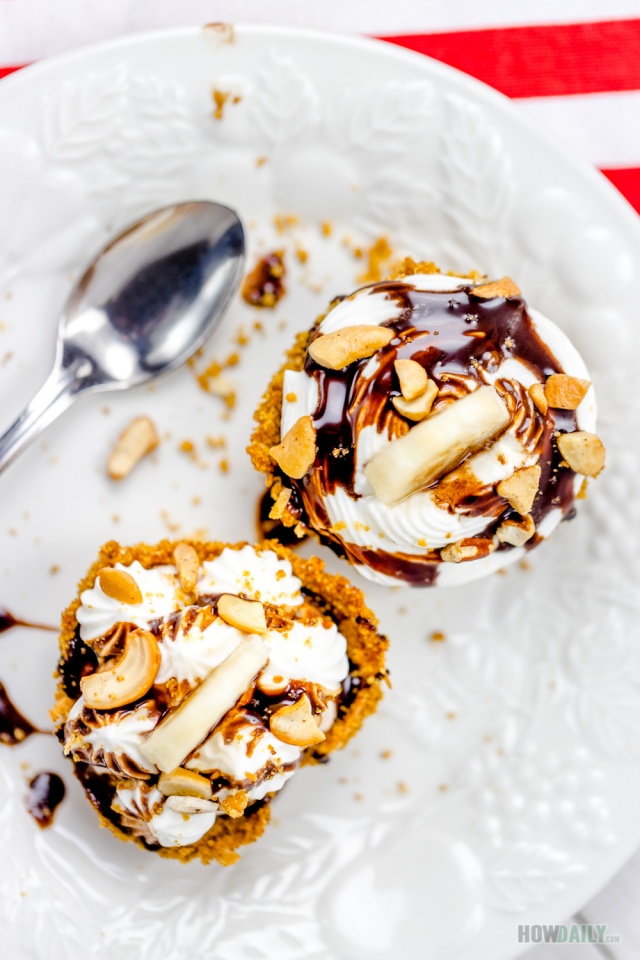 These mini pies are perfect for serving as Thanksgiving dessert or any gathering thereafter. If pumpkin's getting too frequent in your menu, try this recipe with banana for a change.
For convenience, I just silicone cupcake liner to press and bake graham crackers into holding cups. You can also use a muffin pan and others. Or if you have a cheesecake rind/mold (see heart shape banana pie below), use that to save time baking outer shells.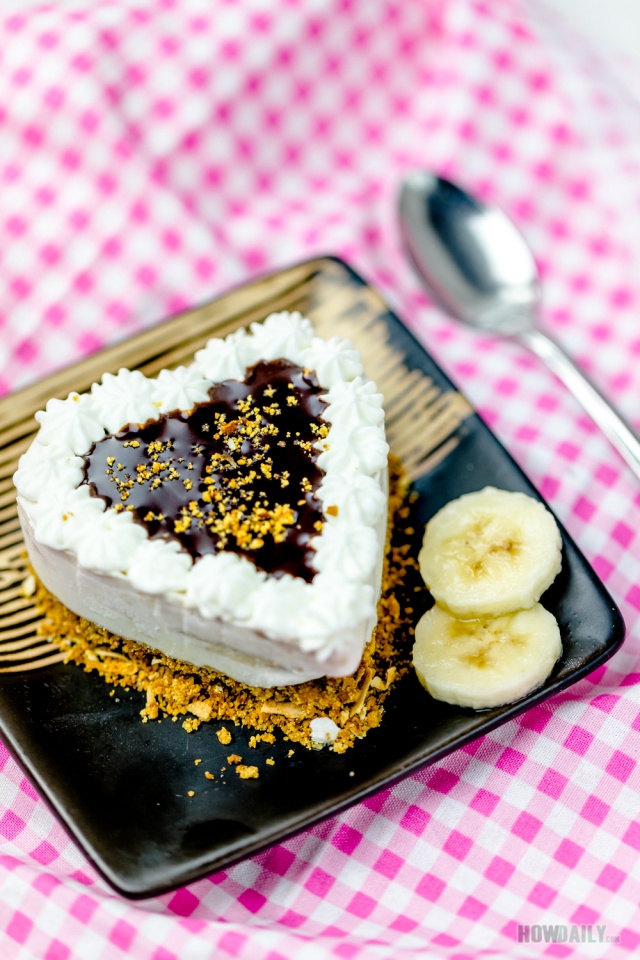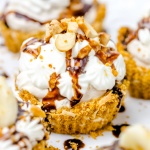 Recipe for Mini Banana Cream Pie
Creamy sweet n sour banana pie in a cup cake size graham crackers encasing, this dessert is the best to serve after your Thanksgiving or holiday dinner. Bake them for your party today with these simple steps.
Print
Ingredients
Coconut Graham Crackers Crust
2

cups

Graham crackers

or sheets equivalent

0.5

cup

sweeten shred & toasted coconut

3

Tbsp

coconut sugar

or brown sugar

2

Tbsp

sugar

8

Tbsp

butter

melt
Banana Cream Filling
3

banana

1

cup

heavy cream

1

cup

Greek yogurt

pinch of salt

1

lemon or lime

for juice
Glazing & Decoration
crust nuts

pecan, cashew…

Chocolate fudge sauce or syrup
Instructions
Bake the crust
If you are using sheets cracker, throw them in a food processor and pulverize until they're all finely crumbs.


In a mixing bowl, combine graham cracker crumbs with sugar and toasted coconut. Stir well to mix.


Melt butter and use a fork to whip and mix well with the above cracker mixture.


Divide and spoon mixture into cup cake mold or muffin pan. Press and firmly pack crumbs to pans bottom & side.


Bake them in oven for 7-8 minutes at 300 F.


Once done, let cool at room temperature completely. Then carefully remove them from mold/liner cup/pan.

Mix banana cream filling
Evenly slice banana. Pick out enough slices for divider and topping, squeeze some lemon juice over them to keep from turning dark.


Add the rest of banana, heavy cream, some salt and couple lemon drops to blender or food processor. Pulse and blend away.


Stir the banana cream mixture together with Greek yogurt. Mix them good and chill in fridge for an hour or 2.
Topping cream
Keep your whipping cream, Greek yogurt, mixing bowl and whisk in fridge to chill until almost before serving.

Pour whipping cream into mixing bowl and whip until peaks. Add sugar gradually as you whipped.

When peaked, add Greek yogurt and stir to mix.

Assemble
For each graham cup, spoon in the banana cream mixture to about half of cup.


Drizzle some chocolate or caramel sauce and sprinkle some nuts. Serve away!