It's May, the month of prom, mother day, memorial day, graduation… and father day coming afterward. Don't you wish to celebrate these events with a luxury dish at the comforting spot of home? Try this Lobster Thermidor, though it takes some work to perform, the result will be outstandingly delicious that note your unforgettable day.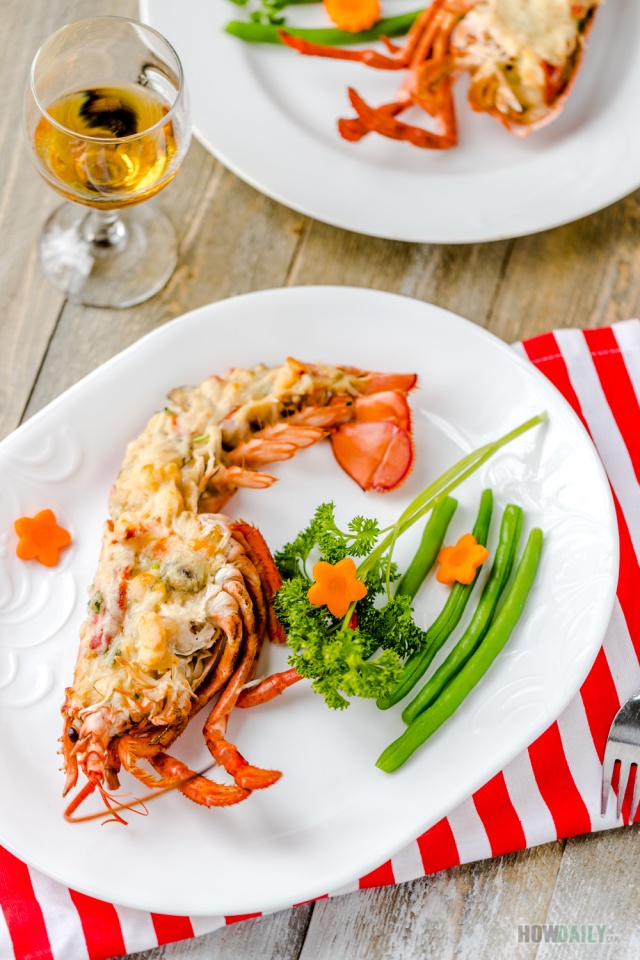 I have heard of Lobster Thermidor before, in a few of Julia Child versions, or maybe seeing it in the commercial show. My first encounter with Lobster Thermidor is not the real dish itself, but actually it's being the ultimate dish to be learned at cooking level 10 in the Sims 3. It's interesting how a computer game can replicate the cooking procedure to that extend.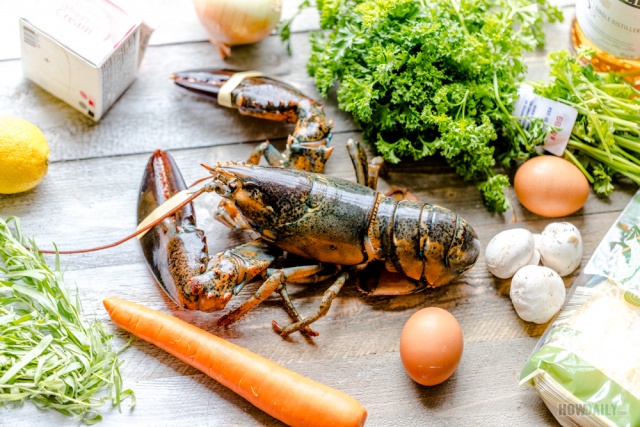 To be honest, I've never tried this dish before my first try at cooking it, but nonetheless, the result came out quite perfect. Really, how could you go wrong with fresh lobster, herb, and creamy bechamel? I'm not a drinker, but the scent of cognac that added when searing lobster meat is just heavenly.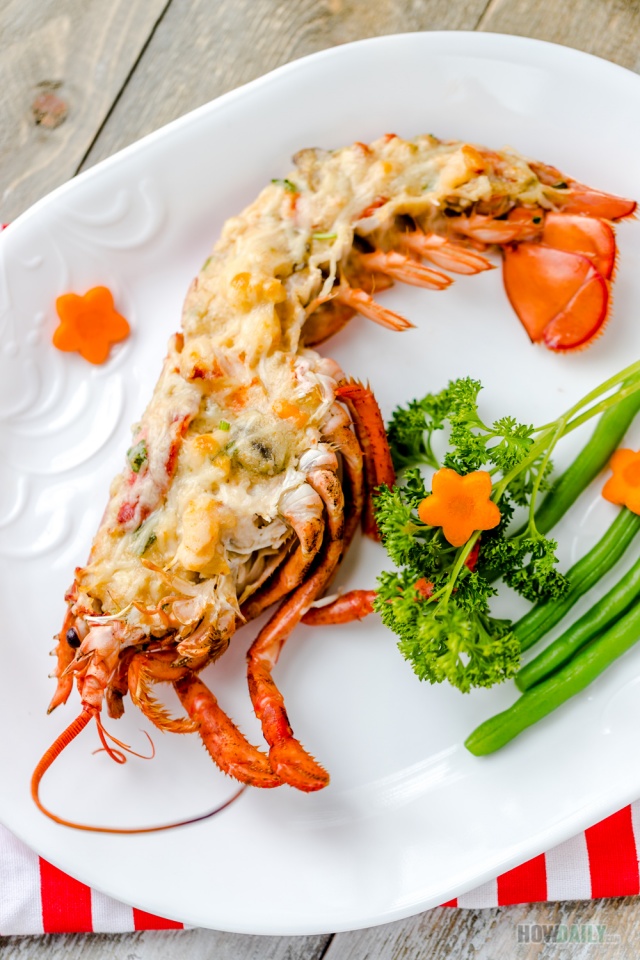 After many trials and taste sampling the surrounding, I came to my favorite version of Lobster Thermidor. What I like about it is that it doesn't use much of any seasoning at all: just the natural sweetness from the juicy succulent lobster meat plus the mild saltiness of the cheese. A couple of drops of fresh-squeezed lemon juice is all you need.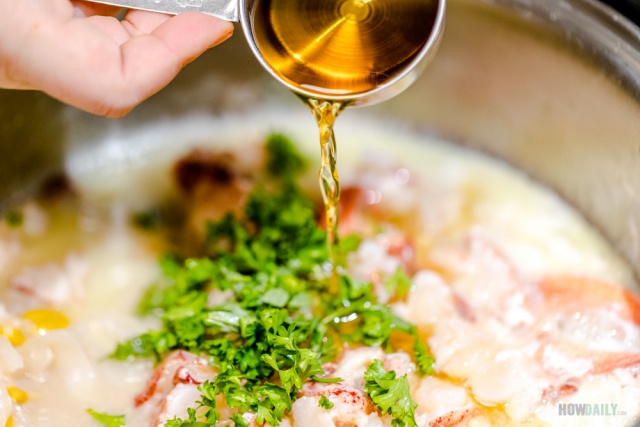 No spice is being used in this recipe, not even ground pepper. I saw a couple of recipes with peppercorn, black pepper, cayenne… Though they all good, I just feel their flavor might cover bits of the natural fresh scent of lobster, as well as the nutty sweetness of cognac being blended into. So for me, no spice is better actually.
Go light on the salt since lobster meat is naturally well-seasoned on its own. If you can't, for some reason, work with live lobster, try the tails. If so, just follow the recipe closely, but on the few finals step, put them all in a baking pan. Same way for any extra sauce/lobster meat too. For the cheese, if you can't find any french, try parmesan or asiago.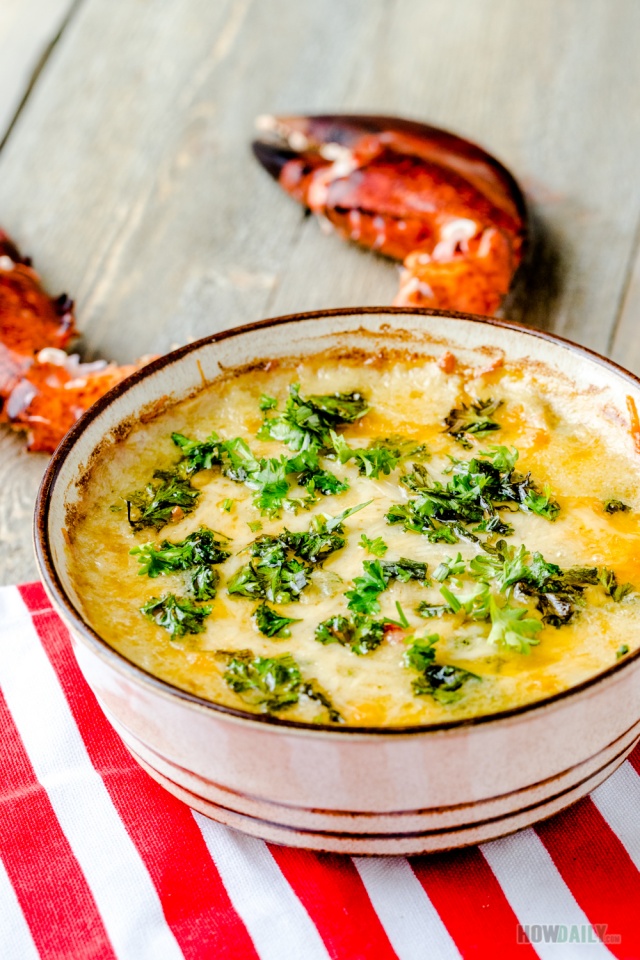 All these tastes so wonder, which make me think of a light-up candle dinner. So have this recipe ready, prepare them in batches beforehand and bake them right before your gather up party. Oh, and don't forget to get your treasured bottle of Cognac out. What a day!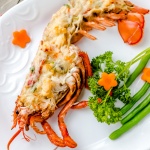 Lobster Thermidor
Celebrate your special day or event grand in style with this Lobster Thermidor recipe. This is an adaptation from the popular French-based bechamel coated lobster chunk with reference to the Julia-Child version.
Print
Ingredients
1

lobster

~ 1.4 lb

0.25

cup

cognac

1

cup

seafood stock

1

egg yolk

5

Tbsp

butter

unsalted

0.3

cup

heavy cream

2

Tbsp

shred Gruyère

or similar high moisture cheese

0.5

pint

mushroom

sliced

1

lemon

for juice

2

Tbsp

flour

0.5

Tbsp

powder mustard

tarragon, parsley, thyme…

green bean

optional side

salt to taste
Tools needed
kitchen shear

large crab/nut cracker

for the claw

metal pick or pointed paring knife
Instructions
Steam & Handle Lobster
Bring a pot/steamer with enough water to a boil. While waiting, prepare a bath of ice/cold water.

Once boiling, quickly add the steaming rack/shelf and place lobster in. Cover with lid.

Steam for 7-9 minutes or until the outer shelve turns red.

Quickly transfer lobster to the icy bath to stop the cooking process and cool it down immediately

Have a container ready to pour any gooey or juice coming out along the process. 

Use a strong shear to cut the lobster into halves along its length. You can do this easily by snipping the tail flap toward the body into two, then slip the pointed end of the shear into an open hole and start cutting the abdomen shell all the way up to its head.

Once done, turn the lobster over and work your shear through the back shell. Carefully extract both sides of the shell out. Clean, pat dry, and set aside.

For the claws, just twist/cut them off from the lobster. Bend and break them apart at their knuckles/joints. Use a cracker and pointed paring knife/picker to extract all the meat inside.

Cut all the extracted lobster meat into half-inch chunks and add them to the lobster juice container above.
Mix the egg custard & sauce
In a small saucepan over low/medium heat, melt 1 tablespoon butter and saute sliced mushroom and 1 teaspoon lemon juice until soft.

Add 3/4 of seafood stock to the mushroom, bring to boil then simmer for 10-15 minutes to reduce into half

Whisk 1 egg yolk with half a tablespoon powdered mustard and heavy cream.

Mix remaining seafood stock with flour, stir well to make sure no residue.

Make sure heat is on low/simmering. Pour the flour/stock mixture into saucepan while stirring.

Slowly pour the egg/cream mixture in while whisking continuously.

Keep whisking until the sauce become thick like custard. Remove saucepan from heat.
Saute the lobster
Melt butter in a saucepan over medium heat.

Add all the lobster meat/juice into a sauce pan. Stir a couple of times to mix.

Pour the cognac all over lobster meat. Bring to boil to vaporize all the alcohol.

Sprinkle in some finely minced parsley, tarragon, and other herbs. Also, Spoon in the custard cream sauce.

Stir well to combine and remove from heat source.
Cheesy Broil
Arrange lobster shell onto baking tray/pan. Use foil wrapper to level the shells.

Sprinkle some finely shred cheese on top.

Bake/broil for 10 minutes or until the cheese is bubbling.

Once done, carefully transfer to a serving plate. 

Serve them immediately with some veggies or bread and fine wine.
Notes
Extra sauce is perfectly paired with boiled/steamed green bean and carrot  as dipper.