Want a cheesecake that is less sweet and more of a cake than cheese for variation? Try this Japanese Cotton Cheesecake recipe, which implements the Japanese Cotton Souffle to have the moist yet fluffy and airy cheesecake.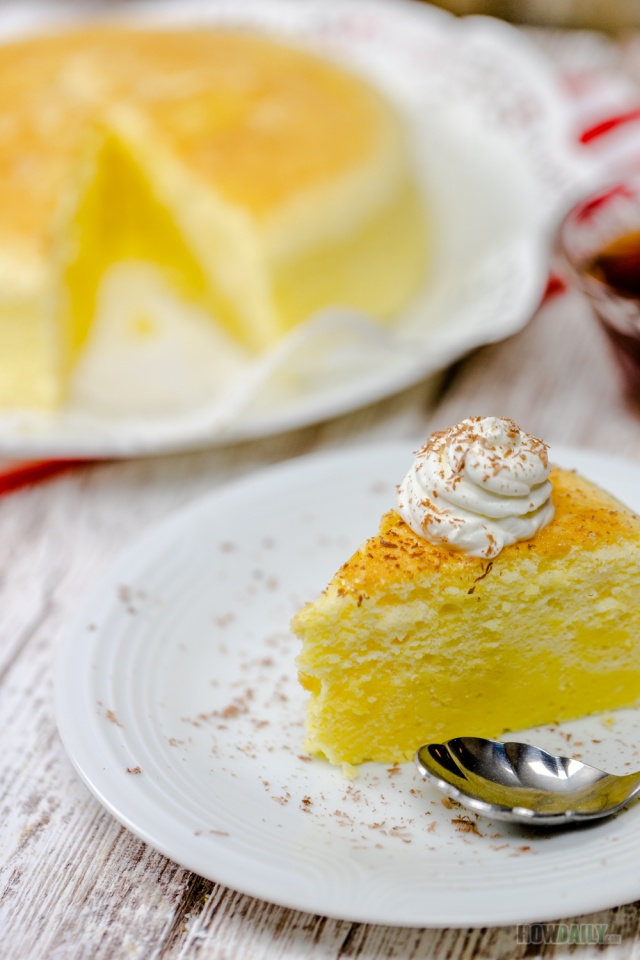 This cheesecake is delighted to have for morning or afternoon tea with a few fresh fruits, whipped cream, and dust of chocolate or cocoa. It's sort of a wake-up call mildly yet effective.
When baking this cake, to be the success it is important to pay attention to your oven's temperature; too high and the top will be burnt/cracked, the cake will collapse too once taking out. If your oven's temp is lower, go for longer baking time. This is the cake where long baking time is not an issue as long as you have a water bath.
So the trick here is to have a larger deep baking tray halfway-filled with water to encapsulate our cake pan in the oven. The water will keep our cake's temperature even, help moisturized, and prevent soggy center points.
If you are using a springform cake pan, make sure to foil-wrapped it to prevent leaking in water, or your cake base layer will be too wet.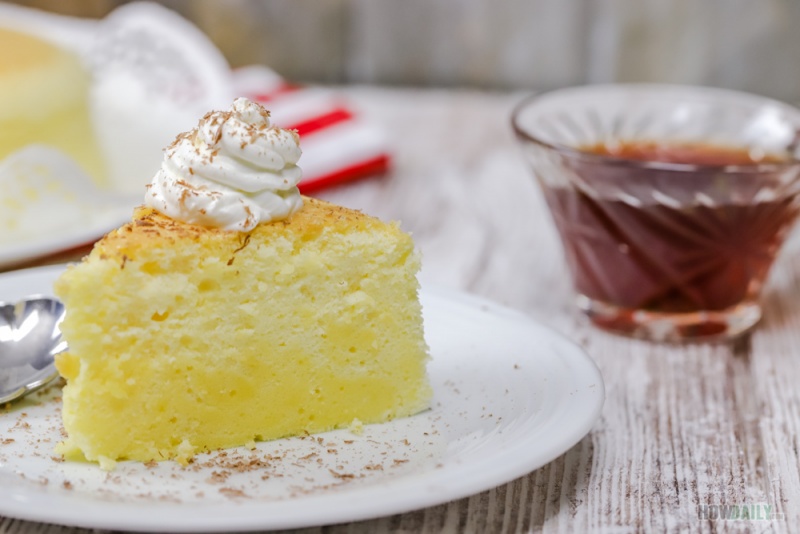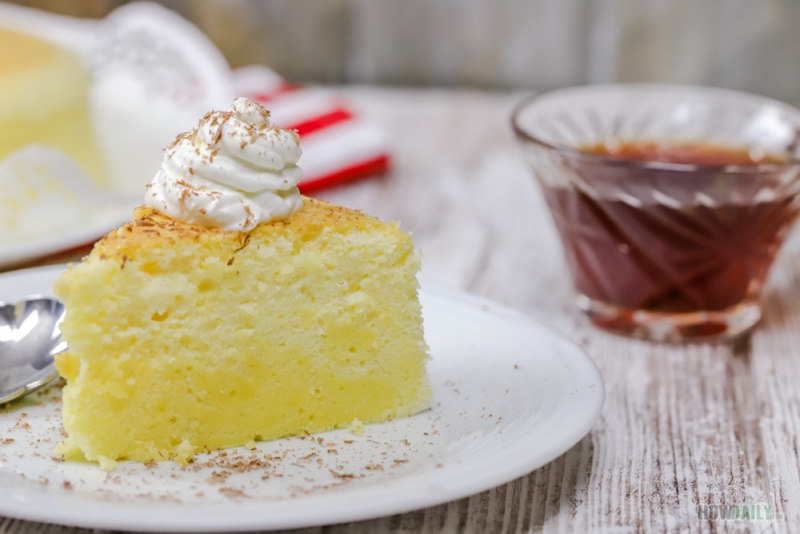 I used the deeper 3″ pan to make sure no overflowing. The recommended baking time is around 80-90 minutes for a chrome 8 x 3-inch pan. But you should always do a quick glance check from the outside glass around that time and go for 10-15 minutes more to brown the top.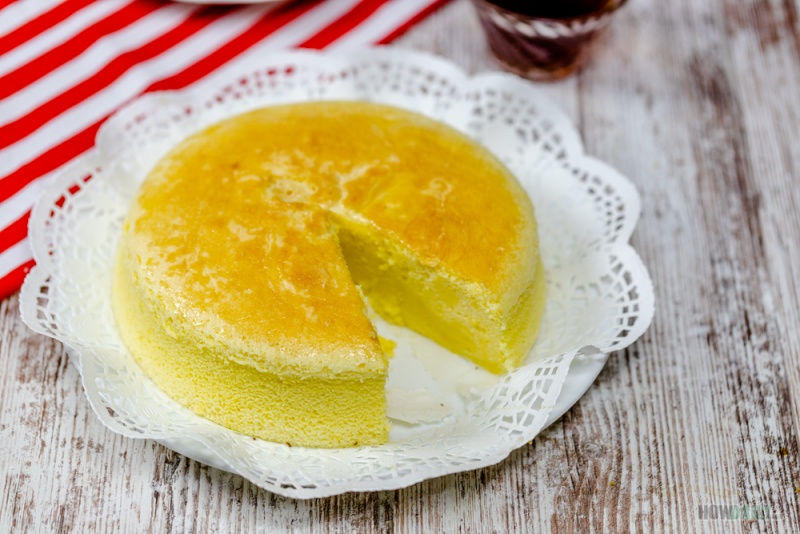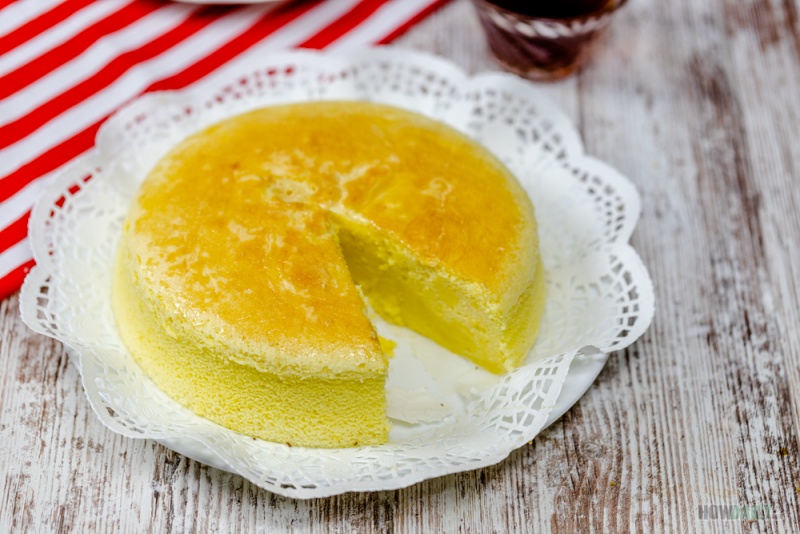 Once done, turn off the oven but leave your cake inside with the door hinge slightly open. Let it cool off inside the oven will help prevent additional deflating.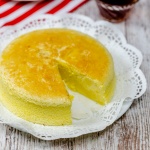 Recipe for Japanese Cotton Cheesecake
Fill your crave for cake and cheese with this Cotton Cheesecake, it is so soft, airy, and cheesy with delicious flavor to wake you up at afternoon tea. Perfect for a tea party or heartwarming dates.
Print
Ingredients
6

eggs

8

oz

cream cheese

½

cup

milk or heavy cream

80

g

unsalted butter

50

g

flour

40

g

cornstarch

70

g

sugar

½

tsp

extract of choice

½

tsp

cream of tartar

pinch of salt

1

Tbsp

honey

glaze optional
Instructions
Fill the large deep baking pan with warm water halfway. Place it in oven 2/3 from the top heating element. Preheat oven to 302F.

Line the 8 inch round pan's bottom with parchment paper. Do NOT line its side to help cake climbing on easier.

In a small saucepan over the lowest heat setting of your electric range, add cream cheese, butter, milk, and flavor. Stir/whisk constantly to melt the whole thing into a smooth creamy texture. You can also microwave them in 10-15 second intervals and stir in between to melt it smooth.

Once smooth, set aside to cool it off.

Separate the eggs' whites and yolks into separate mixing bowls. Make sure that the whites are free of any oil, yolk, milk, residue… or it won't foam.

Use your hand mixer to beat the eggs' whites till there are large bubbles.

Add a pinch of salt and cream of tartar to eggs' whites and beat until those bubbles become smaller and smoother.

Add sugar and continue to beat on high until eggs whites reach the soft peak (i.e. when you lift the beating hand, there should be a stiff).

Now turn to the yolks bowl, and beat them until they're looking a bit paler.

Add in the melt butter/cream cheese mixture and whisk to mix them good.

Sift all your flour/cornstarch into the yolks' mixture and beat them until fully mixed.

Turn off mixer and spoon about ⅓ of the meringue into the yolks bowl. Fold mixing by hand until they're combined.

Pour in the rest of the meringue into the yolks bowl, and again, hand-folding with your spatula until everything is combined. Do not stir as it might lose all the aeration we have worked into.

Pour this batter into lined round pan. Tap a couple of times to release larger bubbles.

Carefully place this round pan in the center of the water tray inside the oven.

Bake for 85-90 minutes. Set your timer and do NOT open the oven in between or cake will collapse.

When the time comes, you can quickly check if the cake is done with the toothpick test. If it is, bake for an additional 5-10 minutes to brown the top if desired, if not, just skip.

Turn off the oven and leave the oven's door open slightly. Let the cake sit still in there for about 20-30 minutes to cool down. This will help the cake from deflating too quickly and flop.

The cheesecake's side should be released itself after 30 minutes and can be popped out quite easily, if not, use a pointed paring knife to skim around the pan's side.

Pop the cheesecake out onto the cooling rack/tray and let cool at room temperature.

Glaze with some honey for a luxurious top rind.

Refrigerate for an hour or more before serving to set the cream cheese and enhance the overall flavor.

Decorate with some whipped cream and/or cocoa powder. Serve along with some seasonal fruit and/or syrup if desire.
Video