Is Jack Frost ruining your mornings?
It's hard enough to get moving on a cold snowy morning and get yourself out the door and ready to start the day. The comfort of your warm bed usually sounds much more appealing than braving the cold. Not only do you have to actually get out, but you have the dreaded task of scraping off your windows waiting for you when you step outside. On cold, winter mornings you have to brave the elements while tediously scraping windows, which is even more difficult if you are of the shorter stature!
Sure you can start your car and let it idle for 15 minutes to do the job, but let's face it, some mornings you don't have that kind of time, and doing this every morning uses a lot of gas. It is recommended to let your car warm up a bit before leaving, but these solutions will cut down on a lot of time waiting for the ice to melt or hacking at it for ten minutes with a scraper.
If you do not have the option of storing your vehicle in a garage or under a carport, a de-icer will help. We have scoured the internet for the best homemade windshield de-icer recipes to eliminate this chilly task from your cold winter mornings.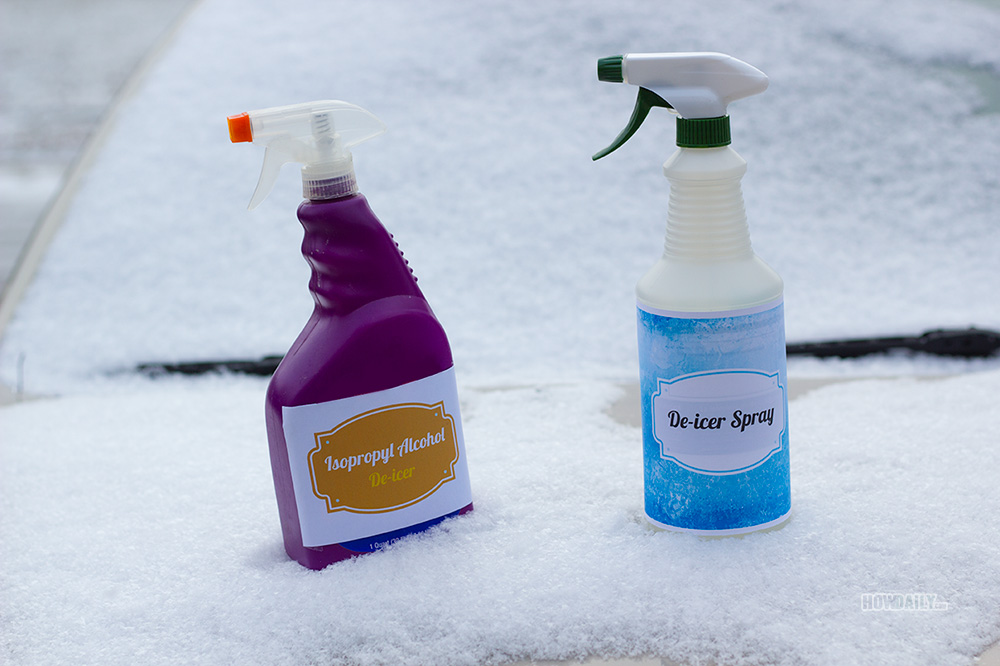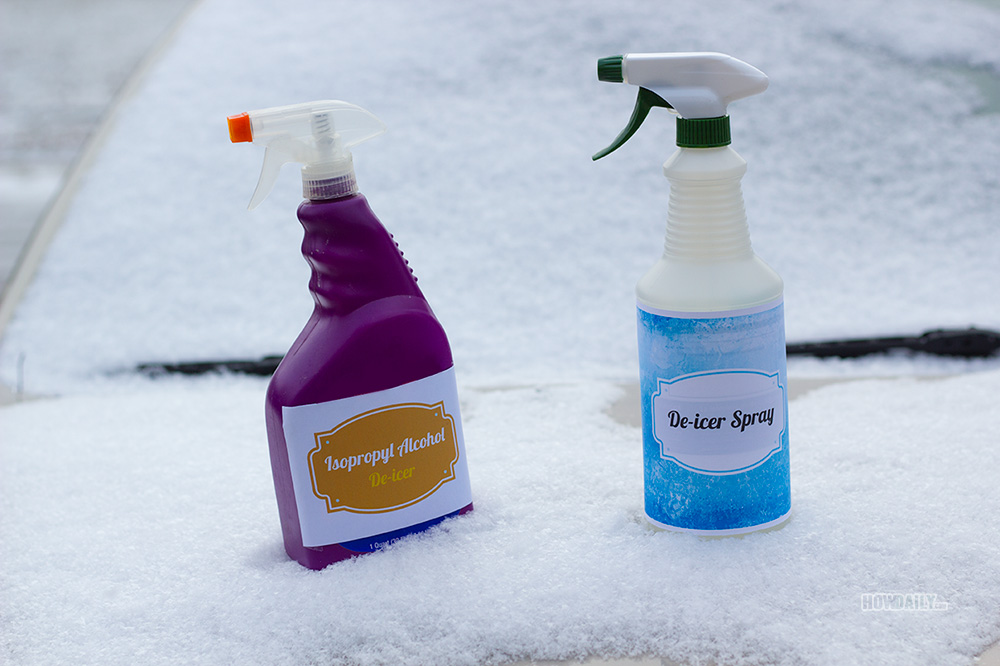 The Basics
The most basic recipe uses one part isopropyl alcohol to one part water. Combine in a spray bottle and apply liberally to your windshield and mirrors.
For a quicker and more effective version of this solution add a few drops of liquid dish soap. Spray liberally on all windows and mirrors and within minutes the ice will begin to break up and slide off easily.
Note: it is recommended to use 70% isopropyl alcohol. 50% will work, but not as well as 70%.
De-Ice and Prevent Streaking
Vinegar is well known to be an excellent household cleaner. It will also work well as a de-icer while helping to avoid streaking afterward. If you find yourself on an icy morning with no isopropyl alcohol handy, try vinegar instead. Most people have it sitting in their kitchen, making it a handy alternative.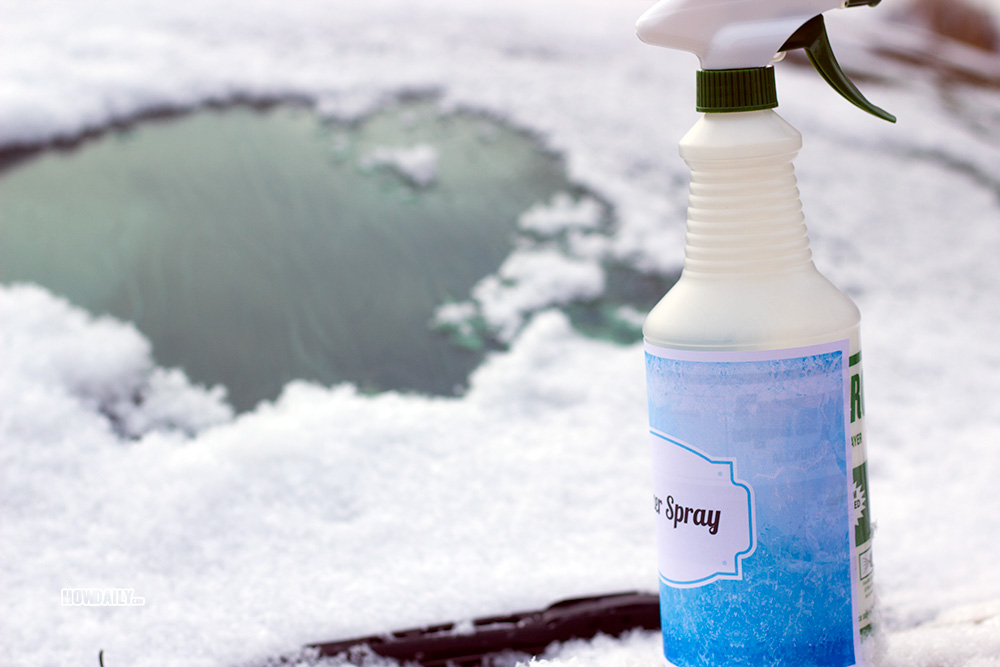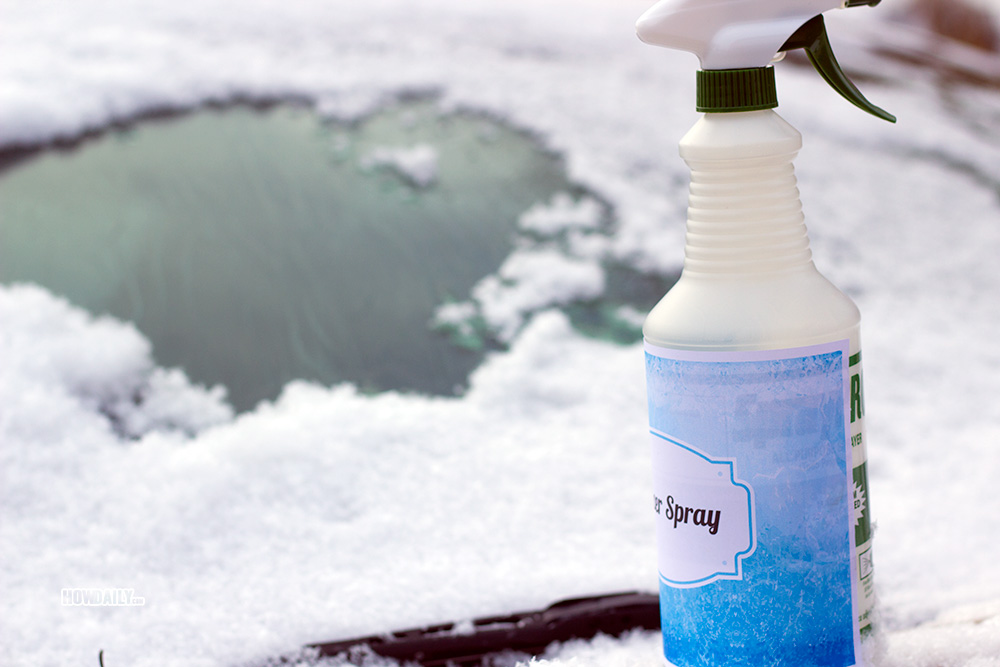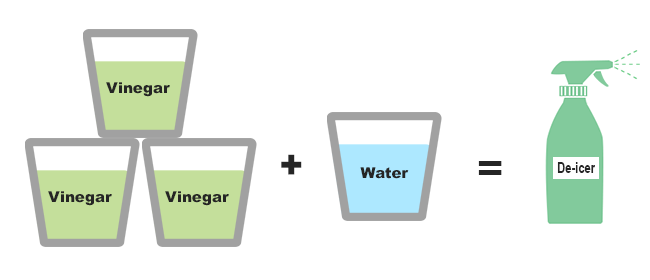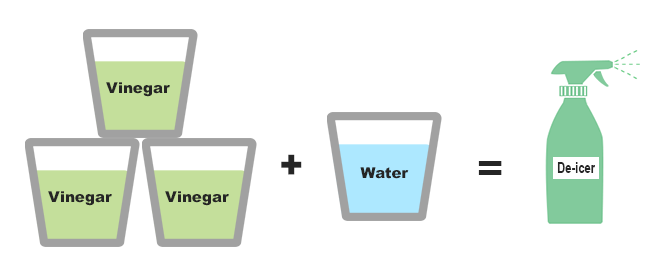 Mix three parts vinegar to one part water in a spray bottle. Spray liberally on all windows and mirrors. The ice will begin to melt within minutes.
An Ounce of Prevention
For even better results, get a jump start on the ice by taking preventative measures the night before. Spraying your windshields with the above vinegar solution will help prevent ice build-up.
For an even better method to prevent ice from forming use salt. Dissolve one tablespoon in a quart of water and soak a towel in the solution. Grab a towel large enough to cover your windshield or multiple towels to cover all of the glass. Wring the excess water out until it is no longer dripping and place them over your windows. Secure the towel in place using your windshield wipers. The salt will prevent ice from forming, and the towel(s) are easily removed in the morning. Store the towels in a plastic bag and reuse them each night, resoaking them as needed.
Remember Your Wipers!
Fluid within the lines to your windshield wipers can become frozen, causing a problem when you need to clean your windshield on the go. There are plenty of fluids available for purchase that are specially treated to prevent freezing, but there is a simple solution you can use at home. Save yourself some money and just add a little 70% isopropyl alcohol (rubbing alcohol) into the wiper fluid reservoir to keep them thawed and flowing smoothly.
Like clockwork, winter mornings are going to occur. Resist the urge to douse your windshield in warm water for a quick fix. You are likely to end up with a much bigger problem with a cracked windshield that way! These options will melt the ice and make it easy to wipe away with a broom, scraper, or brush. A little legwork the night before and these simple solutions will have you ready to go in no time.