Craving for noodles? Here is an easy way to cook Japanese chicken ramen that is both healthy and savory delicious.
Most, if not all ramen bowls heart lie within their broth and excitable toppings. So does this Japanese inspiration, which focuses mainly on cooking the broth to full of flavor and sauteing all topping ingredients (in this case are chicken, egg, and bok choy).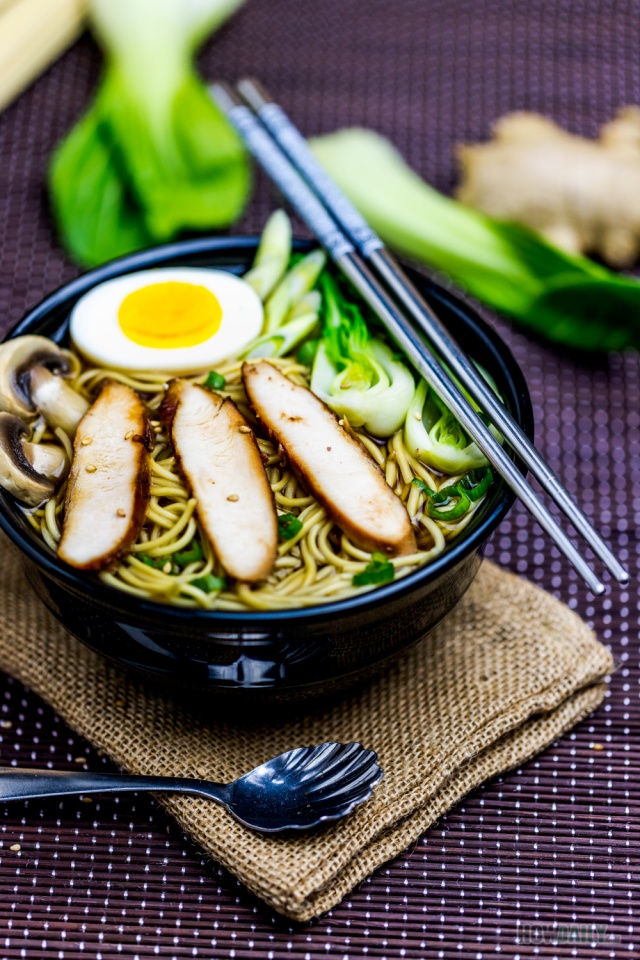 For the broth, to save time, I just use chicken stock instead of bone stock from scratch since this is just quick cooking for two people portions. Pick the unsalted one so you can have full control over the taste and adjust if need. Nevertheless, to add the umami sweetness, I would simmer the stock with kelp and bonito flakes just like the traditional way to make dashi.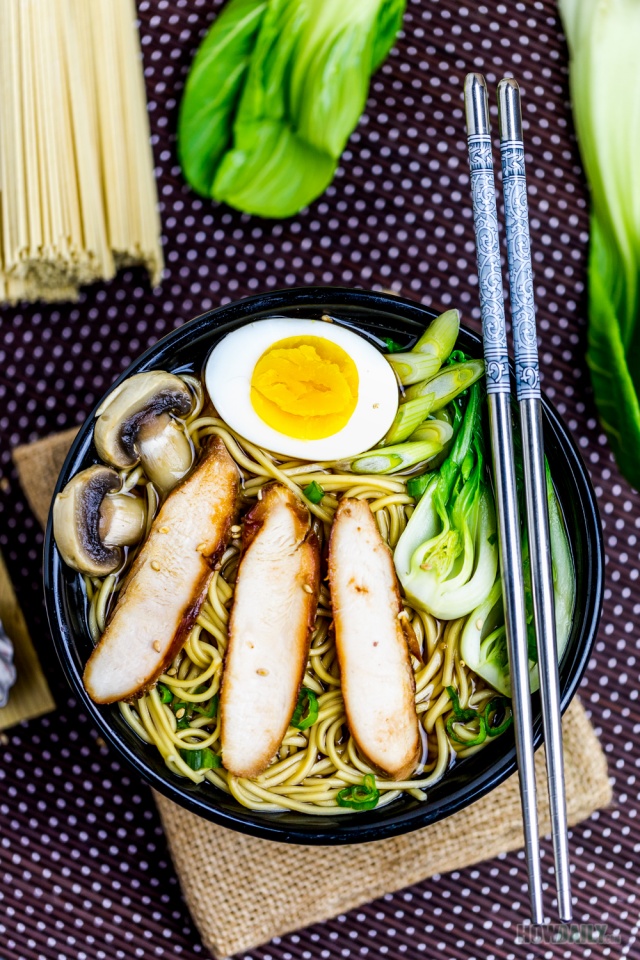 If you don't have bonito flakes, substitute with dried shrimp, dashi powder, or similar flavoring. At the very least, some small amounts of seafood stock can be used too, but dashi the normal way would definitely distinct the flavor.
Seasoning with soy sauce would give this broth a nice brownish color while there is no need to add sugar since most soy sauces have some sweet after taste already. The final broth should be light, fragrant, heartily healthy yet full of natural sweetness with umami flavor and vegetable toppings. Go light and skip the salt if you can, cause most ramen should be salty enough.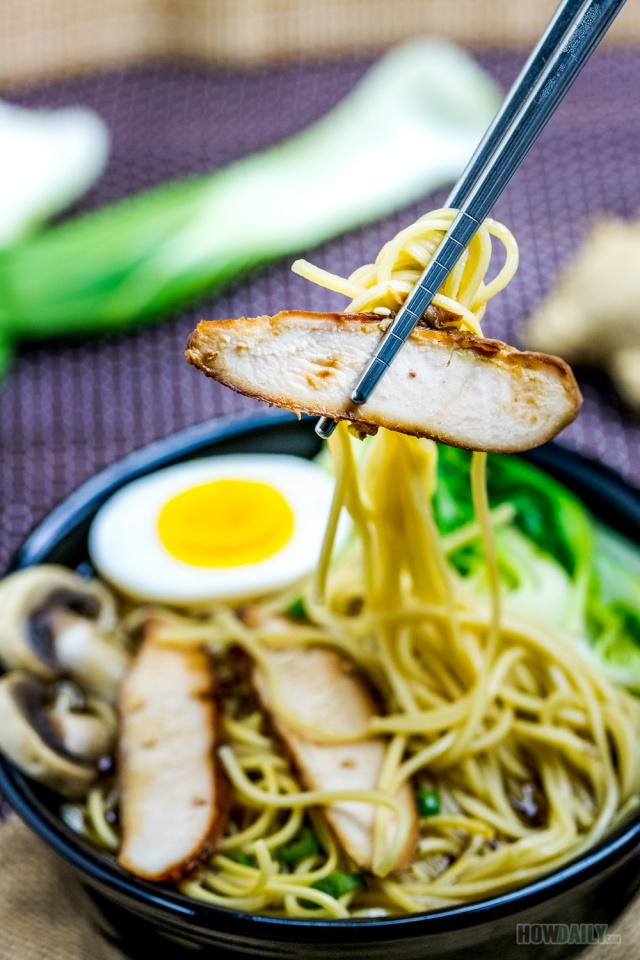 Chicken breast in this recipe required prior marinating with soy sauce, then pan-sear and roast/cook. This way would help preserve the juice inside with full flavor. If this is too much trouble, you can just boil them within the broth then shred to pieces.
Same with egg. Most ramen bowl would have some sort of egg, often marinade with soy sauce overnight, however, for a quick bowl, poached eggs would do.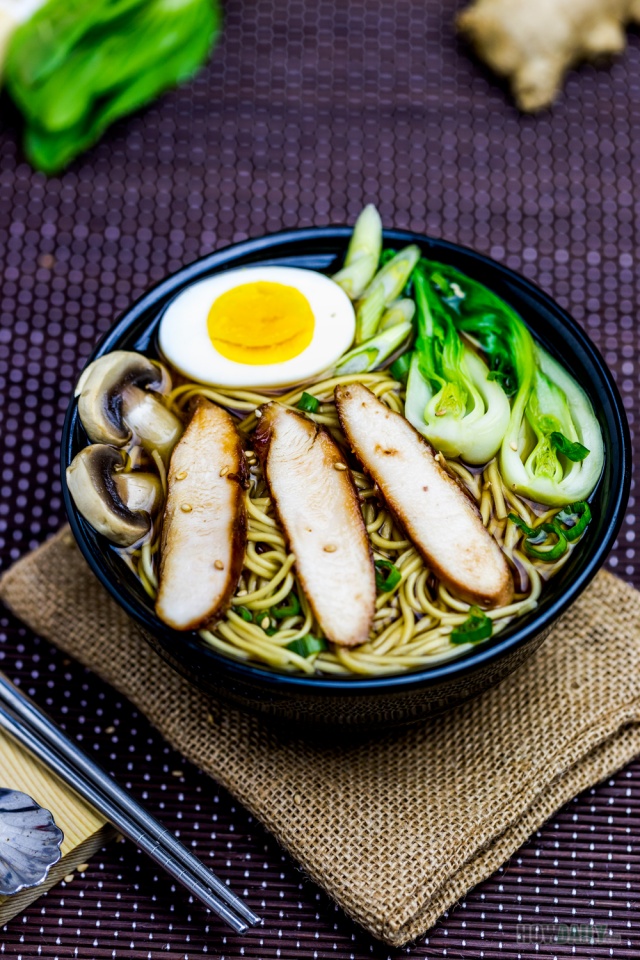 If you are using bok choy, lightly dip/cook them in the broth before serving would be sufficed. For spinach though, it's better to saute them with garlic beforehand to amplify the flavor.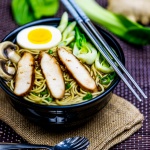 Recipe for Easy homemade chicken ramen
Light savory broth with flavorful & juicy chicken over chewy ramen is all so calling in this easy homemade chicken ramen recipe. Inspired by the popular Japanese ramen, this noodle bowl utilized soy sauce and mushroom as the main accompany for chicken flavor.or.
Print
Ingredients
1

chicken breast

4

cups

unsalted chicken broth or stock

4

small dried kelps

4

mushroom

2

cups

Bok choy or spinach

4

stalks

green onion

3

cloves

garlic

1

ginger slice

1

pack

ramen

1

egg

heapful of bonito flakes

optional

4

Tbsp

soy salt

salt & pepper to taste
Instructions
In a zip lock bag, marinate chicken with 2 Tbsp soy sauce and dash of ground pepper.
Brewing stocks
Add chicken stocks to the pot, drop a couple of kelp pieces, and bonito flakes  (if use). Bring this to boil over medium heat.

Once boiling, reduce heat and simmer for about 15 minutes. Strain and discard all solid.

Now add back the above liquid stock along with sliced ginger and the white head part of the green onion to the pot. Simmer this over medium-low heat.

When comes to a low boiling point, slice the mushroom and add to the pot. Also, season with 2 Tbsp of soy sauce. Adjust season to a tad bit lighter than your desired taste.
Prepare topping
Add 1 Tbsp of oil to a hot pan over medium heat. Sear the chicken breast on both sides.

Now you can either roast this breast in oven for 15 minutes at 400 F or ladle some stock into the searing pan and replace the lid to cook the chicken.

Once done, set aside to cool off naturally and slice.

Dip bok choy in broth or saute spinach over medium-high heat with crushed garlic as well.

Chop the remaining green onion to prepare for garnishing.

Assembling
Prepare ramen according to package instruction or simply dip and stir them in boiling water (to loosen of those extra oil and sodium content).

Divide ramen into bowls. Add a couple of slices of chicken onto one side of each.

Now add bok choy/spinach as well as poached egg and mushroom.


Ladle broth onto bowl with few slices of mushroom. Garnish with chopped green onion and serve hot immediately.
Notes
Try to multitask between marinating, making broth and toppings.
Substitute ramen with udon, egg noodle or rice vermicelli for variation.