Want a guilt-free smoothie? This is it, the beautiful and delicious green tea smoothie, powered with apple and spinach to treat your taste bud while cleansing and improving your skin and body too.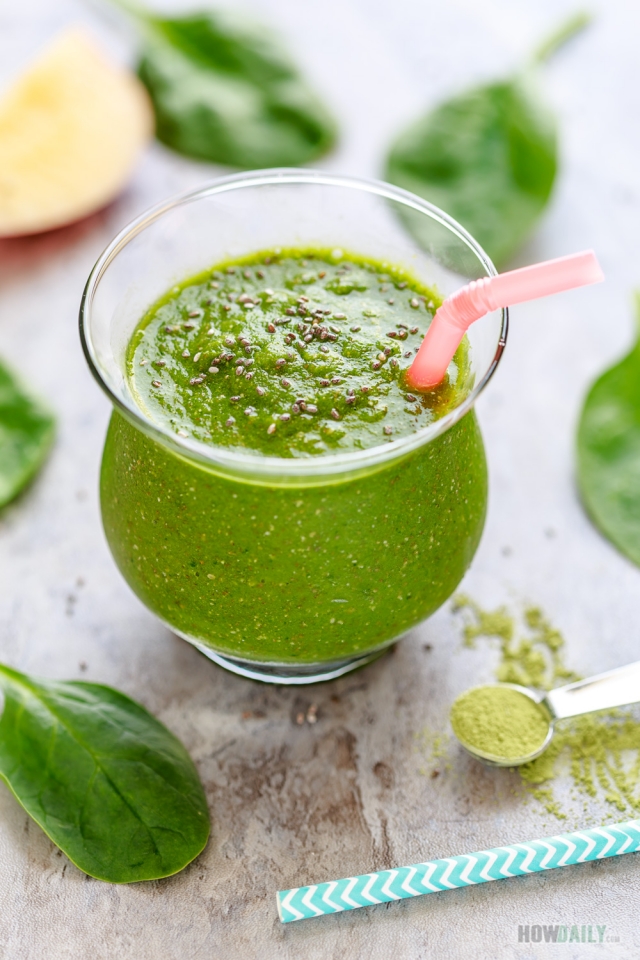 As you may have know, Japanese green tea powder or matcha is made from powdering the whole leaf, thus contains over hundreds times more antioxidant than regular green tea. In case you don't know, antioxidant are natural agent that help body with anti-aging and prevent chronic diseases. While many fruits and vegetable are applauded for their antioxidant nature, matcha remains the leading ingredient with exponentially more content. Matcha also contains loads of fiber, chlorophyll and vitamins such as C, A, selenium, cromium, zinc, magnesium, etc. Besides all the healthy nutrition and properties, match give your mind and body a boost of energy to work through the day while contribute to cleanse and weight loss.
So, combining matcha with a large sweet apple into a powerful smoothie with some Popeye's favorite spinach, this is one of my favorite drinks, and soon will be yours too. Throwing in a couple chia seeds to help too.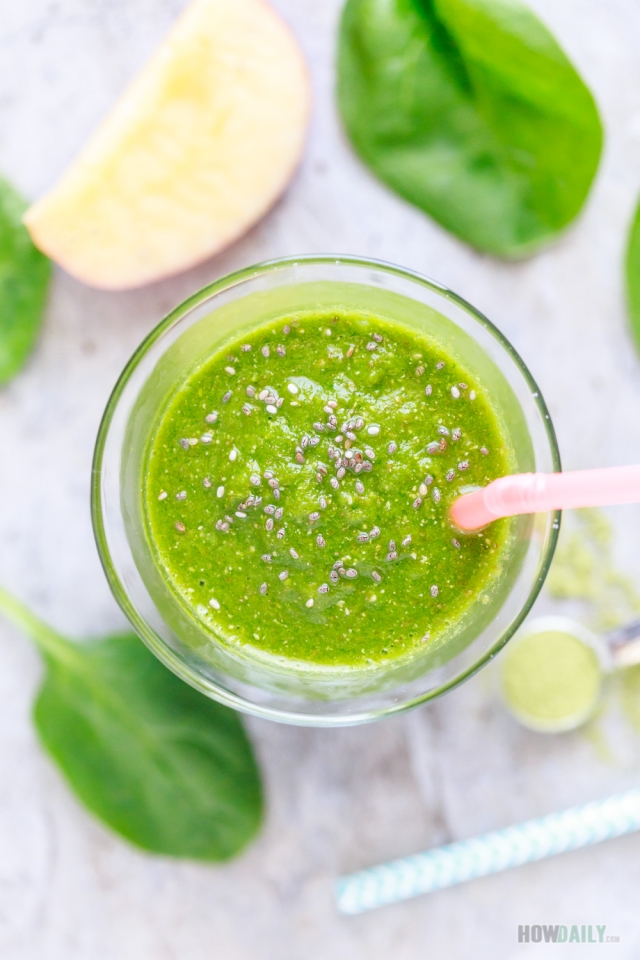 For the liquid part (to help the blender moving about), I added apple juice or freshly made cider, depend on what's on hand to vary the taste. For a more fulfilling appettize, replace this with almond milk, organic dairy or similar. Just make sure to chill ingredient before hand for extra cold temperature. Otherwise, just add more shaved ice.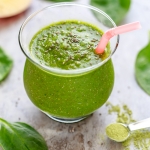 Recipe for Matcha green tea smoothie with apple
This Energy surging drink will ready your mind and body for whole day work. Try this matcha green tea smoothie with added apple and spinach. Work for lunch too.
Print
Ingredients
1

large apple

fuji, gala or any sweet kind

2

tsp

matcha green tea powder

1

cup

spinach

1/4

cup

chia seeds

1/2

cup

apple juice or cider

1/2

cup

crushed ice
Instructions
Peel, core and remove apple seeds.

Add all ingredients into your blender, pulse a few times then blend until smooth.

Pour into serving jars and sprinkle some chia seeds on top.

Serve cold immediately