Coconut and coconut products have been popular ever since after the misconception of trans. fat and saturated fat is revealed. Want to get in with the new hyped trend? Try this coconut clusters recipe, bake extra crispy with cashew nuts, chia seeds, pumpkin seeds on top of a marbling chocolate bark.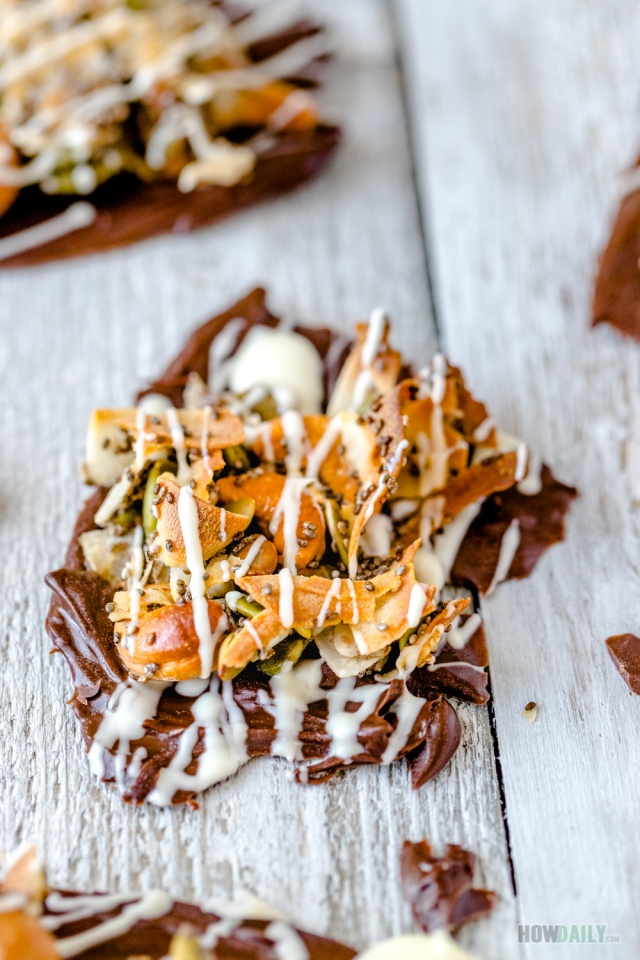 Sound delicious right? It's true, this snack would be so hard to keep those fingers away from. And yes, you would wonder why you haven't made this sooner.
To add to the crispy bake coconut flakes, I would add some halved or semi crush cashew nuts. Now, this can be replaced with any sort of nuts like almond, peanut, wasabi pea, etc. to vary the flavor.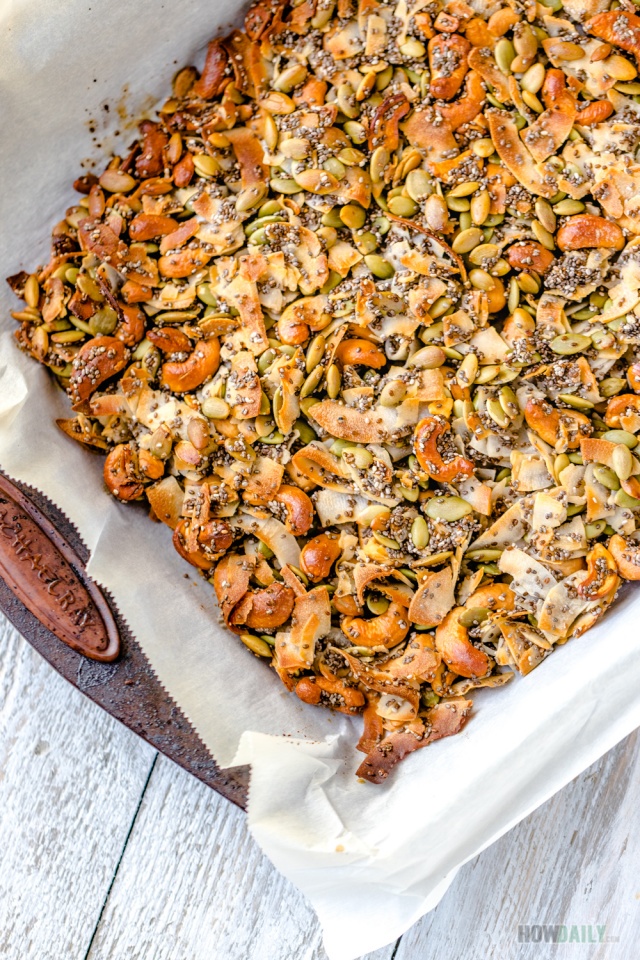 The final clusters also get more gorgeous with pumpkin seeds and chia. Again, peeled sunflower seeds, sesame, and any other seed can be subbed in.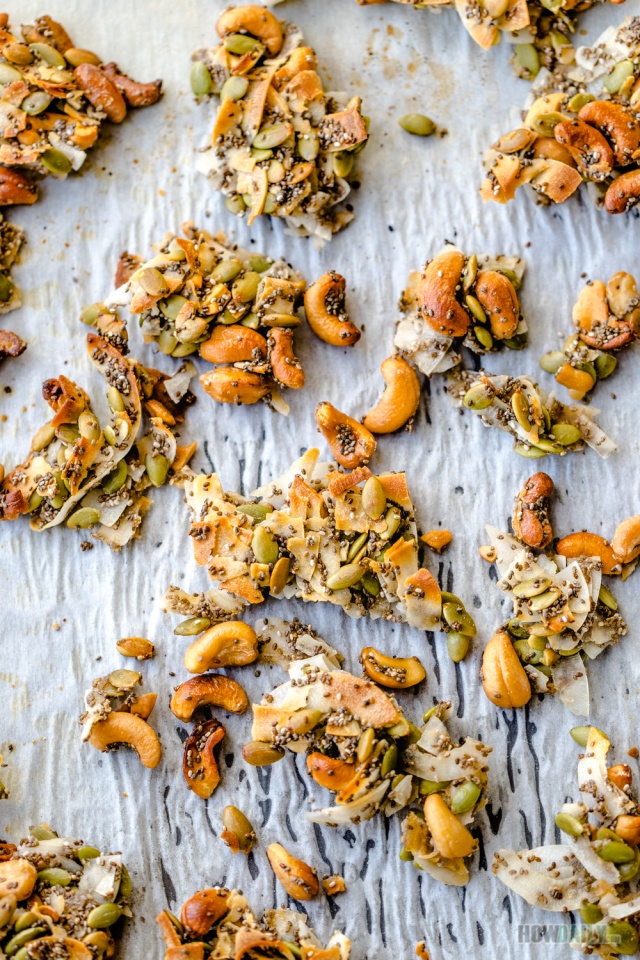 Anxious of the sweet? Don't worry, this recipe is truly gluten-free and makes use of maple syrup (for binding) and monk fruit extract (a natural sweetener that is 0 calories and won't affect blood sugars). If you haven't known already, like stevia, monk fruit sweetener tastes just sweet like sugar without the bulge of calorie and carb. Better yet, it doesn't have the bitter aftertaste like some stevia sweeteners. So try some if you haven't.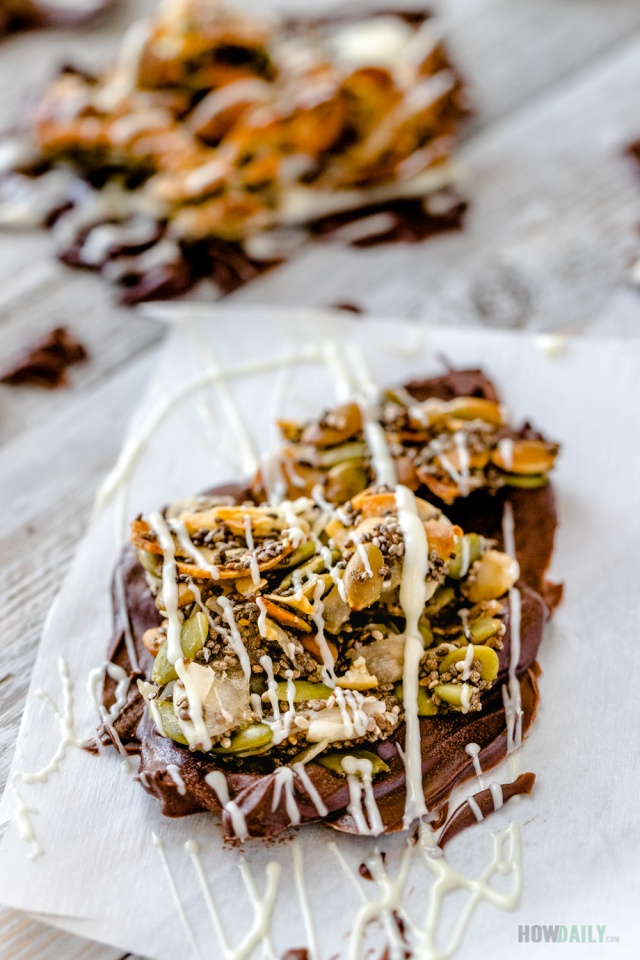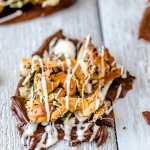 Recipe for Coconut clusters
Mild salty-sweet coconut clusters that defined your day. Bake them crispy with cashew nuts, seeds and chocolate.bark.
Print
Ingredients
3

cups

unsweetened shaved coconut or coconut chips/flakes

1

cup

pumpkin seeds

1/2

cup

chia seeds

2

cups

raw cashew

2

Tbsp

coconut flour

6

Tbsp

maple syrup or honey

1/2

tsp

sea salt

pink Himalayan

2

Tbsp

monk fruit sweetener or sugar equivalent

10

oz

dark chocolate

2

oz

white chocolate or color candy melt

optional
Instructions
If using dried coconut, soak coconut flakes/chips with 5cups of water for 40 minutes. Drain, lightly squeeze and sieves.

In a large bowl, toss coconut chips and coconut flour to mix well.

Now combine all other dry ingredients to the bowl: cashew, seeds, salt and sweetener powder. Mix them well.

Finally add syrup and mix really good.

Preheat oven to 400F.

Line a baking dish/pan.

Bake for 18-20 minutes or until clusters become gold.

Let cool at room temperature, then gently breaking/cutting them into clusters sizes.
Chocolate bark
Line a tray or baking pan with parchment paper.

In a microwaveable bowl, chop 2/3 dark chocolate into small chunks.

Microwave for 15-20s, use a non-wooden spatula to stir. Repeat microwave and stir 2-3 more times until all chocolate chunks are smelt.

Now in another microwaveable bowl, melt 1/2 the decorative chocolate/candy (similar to chocolate above).

Spoon the melt color candy/chocolate on to dark chocolate layer, twirl to marble them.

Melt the rest of chocolate/candy and drizzle on top of these clusters to decorate.

Cool the whole tray in fridge for about 10 minutes for chocolate to set.

Once chocolate is firm, break it into chunks/clusters and store in airtight container. Enjoy these with a movie!