This time of the year where the flu, cough, and cold just passing around, it is time for those comforting soup such as this chicken corn soup to shine.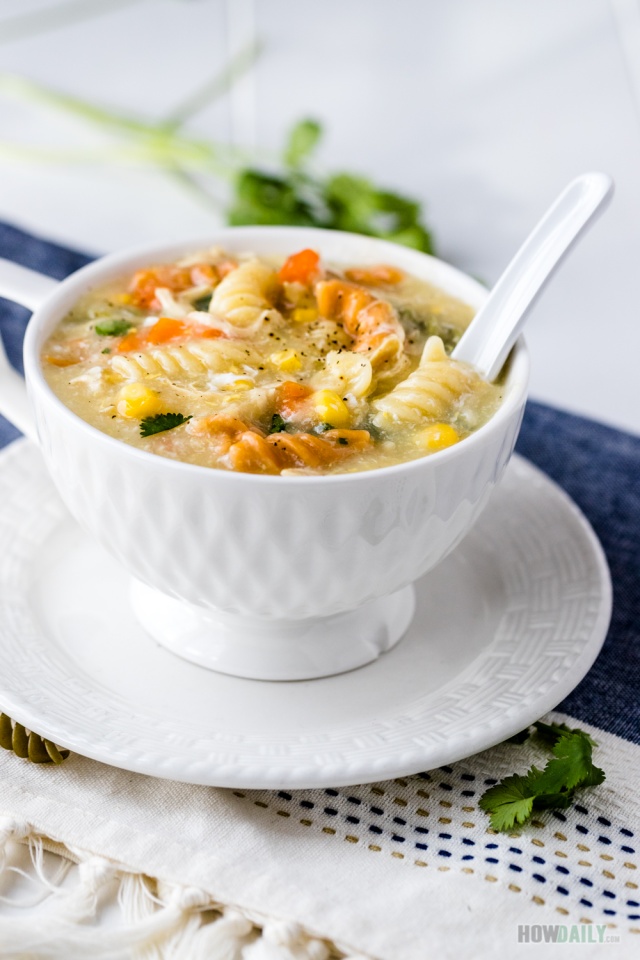 See, when you have that dry or irritate the throat, no food would work better than this kind of soft & savory soup. I kind of like the idea of everything in one pot, save you the time of cooking, serving, and cleaning up afterward.
There's nothing fancy about this soup recipe, just the regular, available year-round ingredients that you could grab from any grocery. To save your time, I would recommend stocking a few bags of frozen corn kernels or the mixed vegetable to add to this soup.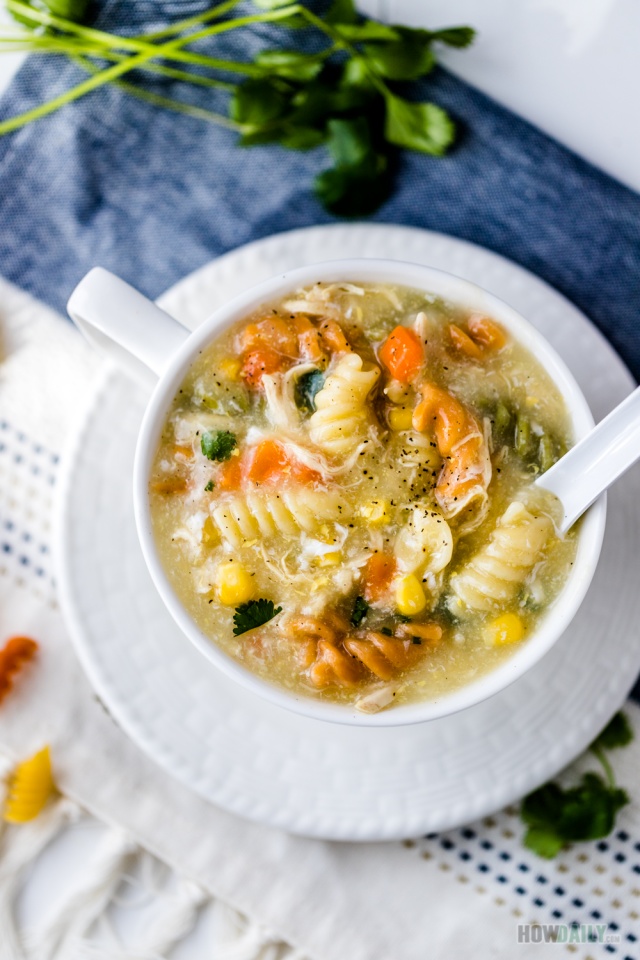 Now if you look closely, there's nothing "green" in this bowl. This is mainly because of the picky-eater that would resist any sort of green veggies that we happen to have. However, if you're not in the same boat, then feel free to add a couple of handful of chopped asparagus, broccoli, pea, spinach, etc…
For the pasta, anything you have on hand is fine. I personally like the colorful veggies fusilli or bowtie because of their looks and how my son excited about them. Penne and macaroni work too, or you can cut them in halves.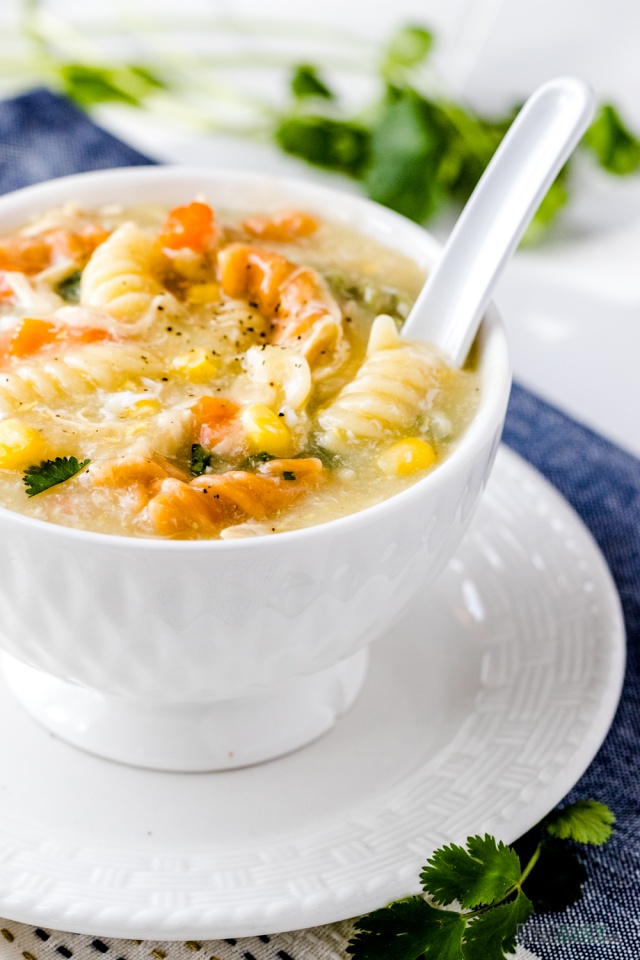 The last note is on the herbs. Any herbs can be added to this soup to kick up the flavor and enhance the curing ability. Cilantro is quite nice to keep the taste light, otherwise, parsley or other spices would work too.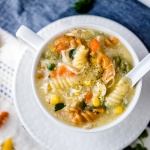 Recipe for Sweet Corn Chicken Soup
Another take on chicken soup with sweet corn and carrot. Simple and easy to do, while delicious and heart healthy too. Soothing, calming, nurturing and kid proof.

Print
Ingredients
1

chicken breast with rib

1

cup

corn kernels

1

medium carrot

2

Tbsps

chopped cilantro

salt & pepper

1

carton

low salt chicken broth

2

Tbsp

corn starch

3

servings

pasta of choice

1

egg
Instructions
In a stockpot, add chicken broth, chicken breast and bring to boil over medium heat.


While waiting for breast to cook, bring another pot of water to boil, add some salt and follow box's instruction to cook pasta to past al dente.


Once pasta is done, strain off the liquid, do not rinse and set aside.


Have a small icy cold water bath ready to transfer the breast into once it is cooked.


Add corn kernels and pasta to hot broth. Peel and dice carrot and add to pot as well. Bring this stock back to boil then adjust heat to low/simmering.

Once chicken breast is cool off to room temperature, shred with a fork then add back to stock pot.


Taste test and adjust seasoning with salt if need.


Mix starch/flour with 1/2 cup of water, stir well to combine, make sure no white residue on the bottom.


Pour that starch liquid into soup pot while stirring to fully mix and thicken the soup.


Crack egg over a sieve or slotted spoon into the soup. Stir to fully mix and adjust heat to keep warm while/until serving.


To serve: ladle soup into bowl, sprinkle some chopped celery and dash of freshly ground pepper. Enjoy while it hot.