There are always loves for jelly in our house, we make it plain, with fruit, juice, coffee,… anything imaginable. So I was a bit obsessed over the fruity sangria recently, the drink just looks too cool to pass-by, and hence how this Berry Fruity Watermelon Sangria Jelly recipe surfaces.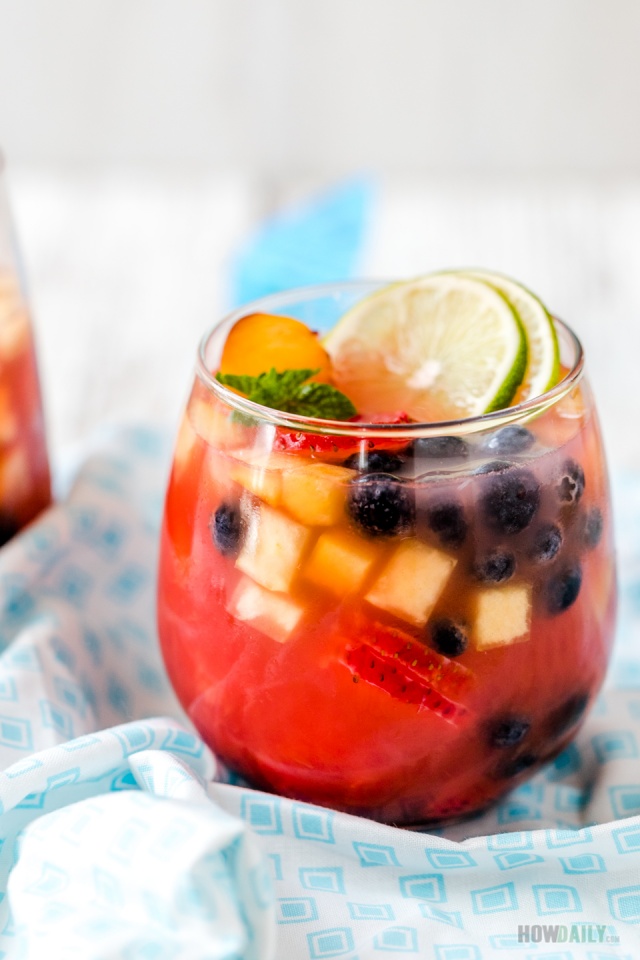 Making this jelly is pretty simple, first, you pick a good looking and sweet watermelon, then use a melon-baller to scoop out about a cup of flesh to add the jelly later. The remaining flesh can be chopped up to fit into your juicer/ blender.
Speaking of which, if you have a juicer, the preparation time would be shorter by half, otherwise a blender and a small strainer/spice bag to help extract the seeds and/or pulps out. If you're leaving the seeds/pulps in, however, the liquid might be a little cloudy and hence can't show the added fruit slices/chunks as well.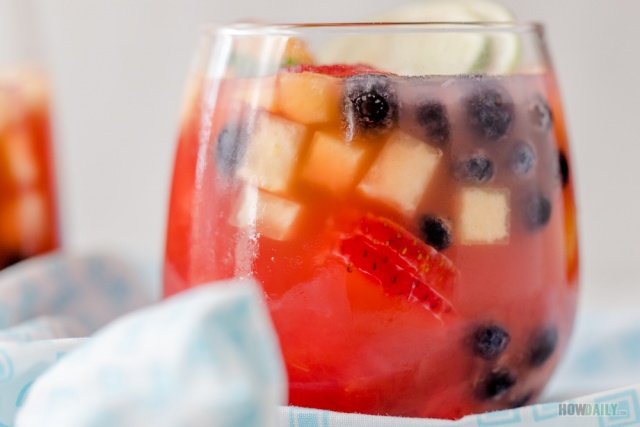 To vary the look of each fruit, try to cut them into different sizes & shapes. For instance, cube apple while slicing peach in a half-moon shape. I have a couple of strawberries left-hanging in our backyard, so those got cross-cut and throw in as well.
Do remember that for some fruits like Apple and Pears, you might need to soak them in an acidic solution (say lemon/lime water) to prevent them from turning brown.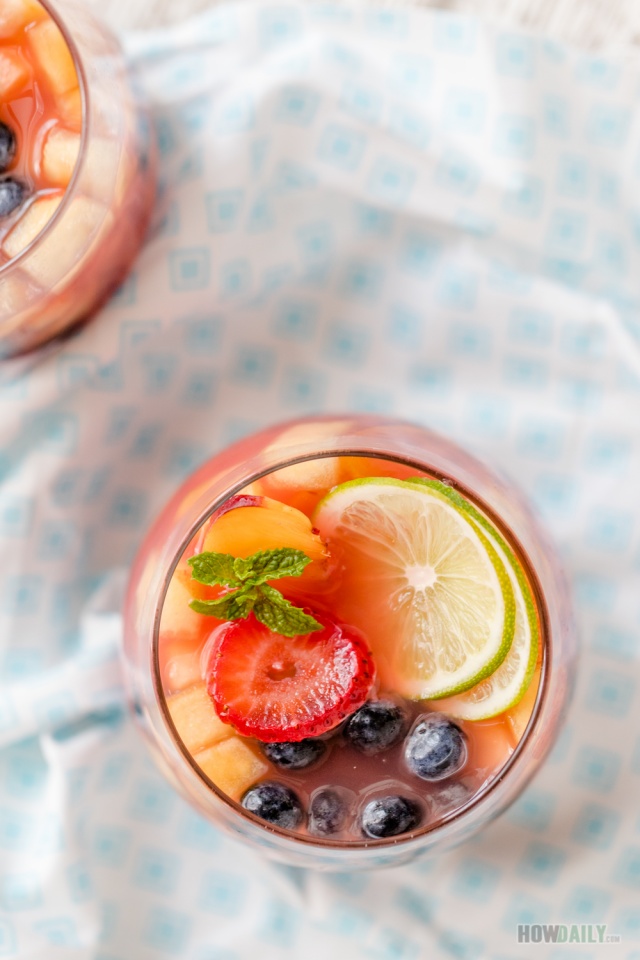 Depend on your watermelon size, you can scale the recipe. Typically it's 1 teaspoon of gelatin powder to 1 cup of liquid, this includes watermelon juice and additional water. So say if you're getting 2 cups of juice, you can dilute it with 2 cups of water and use 4 teaspoons of gelatin powder.
Since watermelon should be sweet enough, there is no need for additional sugar or sweeteners.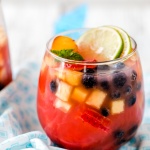 Berry Fruity Watermelon Sangria Jelly
Inspire over the popular Sangria – fruity beverage, this Berry Fruity Watermelon Sangria Jelly turn it into jelly style so that both kids and adult can enjoy it together. Just throw any fruits you have on top of watermelon jelly to make this drinks marvelous. Don't forget the lime zest…
Print
Ingredients
3

tsp

gelatin powder

2

cup

water

3

cup

watermelon

around 1 personal watermelon

½

pint

blueberry

4

slice

lemon/lime
Additional Fruits of choice
1

peach

1

apple

4

strawberries
Instructions
Use a small melon baller to scoop out about 1 cup of watermelon, cover, and set aside.

Cut the rest of watermelon flesh into cubes for easier process.

If you have a juicer, just juice the flesh, otherwise, puree them and pass through a strainer to extract all the seeds, pulp out.

Add 3 teaspoons of gelatin powder to watermelon juice and let it soaks for 15 minutes or so.

While waiting, prepare all other fruits & berries being used. Wash, cut, and slice to your liking.

Prepare 2x 12 oz glasses as jelly holders. You can rim them as well if need now.

Bring 2 cups of water to boil over stove-top or microwave.

Carefully pour the boiled water into the watermelon juice/gelatin, mix it well.

Pour half of the gelatin liquid into one container cup.

Then add half of each kind of fruits into it.

Repeat for the other cup.

Wait till they're both cool down to room temperature, then cover and chill in the fridge overnight.

Serve cold with your loveliest idea of decoration.