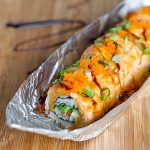 Print
Recipe for Lion King sushi roll
A favorite "cooked" sushi among the West coast, presenting the Lion King sushi roll, or also known as the bake salmon California roll. Enjoy this recipe with home made delicious mouth-watering sushi.
8

Oz

Salmon

5

Tbsp

Spicy Mayo

1

Tbsp

Kewpie Mayo

2

Tbsp

Unagi sauce

2

Tbsp

tobiko/masago

fish roe

2

Tbsp

scallion - chop

2

sheets nori

1/4

medium avocado

1/2

mini/baby cucumber

2 -4

pieces

kani/surimi or 4 oz cooked crab meat

1-2

Tbsp

Vinegar

to wet your hand

Pickled ginger as garnishment
Tools
Bamboo rolling mat

Plastic wrapper

Foil
Prep
Avocado - slice along its length

Cucumber - remove seed, thinly slice along its length

Scallion - Finely chop

Salmon - thinly slice in a slant 45 degree angle (if possible)

Nori - fold and tear/cut if desire smaller bite-size roll

Crab - shred into thin long strip and mix with 1 Tbsp mayonnaise
Roll
If you're new to making sushi roll, read this post on

how to roll inside out

.

Start out by wrapping the bamboo rolling mat with plastic wrapper.

Prepare a small bowl fill with 2 Tbsp of vinegar and water so that you could wet your hand with to avoid stickiness.

Place the nori, smooth side down, onto the covered bamboo mat.

Wet your hand with the vinegar solution then pluck some rice balls onto the nori.

Gently knead and spread the rice out to the entire nori surface, do not mush.

Turn the nori upside down(i.e. rice covered side now facing down against the plastic).

Swoop a spoonful of the mayo-crab onto the nori along its length, then add cucumber and avocado.

Now roll with the rolling mat, this will make a spicy inside out California roll.

Arrange salmon sashimi on the California roll so that they will cover the entire length.

Gently roll the plastic wrap to shape them in place.

Let stand for 2 minutes before proceeding.
Bake
Preheat oven to 400F

With the plastic still on, use a sharp knife to cut your rolls into even pieces.

Carefully unwrap each piece and arrange them on a prepare foil wrap, salmon side up.

Mix up spicy mayo, unagi sauce and 1 Tbsp tobiko.

Pour enough spicy mayo and unagi sauce to cover the roll.

Fold the foil 4 sides up around the roll to avoid sauce leaking out.

Broil/bake for about 5 minutes then pour remaining sauce.

Bake for another 3 minutes until mayo start bubbling again.

Top with some tobiko, scallion and serve immediately with garnishment.