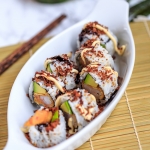 Print
Recipe for Shrimp tempura roll
A beautiful golden crispy roll for all sushi fans. It is easy to make and can be served as quick appetizer too or for those picnic out.
Prepare Shrimp tempura
Peel and devein all the shrimps, leave the tails on and let sit to air dry a bit.

In a wide enough container, mix 31/2 Tbsp of all purpose flour with 2 Tbsp cornstarch, 1/2 tsp baking powder and 1/4 tsp curry powder. Sprinkle on some salt and ground pepper, sift and mix evenly.

Dredge all the shrimp in this dry mixture so that all shrimps are coated evenly, dust off excess powder.

Pour 3 to 4 oz of icy cold (as in crushed ice + liquid) of carbonated water or plain water into the batter mix, whisk to smooth.

Dip all the powder-coated shrimps into the batter.

In a small saucepan, pour in veggies oil, and wait until the oil are hot enough.

Deep fry all the battered shrimps until golden crispy.

Remove tempura shrimp and transfer to parchment paper/towel to allow excess oil dripping.

Remove sauce pan from the heat source, then add 4 Tbsp of bread crumb to the hot oil, they will brown immediately.

Get a strainer to save these bread crumbs for decoration later.
Making the roll
Slice the avocado quarter into 4 strips along its length.

Wrap the bamboo mat with plastic wrapper all around.

Place the nori's smooth side down over the rolling mat.

Wet your hand with some vinegar as you knead & pan sushi rice all over the nori surface.

Sprinkle some roasted sesame over the rice.

Now turn the nori upside down, so that the black nori is now facing up.

Arrange 3 shrimps and 2 avocado strips along the nori side.

Roll the bamboo mat while gently apply some pressure to form its shape.

Once the rolling is finished, gently tap and hold the mat over it for 10-20 second to keep the shape in place.

Wrap a the roll with plastic wrapper and set aside.

Repeat with the second rolls or more.

Make sure your knife is clean, wet it with some vinegar/water solution, then cut across each roll while its plastic wrapper still intact.

Once everything is cut, gently remove the plastic wrapper from each piece and transfer to serving plate.

Sprinkle on the

kewpie mayo

,

unagi sauce

and the fried bread crumbs.

It's now ready to serve.