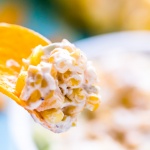 Print
Recipe for fresh Corn crack dip
An easy to do dip that is perfect for cracker or tortilla chip. Try one today from all fresh ingredients and spice.
3

raw corns on the cob or 1 pack of frozen corn

1/2

onion

1

garlic clove

1

Tbsp

butter

freshly ground pepper and sea salt

1

red bell pepper

2

jalapeno

4

oz

sour cream

1/2

cup

mayonnaise

8

oz

shredded cheddar
Wash and remove corn kernels from the cobs.

Dice everything else.

In a skillet, melt 1 Tbsp butter, then add crushed garlic and stir till golden.

Add onion, jalapeno, pepper and all spicy stuff to skillet.

Stir until onion is soften, then add corn, cook on medium heat for 10 min.

Add freshly ground pepper and sea salt to taste. Stir and remove from heat.

In a large mixing bowl, combine saute content with mayonnaise and sour cream.

Stir well to mix then chill in fridge for a couple hours.

Serve with tortilla chips or your favorite cracker.