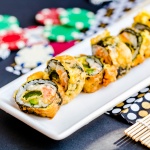 Print
Las Vegas Sushi Roll
Buttery sushi that just melt in your mouth. Enhance with a little spicy from the South, just roll up the dice and enjoy la fiesta.
Wash, clean and cut jalapeno pepper into halves along its length to remove all seeds (under running water to avoid hotness).

Slice jalapeno into thin long strips.

Cut avocado into long thin strips.

Cut salmon into long sticks

Coat and fry jalapeno, then set aside.
Rolling sushi
See

detail guide with video on rolling maki sushi

or simply put, just laid out each nori sheet on bamboo mat over flat surface.

Use about 2/3 of each nori sheet and 1/2 to 3/4 cup of sushi rice for each roll. Just fold nori sheet at its desire length and tear it off.

Spread sushi rice evenly on nori surface.

Arrange all fillings: tempura jalapeno, salmon, avocado and drizzle on some Kewpie mayo. Remember to go light on the mayo and leaving 1/2 inch off at both ends. Doing this will prevent mayo to ooze out when you roll.

Quickly lift, cover, hold, press and roll them away.

Finally, deep each roll into tempura batter and deep fry on hot oil for 1-3 minutes or until desired crispiness.

Let them seat on parchment paper to drip off excess oil before slicing into bite size pieces.