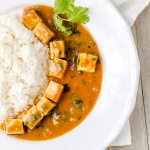 Print
Recipe for Mild Tofu curry
Simple tofu curry using the mild Japanese style curry roux to enrich the flavor. Fully vegan compatible or substitute with meat and other protein for a full nutritional dish.

Curry roux equivalent
1

Tbsp

flour

1

tsp

curry powder

1

tsp

garam masala
Gently wash and pat dry tofu. Then cut into cubes.


Set these cubes over paper towel to dry off excess water.


In a container. sprinkle sea salt over tofu, and then shake to mix.


Melt butter in a saucepan over medium-high heat.


Stir in tofu and chopped onion/scallion. Saute until onion is soft.


Pour in the broth or water. Adjust heat to simmering.


Stir in curry roux; If you are using substitution for curry roux, stir and mix them real good before adding them to the sauce pan.


Keep stirring, folding to mix everything. The sauce will become thicker as you go.


When the sauce is thick enough to your desire, add cilantro and dash of ground pepper.


Turn off heat and transfer to serving plate over rice bed.