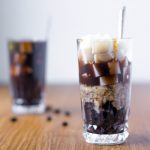 Print
Three colors sweet soup with black bean and coconut agar
Enjoy the sweetness of the Vietnamese sweet soup in 3 colors flavors: inside out sweet black bean, paste like mung bean and crunchy yet creamy coconut agar.
Black Bean
Wash and rinse black bean twice to remove all dirt and stray.

Soak black bean with water and 1 tsp of salt for a couple hours or over night.

Strain all the water, and transfer to a pot.

On high heat, keep stirring all the bean for about 10 minutes.

Add Water about an inch higher than the bean top level.

Bring water to boil then lower heat to simmer

Cover and heat until desired softness (about an hour for regular pot and 15 minutes for pressure cooker)

Be careful of heat when removing the lid. After desired softness is reached, strain to separate the solid (bean) from the black liquid (soup).

Add 1 cup of sugar and a couple drop of pandan / vanilla extract to the bean, stir to mix, and let sit for about 20 minutes.

Heat the bean/sugar mixture on low heat while stirring to prevent burnt for 15 minutes.

Add back the black soup, stir to mix and simmer for another 10 minutes.

Let cool at room temperature, then cover and store in fridge until serve.
Mung Bean
Soak mung bean for about an hour.

Steam mung bean until mildly soft (30 minutes)

Throw the steamed mung bean, 1/2 cup sugar and 200 ml coconut milk into your blender/food processor and puree.

Now dry the puree mixture by using a large pan or wok on low heat. Keep stirring and folding using your spatula to prevent burnt on the bottom.

The longer on heat, the dryer your mung bean will be. Keep heating for about 20 minute until all mung bean become a dough like consistency and shape able.

Remove from heat, let cool.

Seal/wrap with food wrap and keep in fridge until serve. (Carefully wrap/ cover to prevent firm/ too dry texture)
Coconut Agar
Soak Agar in 400 ml coconut milk and 400ml water for 15 minutes.

Add 1 cup of sugar, let dissolve.

Bring the agar-sugar mixture to boil while stirring to prevent overflow 2-3 minutes

Remove from heat and pour into molds

Once cool at room temperature, place agar w/ mold into fridge to set for at least 1 hour before serving
Serve
In serving cup, add 3-4 Tbsp of black bean sweet soup

Then add a couple swoop of the cut agar cube

Top of with 1-2 Tbsp of mung bean paste.

Add ice if desired or as is. Sweet soup is ready to serve.