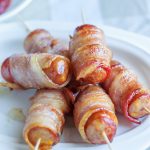 Print
Recipe for Bacon wrapped brats
Perfect cooked brats wrap around by golden crispy bacon. This can be your next party finger food or outdoor grill.
Use a toothpick to punch all over each brat.

If using as appetizer, Cut each brat into halves or bite size.

Do the same and cut bacon slice in half.

If you are using this with buns, place a soaked skewer through each brats to keep it from curling. Do not cut.

Wrap each bacon slice around brat pieces.

Mix 1 tsp of ground mustard, 4 Tbsp honey and a sprinkle of ground pepper.
Oven instruction
Preheat oven to 350F

Place all bacon wrapped brats onto roasting rack (recommend) or lined tray.

Bake for 20-25 minutes with turning them over in between to cook them evenly.

When all brats are cooked evenly and bacon begin to shrink, carefully remove them from oven and glaze the honey/mustard mixture all over each piece.

Place them all back into oven, adjust to 400F and bake for another 5-10 minutes or until all bacon are golden brown and crispy.
Grill instruction
Start your grill, then adjust to medium-high heat.

Grill all bacon wrapped brats for 7-10 minutes until they all cooked. Turning them in between to avoid burning.

Glaze them with the honey/mustard mixture.

Remove from heat when all wrapped bacon are crispy.

Serve hot with Sriracha as appetizer or throw them in your bun and sizzle with mustard.